Caribbean Retreat
I'm back from my St. Lucia, West Indies retreat! What a fabulous time. I'm a new convert of Yoga Vacations both for newcomers and yogis. (Check my site for Friends & Family Yoga Vacations!)

My students included: beginners and intermediates, seniors, an injured student, a yoga teacher - plus two resort owners who fell in love with Yoga and begged us to return.

We had volcanoes, a sulphur pool, waterfalls, beaches, massages, hikes, snorkeling, biking, sailing, diving, AM Yoga and PM Restorative Yoga and exquisite Caribbean meals.

Trish, my wonderful Tropical Escapes retreat partner, lives on the islands of Dominica and St. Lucia and knows her people personally.
Adding A Retreat Partner
Vision: Yoga Vacations that offer Yoga to newcomers while furthering the practice of experienced yogis.

Mission: take families and friends on vacations in paradise where EVERYONE can relax and explore together. New yogis may be formed or not. Seasoned yogis take Intermediate classes with their Open and Restorative classes. Zero pressure, all pleasure.

I'm excited to be discussing venues with Ted at Adventure Yoga Retreats as well. Macchu Pichu would be for intrepid yogis only!

See their sites, and tell me your favorite dream spot - on or off their maps - and who YOU would bring, what YOU would envision doing!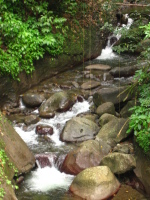 My Web Page
Photos, ENews links, classes, resources, will be updated regularly on my web page so my monthly ENews can be shorter!

(This photo courtesy of retreat student Doug O'Neill.)