Inspirational Message

Use your sharp-sightedness to make clear distinctions and wise choices.

Move forward with confidence in your inner compass.

Discernment is the recognition of the soul's impulse within our lives. It builds our intuitive ability to act with an awareness of the power that is concealed within the present moment. Discernment requires that we regularly take a personal inventory of our values, beliefs, past actions, present hopes, and future dreams.




We live our lives based on what we believe. Our actions are preceded by our beliefs. Our consciousness is reflected back to us. What we look for we will find. So, the question is 'where do our beliefs come from?'. I would guess the overwhelming answer is 'from what others have told us'. We have very few original thoughts that comprise our beliefs. As individuals, we are defined by assumptions that have been formed over generations.

But, what if we are more than this? What if we are powerful beings about to awaken from a long night of dreams? What if we are at a tipping point of illumination, on the verge of uncovering the deep knowing of our origin and with it the capacity to bring about global peace? What would it be like to feel our connection to the whole and choose our actions based on this as reality? How would you be different today? How would this realization influence your actions?

Our collective challenge and opportunity is to surrender the illusions that keep us cocooned in assumptions and limitations. And, like the caterpillar, dissolve into our imaginal selves and redefine the world envisioning a future that welcomes the butterfly.

We hope the Angel of Discernment will illuminate your life this month. May your heart and mind discern and embrace the presence of your soul.

Warmly,
Kathy

P.S. If you worked with the Angel of Harmony during March, take a few moments to release it with your gratitude before welcoming the Angel of Discernment into your life for the month of April.

©2008 InnerLinks Angel® Cards is a registered trademark of InnerLinks.
Please link to our site to share with your visitors.

ANGEL® Cards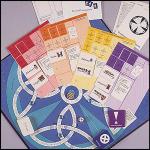 Solo Transformation Game Sessions
Facilitated by Joy


By phone, Skype, or in person.




Individually facilitated Game sessions support you in awakening to your soul's perspective and discovering the most effective ways to move forward.



You will:

become aware of your unique worldviews and the ways in which you are identified with, invested in, and attached to your personal dramas

recognize the forces influencing and shaping your choices

look clearly and compassionately at the commitments you are willing to make and the actions you are willing to take to strengthen your presence
The process supports you in weaving the spiritual understandings and resources you uncover in each session into your life, and provides an accountability partner who accompanies and advises you at every turn on your path.




"The Solo Transformation Game facilitated by Joy has propelled, strengthened, and stretched me into greater clarity on my path. When I thought I knew what was to be addressed in a session, I was often gently prodded and guided elsewhere by the process, and it unfolded in Divine Order. Joy's "intuitive flashes" and the dynamics of the Game are a brilliant combination!" (S.S. 1/08)




Solo Transformation Game sessions are offered in a series of 6 or 9 sessions.

To schedule a Solo Series and accelerate your growth and development email

joy@innerlinks.com

or call Joy +1-828-667-9314.
To learn more visit Solo Transformation Series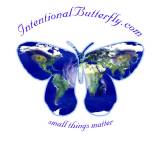 Be an Intentional Butterfly
Please continue to send out your blessings to loved ones, friends, leaders on the world stage, and all situations and events that are calling your attention.



You are important. We are important.
Your thoughts create. We collectively manifest.
Your actions matter. We act as one.
Your presence changes everything.

Be an Intentional Butterfly - a participant in the ripple effect of caring. Awaken to your presence, be inspired in your actions, and hold the highest and best outcome for the planet, humanity, and all life on earth.

You make a difference - you decide what that difference is.
• visit www.intentionalbutterfly.com
• go into the Sanctuary
• click the bowl in the center of the peace prayer wheel
• in the Blessing Room follow your heart and bless with intention
Intentional Butterfly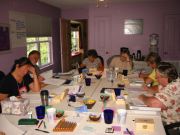 Transformation Game Facilitators Training
June 21st-30th Asheville, North Carolina

The Facilitators Training is a hands-on experience, which will give you many opportunities both to practice and observe facilitation in small, supervised Transformation Game sessions as well as to play. In addition to learning technical skills needed to use an Advanced Manual, the teachings connect you with the essence/spirit/soul of the game.

This intense immersion in the Transformation Game - facilitating, observing, playing every day accelerates learning and acts as a powerful, refined catalyst for deep personal healing, growth, and change.

"The training and trainers exceeded all my expectations. Sustained transformation energy, held with unwavering integrity, enfolded me ensuring the process met my training and transformational needs. By far my most effective and transformative experience." (K.D. 11/07)

We are now accepting applications for the June training. We will take only four participants for this training and places are reserved on a first-come basis. The program will be directed and supervised by Joy Drake, one of the originators of The Transformation Game.

Bookings for this program close on May 3rd. Contact Joy if you would like program details and registration information. Call +1-828-667-9314, or send an email to joy@innerlinks.com
Transformation Game Facilitator Training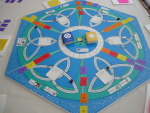 Transitions and Breakthroughs
Transformation Game Workshop
facilitated by Joy Drake
May 16-18th
Cost: $245 per player.

A Transitions and Breakthroughs weekend is an opportunity to evolve out of your old ways of being and doing, and step more fully into who you truly are and what you are here to do. The experience allows you to recharge your spiritual connections, and let your dream of transformation become a reality.

One of Joy's passions is helping players interpret Game messages in ways that deepen their spiritual understanding and empowerment as they navigate major life transitions. The May workshop is an exceptional opportunity to receive a high degree of masterful attention and benefit from Joy's grace, expertise, and creative partnership with the Transformation Game Deva.

"The Game is so clearly connected to spirit that even a non-believer would marvel at it. Thank you for this gift - to explore my own protective patterns; what sets up the response; what the response looks like; and what it costs me. I could have exposed any part of myself and others would have accepted and even recognized it. The Game gives each player just what they need to work through their issues." (L.G. 12/07)

This Transitions and Breakthroughs weekend is limited to a maximum of six people and seats are reserved on a first-come basis. To register call Joy +1-828-667-9314, or email to joy@innerlinks.com
To learn more visit Transitions and Breakthroughs