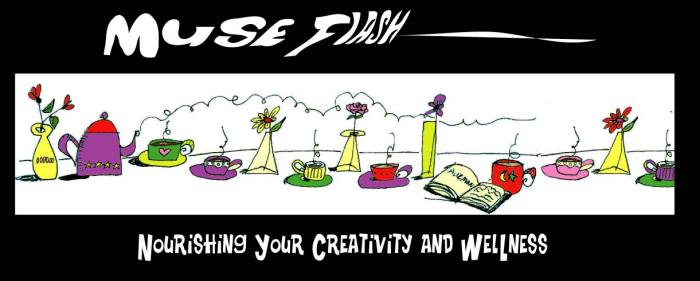 This Article is Not For Pefectr Peeple




from author, creativity coach, and artist, Jill Badonsky





Time to escape to a healing place of nature, emerge from your stuck-cocoon, and reawaken your creativity with Jill Badonsky at the Blissmas Creativity Retreat October 10-12, 2008 at Spirit Fire Retreat Center
(only a few spaces left). Click here for more information. Ask about specials.

The Kaizen-Muse Creativity Coaching Certification Training
begins again October 29, 2008 - Experience this path to your own creative breakthroughs as well as to additional income and joy (through weekly teleconferences and a rich, on-line community). To sign-up, email info@themuseisin.com . More information is here.

Free Kaizen-Muse Creativity Coaching Call on Making Your Imperfections Work for You in the Creative Process Wednesday, September 10.
Sign-up here.

CAPITALIZING ON YOUR IMPERFECTIONS
"The power of mistakes enables us to reframe creative blocks and turn them around.... The troublesome parts of our work, the parts that are most baffling and frustrating, are in fact the growing edges. We see these as opportunities the instant we drop our preconceptions and our self-importance."

~-Stephen Nachmanovitch





Dear Reader,

Don't you love being imperfect? I know I dew. It's liberating, relaxing, although for me it sometimes requires a hardhat. It's filled with accidental creative discovery, oh wait, let me correct that... it's actually REQUIRED for creative discovery AND for getting things DONE because sometimes we give-up when we think it's not happening perfectly.

As you know, when we have rigid expectations and an unbending course of action we miss all the mishaps that lead to ingenuity, intuitive deviation, and blessed invention.
When we don't think our creative stuff is good enough, we abandon it when in fact it IS GOOD ENOUGH: we deny ourselves the joy of being good enough and the connection and momentum that comes with sharing.


Or we spend all the time it requires to work toward the unrealistic expectation of being perfect, and spin in circles if we move at all.
Or we relentlessly judge ourselves when we could be curiously amused about what we'll do next as the delightful and unpredictable humans we are.
Or we don't do a thing until we get ALL the cat hair out from under the letter T on our laptop. (BTW: the T works just fine even with the cat hair there, trust me, so do a gillion other things we think we need to fix before we get started on our creative ventures).
Or, wow, I sure do use "Or" a lot. Am I imperfect OR what? and if I am, SO what?

As creative liberators our modifiers don't dangle, our threads don't hang, and our hues don't clash... we are simply creative so rules break, parameters bend, we invent our own way - we forge on without judgment. We can ignore the need to get it exactly RIGHT because that makes us hesitate, and besides in the creative process there's many, many ways to do things right. (Approved by the committee to vote Spills, the Muse of Process and Imperfection into office.. any office or maybe even the kitchen or the closet). More about Spills on Wednesday.

Anti-aging tip: Perfectionism is stressful. Stress insures early aging. Relax your standards, make it fun and notice that you're motivated to DO something... which eventually leads to quality. Know that if you are a perfectionist, chances are you are already doing things above average - practice this realization and enjoy who you are.

Kaizen-Muse Creativity Coaching Tip: Repeat to yourself an anchor or a quote to get yourself through perfectionism paralysis. "If I can't make a mistake, I can't make anything," "It may not be perfect, but I'll do it anyway and enjoy the process," "Close enough," "Damn the torpedoes, full speed ahead," "Phhhhhpppfffff!" (It doesn't have to have meaning to anyone but you). www.kaizenmuse.com


Kaizen-Muse Creativity Coaching Tips and Body Blissmas Anti-aging Potions, products of Time Spent in Advanced Daydreaming and Mindless Activities that Result in Sudden Epiphanies- a Division of The Muse is In, a subsidiary of I-Don't-Want-To-Work-For-Anyone-Else-EVER-Again, approved by the Nine Modern Day Muses (a Bodyguard). (article intentionally left imperrfect- because well, it's close enough).


I cling to my imperfection, as the very essence of my being.
~Anatole France and Jill Badonsky



The Muse is IN site..


Almost 5 Ways to Capitalize on Your ImPerfections




Me Again



1. Imagine what it would be like to be one of those people who ramble about life in imperfect bliss and are actually fine with it, in fact, PROUD of it. How would your creative time be different? If that's hard to imagine, try imagining it for just 5 seconds at a time - our perfectionistic psyches can sometimes let in more when we expect less. Who knows.. you may forge open a wonderful new mental pathway that inspires singing and pirouettes... and other synonyms for joy.

2. When you say to yourself that what you're doing isn't good enough or not as good as someone else, reply back with advance brat-like conviction, "SO?" or in convincing confidence "It's good enough." But say it a bunch of times because it's going to take a lot of repetitions to undo your well-worn, unrealistic thinking.

3.-5. Well, I'm afraid it would be perfect if I gave you all 5 ways right here for FREE. Yes, it would be truth in advertising... but I'm not perfect so I'll save the rest, including a guided imagery and a creative exercise from the modern day muse, Spills for the Wednesday, September 10 FREE teleconference. Sign up here. If you've never tried a teleconference, live on the edge.. come to this one.

Let your perfectionistic tendencies marinate in the following quotes, read them over and ovre and orve and roev and over:
"Imperfection is beauty, madness is genius, and it is better to absolutely ridiculous than absolutely boring." ~Marilyn Monroe

"If you're not prepared to be wrong you will never come up with anything original."
~Sir Ken Robinson

"He who hesitates because he feels inferior is being surpassed by he who is busy making mistakes and becoming superior." ~ Henry Link

Striving to better, oft we mar what's well. ~William Shakespeare
The Muse is IN Calendar: Workshops, Trainings, Classes


Artist Profile: Janet L Whitehead, Musings and Mud Coaching Studio.






Janet and I believe that we must somehow be related because we both have a silly inclination toward creative passion and similar habits all the way down to hygiene and grooming. I think that when you find tribe members who speak the same funny poetry as you do, you need to relish their existence.. cultivate this mirror of your brilliant side and feel validated in your shared-uniqueness. I just had to inteview Janet so I could share her with you.

What is your creative passion?
At first I thought, what??? How can I name one??? But then I realized my key creative passion is the creative mind - its brilliance, its ability to connect to so much more than what we 'see' or what is 'logical', (yes, the magic!) and its challenges – whether it be my mind, or those I coach, or the general population of creatives for whom I am an advocate. Thanks, Jill, you just coached me into an answer I had never clearly stated before!

How did you cultivate it?
On going dabbling in a variety of arts - visual, written, and metaphysical- my whole life kept me planting seeds, but I didn't always water them. The life I have now created allows me to cultivate, remember to water, reseed, pluck, and be 'sunshined' upon. It took awhile, many challenges, and a very eventful life so far, but I finally listened as my soul screamed to create and to connect to the 'so much more' on a full time basis. Finding Jill and her Muses has been and continues to be one wicked way to cultivate!

What do you specialize in?
There's a few things. I am a professional life coach and a Creative Muse Group Leader. I coach 'with a creative soulful edge' those in transition and those who want to make the most out of their lives/ dreams and / or small business. Not surprisingly, most clients turn out to be creatives trying to function in a left brain world, from business owners and new parents to visual artists and a number of writers.
Of course I attracted writers.. I've procrastinated about finishing my novel for a long time! But now it is nearly done and is the story of the bizarre connections I have with faeries which all began, against my will, when I started pottery 15 years ago. I also have published Self-Coaching Adventure Workbooks on my website, and have an illustrated short story ready to go.
I'm best known for my pottery artworks (ya, those strange faeries!) and my watercolour ships and houses on yupo paper. Soon, though, people will know me as a writer. Really, they will. (smile)
Where did you receive your formal training?
Coaching: International Coaching Academy
Muse Group Facilitator: Jill Badonsky
Pottery: Faeries, I suppose. They kept crushing and kicking my pots until I finally accepted their way to play with clay. Same sort of thing with painting.
University: Recreation & Leadership Mgmt and an eclectic mix of other courses – Kamloops BC Canada

Creative time of the day for you?
The wee hours in the middle of the night. An especially creative night sees me crawl into bed at 4 am.

Do you have a mantra or motto?
Pretty much have been saying all my life: "Find what you are most passionate about and do it, everything else will fall into place."

Key to your perseverance?
So many magical things happen when I just allow myself to be in 'creative mode' whether coaching, writing or art. It's my soulful place and simply cannot be ignored for long. That, and I took quite an astounding leap off of a huge proverbial cliff to do what I'm doing now, so creating a livelihood out of what I do can be quite motivating!

Do you listen to music when you work?
Not usually. But will listen to Persian, Indian or Turkish music on occasion if I'm feeling 'stuck.'

Best advice received?
I kid you not... everything from The Modern Day Muses. What a relief for me when I discovered the muses, their humour, and their wondrous muse of all muses, Jill. Much of their advice is like the advice I've been attempting to give myself most of my life... but I didn't always listen. And the muses make much more sense.

Creative spark?
I can have a zillion ideas in my head, and I don't ever write them down because it seems all I'd be doing is writing them down. The real spark though is when I "just get started." It is then that things evolve that I swear were never in my head. Whether it's my books, visual arts or even the coaching – just getting started is the key.

I know I've made it when ...?
The other day I thought to myself: "I know I've made it when I see a quote of mine published with my name followed by "philosopher.' So I did that on my email signature. I think we've all made it if we're here. Pretty brave to come to earth, don't you think? My artworks selling in Chicago recently made me feel like "I made it". When my novel is published, I'll really know I've 'done good.'

Most favorite achievement?
Very very favourite? Actually, being a mom, a grama nana, and my sometimes profound magical and spiritual connections.

Where can people see your work?
My site is www.musingsandmud.com There you can see my artworks, workbooks and coaching info, or link to blogs and sites with print on demand cards, shirts, journals, etc using my images. I'd be honoured if people drop by for a visit. Find Janet here


Calendar of Events


Muse Flash:
www.TheMuseIsIn.com is featured as an "Excellent Writing Resource" in Chapter 8 of SARK's newest book, Juicy Pens, Thirsty Paper

Wednesday September 10, 2008 at 5 pm pst, 6 mst, 7 cst, and 8 cst


FREE Kaizen-Muse Teleconference


You are invited to join Jill Badonsky and Spills, the Modern Day Muse of Process, Practice, and Imperfection on this call about Using Your Imperfections to Succeed! Find out how a less than perfect approach to your life, creative work and relationships can result in surprising results.
Attend the call to be eligible for a drawing for two free creativity coaching sessions with Jill or a KMCC graduate. Sign up here.



Thursday, September 18, 2008 7-9 p.m. (and EVERY THIRD THURSDAY)
Third Thursday Drop-in Writing Class
Flower Hill Mall, Del Mar at Book Works
Each third Thursday, all you have to do is breathe and writing will flow effortlessly out of your Muse decoder pen (I have extras if you lost yours). Please drop-in for two hours of word play, character inventions, poignant practice and mostly-just-to-remember- how-much-you-love-writing. Bring a friend and receive a free adjective. (no reservation needed).

Saturday, September 20, 2008
10 am - 1 pm Unearthing Ideas and Cultivating Their Magic
This will be a fun workshop filled with unorthodox ways to come up with ideas and then take them to the next level of obsession.
San Diego's Writer's Ink

October 10- 12 2008
Agelessness and Creativity Retreat Re-ignited
We return to Spirit Fire for another Retreat! Massachusetts
Includes attracting abundant prosperity through creative thought as well as provides you with deep laughter, creative re-booting, and close friendships.
For information:click here or write here info@themuseisin.com

Wednesday, October 29, 2008 - February 18 2009
New Kaizen-Muse Creative Coaching Certification Training
For more information visit www.kaizenmuse.com
email info@themuseisin.com

Saturday, December 6, 2008
Julian Library Creativity Unleashed Workshop with Jill Badonsky
A cozy time to meander up to the land of apple pie, hot chocolate and mountain tops to partake in some creative inspiration and a sneak preview of The Awe-manac.

December 8, 2008
THE AWE-MANAC: A Daily Dose of Wonder by Jill Badonsky debuts. Bring Jill to your neighborhood, community, church or organization for an Awe-full event... Hmm.. I'd better talk to the PR department about that one. How about an Awe-inspired Event?
For samples of The Awe-manac, click here. You can preorder for the holidays at your local independent bookstore or on Amazon.com.

Thursday, December 11, 2008 7 p.m.
Book Works, Flower Hill Mall, Del Mar, CA: Book Signing KICK-OFF for The Awe-manac: A Daily Dose of Wonder (Running Press). A quirky take-off of The Old Farmer's Almanac with aha-phrodiacs, irreverent astrology, fictitious planting instructions, anti-aging potions, over 400 whimsically mischievious illustrations, creativity coaching tips, and creativity prompts for everyday of the year and every occasion under the sun.

Sunday, January 4, 2008 3 - 5 pm
Writer's Ink Celebration
3 pm.. live music, combustible excerpts, libations
Live music with Joanne Roshon, Billy Etheridge and Peggy Watson, libations, celebration, super quick writing prompts, and anti-aging potions.

January 17 -18, 2008
"Pink" and "Paisley" Magazine Conference and Workshops
Jill is speaking and presenting workshops on THE MUSES! - watch for more details but save the date. It's All Pink Magazine.
Hilton Head Island, South Carolina

Events are sometimes updated at www.themuseisin.com .
BTW, I'm running for president. The Muses will occupy my cabinet seats. Please vote for me.. or please just VOTE.



Creativity Crash Course



Last month you had a word pool to play with:
engulf, midnight, gesture, simmer, collect, morning, testify, electricity, actually, carry, argue, seven, handful, detective, size, hat, listen, scrawl, alley

See Pattie Mosca's word play result and her wonderful artful blog here.

Here's what happened when Lynda Treger put them together and added more:
"My mind was engulfed by the size of the bounty, the enormity of the situation.
At midnight I settled down to silently wait. The seven dwarfs tiptoed in, wearing dumpy dwarf hats, and each carrying a handful of smashed plastic bottles they had collected from the alley. They recycled. My sidekicks were gesturing wildly as I listened to their body language to surmise how 'things' had progressed. Grumpy actually had a relaxed look on his face, but complained in silent animation, nevertheless, to keep his name in good standing.
It was hard to keep still with their energy electrifying the small space of my home. Oh no friends, there was no arguing, just anxious anticipation of my fate.
By morning I had simmered seven pots of tea. We were on pot number eight when Detective Iknew I. Could tapped on the door and slid a note underneath on which he had scrawled: I found your Prince Charming. Eat the apple. All's well."

Your turn:
1. Write imperfect poetry or prose using the words below and whatever other words volunteer to join them. Break rules - use a noun or a verb as an adjective, make one or two word sentences, repeat yourself, purposely make at least 4 different false starts using diffferent perspectives and a style unlike your own, start in the middle. Go ahead: your life shrinks or expands based on your willingness to courageously venture out of your little perfect comfort zone. Isn't about time you gave yourself permission to do that?

rascal, tracks, candle, moving, release, blunder, spoil, periwinkle, turquoise, join, permission, inbetween, seek, melody, sort, haunting, inaccurate, beauty, finite, limitless, bug.

2. Assemble a still-life and sketch it using your non-dominant hand OR while looking at the still-life but NOT at your paper. Experience the child-like energy possible in imperfect drawing.

3. Make a reckless collage, purposely choosing imperfect images - gluing before planning it all out. Look for the possibilities that emerge from this process and comply. If it sucks... So? Do another one. OR focus on one central image purposely making it imperfectly beautiful. I dare you.

4. Here's a loosening up writing exercise. Making up nonsense words can free us from trying to be so precise. Be Lewis Carrollian or Dr. Seussian. Invent a fictitious problem and then use nonsense words to create a poetic solution. Feel free to send me your result. My attempt:

How to Get Rid of a Pababbering Jinx

Use rumple nagpart loolangs but be careful they're not green,
Newpart zoowo with an anterfed on cedarwood backswing.
Turn perimeter to dancing star,
If you're in a lake you've gone too far
And if this doesn't work, just sing.
But sing in too-yups and in solos,
Don't include the key of D,
If you're boblooing birds inside a cage,
You must go and set them free.
Decide, at last to pitch regret,
Gather nighjops inside gold barrette.
Sip a oodock ginger tea
Then you'll be pabbabbering jinx-free.

SOME OTHER THINGS OF INTEREST
Here's a sneak preview of illustrations from The Awe-manac: A Daily Dose of Wonder to be released in December just in time for your holiday gift list.
Group Shot of Some Anti-aging Potions:



Digital Altered Books™, invented by Artella's Marney Makridakis, are the latest phenomenon to hit the creative world, merging the fascinating process of altering beautiful vintage books with the creative ease of digital imaging technology. On September 10, Marney is presenting a Webinar called Digital Altered Books Revealed, that will offer techniques for using Photoshop to create stunning Digital Altered Books™. The Webinar is open to anyone and there is no cost, but space is limited, so be sure to reserve your spot soon.




TAKE 80% OFF YOUR
PERFECTIONISTIC TENDENCIES
AND FEEL 100% FREER



To escape criticism - do nothing, say nothing, be nothing.


Offer valid even with mustard on the side of your mouth and a pasta sauce stain on your white blouse. Live dangerously, proceed without caution, invent, sideswipe audacity, be yourself unapologetically, spread your gorgeous wings and fly. Mileage may vary.
Sample Body Blissmas and A Happy New Rear

Body Blissmas is opening it's doors to a pre-program beginning now. For just $25 a month receive bi-weekly emails, listen to monthly teleconferences, and access to the membership site so you can either prepare for the the 6 month Blissmas journey beginning in January 2009 or simply sample what Blissmas is like. Click here to begin NOW.

Click here to be added to this growing list of women discovering how creativity can make wellness and weight control easier.

Body Blissmas combines creativity and wellness, art and health. It encourages it's members to drink more water. Here's some water art.. check it out!
(thanks Dale)
Blissmas Column at Creativity Portal