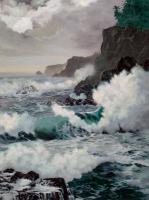 November Sea by Carol Thompson
The Sea
Hi There,
There are a few spots open for the complimentary call this evening on Body Blissmas and a Happy New Rear
5pm pacific, 8 pm eastern.
This is not a promotion for a program. It's a call to share how Kaizen-Muse Creativity Tools can be applied to taking care of your body and your body image.
Sign-up here
.
************
Don't you love how poetry, prose, art, music, and movement can easily break us out of the disturbing, the tired, and the mundane?

Creativity provides the colors, sounds and sights of where the soul can be restored. It offers a place where
anything can happen
.. not just the predictable, the required, the protocol, the status quo. It gives us a respite from the overwhelming, the overused, and the disturbing
The Muse Flash this month is devoted to unique, liberating possibilities provided when a wave of creativity is allowed to baptize us with the jewels of the see. See this poem from e.e. cummings:
"maggie and millie and molly and may
went down to the beach (to play one day)
and maggie discovered a shell that sang
so sweetly she couldn't remember her troubles, and
millie befriended a stranded star
who's rays five languid fingers were;
and molly was chased by a horrible thing
which raced sideways while blowing bubbles: and
may came home with a smooth round stone
as small as a world and as large as alone.
For whatever we lose (like a you or a me)
it's always ourselves we find in the sea."
Amidst a dark lingering life tempest poems steer me in the direction of tributaries that flow to sunnier scenarios - s curves to sane shores.
Sometimes Soggy and Sometimes Seeworthy,
Jill Badonsky
Creative Liberation Fighter

Here..click here to make some of your own poetry and float away from the mundane.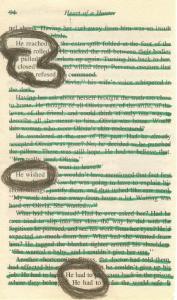 Click on the Page Above to Sea How You Can Discover Some Poetry From this Wonderful Altered Books Site
Where Can You Find Poetry?
I heard your inner poet ask you to write a poem. Time it, take just 5 minutes. Use these words and phrases and more if you need:
bathroom light, cold winter morn, eavesdrop, window pane, the ones you try to keep hidden, unable, underneath, carefully, in front of, reach, belong, understand, solid, watch in amazement, breathe, heart beat.
The Idea:
Cut the bindings off of books found at a used book store. Find poems in the pages by the process of obliteration. Put pages in the mail and send them all around the world. Lather, rinse, repeat.
This site is a chronicle of a very specific set of collaborations between the artists listed below working on the titles listed below.
Click here for the Aha-phrodite Interview by Creatvity-Portal's Molly Childers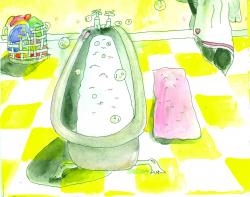 relax
Kaizen-Muse Creativity Coaching Tip
Do not underestimate the power of a nurturing bath (or shower) to the bubbling up of ideas.
Enveloping Yourself in a Bath of Laughter is also a Way to Sail into Calm Sees:

"When mom found my diaphragm, I told her it was a bathing cap for my cat." ~Liz Winston
When my thoughts are tormenting me, replaying my distorted perceptions or haunting me with regrets from the past, I encapsulate an image that represents that thought or thoughts in a bubble and touch it lightly so it floats away. Try it.
Here's a
Draw a Pig
Personality Test (thanks Dale)
Gratitude to All of You Always,
Jill

Visit The Kaizen-Muse Creativity Coaching Site


Schedule of Events


November 12, 2009 5pm pacific, 8 pm eastern


Free Teleconference: Body Blissmas and a Happy New Rear - Find out what Kaizen-Muse Creativity Coaching is and how it applies to the energy we need from our bodies for creativity.

Sign-up.

Tuesday, November 17, 2009
Wrapping Your Experience in Words

Writing Workshop

We will use journal writing, creative prose, and stream of consciousness prompts to capture life moments with writing uniquely flavored with creativity, humor, and poignancy. The inspiration of authors and the tricks of Muses to make writing essays or personal stories easy. Exalt memories, passions, and points of view to writing and expression. Free adjectives to all who sign up.

Long distance charges apply only according to your plan.

Sign-up by scrolling to the event here.

If you've been attending a lot of the free calls, consider supporting The Muse is IN efforts with this low-cost call.

January and/or July 2011 (yes, that's the year after next!): Jill and Mabel's Creative Retreat in Taos, New Mexico! Planning this far ahead creates doable payment plans. Only a few places still open. Click here for more information.

Free Teleconferences Monthly. Watch for them in the Muse Flash.
Last Month's Muse Flash

The Muse is IN classes webpage
Join The Awe-manac Page on Facebook


Celebrate Daily Awe:

Today: November 12 and this week


Awe-servances
Happy Birthday to:
Auguste Rodin,1840, artist, most famous as a sculptor.
Edvard Munch, 1863, symbolist painter, printmaker, forerunner of Expressionistic art.
Shallow Persons Awareness Week - a week to acknowledge and embrace your shallowness.

Aha-phrodisiacs
Auguste Rodin said "I invent nothing, I rediscover." Rediscover an idea in poetry or prose. Start with … "Here it is again …"
Or rediscover something you've started and keep going.


As with many of his works, Munch painted several versions of The Scream. Choose a subject and doodle, collage, draw or paint several versions of it.

Or take several versions of a bath.


Awe-manac Facebook Page