>> WMAN/IEN Grassroots Communities Mini-Grant Program--Deadline February 1, 2010

The goal of the Mining Mini-grants Program is to support and enhance the capacity building efforts of mining-impacted communities in the U.S. and Canada to assure that mining projects do not adversely affect human, cultural, and the ecological health of communities.
The applicant must be a grassroots or indigenous community program with limited funds that have demonstrated the capacity to successfully carry out the project. Individual grants will not exceed $3,000 U.S. and cannot be used for general programmatic or operating expenses.
CLICK HERE for Grant Description and Application (Word Doc)
CLICK HERE for Grant Description and Application (PDF)
WMAN/IEN Grassroots Communities Mining Mini-grants program criteria:
Grassroots community-based organizations, and Tribes or Tribal programs in the U.S. and Canada with any budget level may apply. However, if there are more applicants than funds available, priority will be given to organizations with an organizational or mining-specific project budget under $75,000 U.S.
Requests must be project-specific for an immediate need such as legal assistance, organizing and outreach, development of campaign materials, media development, reports, travel, mailings, etc. to be fulfilled within the next four to six months on a specific mining campaign. Funds cannot be used for an organization's general operating funds, staff salaries, rent or telephone bills.
Priority will be given to projects that build bridges and community across socio-economic and cultural lines.
Applicants who have received funds twice during the previous two grant cycles will be given lower priority than new organizations and programs. This will not apply to "emergency" grants.
Each grant issued will not exceed $3,000.
Funding recipients must submit a brief report detailing how funds were spent within 1 month of the project finishing. Recipients will not be eligible for additional funding until the project has been completed and a project report, or an extension request, is received and accepted by WMAN and IEN.
Any questions? We are happy to help. Please contact either:
Sarah Keeney, WMAN Network Coordinator at
(503) 327-8625 ~ sarahekeeney@comcast.net
or Simone Senogles, Indigenous Environmental Network, (218) 751-4967 ~ simone@ienearth.org.


>> Everyone's Downstream III: From the Front Lines to the Finish Lines--Races to the bottom
Friday to Sunday, January 15-17, 2010 (related events begin January 12, see below) Edmonton, Alberta. Organized by OilSandsTruth.org with the Indigenous Environmental Network and the Rainforest Action Network.
Come for a tar sands focused conference that discusses the true meaning of 'corporate responsibility" as it relates to development. Many large players will be explored with discussions of Suncor, Enbridge, BP, Royal Bank as well 2010 Winter Games Sponsorship and the impacts on near and far communities with representatives speaking from affected communities. Space for planning a response collectively will be provided.
Everyone's Downstream III is to be held in Edmonton once again, this time occurring in January, 2010.
ALL Friday to Sunday events (January 15, 16, 17.)to be held at Strathcona Community League, 10139 87 Avenue (five blocks north of Whyte Ave)
EDSIII Launch Event
The Green Shift & the global Capitalist Economy:
Can Capitalism be made Green?
Is it a viable strategy?
Post Copenhagen discussion of market-based environmental solutions and offsets with:
Ricardo Acuña, executive director, Parkland Institute
Tom Goldtooth, executive director, Indigenous Environmental Network
Saturday, Jan 16:
Everyone's Downstream III:
From the Front Lines to the Finish Lines-- Races to the Bottom
9am: conference opening.
Opening Panel
Time: 9:30-12pm
SUNCOR across Turtle Island
Arnold Yellowman, Aamjiwnaang First Nation (near Sarnia, Ontario)
Billie Pierre, Nlaka'Pamux Nation (speaking on 2010 Olympics and sponsorship)
George Poitras, Mikisew Cree First Nation (Fort Chipewyan, Alberta)
Shannon Walsh, Montréal, QC (PetroCanada/Suncor Refinery)
Second Panel:
ENBRIDGE & Royal Bank of Canada:
Financing and flowing across Turtle Island
Time: 115pm -330pm
Mel Bazil, Wet'suwet'en Nation (north-central BC).
Warner Naziel, Wet'suwet'en Nation (near Smithers BC).
Laurent Busseau, resident of Dunham, QC. (Enbridge Trailbreaker/ Portland Montréal Pipeline reversal)
RBC Toronto: Taylor Flook (Rainforest Action Network-- Toronto, tar sands and 2010 campaigns)
Final Saturday panel: 3:45-5pm
WHAT DO WE DO ABOUT THIS? action/organizing planning.
Sunday, January 17, 2009
First Panel
Time: 9am-1030am
The Social Impacts of Development
Tar sands and the anti-war struggle:
Clayton Thomas-Muller, Indigenous Environmental Network-- Canadian Indigenous Tar Sands Campaign.
Palestine/Israel and the Tar Sands:
Macdonald Stainsby, OilSandsTruth.org
March for Missing and Murdered Women, Edmonton:
Danielle Boudreau, founder and march organizer
Second Panel:
Alberta Community level impacts-- presenters invited from:
Time: 10:45-12:30pm:
Little Buffalo (Lubicon Lake First Nation, northern Alberta)
Beaver Lake Cree Nation (south of Lac La Biche, northern Alberta)
BP [former British Petroleum]:
Taking resistance beyond Canada.
1:30-3:15pm
Alaskan nations -- tbd.
BP headquarters in London, England-- Jess Worth (New Internationalist, UK Tar Sands Campaign) via skypecast.
Whiting/East Chicago, Indiana BP refinery-- Debra Michaud (RAN-Chicago)
3:30-5pm
What do we do now?
Action planning and/or strategy session
TOP STORY:
Department of Interior Judge Withdraws Peabody's Coal-Mining Permit on Black Mesa Reverses 11th Hour Bush Administration Decision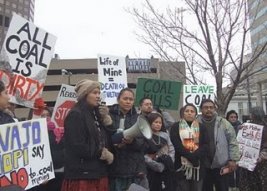 Black Mesa, AZ - A Department of Interior Administrative Law Judge withdrew Peabody Coal Company's Life of Mine permit for operations on Black Mesa, AZ, handing a major victory to tribal and environmental organizations who appealed the permit decision in January. The permit had been granted on December 22nd 2008 by the Department of Interior's Office of Surface Mining (OSM) in one of several fossil-fuel friendly 11th hour decisions by the Bush Administration.
According Judge Robert G. Holt, "OSM violated NEPA [National Environmental Protection Act] by not preparing a supplemental draft EIS [Environmental Impact Statement] when Peabody changed the proposed action. As a result, the Final EIS did not consider a reasonable range of alternatives to the new proposed action, described the wrong environmental baseline, and did not achieve the informed decision-making and meaningful public comment required by NEPA. Because of the defective Final EIS, OSM's decision to issue a revised permit to Peabody must be vacated and remanded to OSM for further action."
Wahleah Johns, co-director of Black Mesa Water Coalition, one of the petitioners in the appeal, issued the following statement: "As a community member of Black Mesa I am grateful for Judge Holt's decision. For 40 years our sacred homelands and people have borne the brunt of coal mining impacts, from relocation to depletion of our only drinking water source. This ruling is an important step towards restorative justice for Indigenous communities who have suffered at the hands of multinational companies like Peabody Energy. This decision is also precedent-setting for all other communities who struggle with the complexities of NEPA laws and OSM procedures in regards to environmental protection. However, we also cannot ignore that irreversible damage of coal mining industries continues on the land, water, air, people and all living things."
For more information:
Tribal Campus Climate Challenge
Contact: Black Mesa Water Coalition, Billy Parish, billyparish@gmail.com, (203) 887-7225
Photo Caption: Hopi Navajo protest Denver, CO. Photo Credit: Mano Cockrum
>> Energy Resource Development Tribal Internship Program
Application Deadline: March 15, 2010 (applications sent before the deadline will be eligible for early acceptance)
Program Dates: June 1 - August 6, 2010
The Program
The U.S. Department of Energy's (DOE) Argonne National Laboratory, a major research center, is pleased to announce a unique summer internship program for American Indian and Native Alaska (AI/NA) college students. The Department of the Interior's Office of Indian Energy and Economic Development (IEED) worked together to identify strategic opportunities for internships based on current Argonne programs and mentorship availability. Potential research arenas are focused on energy resource development, both renewable and non-renewable, and environmental evaluation and analysis of potential impacts from energy resource development activities. To facilitate the program DEP will collaborate with the Environmental Sciences Division in providing scientific and technical mentoring for interns.
The DEP has designed a residential program to host twelve undergraduates, selected by Argonne, during the summer of 2010. Students would be in residence at the laboratory for ten weeks.
A key element of the internship experience is Tribal involvement. Argonne will recruit interns from public, private and Tribal Institutions of higher learning.
To apply for the Energy Resource Development Tribal Internship Program you must submit an application electronically at http://www.dep.anl.gov/catalog/application.html. The program begins June 1, 2010 however there is some flexibility in the appointment period. If your application is sent in before the March 15th deadline, you would be eligible for early acceptance. In addition to research activities, participants attend a series of seminars and tours dealing with current topics in science and engineering.
Areas of Research
Research opportunities will focus on energy resource development, both renewable and non-renewable, and environmental evaluation and analysis of potential impacts from energy resource development activities. Research projects involve wind energy, solar energy, fuel cells, hydrogen storage, advanced fuels, lithium batteries, environmental and economic systems analysis, production of chemicals from renewable resources, climate change and environmental impact assessments.
>> CARBON TRADING -- HOW IT WORKS AND WHY IT FAILS
Announcing the release of our new book, Carbon Trading:
how it works and why it fails, which can be freely downloaded HERE
Published by Carbon Trade Watch, Transnational Institute
This book will help to build strong debate and discussion as we all move to continue the struggle beyond Copenhagen.
CARBON TRADING -- HOW IT WORKS AND WHY IT FAILS
Carbon trading lies at the centre of global climate policy and is projected to become one of the world's largest commodities markets, yet it has a disastrous track record since its adoption as part of the Kyoto Protocol.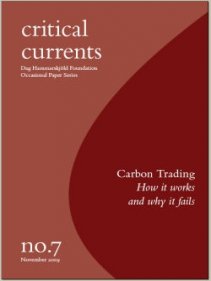 Carbon Trading: how it works and why it fails/ outlines the limitations of an approach to tackling climate change which redefines the problem to fit the assumptions of neoliberal economics. It demonstrates that the EU Emissions Trading Scheme (EU ETS), the world's largest carbon market, has consistently failed to 'cap' emissions, while the UN's Clean Development Mechanism (CDM) routinely favours environmentally ineffective and socially unjust projects. This is illustrated with case studies of CDM projects in Brazil, Indonesia, India and Thailand.
UN climate talks in Copenhagen are discussing ways to expand the trading experiment, but the evidence suggests it should be abandoned. From subsidy shifting to regulation, there is a plethora of ways forward without carbon trading -- but there are no short cuts around situated local knowledge and political organising if climate change is to be addressed in a just and fair manner.
Chapter 1: Introduces carbon trading, how it works and some of the actors involved.
Chapter 2: Explores the origins and key actors involved in building the architecture of emissions trading.
Chapter 3: Examines the performance of the EU ETS and finds that it has generously rewarded polluting companies while failing to reduce emissions. Many of the scheme's flaws, from the over-allocation of permits to pollute onwards, are found to be fundamental to the cap and trade approach more
generally.
Chapter 4: Outlines the performance of the CDM and looks at four case studies of CDM projects in Thailand, India, Indonesia and Brazil; it argues that offsets projects, even those that promote renewable energy, will not be a solution to climate change.
Chapter 5: Outlines what could work and ways forward for political organising around questions of climate change.
Click HERE to download
To request a printed copy, please contact: nina@tni.org
>> GET INVOLVED:
PARTICIPATE IN BUILDING THE RED ROAD TO DETROIT!


Get Involved
We call on you, Native Peoples of the U.S. and First Nations of Canada to join us as fighters for justice as we converge, act, and reflect on our potential and power leading up to USSF Detroit. Help us build this integrated, multi-issue, multiracial, multi-tribal strategy social movement. The USSF II offers us the opportunity to continue to gather and unify what we learned in Atlanta at USSF 2007, and in the years in between.

We must seize this moment and advance our collective work to build grassroots leadership, develop collective vision, and formulate strategies that keep a strong movement growing.
There are many ways to get involved. Your Native Nation, Native organizations, Native grassroots groups can join the National Planning Committee (NPC) or People's Movement Assembly (PMA), you can join the working groups or start building regional and local committees to ensure a massive and diverse participation in Detroit, June 22-26, 2010.
Vision
The US Social Forum (USSF) offers an open space and a process for creating movement convergence and coordination across our many struggles, sectors, regions, and rich diversity. The USSF lifts up the voices and demands of Indigenous Peoples, people-of-color, poor, women, working people and youth at the grassroots in building for fundamental transformation in the 21st century.
Through the US Social Forum our emerging movement develops and models structures and processes for inclusion, participation, self-organization, collaboration, and collective reflection. The Social Forum process seeks to create movement infrastructure, capacity, and resources.
The USSF process can be a space to communicate and educate, organize and mobilize within the broader society, and with our partners in the Global South. We envision another United States and another world, and are deepening our shared political practice and strategy to make it a reality.
Goals
Political impact: movement building / framing political debate and action.
Create a space for social movement convergence and strategic discussion.
Advance social movements' agenda for action transformation.
Build stronger relationships and collaboration between movements.
Deepen our commitment to international solidarity and common struggle.
Strengthen local capacity to improve social conditions, organizing and movement building.Continue to be a space in which grassroots lead, while being inclusive of other sectors.
Develop a collective systemic understanding and analysis of the current economic and political moment.
Create a shared vision of the society and world that challenges poverty and exploitation, all forms of oppression, militarism and war, and environmental destruction.
The US Social Forum is more than a conference, more than a networking bonanza, more than a reaction to oppression and repression.
Organizing and Outreach
Bring 25,000 delegates and double the international delegate participation
Engage groups and movements that were not part of the 2007 USSF
Formalize relations with Indigenous Nations and Indigenous struggle and movements of Turtle Island and the Hemispheric Americas.
For more information in "Indian Country":
Contact Persons:
Local Detroit Native Community: Sharon George, American Indian Health & Family Services of Southwestern Michigan, Inc., Detroit, MI. Phone: (313) 846-3718, Email: sgeorge@aihfs.org
Representative from the USSF National Planning Committee: Tom B.K. Goldtooth, Executive Director, Indigenous Environmental Network, Bemidji, MN. Phone: (218) 751-4967, Email: ien@igc.org
USSF Native Organizer: Heather Milton-Lightening. Email: heathermilton.lightening@gmail.com
USSF Detroit 2010 Staff contacts: Maureen Taylor or William Copeland, USSF Staff. Toll free 877.515.USSF
>> Energy Department, NRC Back Nuclear, Ignore Industry's Dirty Little Secrets
Thursday 07 January 2010
by: Art Levine, t r u t h o u t | News Analysis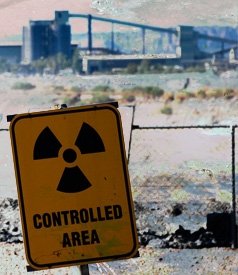 Edith Hood isn't part of the grand debate over climate change as leading environmental groups and President Obama's secretary of energy increasingly accept nuclear power as a necessary part of any solution to the global warming crisis.
She is just a Native-American woman living in the Coyote Canyon reservation area of New Mexico, and back in 2007, she tearfully tried to convince a House oversight committee that the federal government should do more to clean up the uranium waste where she lives - and the legacy of death and illness all the mining caused. "Where I'm from, there are pinon-covered mesas, our beautiful and sacred mountains, sandy deserts," she told the Congressmen about her community. "Where I'm from, in a placed called Red Water Pond Road, there is also uranium waste and sickness. I live on the Navajo Reservation, between two abandoned mine sites."
Meanwhile, mining companies are looking again to exploit Navajo lands - and their workers - as demand for uranium increases and the Department of Energy is seeking to back the construction of more nuclear plants with billions in loan guarantees. These include supposedly cutting-edge reactors that have turned out to have thousands of safety errors, and are years behind schedule while being built in Finland and elsewhere. At the same time, the Nuclear Regulatory Commission (NRC) that is supposed to monitor the nuclear industry has been repeatedly found to have failed to effectively regulate plants - in Toledo and other cities - in ways that brought the public dangerously close to nuclear meltdowns at some plants, while leaving too many plants still vulnerable to terrorist attacks.
The damage has already happened to those unlucky enough to live or work near uranium mines and processing facilities. The dangers of uranium mining linger even after the mines close up, as some cancers have a latency period as long as decades until their symptoms become obvious. For many Native-Americans living in reservations in New Mexico and elsewhere - like native people around the world victimized wherever there is uranium mining - they have worked or lived near the mines, and, as a result, they've been killed and sickened by radiation. Relatively little has been done so far about it, even with limited legislation to compensate miners.
The continuing plight of families living near the 500 or so abandoned mines in Navajo territories in the Southwest was underscored by testimony in 2007 before the House Committee on Oversight and Reform. As Edith Hood declared:
Today, as I pray in the early morning dawn, there is a man-made mesa of radioactive and hazardous waste about a quarter of a mile northeast of my residence. In the other direction, to the south about one thousand feet away, is another mound of uranium mining waste. The one to the south has been left uncovered since it was created in 1968 and since the company stopped mining twenty-five years ago. From my front yard I can see these waste piles. This waste seems to be piled everywhere. There are mountains of it - fifty, sixty feet high. This is the tailings or muck of pulverized uranium ore. This stuff is spread by wind and water. We breathe it and live with it every day ...
I worked at the Kerr McGee mine, 2000 feet underground. I was diagnosed with lymphoma in the summer of 2006. My father has a pulmonary fibrosis. My mother was diagnosed with stomach cancer. My grandmother and grandfather died of lung cancer. Many of my family members and neighbors are sick, but we don't know what from.
Today, there is talk of opening new mines. How can they open new mines when we haven't even addressed the health impacts and environmental damage of the old mines? Mining has already contaminated the water, the plants, and the air. People are sick and dying all around us.
We need your help to clean up the mess that the mining companies and the US government have burdened us with. We need help to stop mining companies from coming in and making a new mess.
Currently, there are only four active uranium mining and milling facilities in the US, but other mining companies, including sites in New Mexico and Colorado, are considering opening more.
At the recent Copenhagen 15 summit, the fate of native peoples facing these dangers was given little attention, despite protests, as the rush to nuclear continued apace, all part of the so-called nuclear renaissance. It was apparently ignored by the major media as just another fringe sideshow of loonies eager for publicity, rather than the dirty little secret behind the "clean air energy" PR blitz of the nuclear industry. That message has essentially been enhanced by the drive for subsidies, and enabled by leading environmental groups such as Sierra Club and legislators such as Sen. John Kerry, who have accepted nuclear energy so far as the price of a climate bill.
But the concerns of indigenous people, although marginalized, are well worth hearing, as organized by Building Action for Sustainable Environments Initiative (BASE):
We are citizens who represent some of the communities in the US who bear the legacy of 50 years of nuclear energy and weapons production. We are indigenous nations, we are Latino citizens and farm-workers, and we are African American communities living near nuclear power and weapon production sites ... Click here to continue reading.