The Long Winter...
This has been a most unusual winter. It started on December 18th, with a snowstorm that left approximately 17" of snow. One week later, there was the big ice storm, which coated everything with 1/2" - 3/4" of ice. This was followed by two weeks of below freezing temperatures (described in one local paper as a "once in a generation cold snap"). Just when things seemed to be thawing and melting, there was another snowstorm at the end of January, which left about 13" of snow. On February 5th, there was another ice storm. When it's not snow or ice, it's high winds. This amount of snow and ice is very unusual for this area. Spring cannot get here fast enough!
The first ice storm did major damage to the Farm. Not only were we without power and phone service for several days, there were downed trees and limbs all over the property. Several enclosures were damaged, and Tala's was destroyed. Tala, and the other animals, were just fine. Tala is in a temporary enclosure until we can purchase the fencing to rebuild hers. In all, 864 feet of fencing was damaged/destroyed by this storm.
You can view more photos here.
Tala's enclosure.
The second ice storm brought down more branches, but no enclosures were damaged, and once again, no animals were hurt. The roof of the camper our animal caretaker lives in was punctured by a falling limb.
Lower compound, with collapsed feed shed.

The winter's rains and snow melt have damaged the driveway. Not only are there deep ruts, the runoff created a gully in the middle. We are in need of a tractor and grader to restore the driveway as well as road bond and gravel (2 loads each) in order to repair it. We will also require a professional tree service to deal with several snags and damaged trees as well as limb disposal. We also need to replace the feed shed, as the roof collapsed from the weight of the first snowfall. Two of our storage sheds were damaged by falling branches. The weight of the second snowfall cracked the windshield of the van.

We are incredibly grateful to everyone who came out to help us with the cleanup. "Thank you" doesn't seem adequate enough. We would not be nearly as far along with the cleanup and repair work if we hadn't had so many people come out. We are incredibly thankful for all the assistance.

In a normal winter, we don't need to ask for this much support. With the severity of this winter, we really do need it. There's still more to do, and we would love to have the help! If you are able to come out, please call 828-669-1818. If you do not have a vehicle with 4WD or all-wheel drive, you will need to park at the bottom of the driveway. If you are not able to physically come out, dry thoughts, prayers and, of course, donations are always welcome. Thank you so much!

Photo of Tala's enclosure by Sharon Greene.

Photo of the lower compound by Nancy Brown.
Woofer Updates
Misty continues to reside in the infirmary. She is doing well on her medical regimine, and continues to improve. We are hoping that her long bout with demodex mange (the non-contagious type), staph and her other issues are under control for good. We're hoping to be able to put her back in a regular enclosure, once the weather improves.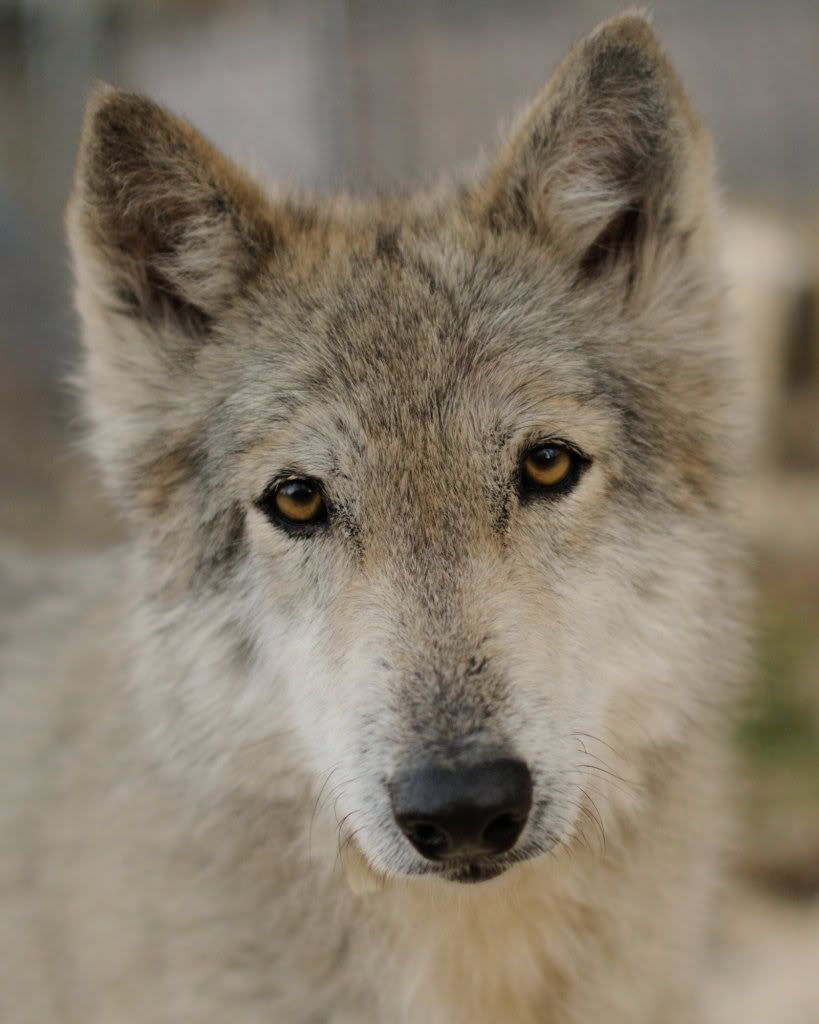 Misty
We noticed that Pretty Girl had an unusual looking toe on one of her front paws. She was taken to the vet, who determined that it was cancerous. Her toe was amputated, and all infected tissue was removed. The biopsy determined that it was squamous cell carcinoma. She spent some time in the infirmary, but is back with her brothers and doing well.
Pretty Girl in the snow.

Photo of Misty by Ryan Talbot. Photo of Pretty Girl by Sharon Greene.
Sad News
On March 12th, Maya was lovingly sent over the Bridge. She hadn't shown any signs of pain or discomfort (wolfdogs are typically stoic and mask pain well.) With the recent spate of warm days, all of the animals had taken to napping for hours in the sunshine. That morning, Maya came one of our volunteers, who noticed that Maya seemed "off," and when she was able to touch her, noticed Maya's neck was swollen.
Nancy took her to the vet, and while waiting for the vet arrive, she checked Maya over and discovered that all her lymph nodes were swollen. As they were waiting, Maya's legs began to swell, and her breathing became shallow. When the vet came in and examined her, she determined that Maya had lymphoma, and that it had spread throughout her body. The decision was made at that time to send her to the Bridge.
Nancy and Cheryl laid Maya to rest at the Farm the next day, with the Saturday volunteers there to help see her off. Aries misses her deeply, and is more than grateful for any and all attention that he can get.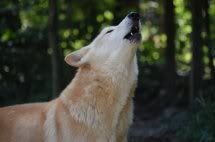 Howling Maya.

On the morning of January 3rd, we lost Chewey to bloat (gastric torsion). He had resided at the Farm since 2002, and was one of the original animals in the first big rescue that was instrumental in starting Full Moon Farm. He was part of a ragtag pack of males, unsocialized to humans.
Nancy, Cheryl and Kim were there to lay him to rest. They got to give him kisses and scritches, which he never would have tolerated, and told him how much he was loved. Bear has been grumbly, and clearly misses his buddy. Nancy has asked Pippi and Sissy, who reside in the pen behind him, to be nice to him. So far it's working, as they all hang out together near the fence line.
Chewey watching storm cleanup.
We have also had to say goodbye to two of our cats.
Max, our ambassador cat, passed away in his sleep on the morning of January 1st. He was given to Nancy as a birthday present in 1994. He was always happy to greet any and all visitors to the Farm. We would caution people in the warmer months to check their vehicles, in case he'd climbed in through an open window. (He once ended up in Swannanoa, having hopped in Nancy's niece's car!) Max also loved to socialize with visitors during our Howl-Ins in hopes of scoring some barbecue.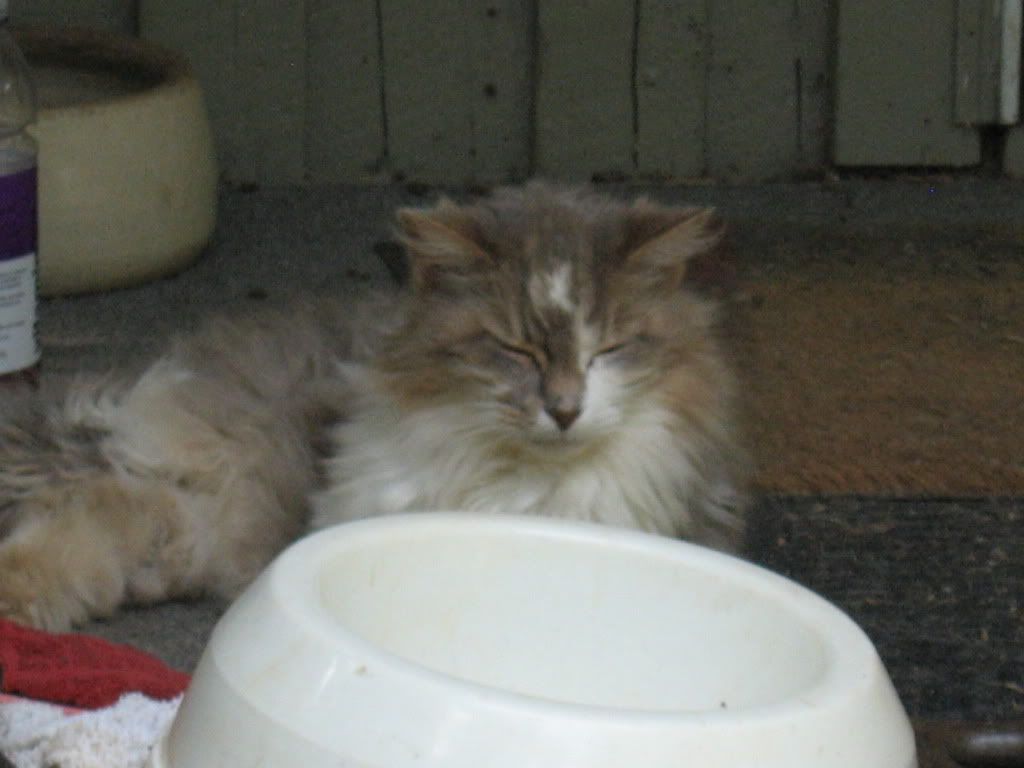 Max, relaxing on the porch.
Ball, our "doorstop" cat, passed away on January 9th. He had been ill with cancer for a while, but had been doing very well. It became apparent that morning that his condition had taken a turn for the worse, and the kindest thing would be to send him over the Bridge to be with his wife, Sam, and his daugher, Flakes. Undoubtedly, his buddy Max was also there to greet him.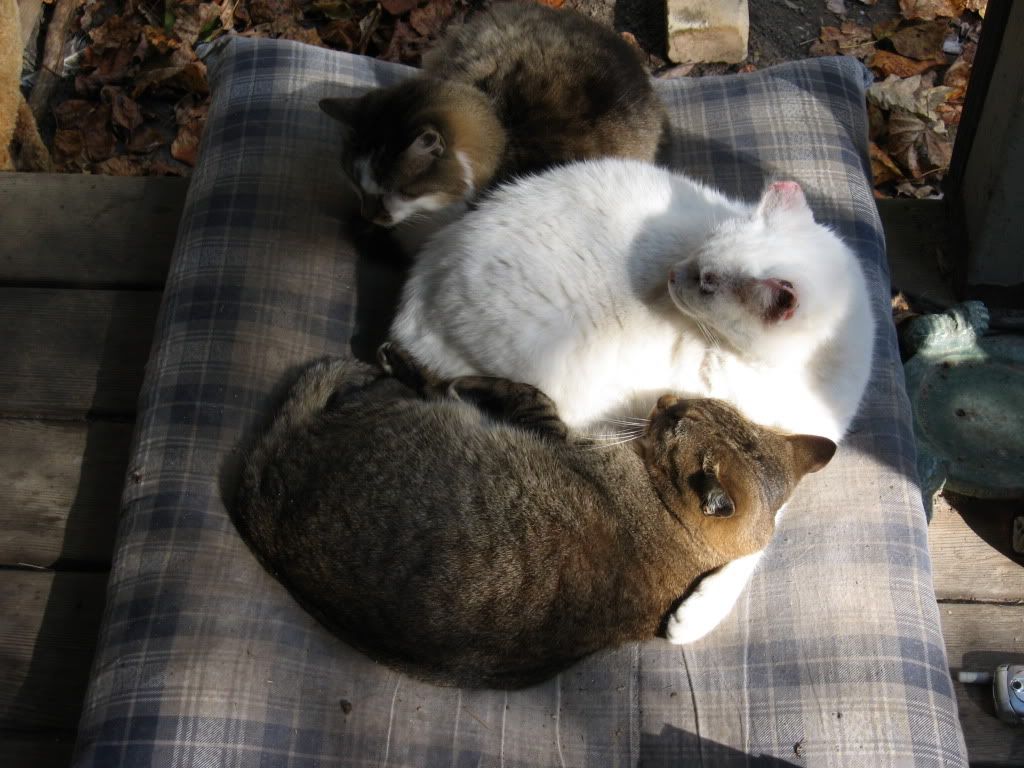 Sam, Ball and Pearl snoozing on the porch.


We miss all of them very, very much.

Photo of Maya by Kim Tulloss-Smith. Photo of Chewey by Dean Rhoades. Photos of Max and Ball with Sam & Pearl by Michele Frankl.
Happy Tails!
Lobo and Juneau have forever homes!
Both boys are doing well with their new families. They even have girlfriends! We wish all of them the very best.
Lobo at a Howl-In.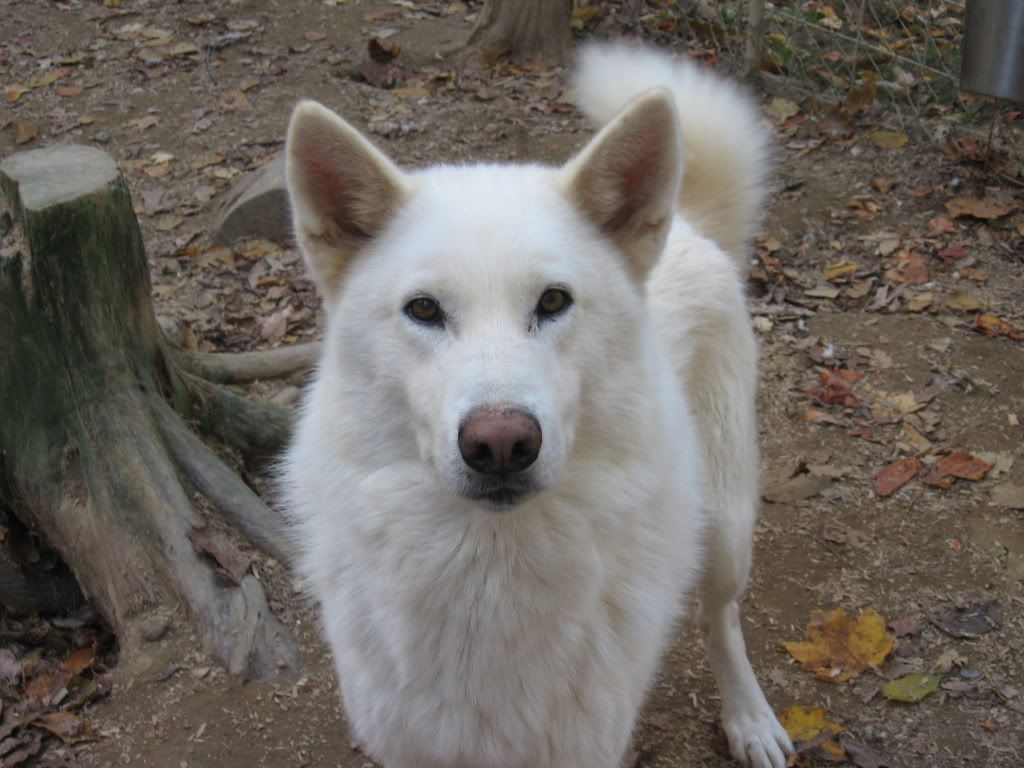 Juneau being cute.

Photo of Lobo by Dean Rhoades. Photo of Juneau by Michele Frankl.
Woofer Spotlight
This month, it's Colby and Princess!
Colby is one of the dogs who came from Shadow's Den. He's always been a sweetheart, if a little shy. He was moved in with Princess about a year ago. We wondered how he would do being in an enclosure near the main Howl-In area. He's done great! He loves watching people and has been known to hope for a handout or two. He's also gotten a lot better with strangers approaching him at the fence. He's happy to hold still for skritches!
Princess has also greatly improved with Colby's company. While she's long-healed from her initial wounds, she's still very shy with people. (However, she will happily approach you if you've got a leash in your hand--she loves to go for walks.) Seeing Colby's positive interaction with others is starting to rub off on her. She is much more inquisitive, and if she feels comfortable with the person, will allow a quick chin scratch. If you're in the pen, you might get a run-by sniff or lick.
The two of them really enjoy playing together. Colby just wishes he could figure out how to climb on top of the red doghouse!
Handsome Colby.
Pretty Princess.

Photos of Colby and Princess by Dean Rhoades.
Help Full Moon Farm win $20,000!
The Animal Rescue Site is hosting a special challenge for eligible Petfinder.com member shelter and rescue groups. The grand prize is a $20,000 grant, and they will be awarding many other grants to rescue groups with the most votes — a total of $100,000 in grants for animal welfare organizations.
Think how many animals we could help for $20,000!
Help us win! All you have to do is click to help rescued animals, and then vote in The Animal Rescue Site $100,000 Shelter+ Challenge. Both of these actions are absolutely free! You can vote once a day, every day, from now through April 18th. Every time you vote, or tell a friend to vote, you are making a huge difference for us.
Vote today!
Thank you!!
Howl-In Dates

Our 2010 Howl-In schedule is below. All events start at 3:00 p.m. with tours of the Farm. Potluck supper begins at 5:00. $5.00 donation includes main dish and water/soda. Bring a side dish and join the fun!

May 1

May 29

June 26

July 24

August 21

September 25

October 23

November 20 - Howl for the Holidays! Not a traditional Howl-In; we will have tours starting at 1:00 pm, but there is no supper. We will have a variety of items for sale for holiday shopping.
Donation Nights at Jersey Mike's Subs!
On Thursday, April 8th, and again on Thursday, April 29th, the Jersey Mike's Subs at 674 Merrimon Avenue in Asheville will be having donation nights to benefit Full Moon Farm. During the hours of 4:00 - 9:00 pm, if anyone who makes a purchase mentions Full Moon Farm or wolfdogs, the Farm will receive 15% of their purchase! If you're in the area, please come out for some good food and help the wolfdogs at the same time!
Full Moon Farm
PO Box 1374
Black Mountain, NC 28711
828-664-9818
A 501(c)3 organization

Searching and Shopping Reminder
Don't forget that you can help Full Moon Farm by using GoodSearch for your online searching, and igive for your online shopping!
Back Issues
You can find our back issues here.