The 13th Annual Deer Park Ladies Golf Club Benefit
Tournament is in its 7th year benefiting Candlelighters of the Inland Northwest.
To date, nearly $42,000.00 has been raised to provide direct assistance to children with cancer and their families. The goal for this year is $12,000.00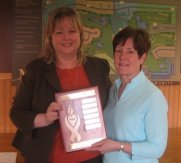 Mary Anne Ruddis and Lylia Toner

In 2004, member Lylia Toner suggested that funds from the tournament benefit local children with cancer and told members about the Candlelighters of the Inland Northwest.

Candlelighters empowers families from Eastern Washington, Northern Idaho, and Western Montana as they deal with the devastation that a childhood cancer diagnosis brings. "The idea that the funds remained in our local community was a big draw," said Lylia.

Lylia has personal experience with childhood cancer. Her daughter Veronica went through treatments when she was in the seventh grade. Today, she is 29 years old, a counselor at Spokane Mental Health, and the mother of a 5 month old – a miracle in and of itself since many children are told they will be infertile as a result of cancer treatments.

Get your team together and register early by contacting Deb Spiger at dmspiger@msn.com. or click on the link under Upcoming Events for a registration form.