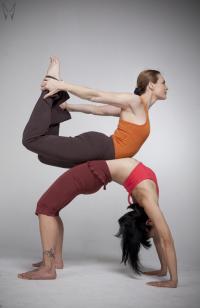 Keeping Balance: Yoga of Life
Mother's Day, May 9, I spent in the most fulfilling way I know: giving and receiving. Mom's day breakfast & gifts in the morning, teaching a Mother's Day Restorative in the afternoon, treating my assistants to lunch and their own Restorative, then dinner with my family.

Every day isn't always so optimally balanced! There are days of non-stop work, days of catch-up rest. Some days dealing with computer snags, bank errors, doctors, dentists. Yoga may be meditating on the subway, or hours of practice other days. Family time might be chess, a meal, or sharing a blood-splattered video game viewing. My solo time to "come away to a quiet place"? It might be late night writing, or a rare patch of peace in a sunny meadow.

Is any of it ideal? What's ideal? Every day offers us a fun juggling act, for which we may take full, intentional, responsibility. We live our dance daily. No blame, no regret: but let's make it the dance we want to live.

Every step. Today. Now. Live our dance: our yoga. Our "union."

And, every time we tumble out of balance, why, the sheer joy and delight to even be in the cosmic circus act! Can we look around and enjoy this big top that we are under? And enjoy the wonderful characters that make up the delightful troupe?

Including ourselves: Om shanti, fellow jugglers, dancers, actors! Kudos to you!

See you in class. And enjoy your yoga of life.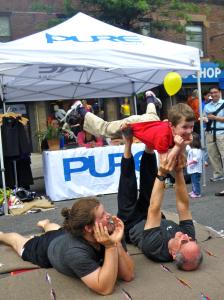 Pure Street Fairs
Summer in New York feels like an open-air market with street fairs nearly every week somewhere in the city! You will see AcroYogis performing at several of them this season. Here are a few:

West Side:
May 23rd, Amsterdam Avenue Fair
August 1st, Columbus Ave Fair
August 29th, Amsterdam Avenue Fair

East Side:
June 6, near E.86th/3rd Avenue

They are all on Sundays from 11-5, either near 86th Street on the East side, or 77th Street on the West side. Look for the Pure Yoga booth! Slip your shoes off, sign a waiver, and fly with our Jedis!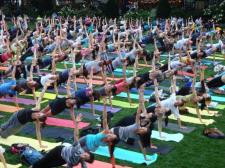 Park Yoga
May 20 at Bryant Park I taught a class on the lawn to 249 students - New Yorkers and visitors. The fountain sang, the skyscrapers waved, planes and a blimp wafted over, a white crescent moon graced the blue sky! Lululemon and the Bryant Park team have it down to a science, although we did run short of mats as we hit our student high for the year!

All summer long: free park yoga in the city. Thursdays 6PM, Tuesdays 10AM. See schedule at link.

You can also join CircusYoga founders Erin and Kevin, every Sunday 3-6PM in Sheep Meadow at Central Park for their tradition of playing and teaching juggling, acro, and games, to all comers. And, you will find AcroYogis playing right alongside them! Come, watch, play, join.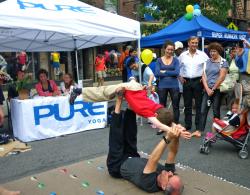 Schedule Snapshot
Classes:

Tues 10:30AM Restorative, Pure East
Tues 7:15PM AcroYoga®, Pure West
Wed 6/9-6/30 7:15PM Power/Restore, Pure East
Thurs 8PM Restorative, Pure West, starts 6/10
Fri 10:30AM Yin/Yang, Pure West
Fri 6PM Restorative, Pure East
And 6/23, 6/24, 10:30AM Zenyasa, Pure E/W

Workshops/Trainings:

6/3-6/6 YogaFit® Restorative TT, Minn.
7/15-18 YogaFit® Rx TT, Palm Springs CA
8/7-8 AcroYoga® Basics Wknd, Om Factory
8/15 AcroYoga® Fundamentals, E.Northport
8/29 AcroYoga® 101, YogaWorks SoHo
9/16-18 YogaFit® Rx TT, Weehawken NJ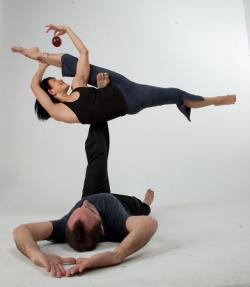 October Acro Fest!! Oakland CA
Jason Nemer and Jenny Sauer-Klein, co-founders of AcroYoga, will host the world's first AcroYoga® Festival on October 8-10 weekend in Oakland, CA. I'm delighted to go take tons of classes and to teach, too.

AcroYoga® teachers from around the globe will come to learn and to teach together, along with festival attendees. Guest star teachers from among Jason & Jenny's coaches and mentors will also be teaching. There will be limited registration room and an amazing time to be had, so start looking at airfares for that weekend now! More detail will be posted very soon on the AcroYoga® website.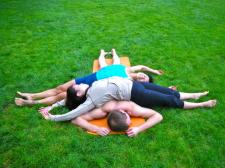 Power/Restore: June!!
My June schedule heats up at Pure East, as I teach 4 Wednesday nights of "Power/Restore" with Scott Harig at 7:15 PM. Scott will teach an hour of Power Vinyasa, followed by my half hour of delicious Restorative.

No fears: if you take breaks as needed you will easily survive my Restorative. Oh yes, Scott's flow, too. A great way to unwind after a summer's day! For more on Restorative, read down.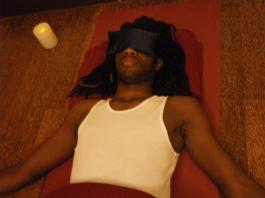 Restorative: Pure West!!
I teach Thursday 8PM Restorative at Pure West, starting June 10th! Come taste this beautiful facility. New to Pure West or East? Request from me a guest pass to sample the awesomeness of each.

Restorative or "Spa Yoga" as my student Alex calls it, is deeply restful Yoga poses supported on bolsters and props to facilitate the calming of the nervous system. My restoratives use music, aromatherapy, guided meditation and healing touch to enhance relaxation.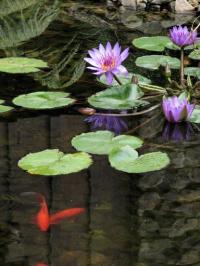 June Subbing
I will be teaching 2 of Jason Brown's signature Zenyasa classes, 6/23 and 6/24 at Pure East and West. See my schedule in main article; also on both Pure's website and mine.

My Fridays in June include much weekend travel, between leading Restorative training for YogaFit®, and acrobatic trainings for myself.

I welcome to my wonderful subbing team: Greg Franklin for Restorative; Anna Dioguardi for Restorative, and T'ai Jamar Hanna for Yin/Yang. Check Pure's online schedules for the teacher that may be teaching for me those Friday classes in June when I am not teaching.

AcroYoga® Workshops NYC
The New York City page at acroyoga.org is apoppin'! Check out its many offerings in and around NYC at a location, level, and date to suit you!

Especially with summer and new folks discovering AcroYoga®, the 3-hour Foundations workshops are highly urged. These form the backbone of the safety and power of our community practice. Come for the first time, or come brush up. The four I will be teaching:

8/7 & 8/8, Om Factory Wknd
8/15, East Northport, L.I.
8/29, YogaWorks SoHo

For details see the AcroYoga® website and pre-register for early bird discounts.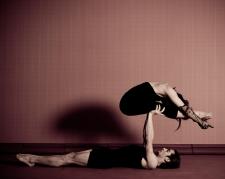 Photos; Responses; Privacy
Photo thanks this issue to: Aranka Israni for b/w studio pics; Megan Jolly for color studio shots.

In photos: Raul & Raphael Aranas; Chris Loebsack on my belly; Jake Brenner on grass; Ralph Craig restoring; Sam Prestidge & Andy Eisner in "Om Alone"; George Lee's Lotus pic; Bryant Park & Lululemon; Deven Sisler in Bat; Kristina, Cassie, Andy, Martine, & Helene at Booth; & bases Greg Franklin & Matt Giordano.

I honor your privacy and do not share email lists. Please feel free to Reply, Unsubscribe or Forward. Namaste! Mary