Shamanic Drum Circle - Wolf Clan Teachings
Sunday, May 23rd and Sunday, June 20th
7:00 pm
Together we'll gather in a circle by the fire and journey with our Guides to receive messages. Wolf Medicine teaches us to "follow the scent"...the scent of power and magic, the scent of spirit! We'll also send healing energy to any of our wolfdogs on the property who need or want it.
Sonara - "Grandmother SilverBear" - is visiting from Sooke, British Columbia. She brings over twenty years experience facilitating Drumming Circles (Michael Harner Method) and drum making workshops. New beginners and experienced practitioners alike are welcome.
Bring a blanket to sit on, a bandana or scarf to cover the eyes, a snack to share later, a drum or rattle if you have one. Dress warm for the evening as we will be outside under the stars and surrounded by the harmonious howls of our resident wolfdogs.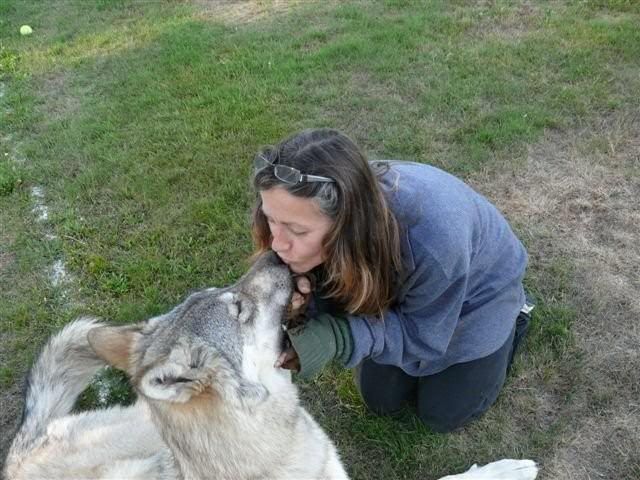 Photo courtesy of Sonara

Creator, help me learn Nature's lessons, especially from Wolf!

"Nature is life's greatest teacher. The natural laws are hidden in nature. Hidden are solutions to everyday problems such as conflict resolution, how to forgive, lessons bout differences, how to manage organization and how to think. Hidden are feelings. Look at something and feel it. Look at the night sky when there are no clouds. As you gaze at the moon and the infinite stars, your heart will become very joyful. You will walk away feeling joyful and peaceful. We need to visit nature so we can see and feel these things.

"What if we saw the inherent value and light in every soul? On my personal journey with wolves, I have taken some missteps. I have regrets. But I know I gained from every experience and learned incredibly valuable lessons from others who have a different viewpoint from my own."

Our minimum suggested donation for this event is $20.00 All donations will go to the care and feeding of our animals. Our gift shop will be open.

Email smedicinewolf@shaw.ca for directions to the Farm, or call Nancy Brown at 669-1818.
Hellos and Goodbyes
Say hello to Dodger!
Dodger was living in an area where wolfdogs were illegal. His owner surrendered him to the shelter. He was released to Full Moon Farm, with the intent of taking him to another sanctuary once he was healthy and neutered. The situation at that sanctuary changed, so Dodger is staying with us. We are hoping to find a permanent placement for him. He is very sweet and loves to get skritches, but is very uncomfortable with loud noises.
Photo of Dodger by Michele Frankl

One of our oldest residents passed away on May 15th. Howler suffered a stroke sometime on Friday night/Saturday morning (the 14th/15th). The vet was called and she came out to help send him over the Bridge. Howler spent the day sleeping peacefully in his doghouse, more in the next world than this one. Nancy estimated his age to be 12.
Howler had been the alpha of a large pack that came from the New Hampshire rescue in 2002. Another wolfdog decided he wanted to be alpha, and Howler had to be moved to a different pen (that altercation left Howler with scars on his face). Daunkette was moved in with him, as they got along so well.
Howler was curious about people, if a little shy. He would sometimes nip, and loved to attempt to steal gloves. He ended up with at least one glove (or hat) every winter. He also loved playing in the swimming pool he shared with Daunkette. They would take turns splashing and rolling in the water, regardless of the temperature.
Daunkette seems a little sad, and so are we. Howler was very much a character, and he will be missed.
Photo of Howler by Michele Frankl
Misty Update
Misty had a setback in late March. She didn't like being the only woofer in the infirmirary, and refused to eat anything raw. This was problematic, because her medications can't be hidden in kibble. Nancy figured that Misty was lonely. As Bear was also still a little lonely after Chewey's passing, it was decided to move her in with him. She was taken to the vet for another round of internal and external cleaning, and then moved into a 10'x10' pen in Bear's enclosure. We have to keep her in a separate pen because she still needs her medication, and it's the only way we can ensure she eats it.
Since moving her in with Bear, her attitude has improved. She's eating raw meat (and her meds!) again. Bear is absolutely smitten with her. He has moved his doghouse next to her pen, and seems a bit protective of her. He has to check out whatever we're doing with her. Hopefully, this will be a big enough boost for Misty so that she will get - and stay - healthy.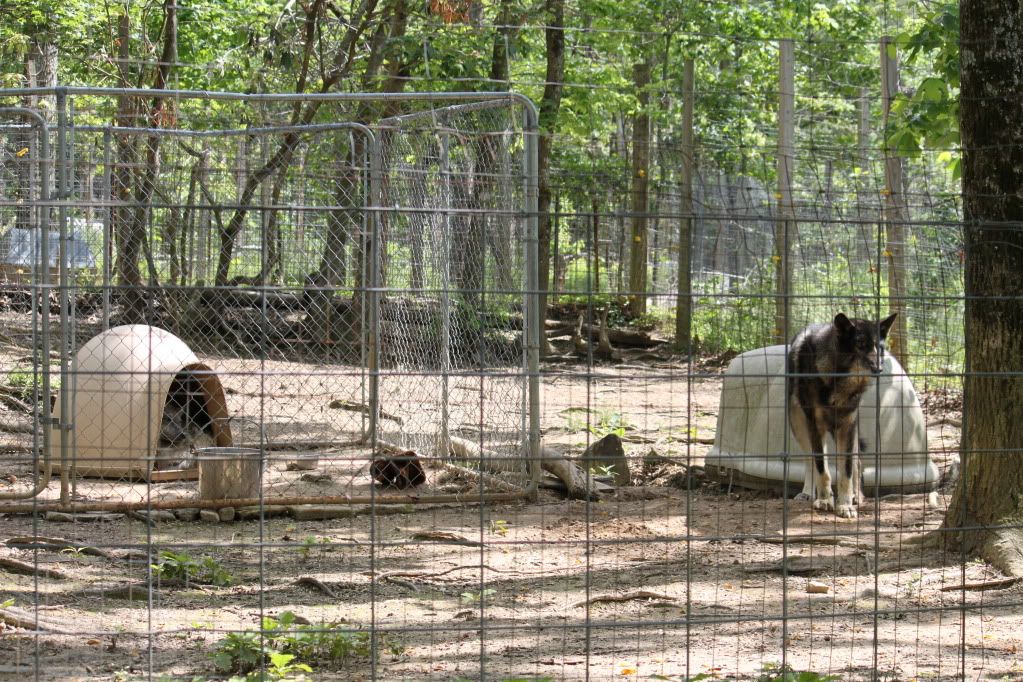 Photo of Misty & Bear by Michele Frankl
Woofer Spotlight: Belle and Mac
Belle and Mac were seized in an area where wolfdogs are illegal. Instead of euthanizing them, they were temporarily placed in a shelter. When the shelter sent Nancy photos of the pair, she informed them that Belle was pregnant. They didn't believe her. When Nancy arrived, she found out that Belle had delivered a litter of six, but only two survived (Ramses and Sugar Bear).
While they are both shy, Belle will approach you if she knows you and there aren't too many strangers around. We wish she was a little bit better about allowing us to pluck her. She's currently blowing out her coat, and is quite shaggy-looking. She has the softest undercoat of all our woofers.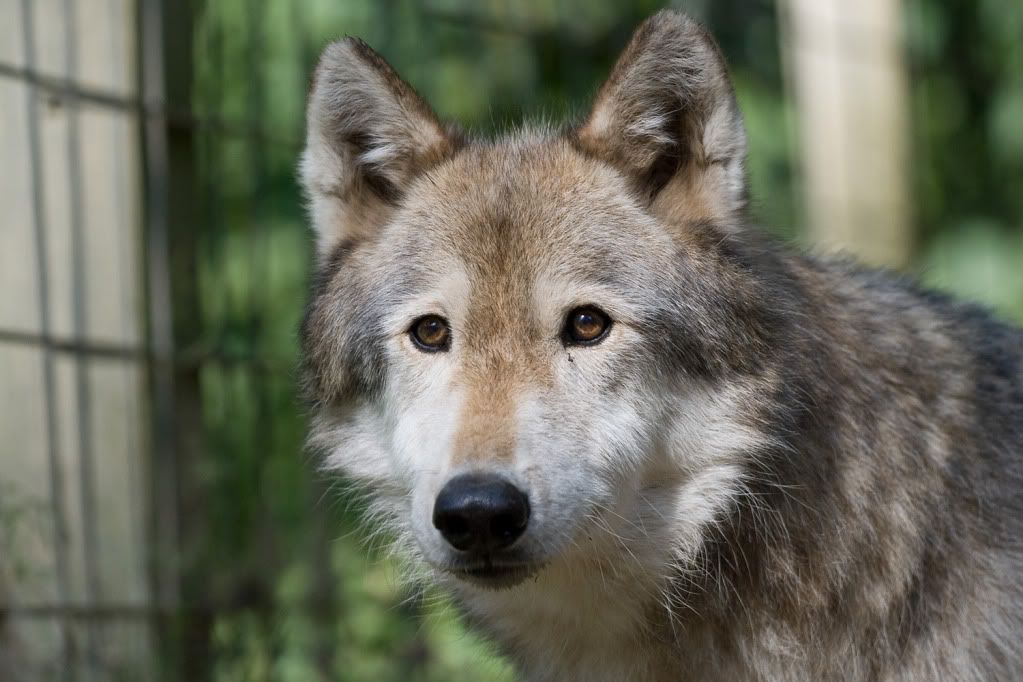 Photo of Belle by Dean Rhoades
Mac is so shy that, if there are a lot of people around, he will hide in his house. If there aren't a lot of strangers, and Belle has come up to the person at the fence, he will also approach. He will sometimes sniff a hand, or allow a quick scratch under his chin. If he barks at you, it means he likes you.
Photo of Mac by Michele Frankl

Nancy estimates that Belle and Mac are about 12 years old now. They are completely devoted to each other. They're our sweet old couple.
Howl-In Reminder

Our next Howl-In is Saturday, May 29th. Tours of the Farm start at 3:00 pm; potluck supper begins at 5:00. $5.00 donation includes main dish and water/soft drinks. Bring a side dish and join the fun!

Please note that an earlier Howl-In calendar erroneously listed September 4th as a Howl-In date. We are not having a public event that day. We apologize for any inconvenience.
Storm Cleanup Continues!
Our neighbor, Mr. Hall, re-graded our driveway, so the worst of the damage has been filled in. It still needs dirt, gravel and road bond (gravel cost alone is approximately $500). We've been working hard on removing the downed trees and branches. (More photos here.) We've gotten more of the piles cleared, but there's still a lot more to do. We're very grateful to everyone who has come out to help. If you've got the time, we've got branches that need cutting and hauling!
Thank yous

We would like to thank the following for all their help with last month's Earth Day Minifest at White Horse Black Mountain:

White Horse Black Mountain

and

T-A-D-S

for co-sponsoring the event, 5th World Radio & Joe Carlson and Joe Hallock and the Flat Creek Boys for performing, The Mellow Mushroom for providing the pizza, all the vendors who donated items for the raffle, all our volunteers who helped work the event, and everyone who came out for a great time!

We would also like to thank Dickies for donating bottled water (plain and flavored) and snacks for our Howl-Ins.

Our thanks also go to T-A-D-S for for taking care of our recycling/trash pickup.
It's Time for the Shelter+ Challenge Again!

The Animal Rescue Site is hosting a special challenge for eligible Petfinder.com member shelter and rescue groups. The grand prize is a $10,000 grant, and they will be awarding many other grants to rescue groups with the most votes — a total of $100,000 in grants for animal welfare organizations.

Help us win! All you have to do is click to help rescued animals, and then vote in The Animal Rescue Site $100,000 Shelter+ Challenge. Both of these actions are absolutely free! You can vote once a day, every day, from May 17th through August 22nd, 2010. Every time you vote, or tell a friend to vote, you are making a huge difference for us.

It's easy to do! Go to

The Animal Rescue Site

and "click to give" (the big purple button). Then, click on the "Vote Today" button at the top of the page. On the next page, you'll type in "Full Moon Farm" for the shelter name, and "NC" for the state. After you click the "vote" button, you'll be taken to a page with a picture of an animal. Once you type in what it is, click "submit," and you're done!

Please remember to vote every day, and please ask your friends and family to vote for us! Thank you!
Full Moon Farm
PO Box 1374
Black Mountain, NC 28711
828-664-9818
www.fullmoonfarm.org
A 501(c)3 organization

Back Issues
You can find our back issues here.
Searching and Shopping Reminder
Don't forget that you can help Full Moon Farm by using GoodSearch for your online searching, and igive for your online shopping!