LIKE us & post a beer comment...
Freaky Friday the 13th Atlanta BrewPub Crawl

Join Owen and The Beer Wench on Friday, August 13 for a fun-filled bus tour of three amazing Atlanta-area brewpubs - 5 Seasons Westside, Max Lager's and Twain's. Don't be scared - it's going to be a blast.
The pubs have arranged a bus that will be doing many loops between the three places. So you can get on the bus at any of the three locales, visit all of them on your own time and then get back to your original location. Tickets to get on the bus are only $5 in advance (and $9 on the 13th). You can get tickets at any of the three places, and these prices include unlimited rides 6-11 PM.
Each brewpub will have a special cask on for the night, and the cask pints will be only $3. Of course, there'll be other special beers on tap, in addition to the casks.
Call 5 Seasons Westside to reserve your space (404-875-3232) or email 5seasonswestside@gmail.com.
Atlanta Brewing / Red Brick's new seasonal is Red Brick Oktoberfest. This malty lager is characterized by a medium body and amber color. Malt complexity springs from the use of caramel and Munich malts, and authentic yeast and hop strains are utilized. Located at 2323 Defoor Hills Road, Red Brick's tasting room opens to the public Wednesday through Friday 5pm to 8pm and Saturdays from 2pm to 5pm.
SweetWater - Watch for the new Crank Tank Rye'd Ale - a new rye beer to benefit Camp Twin Lakes' efforts to assist children facing serious illnesses. Next up in SweetWater's "Catch & Release" program, MotorBoat ESB hits the shelves in August in six packs and kegs.
Terrapin - Side Project Volume 12 - Hopzilla - 100% Maris Otter malt, 11% ABV, and 110 IBU's make this Double I.P.A. a delicious monster of a brew.
Aromas Continues Amazing Craft Beer Events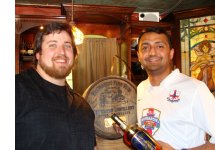 Aromas in Athens, Georgia plans three upcoming craft beer events that local enthusiasts will not want to miss. Mark your calendars now and call Aromas (706-208-0059) for more details.
BREW HAHA - August 29, starting at 4 PM. Purchase pints of some extremely rare and flavorful beers.
PUMPKIN FEST - October 13-15. All the greatest fall brews will be on tap.
2nd annual CASK ALE FEST - Sunday, November 7 brings almost 20 amazing cask-conditioned ales to the pub. Check the video from last year's event.
Owen Judges at Great British Beer Festival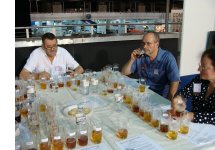 Owen Ogletree was invited to participate in the August 3 judging panel of the Champion Beer of Britain competition. The Campaign for Real Ale's (CAMRA) local tasting panels judge beers around the UK throughout the year and send the best to the final round of judging held on the first day of the Great British Beer Fest in August. Owen's strong bitter panel chose the hoppy and flavorful Thornbridge Jaipur IPA as top beer in our category. It was a wonderful sensory experience.
The 2010 awards for best cask ale in the UK went to...
CASTLE ROCK HARVEST PALE (First Place) - 3.8% ABV golden ale with a refreshing, citrus hop character.
TIMOTHY TAYLOR LANDLORD (Second Place) - 4.3% ABV best bitter with a beautiful malt and hop complexity and balance.
SURREY HILLS HAMMER MILD (Third Place) - 3.8% ABV mild ale with subtle notes of chocolate and fruit. Very quaffable!
Owen's England Cask Ale Guide
Pick up a copy of the current Beer Connoisseur magazine for a wide range of interesting craft beer features - including a big England cask ale travel guide from Owen Ogletree...
When asked to describe the essence of Britain, a stodgy English statesman replied recently, "tea and biscuits." Many members of Britain's Campaign for Real Ale (CAMRA) responded immediately with a resounding cry of "balderdash!" Compared to cask-conditioned "real ale," which originated in the British Isles before pagan times, tea is a relatively recent import. What could be more quintessentially British than an authentic English ale in a personable, comfortable English pub?
Read the full online version of Owen's feature here...
http://beerconnoisseur.com/england-the-real-ale-renaissance
Athens' Trappeze pub now offers delicious Saturday and Sunday brunch. Owner Eric Johnson says, "Kick off your weekend with brunch at Trappeze! Our Chef has put forth some of his greatest creations yet in celebration of his love of breakfast. From Terrapin Benedict, a full complement of omelets, Belgian Waffles, French Toast, eggs cooked however you want them, and much more there is sure to be something for everyone. Make plans to join us this weekend for a delicious feast of your favorite breakfast foods."
Terrapin's Back to School Bash - Saturday, August 21, 5:30-7:30 PM at the brewery in Athens. Enjoy the full range of current Terrapin beers, live music, a round of cornhole and a complete education on all things Terrapin during the brewery tour.
Savannah Craft Brew Fest - On September 3, attend a barbecue and beer tasting on the lawn of the Savannah International Trade & Convention Center followed by fireworks and beers paired with dessert. On Saturday, September 4, chat with 35-40 brewers and brewery representatives pouring samples of almost 125 craft beers. For tickets and complete information, visit www.savannahcraftbrewfest.com.
Porter Cask Ale Fest - Head to Atlanta's Porter Beer Bar on Saturday, September 25 to sample a huge range of cask ales from around the country. Call Molly at the Porter for more info (404-223-0393).
Leon's in Decatur offers a special Flight Night every Monday at 5 PM - two micro flights of beer, two micro flights of wine and beer v. wine food pairings from the pub's acclaimed chefs.
Tampa's Cigar City Brewing
Ci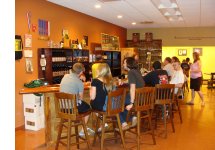 gar City in Tampa, Florida ranks easily as one of the best craft breweries in the entire Southeast. Brewer Wayne Wambles cranks out some absolutely amazing beers loaded with flavor and personality. Many of Wayne's creations include local fruits, spices, massive malt and hop profiles, and even cigar cedar! Cigar City now boasts a beautiful new tasting room at the brewery. Plan a visit soon and bring a designated driver.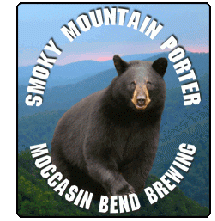 Chattanooga's Moccasin Bend Brewing Company was begun by local homebrewers with a creative thirst for craft beer. Their small brewhouse is located on the ground floor of a historic building at 4015 Tennessee Avenue in the St. Elmo historic district. MBBC is proud to offer small batch specialty ales and lagers in kegs of various sizes, and a tasting room is also situated in the brewery where beers can be sampled on premises.
Brick Store Celebrates Christmas in July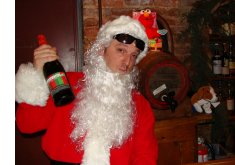 Decatur's Brick Store pub, widely known for thinking outside the beer box, hosted a delightful tasting of some remarkable vintage winter ales during their recent Christmas in July celebration. Brick Store's massive vintage beer cellar will provide some tasty brews for several other special tastings and events in the months to come. Check the pub's website for complete details...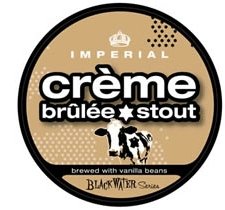 Southern Tier Crème Brûlée Imperial Milk Stout
(a stout of great contention)
Just how did the talented guys at New York's Southern Tier brewery come up with this rich, creamy, high-gravity, dessert beer that truly tastes like decadent Crème Brûlée custard? They'll probably never give up the full recipe, but Georgia beer lovers can now enjoy this beautiful ale at the best beer pubs in the state. 22 ounce bottles and 1/6 bbl kegs are also on sale at the best retail outlets. Try this beer with fruit desserts or coffee ice cream. Also, no other beer on the planet makes a better vanilla ice cream float.
9.2% abv • 195º L • 25º plato • 2-row pale malt / dark caramel malt / vanilla beans / lactose sugar / kettle hops: Columbus / aroma hops: Horizon. www.southerntierbrewing.com