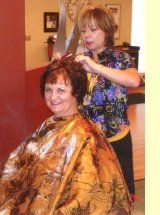 Dimensions
is hosting their third annual
Services Marathon and it is continuing
through October 2010
to benefit
Candlelighters of the Inland Northwest.
Margaret Kobylus, Candlelighters Secretary and Pat Evenson
What a great way to give back - to yourself and local kids with cancer
ALL services are $15
100% goes to Candlelighters,
*Hair cut & style
*Manicure
*1/2 private suite pedicure (guest may upgrade to an hr. for $30)
* 15 minute massage (guest may upgrade to 1/2 hr. for $30)
*1/2 hour facial
Call today for your appointment
Dimensions Salon
14109 E Sprague Ave
Spokane Valley
509-927-2287
Dimensions is doing this because "We feel it's important to give back to our community as we are very grateful and blessed in our profession. My experience with Candlelighters through events, hospital visits and a close, personal relationship with some of the staff has brought me to my knees. I am overwhelmed by the strength, pain, stress, sadness, and other emotions these families endure. It makes me very humble and grateful; I can't imagine going through this not only once with one child, but often several. This is the least I and the Salon can do and wish we could do more. I am honored to sponsor this marathon," said Pat Evenson, owner of Dimensions.
PLEASE NOTE:
Appointments based on availability.
First time clients only for that service.