LIKE us & post a beer comment...
Classic City Brew Fest - April 10th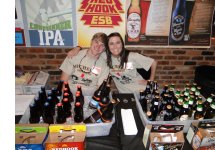 Tickets for the Athens Area Humane Society's 16th annual Classic City Brew Fest in Athens, Georgia are on sale now. This fest is scheduled for Sunday, April 10, 2011.
Tickets are only $39.95, and more than half have already been sold! Click the link below to get your tickets today. This small festival -- a favorite among beer lovers in the Southeast -- takes place in The Foundry's three ballrooms, outdoor patio and rockin' Melting Point music hall.
Sample from more than 250 of the best craft beers from around the planet -- including 10 special cask-conditioned ales. There will also be live Bluegrass music from Athens' popular Buttermilk Revival. 21 and up -- no children or pets please.
Head to the BrewFest website to purchase tickets, see complete details, and reserve a Foundry hotel room.
CCBF Sponsors: Athens Area Humane Society, Terrapin Beer Company, Five Points Bottle Shop, Michelob Brewing, Trappeze Pub, All About Beer Magazine and Foundry Park Inn & Spa.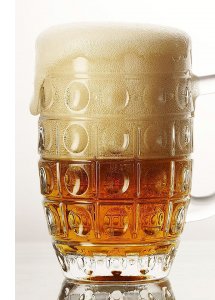 By Owen Ogletree
I'm going to make a crazy statement here. I've come to the conclusion that American craft beers are over carbonated.
After making several trips to the UK in the last several years and judging at last year's Great British Beer Festival in London, I've come to really enjoy the lack of fizzy, biting carbonation in cask-conditioned English ales. The tongue is not numbed by loads of artificial CO2 pumped into the beer, and the taster can actually appreciate and savor the malt, hops, fermentation character, along with a soft, subtle, natural CO2 sparkle.
I know that Belgian and German beers contain quite a bit of carbonation, but knowledgeable waitstaff in these countries know to pour these beers into oversized glasses and release as much carbonation as possible. It's a part of the ritual and enjoyment of these brews.
American craft beer is often forced carbonated with a huge amount of artificial CO2 and poured quietly into boring 16 ounce pint glasses right up to the rim. There's little to no release of gas and no possibility of swirling the beer for aroma. Upon the first sip, the mouth fills with foam, the CO2 bite disables the taste buds, and the drinker swallows a gullet full of gas. Intense bouts of burping follow. Maybe these carbonation levels are leftover from the days of super fizzy yellow beers after Prohibition. Perhaps the general public does not really want to taste their craft beer, and the intense CO2 helps achieve this questionable goal.
If I lived in the middle ages, my name would have been "Owen The De-Gasser." Skeptical? Try it yourself. Order a craft beer and ask for a clean, empty pint glass. Pour one third of the beer vigorously into the empty glass and swirl it around to release even more gas. Let the head settle on the agitated beer and then sip from each glass. I guarantee you'll be shocked at the different flavors and mouthfeel of the same beer from the two glasses. One will taste like malt and hops (AKA beer), and the other will taste like a mouthful of prickly, stringent, artificial CO2 with an undertone of malt and hops.
I appeal to craft brewers to please try and crank back the CO2 a bit -- start to wean the American public off its excess CO2 addiction. Pub owners should also try to lower CO2 pressure on serving lines to make the beer pour a bit softer. Imagine the lowered costs of using less carbon dioxide. Imagine how many more beers will be consumed because customers are not filled up and bloated with gas. Imagine experiencing the wonderful flavors of craft beer without too much CO2 getting in the way. You may say that I'm a dreamer, but I'm not the only one.
1/12/2011 - Trappeze Pub (Athens, GA) launches the Lost Abbey beers from California. Stop by after 5 PM to see what the buzz is all about.
1/13/2011 - Chops & Hops beer bistro in Watkinsville, Georgia plans a Terrapin/Stone beer dinner where chef Richard Miley plans approximately eight courses with alternating beers from Terrapin and Stone (including two cask ales). The dinner is held in celebration of the restaurant's first anniversary. Call 706-310-1101 to reserve your seats.
1/18/2011 - Brick Store Pub (Decatur, GA) will host Lost Abbey brewer Tomme Arthur for the long-awaited premier of Tomme's amazing brews in Georgia. Join Owen there to give Tomme a warm welcome.
1/30/2011 - Terrapin Wake-N-Bake Off Desserts and beer tasting/cook-off at Aromas in Athens, GA.
3/5/2011 - SweetWater's Brew Your Cask Off - SweetWater has invited 80 special guests to roll up their sleeves, channel their inner brewer, and create a one of a kind cask! Attendees will enjoy a plethora of real ale created by the brewery's retailers, a few celebrities and media folks, homebrewers and charities. Be sure to try Owen's C-Hop Session Ale - brewed in the style of a hoppy, yummy, 4% ABV English Golden Ale. Click here for details.
4/10/2011 - Classic City Brew Fest - One of the Southeast's longest-running and favorite beer events. Click here for tickets and the whole scoop.
BREWTOPIA EVENTS' FULL INTERACTIVE BEER CALENDAR is always available - featuring the best beer happenings around the Southeast and beyond.
Terrapin's Smokin' New Brew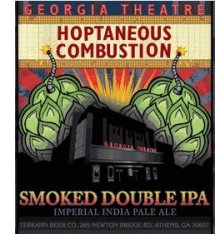 Terrapin's Georgia Theatre Session #4, Hoptaneous Combustion, hits the shelves this winter with a portion of the proceeds going toward the rebuilding of the Athens music venue that burned down over a year ago. The amber/orange hued, smoked double IPA throws aromas of citrusy hops up front with a background of smoky wood and sweet malt. Hoptaneous Combustion provides a big mouthful of toffee-like malt, giving way to a harmonious consummation of piney hop resins and smoky phenols and tannins -- quite a unique and fascinating brew. If you love smoked beers, you'll love this one. If you hate smoked beers but love hops, you'll still appreciate Hoptaneous Combustion for its complex layering of alpha acids.
The Beer Wench's Arizona Report
Beer Growlers in Athens Georgia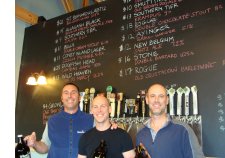 Athens' The Beer Growler, Georgia's first retail package store to sell craft beer growlers, will put on a few kegs of Southern Tier Pumking in February. Customers should also be on watch for exciting rotations of various Terrapin Side Projects, seasonals, and vintage offerings. The Beer Growler sells custom growler bottles for only $4 each and fills these at extremely affordable prices from 15 taps of the best craft brews available in the state. Visit Sean, Paul and Denny (all pictured above) soon.
Southern Tier Takes Over Aromas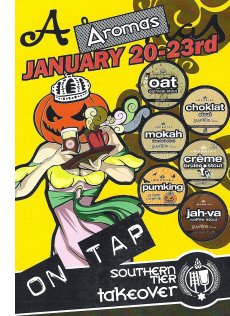 Head to Aromas pub in Athens, Georgia on January 20-23 when the taps are taken over by NY's remarkable Southern Tier Brewing Company.
Choose from flavorful, potent beers by the glass such as Imperial Oatmeal Stout, Choklat, Mokah, Creme Brulee Stout, Pumking and Jah-Va.
Aromas is located in the quaint Five Points neighborhood of Athens near Five Points Bottle Shop and the Royal Peasant English-style pub.
Taste of Athens Tix from Beer Connoisseur
Check out this limited offer... Purchase a $99.00 Lifetime Subscription (80-issues) to The Beer Connoisseur® Magazine and receive 1 FREE VIP ticket to the 2011 A Taste of Athens event valued at $75.00! Subscribe at: https://www.beerconnoisseur.com/catalog and use coupon code BCTOA. Upon completion, a BC staff member will contact you to arrange delivery of your VIP ticket.
The Beer Connoisseur® Magazine is excited to announce that it is sponsoring this year's A Taste of Athens being held on Sunday, February 20, 5-8pm. Come mix, mingle, and most importantly EAT, DRINK, and HELP MANY at the 18th annual A Taste of Athens at The Classic Center. Enjoy delicious samplings from over 50 local restaurants and beverage vendors -- proceeds benefit Community Connection of Northeast Georgia.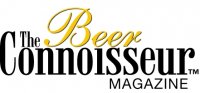 Rochefort Abbey Damaged by Fire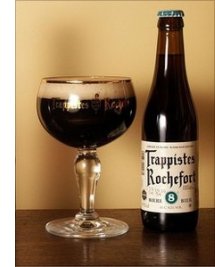 A 13th-Century Belgian abbey famous for its brewery has been damaged by fire but the monks escaped unhurt and the vats survived intact. The Trappist (Cistercian) monks were dining when fire broke out at the abbey at St Remy-Rochefort, famous for its Rochefort beer. The building was evacuated, and it took 70 firefighters to put out the blaze. It seems the blaze began near a generator being used temporarily after problems with the power supply.
Rochefort is famous for strong, rich Trappist beers. Francois Bellot, mayor of Rochefort, said he was confident that it would be possible to resume beer production within a few days.
Rochefort is one of only five breweries making Trappist beer, which is seen as a gold standard for connoisseurs of the ale.
-- Source: BBC NEWS
Rare Casks of Fuller's ESB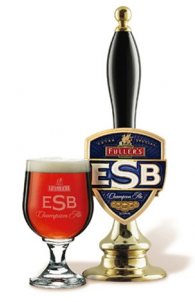 Atlanta's Taco Mac locations expect six firkins of delicious cask Fuller's ESB to arrive in February. Dates and locations will be announced at www.fredsbeerpage.blogspot.com.
These will be the first firkins of cask-conditioned Fuller's ESB to be served in Georgia in several years. This world-class, strong English bitter boasts a mouthful of caramel and toffee malts, elegant fruity esters and pleasant UK hops for balance. The cask version should offer a soft sparkle of carbonation, allowing the complex malt and hop aromas and flavors to really shine through. At 5.5% ABV, Fuller's ESB is one of the strongest, regularly brewed beers in England.
All About Beer Special Offer
For 30 years, All About Beer Magazine has been committed to supporting and growing beer culture the world over. To that end, we rely heavily on our friends and partners in the communities organizing and energizing their own local beer culture. We honor the passion, commitment and service Owen and his team bring to the beer culture in the Southeast. It is no surprise you are getting new and interesting brewers in your market through the education and appreciation that Brewtopia's work fosters. To show our support , we'd like to offer a one-year subscription for only $14.95. In addition to 6 regular issues, you will receive 2 bonus issues plus a free "American Brew" DVD--a documentary on the history of craft brewing in America. Simply go to allaboutbeer.com/brewtopia and order today.

Owen Leads Cask Ale Trip to England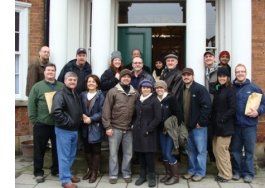 In February of 2010, Owen Ogletree took friends from Terrapin Beer Company, Taco Mac and Five Points Bottle Shop on an amazing week-long journey for some of the best cask ales made in England. Stops included Fullers, Hook Norton, Marston's, Sheffield, Kelham Island Brewery, Samuel Smiths, Thomas Fawcett Maltings, Moorhouse's and the Fleetwood Beer Festival. To see photos and details from the entire journey, click here. The photo shows our group in front of the Samuel Smith Old Brewery in Tadcaster near York. Many in the group are also headed to Germany this February for a Bavarian beer excursion with Owen and The Beer Wench.
New Beer Expert App for Android
The Beer Sommelier has teamed up with RateBeer.com to produce a very comprehensive and useful beer information tool and application. With the new Beer Expert App for Droid phones, beer fans can walk into any bar, brewpub, beer store or grocery and find all vital information about the beer by simply speaking or typing the name or shooting the UPC code. The app is available for $2.99 from the Android market.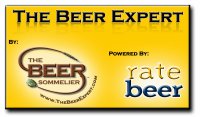 Peak Organic Espresso Amber Ale
From the guys at Peak Organic...
A robust amber ale brewed with locally roasted, organic fair trade espresso with help from our friends down the street at Coffee by Design. This malty amber ale is brewed with substantial amounts of Munich Malt, providing a perfect backbone for the rich, roasty flavor imparted by the espresso.
Peak Espresso Amber is the first Fair Trade Certified beer brewed in the United States.
ABV: 7% / IBUs: 22
Suggested Food Pairings: Brunch items, BBQ, vanilla ice cream, chocolate cake.