Pushing 40:
List of Featured Authors Expands to 38
The hard-working author recruitment team continues to amaze, having attracted almost 40 featured authors – all amazing in their own right – who will present and sign books at the 2011 Gaithersburg Book Festival. Last month we featured nine of our latest additions, and now we have 16 more to tell you about – see their mini bios below. A full list of our featured authors can be found on the GBF website.
114 Local Students Enter GBF Short Story Contest
Maybe it was for the love of writing. Maybe it was for extra credit or a college application. Maybe their mothers made them do it. Or maybe it was for the $100 Barnes and Noble gift certificate. Whatever the reason, the response to our first short story contest for area high school students was a rousing success. We received 114 entries from 9th through 12th graders living in Maryland, Virginia and Washington, D.C.
For the contest, we challenged students to write a story in 1,000 words or fewer that started with one of three lines provided by Sarah Pekannen, author of "The Opposite of Me" (2010) and "Skipping a Beat" (2011).
Round 1 judges recently finished evaluating all the entries, and are now in the process of narrowing them down to the Top 10. Once these finalists are selected, we'll start to post the stories on the GBF Blog, and we'll also pass them on to our Round 2 judges, who are featured authors at the 2011 GBF. Our Top 10 finalists also will be reading their work at the coffee house during the festival. Stay tuned for details as to when that reading will take place!
Some interesting stats about our entries:
Demographics – 63 percent of entrants were from Montgomery County. We also had entries from Anne Arundel, Carroll, Frederick and Prince George's counties in Maryland; Arlington, Fairfax, Fauquier and Prince William counties in Virginia, as well as Washington, D.C.
Schools – Most of our entrants attend public school, but we had one entry from a home-schooled teen and three entries from private schools.
Grades – Best we can tell (not everyone provided their grade), juniors made up the largest "class" from our entrants (visions of accolades for college applications dancing in their heads, perhaps?), with seniors coming in second, freshman third, and then sophomores.
Opening Lines – The most popular opening line, by far, was: "Don't open the box," my father always told me... The second most popular line (by a slim, slim margin) was: When I left my parents' house for good, I took five things with me… And in last place: In my entire life, I've fibbed dozens of times - usually to be polite or to get out of attending some mind-numbing social event - but I've only told one really big lie…
Gaithersburg
Book Festival
___________
May 21, 2011
10 a.m. to 6 p.m.
GBF Thanks its Newest Sponsors
More and more companies are realizing the benefits of having their names associated a great literary event that attracts thousands of attendees from local communities, as well as cities up and down the East Coast and beyond.
In the last month, we've added a number of new sponsors for the 2011 GBF. They include:
We're off to a great start, but we still need the support of additional sponsors to make the 2011 Gaithersburg Book Festival even better than last year. There are sponsorship levels to fit all budgets. Please visit the Gaitherburg Book Festival website for more information about 2011 sponsorships.
Earlier this month, we introduced a new way for you to get insider information about the Gaithersburg Book Festival – the GBF Blog.
So what can you find on the GBF Blog that's not on our website? Well, a lot, actually.
We'll have exclusive Q&As with featured authors that we hope will whet your appetite and make you want to come to the festival to hear more from these amazing voices. You'll also be able to find news about our featured authors – from whose latest book has hit the top of the New York Times Bestseller list, to articles and reviews that are making news. And we'll be polling our readers with questions ranging from what you think is the most romantic book published to what books resulted in the best movie versions. So be sure to visit the blog and weigh in with your thoughts!
We'll also feature original short stories from local high school students. Yup, that's right – we're going to give you a sneak peak of the Top 10 stories from our short story contest, which drew 114 entries from around Maryland, Virginia and Washington, D.C. The student authors will have the chance to read their stories at the festival coffee shop on May 21, which will be followed by the announcement of the winning story and presentation of a $100 gift card to Barnes & Noble to the champion.
We'll post other updates as we get closer to the festival itself. And we hope we'll hear from you. Have a question about the festival? E-mail us. We'll do our best to answer online.
We Want You:
Volunteers Needed
The Gaithersburg Book Festival is an enormous undertaking, which would not be possible without the generous assistance of numerous volunteers.
We are continually recruiting volunteers for a number of opportunities. SSL hours are available for high school students. You must be at least 16 years old to apply.
Visit the GBF website for more details.
If you're interested in becoming part of this great event, take a few seconds and sign up to volunteer. We'll be in touch to coordinate as we get closer to the event.
Vendors: Show Your Stuff at the 2011 GBF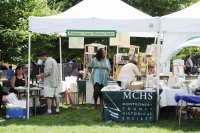 The Gaithersburg Book Festival is a terrific event at which to showcase your literary-related wares!
Whether you're an author, poet, publisher, literary agent, bookstore, or have any other sort of business that caters to the book industry, here's a great opportunity.
For a very modest price, you'll get a booth for the day and have a chance to meet and interact with thousands of attendees.
For more information on becoming an exhibitor at the festival, please view our Exhibitor & Vendor Application.
We have answers.
Click here to