Classical Conferences and Meetings in 2011
Dickinson Latin Workshop Spring 2011
Saturday, March 26, 2011
Dickinson College
Carlisle, PA
Julius Caesar in his Time: The General as Historian
Hans-Friedrich Mueller, Union College
Author of BCP AP* Caesar Text and coauthor of Caesar: A Transitional LEGAMUS Reader
Dickinson College, Tome 115, 10:00 am to 5:00 pm.
This workshop considers Caesar both as a historical figure and as an author. It will include strategies for teaching Caesar in a sophisticated and interesting way, and updates on how scholars and historians have reevaluated his career and works in recent years. Special attention will be given to themes shared with the Aeneid.
For more information click here.
---
CAMWS – Classical Association of the Middle West and South
April 6–9, 2011
Grand Rapids, MI
Amway Grand Plaza at the invitation of Grand Valley State and Calvin College
Representatives: Drs. Lou and Marie Bolchazy, and Allan Bolchazy
Panel: "New Resources and Methods for Teaching Greek" includes two papers presented by the Bolchazy-Carducci Publishers Greek Transitional Reader authors.
Thursday, April 7: 8:00–10:00 PM Section D Fifth Paper Session Haldane Room Wilfred E. Major (Louisiana State University), organizer
"εν αργη: Reversion to Language Youthfulness in Determining Grammar Notes and Review for an Intermediate Reading Text" John H. O'Neil (St. Charles Preparatory Academy) and Timothy F. Winters (Austin Peay State University) "Reading Passages for Transitioning to Plato" Abigail Roberts (McCallie School) and Wilfred E. Major (Louisiana State University)
(click here to download the abstract)
Panel: "Latin in Small Packages: Expanding and Varying Advanced Latin Curricular Options" organized by Bolchazy-Carducci Publishers Readers Series Editor Ronnie Ancona. Series authors will explore the BC Latin Readers' "small package" approach to Latin curricula, which has as one of its aims to expand and vary what can be taught at the advanced level.
Saturday, April 9: 3:30–5:30 PM Section F Twelfth Paper Session Heritage Hill Room
Ronnie Ancona (Hunter College and The Graduate Center, CUNY), organizer
"Latin in Small Packages: A Series Editor's Perspective" Ronnie Ancona (Hunter College and The Graduate Center, CUNY)
"Latin Epic" Alison M. Keith (University of Toronto)
"Suetonius Segmented" Josiah Osgood (Georgetown University)
"Seneca for Students: Six Suggestions. James Ker (University of Pennsylvania)
"A Cicero Reader" James M. May (St. Olaf College)
(click here to download the abstract)
---
SWCOLT – Southwestern Conference on Language Teaching
April 7–9, 2011
Fort Worth, Texas
Representatives: Donald Sprague and Rose Williams
---
The 46th International Congress on Medieval Studies
May 12–15, 2011
Western Michigan University
Kalamazoo, MI
Representatives: Betty Brendel and Adam Velez
---
ACL - American Classical League
June 25–27, 2011
University of Minnesota
Radisson University Hotel
Minneapolis, MN
Representatives: Drs. Lou and Marie Bolchazy, and Allan Bolchazy
---
National Junior Classical League Annual Convention
July 25–30, 2011
Eastern Kentucky University
Richmond KY
Representative: Allan Bolchazy
---
ICC—Illinois Classical Conference
October 7–9
University of Illinois
Champaign-Urbana, IL
Representative: TBD
---
CAAS—Classical Association of the Atlantic States
October 13–15
Baltimore Marriott Hunt Valley
Hunt Valley, MD
Representative: Don Sprague
---
Other 2011 meetings will be announced in a future issue.

April 5 and April 19
Kelly Northrup of the Webb School, Bell Buckle, Tennessee has been using Latin for the New Millennium for three years. An LNM enthusiast and frequent contributor to the LNM Teachers' Lounge, Kelly is a dynamic teacher and an inspiring webinar presenter. She is scheduled to give the following two webinars.
Implementing Latin for the New Millennium Levels 1 and 2 will be held Tuesday, April 5, 6–8 pm EST and will last approximately two hours.
Kelly will provide practical advice, suggestions, and tips for using the various components of levels 1 & 2 of LNM. She will be happy to field questions from webinar participants.
Activities, Games, and Projects for Latin for the New Millennium Levels 1 and 2 will be held Tuesday, April 19, 6–7:30 pm EST and will last approximately ninety minutes.
All you need to participate in these webinars is high-speed Internet access, computer speakers/ headphones, and your access code, which we will provide to you once you register.

Participation is free. All webinars provide an opportunity for participants to ask questions.

Learn lots—attend each presentation. We're happy to provide documentation of your participation for your supervisor(s).
For more information about and to register for LNM free webinars click here

Insights on the Development of LNM 3
The February issue of eLitterae discussed the valuable role teacher consultants play in the development of Latin for the New Millennium Level 3. As promised, it is my great honor and pleasure to introduce you to this dedicated group of classicist colleagues. Their careful review of the Level 3 units are critical to making LNM 3 a well vetted text for today's Latin students. Meet the LNM 3 consultants presented in alphabetical order.
NB: Sherry Janowski and Nick Young have also been piloting the LNM 3 units with their students.
---
Latin for the
New Millennium Level 3 Consulants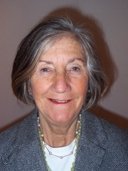 JILL M. CROOKER
BA University of Illinois; MS Ed Nazareth College of Rochester, New York
Jill Crooker taught Latin for many years at Pittsford-Mendon High School in Pittsford, New York. She has served as the College Board Advisor to AP Latin Test Development Committee and in 1996 received the Morton E. Spillenger Award for Distinguished Leadership to the Classical Association of the Empire State. In 2003 she received the ACL Merita Award and in 2006 an Ovatio from the Classical Association of the Atlantic States. She served as the chair of the Latin Review Committee for New York's Latin for the 21st Century Core Curriculum. Jill has also served as president of the Classical Association of the Empire State.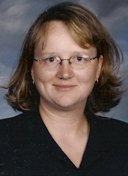 SHERRY JANKOWSKI
BA and MA Ed Virginia Tech
Sherry Jankowski has taught Latin I, II, III, IV, AP and Ancient Greek for six years in Maryland and for seven years in Las Vegas, NV. As an undergraduate, she studied at the Intercollegiate Center for Classical Studies in Rome. In addition, she has served as the Nevada Junior Classical League State Chair for three years and was named a Master Teacher by The Meadows School in 2010. Sherry is piloting the LNM Level 3 units with her students.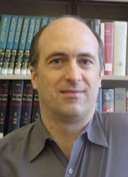 SHERWIN LITTLE
BA University of Cincinnati, Ohio; MA University of Colorado
Sherwin Little has taught Latin from sixth grade through Latin AP at Indian Hill Exempted Village School District since 1983. Sherwin has received an Ovatio and the Good Teacher Award from Classical Association of the Middle West and South and the Hildesheim Vase Award from the Ohio Classical Conference in 1986 and 2007. Little holds National Board Certification in World Languages Other than English and has been both Vice President and President of the American Classical League. Currently, he serves as director of ACL's Teacher Placement Service.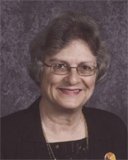 SHERRILYN MARTIN
BA Wilson College; MA, PhD University of Cincinnati
Sherrilyn Martin began teaching at Keith Country Day School, Rockford, IL, in 1970. She has taught all levels of Latin at both the middle and upper school level and Greek I and II for the upper school. Sherrilyn was named Illinois Latin Teacher of the Year in 1993, was a recipient of a Lieutenant Governor's Award for Foreign Language Teaching in 2001, and was named a Claes Nobel Teacher of Distinction in 2007. She is a past president of the Illinois Classical Conference and is active in the Rockford Society of the Archaeological Institute of America. Sherrilyn spent a year in independent study at the University of Thessaloniki, Greece.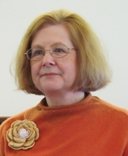 MARY PENDERGRAFT
AB, PhD University of North Carolina, Chapel Hill
After teaching at UNC-Greensboro and Duke University, Mary Pendergraft began teaching classics full-time at Wake Forest. Mary is a former President of the North Carolina Classical Association and participated in the focus group that wrote the North Carolina Standard Course of Study for Latin.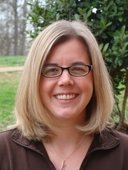 KELLY NORTHRUP
BA/BS Ursinus College; MAT Indiana University
Following a brief stint as a visiting instructor at Knox College, Kelly Northrup has taught Latin at all levels from seventh grade to AP at the Webb School, Bell Buckle, TN, since 2007. In 2006 she was awarded one of the five Student Teacher of the Year Awards at Indiana University, and in 2007 she received the Amy High Scholarship to study at Papal Latinist Reginald Foster's former Aestiva Romae Latinitas (Summer Latin in Rome) program. At Ursinus she was valedictorian and inducted into Phi Beta Kappa. She is a frequent contributor to the LNM Teachers' Lounge sharing her lesson plans and class activities. Kelly is an LNM webinar presenter on implementing LNM and on projects that complement LNM.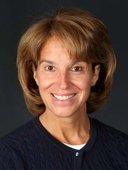 REBECCA WICK
BA University of Scranton; MA Loyola University Chicago
Becki has taught classical languages on the high school level for 23 years in Wilmette, IL. She taught all four levels of Latin, (including AP Vergil and Catullus/Horace) at Regina Dominican HS for nine years. In 1997, she moved to Loyola Academy where she has taught Latin for fourteen years and Greek for thirteen. Her current course load includes College Prep Latin II, Honors Latin II and III, and Honors Ancient Greek II. Becki spent her junior year abroad at Ireland's University College Cork. She also did graduate work at the American School of Classical Studies in Athens. Becki has also run the Athens Marathon. She has served as president and vice president of the Illinois Classical Conference and as president of the Chicago Classical Club.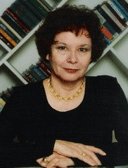 ROSE WILLIAMS
BA Baylor University, Texas; MA University of North Carolina, Chapel Hill
Rose has written a number of books for high school Latin students. Her most recent Latin text is A Beginning Christian Latin Reader: De Bonis Cogitationibus; other recent titles include the four enrichment texts for Latin for the New Millennium: From Romulus to Romulus Augustulus, The Original Dysfunctional Family, The Clay-footed SuperHeroes, and From Rome to Reformation. Ms. Williams has taught at both the high school and the college levels. She has done postgraduate work in Latin and the Humanities at the University of Dallas and the University of Texas at Arlington. On a Rockefeller Grant she did research at Oxford's Bodleian Library and the University of Pisa. Abilene's Providence Classical Academy has lured her back to the classroom where she meets twice weekly with advanced students and is preparing them for next year's AP Latin work.
PHILIP WOODRUFF
BA, MA Loyola University of Chicago; MS Secondary Education Northwestern University
Philip Woodruff has been a secondary school Latin teacher for twenty-five years. He has been at Lake Forest High School, Lake Forest Illinois since 1991 where he has taught Latin I through AP courses along with occasional Classical Greek students. Philip has served as the department chair for the World Languages Department at Lake Forest for five years and is a member of the Illinois Classical Conference and the American Classical League. He has served as a peer editor for textbooks and has recently been active with translating articles for the Leonard Euler Archive.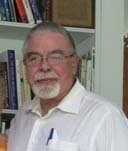 NICK YOUNG
BA, MA Wayne State University
Nick has been a classroom teacher for over forty years, the last twenty of which have been at University of Detroit Jesuit High School in Detroit, Michigan. He is also an instructor at the University of Detroit Mercy and where he has been missioned to revive its Latin program. He has done course work at the American School of Classical Studies in Athens, summer studies in Latin with Fr. Reginaldus in Rome, and archaeological field work in Tuscany through Wayne State and Northern Kentucky State University. He was state chair for Michigan JCL for ten years and has served two terms as president of Michigan Classical Conference. Currently, he serves as president of the Detroit Classical Association. He was awarded the 2010 Glenn Knudswig Award from the University of Michigan as Teacher of the Year. He is the author of several articles and the book Instant Answers.

Visiting Baton Rouge with its balmy temperatures and ubiquitous green this past week for the SCOLT conference readily evoked thoughts of spring. While my return to Chicago necessitated donning a winter jacket at the airport and plunging back into 30 degree temperatures, I was pleased to note that our condo building garden boasts some brave green shoots. Spring is around the corner!
May you successfully temper your students' spring fever! May your spring break be refreshing and restorative. As your students reprise their spring break meanderings and your own wanderlust bubbles forth, consider joining Bolchazy-Carducci's Latin Teachers Tour 2011. Northern Italy and Provence await ...
As the arrival of the Ides of March and thoughts of Caesar stir up concerns about the 2012–2013 AP* curriculum, fear not, remember Bolchazy-Carducci has your back. We're hard at work developing three new Caesar texts—a Caesar LEGAMUS Transitional Reader, A Caesar Workbook, and a Caesar Primary Text. In the February issue of eLitterae, we featured an electronic interview with Rose Williams, coauthor of the first two titles. In this issue, we provide an interview with Hans-Friedrich Mueller who is developing a primary text for the Caesar passages of the AP* curriculum and is coauthor of Caesar A LEGAMUS Transitional Reader. I enjoyed meeting Hans at CAAS this past fall—his enthusiasm for teaching and the classics is so inspiring.

Bolchazy-Carducci exhibits at SCOLT
Exhibiting at the SCOLT, Southern Conference on Language Teaching, conference cosponsored by LFLTA, Louisiana Foreign Language Teachers Association, and SEALT, the Southeast Association for Language Learning Technology, afforded Bolchazy-Carducci the opportunity to plant the flag for Latin for the New Millennium. Indeed, I brought along both the LNM banner and a B-C banner to celebrate our presence at the conference held at the Crowne Plaza in Baton Rouge.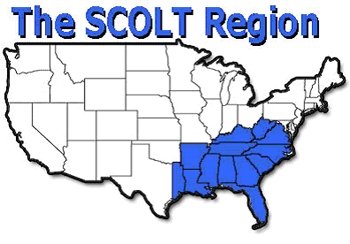 My neighbors in the LFLTA booth next to the B-C booth were very welcoming and eagerly purchased some of our Latin motto buttons. The button proclaiming Damnunt quod non intellegunt was particularly popular as it speaks eloquently to the Board of Regents' decision to eliminate and cut foreign language programs at the state universities. I was sure to sign the petition to restore positions and programs! Imagine cutting French programs in Louisiana!

Baton Rouge, a city of about 200,000, boasts a dozen Latin teachers at ten private and public high schools. I enjoyed meeting and chatting with Vera Lazarre from the LSU Lab School, Yuri Weydling from Baton Rouge High School, and Rebecca Morrison from the Runnels School. Both Jane Webb of LSU and her former student Bryan Butler of Louisiana University at Monroe stopped by to discuss Latin for the New Millennium.

Several language colleagues picked up catalogues for their Latin teacher colleagues and two department chairs eagerly purchased some texts for their Latin teachers. The conference also provided me an opportunity to present and I talked about the integrated approach presented in LNM in a talk entitled "Fusion: The Best of All Possible Words—A Comprehensive Approach to Teaching Latin."

SCOLT provided me a good opportunity to connect with teachers from across the south and to experience firsthand their professionalism and commitment to student learning. They personified the conference theme, Got Languages? Powerful Skills for the 21st Century. It was particularly gratifying to learn that Latin maintains a strong presence in Louisiana.

Hans-Friedrich Otto Mueller (aka Johannes Fridericus Molinarius) eLitterae Interview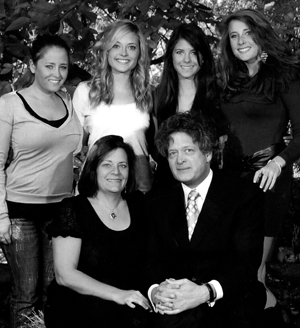 The Mueller Family: Terri, Sarah, Anna, Paula, Laura and Hans (photo especially requested by the editor)
DES: What attracted you to the current Bolchazy-Carducci AP Caesar texts project?
HFOM: Every Latin teacher knows the Horatian phrase carpe diem. Bolchazy-Carducci offers attractively produced, useful texts at reasonable prices that teachers routinely use in their classrooms, so, when Bolchazy-Carducci offered me the opportunity to work on Caesar, an author I have loved since first I learned Latin, I jumped at the chance. Caesar himself is timely. Our country is at war, and, since 9/11, our republican institutions are under increasing stress. The addition of Caesar to the AP* curriculum will surely help educate a a new generation of high school students in an author whose impact on Roman history both inspired and haunted the founding fathers of our own country. No matter what one's political persuasion, Caesar is an essential historical figure and a crucial author.
DES: Which of your scholarly projects and publications bring you the greatest sense of accomplishment?
HFOM: I have a special interest in pre-Christian Roman religion, and remain proud of my book Roman Religion in Valerius Maximus, which appeared in 2002. In this book, I try something novel: rather than look for subversive meanings between the lines, I assume that Valerius Maximus, who wrote under Tiberius, meant what he said. What are the results of this experiment in literal reading? Romans remained intensely committed to their traditional gods, and they worshipped the Caesars as gods with equal, if not greater, pious devotion. I was at first disappointed (because I find emperor worship personally distasteful), but I think we must always attempt to understand ancient authors on their own terms if we hope to derive profit and understanding from them. After all, they were not us.
DES: Did you read Caesar as part of your high school Latin program? What do you recall of the experience?
HFOM: Pudet dicere: I did not take Latin in high school. I took German in a vain attempt to understand why, although I was born in Columbus, Ohio, and raised in Milwaukee, Wisconsin, my father gave me the name he did. My German teacher was excellent. We read Friedrich Dürrenmatt, Franz Kafka, Hermann Hesse, et al. mult., in preparation for the AP* German exam, on which, thanks in part to my father's tutoring (he compelled me to read these authors aloud for him), I did quite well. When I arrived at college as a would-be neuroscience major (I wanted to go to medical school), I also took some philosophy courses, which led me to such authors as Hegel, Schopenhauer, and Nietszche. They all pointed me to Greece and Rome, as did Ezra Pound in his "ABC of Reading." I began studying Greek and Latin, and never looked back. Those who take Latin in high school are especially fortunate, but all students of in any western tradition will, if they are serious, eventually find their way back to the classics, and, if they are truly fortunate, in the original languages.
DES: Why do you think studying Caesar is relevant for today's high school students?
HFOM: As I've already mentioned, our country is at war. We are also, as was Rome in its place and time, the world's pre-eminent military power. But connections run deeper than that. Caesar haunted the dreams of the men who wrote our constitution. Was it possible to create a republic that could not be usurped by a Caesar? They turned to Polybius and his theory of the mixed constitution (checks and balances, and all that), but they also looked ahead, beyond Polybius, at the armies that owed their allegiance to such men as Marius, Sulla, Pompey, and Caesar. They tried to protect our republic against such influences. On the other hand, anyone with any sort of classical education who visits Washington, DC, recognizes immediately that the founders of our country were also inspired by the empire that Rome acquired, and the civilization that grew up under Rome's leadership. High school students deserve to know about this intellectual legacy, especially at a time when they will eventually be called on (whether as leaders or as voting citizens) to guide our country as it makes its way into an increasingly dangerous future.
DES: You've been teaching Caesar recently at the college level, tell us about that experience.
HFOM: I just finished teaching a sophomore research seminar on Caesar to fifteen students, none of whom are classics majors (yet), who began the term with no knowledge of Caesar. Their research topics ranged from analyses of siege works and battle strategy to investigations of the women in Caesar's life (his mother, his wives, his paramours, Cleopatra), to constitutional and religious issues, and to his influence on such subsequent figures as Mussolini. The students were absolutely fascinated by Caesar, researched his life and career enthusiastically, and produced well-written papers and captivating oral presentations. I emerged from this term more convinced than ever that Caesar is a crucial historical figure who can help us educate students on many levels, not just linguistic. I should also mention that I will teach Caesar this coming spring in Latin, as I have in the past many times both at the high school and college levels. His prose is clear, concise, and compelling. Students enjoy Caesar's Latin. The true danger lies in the seductive power of Caesar's Latin: we must resist his charms, and treat his text critically!
DES: On an unrelated subject, if you were to give young high school Latin teachers one nugget of advice based on your years of success as a Latin teacher, what would that be? What about young Classics PhDs beginning their college teaching?
HFOM: Good teachers know (or eventually learn) that they must often omit much more than they ever could in good conscience have omitted when first they began teaching. Why? Students will not learn the material, they will forget the material, or they will be confused by the material that at first we felt we absolutely had to, for the sake of completeness, include. Forests are beautiful, but we have to help our students make their way through them before nightfall. Find a well-marked trail, and stick to it.
DES: After the Caesar texts, what's on your list of projects due to receive your attention and enthusiasm?
HFOM: I have a long-standing interest in social, religious, and legal aspects of Rome at night. I hope eventually to write a book on "nocturnal Rome," but my most recent publication in this area may be found in the winter 2011 edition of Classical World: "Spectral Rome from Female Perspective (CIL 6.18817 = ILS 8006 = Orellii 2.4775)." I examine an inscription by a freedwoman called Furia Spes who asks the Manes (or "spirits of the deceased") to release her husband from time to time for nocturnal visits. What can I say? The Romans are endlessly fascinating.
Hans-Friedrich Mueller, PhD, is the William D. Williams Professor of Classics and Department Chair at Union College in New York,. Under his direction, the classics program has flourished and is noted for its cross-curricular outreach. He received a 2007 APA Award for Excellence in the Teaching of Classics and two Florida State awards for excellence in teaching. Dr. Mueller has published numerous articles as well as Roman Religion in Valerius Maximus (Routledge, 2002). Mueller's high school teaching experience will serve him well as author of these Caesar texts.
---
*AP is a registered trademark of the College Entrance Examination Board, which was not involved in the production of, and does not endorse this product.

The following teaching tip suggests a way for teachers to transform that special energy of spring fever into a learning activity.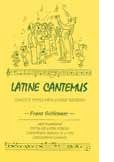 If you have ever seen students staring blankly at a wall or window or mindlessly doodling on a scrap of paper, then you know that occasionally every teacher's enemy, named Boring Boredom, has entered your classroom. No matter the age of the student or the quality (or lack thereof) of the teacher's voice, a song in Latin can shut the enemy out of the room.
The following verses have been taken from Latine Cantemus, a 1996 Bolchazy-Carducci publication.
A song can be used to illustrate the grammar lesson of the day. For instance, after teaching students how to form and recognize the future active indicative tense of the 1st and 2nd conjugations, sing together this verse from page 63 of Latine Cantemus from "She'll Be Coming Round the Mountain." The first verse illustrates a 1st conjugation verb; the second verse illustrates a 2nd conjugation verb.
Transportabit montem illa visens nos,
Transportabit montem illa visens nos,
Transportabit montem illa,
Transportabit montem illa,
Transportabit montem illa visens nos.
Equos sex habebit illa visens nos,
Equos sex habebit illa visens nos,
Equos sex habebit illa,
Equos sex habebit illa,
Equos sex habebit illa visens nos.
Another version of the same song on page 96 illustrates the following: 1st verse - 4th conjugation future active tense; 2nd, 3rd, and 4th verses - 3rd conjugation future active tense.
ILLA VENIET CIRCUM MONTEM
Illa veniet circum montem cum veniet. (2x)
Illa veniet circum montem, (2x)
Illa veniet circum montem cum veniet.
Ill(a) aget sex equos albos cum veniet (etc.)
Omnes ei occurremus cum veniet (etc.)
Edemus pullos et panem cum veniet (etc.)
LeaAnn Osburn

Special Discount for eLitterae Subscribers
Birthday of Rome Special Offer
Bolchazy-Carducci Publishers is offering 30% off copies of our bestseller Horace text and teacher's guide.
What better way to celebrate spring than to read some Horace? Carpe diem!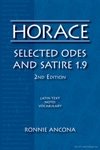 Horace Selected Odes and Satire 1.9, 2nd edtion
Ronnie Ancona
Student Text: xxxiv + 174 pp. (2005, 2nd edition) 6"x 9" paperback ISBN 978-0-86516-608-0 $38.00 $25.00
Teacher's Guide: vi + 82 pp. (2005, 2nd edition) 8.5"x 11" paperback ISBN 978-0-86516-612-7 $29.00 $20.00
One copy, prepaid, no returns, not available to distributors.
Offer expires 04/21/11
Make sure to mention that you are an eLitterae subscriber if you place your order by phone or fax. If you place your order via www.BOLCHAZY.com the eLitterae sale price will be charged at checkout.
Interesting Tidbits to Share
The following is a thought-provoking piece with classical references. Share this with students to demonstrate the continuing relevance of the classics. It was first published in the Winter 2010 issue of Loyola University Chicago's Loyola Magazine and is presented here with permission.
Ambition
Marcus Tullius Cicero, Roman statesman, orator and philosopher, distrusted and disliked the young and ambitious Julius Caesar because he thought Caesar's desire for power crude and personal. Cicero believed that Caesar wanted to be Rome. Cicero thought Caesar a misleader: a leader whose vision was solely focused on the acquisition of power for the purpose of self-aggrandizement.
Ambition can be a virtue or a vice, a driving force or a destructive preoccupation. It can result in energy, enthusiasm, and efficiency. Or it can result in self-indulgence, self- gratification, and selfishness. And, to add insult to injury, misfocused ambition can easily degenerate into obsessive arrogance and dysfunctional jealousy.
Leadership is a duty, a responsibility, not a personal benefit or right. In the words of management guru, Peter Drucker, "True leaders don't ask 'What do I want to do?' They ask, 'What needs to be done?'"
Al Gini
Al Gini is Professor of Business Ethics at the Graduate School of Business, Loyola University Chicago. Professor Gini is the cofounder and associate editor of Business Ethics Quarterly, the Journal of the Society for Business Ethics. Widely published, Professor Gini is popularly recognized as the resident ethics expert on National Public Radio's Chicago affiliate, WBEZ-FM.
---
The Value of Latin
Surely your students are very familiar with Facebook, Mark Zuckerberg, and the Oscar-winning movie The Social Network. British journalist Toby Young, writing for The Spectator, references Zuckerberg in his piece promoting the study of Latin.
No doubt some people will persist in questioning the usefulness of Latin. For these skeptics I have a two-word answer: Mark Zuckerberg. The 26-year-old founder of Facebook studied Classics at Phillips Exeter Academy and listed Latin as one of the languages he spoke on his Harvard application. So keen is he on the subject, he once quoted lines from the Aeneid during a Facebook product conference and now regards Latin as one of the keys to his success. Just how successful is he? According to Forbes magazine, he's worth $6.9 billion. If that isn't a useful skill, I don't know what is.
For the full opinion piece, "Forget Mandarin, Latin is the Key to Success," click here to read article.

Latin for the New Millennium Teaching Tips

Films for LNM 2
Our good friend Rose Williams suggests the following films as enrichment sources for LNM 2 and students' understanding of medieval and Renaissance history. Students can readily access films through the local public library or such commercial venues as Blockbuster and Netflix. As an extra credit assignment, students can view the whole film and write a synopsis of the story and provide a discussion of its connection to their readings in LNM 2. An alternative project and one more readily shared with the class asks students to view the full film and then create a set of brief clips that either provide the synopsis or represent the film's connection to LNM 2.
Recommended films:
▪ The Last Legion presents Romulus Augustulus and his times.
▪ Becket illustrates the conflict between King Henry II and Archbishop Thomas à Becket, a relationship that is echoed in the King Henry VIII and Thomas More conflict.
▪ Kingdom of Heaven, set in 12th-century Jerusalem, provides insight into the Crusades
▪ The Lion in Winter shows the relationship between King Henry II and his Queen, Eleanor of Aquitaine (one of the most powerful women of the medieval period) and their sons who long to be heirs to the throne. Choose either the 1968 version starring Peter O'Toole and Kathryn Hepburn or the 2003 version with Patrick Stewart and Glenn Close.
▪ A Man for All Seasons is hailed as a masterpiece exploring the power of conscience and moral courage in presenting the conflict between King Henry VIII and Thomas More.
▪ The Mission provides insight into the Jesuit reductions of South America.

Illinois Classical Conference

ICC President and LNM 3 Consultant Becki Wick invites all Illinois classics teachers and colleagues from neighboring states to the upcoming annual meeting of the Illlinois Classical Conference hosted by the University of Illlinois, Champaign-Urbana, IL, October 7–9.
ICC has lined up Professor Lothar Haselberger, an architectural historian at the University of Pennsylvania, to give the keynote address on Saturday after lunch. Haselberger's specialties include the Temple of Apollo at Didyma and Augustan architecture with an emphasis on the Pantheon.
Bolchazy-Carducci textbooks are now available through Google and Xplana eBookstores, with more titles going digital every day! Each eBook offers a variety of tools to enhance the learning process, and eBook distributors are continually adding new features.
What do BC eBooks currently offer?
eBooks have the same content as our traditional books in print, with these enhancements:

• Searchable
• Adjust text size, typeface, line space
• Free samples of books
• Worry-free archive
• Available on any computer with an internet connection
• Readable on:
- the web (via Windows or MAC computers)
- iPhone, iPad and iPod touch
- Android
- eBook Devices: Barnes & Noble Nook and Reader™ from Sony
Google ebook information: http://books.google.com/help/ebooks/overview.html
Google ebook store: http://books.google.com/ebooks

• Searchable
• Adjust text size, typeface, line space
•Add notes, customized highlights, and other annotations—all of which are added to the embedded annotation manager for convenient access
• Worry-free archive
• Available on any computer with an internet connection
• Readable on:
- the web (via Windows or MAC computers)
- tablet computers (any device that is Flash compatible)
Xplana ebook information: http://tinyurl.com/4qlyhye
Xplana ebook store: http://shop.xplana.com/
How do I purchase a BC eBook?
Simple! When you are browsing through www.Bolchazy.com, any time you see Google or Xplana eBook logo, click on the logo, and you will automatically be directed to a webpage where you can purchase the eBook.
Can I purchase direct from the distributor?
Yes! If you prefer, you can link directly to our eBook providers' websites and search by title, by author, or by Bolchazy-Carducci Publishers to locate the title you would like to purchase. The Google eBooks store offers a preview of the book, including the table of contents and select pages.
What hardware is required?
You can read eBooks on a Mac, PC, iPhone, iPad, Android, or a variety of eReaders.

Summer Professional Development Opportunity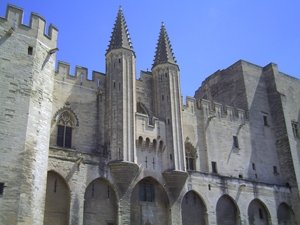 Papal Palace, Avignon: Petrarch served in the papal court at Avignon.
Still looking for a summer professional development opportunity? Check out Bolchazy-Carducci's Latin Teachers Tour. Join us as we visit Roman and post-antique sites in northern Italy and Provence. Experience firsthand such evocative places as Galileo's podium in Padua, the Teatro Olympico in Vicenza, the Papal Palace in Avignon, and Cezanne's atelier in Aix-en-Provence. You'll encounter pre-Roman Entremont in Aix, the Roman amphitheatre in Verona, Roman villa remains on Sirmio, the famous Etruscan liver in Piacenza, and so much more! At the same time, you'll savor marvelous meals and delicious wines. For more information and a registration form, click the link below; for questions, contact Don Sprague, veteran tour leader, at don@bolchazy.com.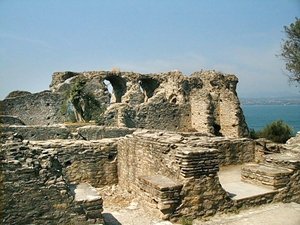 Roman Villa at Sirmio, area much loved by Catullus.
Bolchazy-Carducci
Links of Interest
Free Bolchazy-Carducci Roman Calendar
Bolchazy-Carducci's annual school year calendar is in print and has been mailed. Sorry, we are out of the printed copies but it is available to download from our website.
---
Preview Bolchazy-Carducci Titles

Preview Bolchazy-Carducci titles before you buy using Google Preview.
---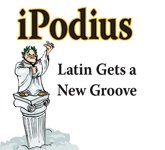 Downloadable Products
iPodius - Bolchazy-Carducci Publishers online shop for: audio, software, video, and teacher created materials.
---

BCP Facebook Fan Page
Become a FAN of Bolchazy-Carducci Publishers, visit our Facebook Fan page for the latest news from BCP.