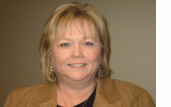 The odds of a child being diagnosed with cancer are low. About 1 in 330 children will develop cancer by the age of 19.
Of those who are diagnosed, today most will survive. But even with an increase in survival rates over the last 40 years, cancer still remains second to accidents as the leading cause of death for US children.
There are different types of childhood cancer and the most common are leukemia and brain tumors. Some childhood cancers have very different statistics attached to them. Regardless, statistics are not the whole story.
There is always reason for hope.
Of those who survive, some will experience long-term health issues ranging from mild to severe. Some will not.
Even those who do experience challenges, some will be able to overcome those health issues and live happy productive lives. It is wise to be watchful and know what can occur, but it is also okay to expect the best.
Many childhood cancer survivors have gone on to college and successful careers.
We acknowledge the difficult road families have traveled and offer assistance for higher education. And because childhood cancer is not just about the cancer child, we extend assistance to parents and siblings as well.

Mary Anne Ruddis
Click here to donate on-line.
Mail: American Childhood Cancer Org Inland NW
P.O. Box 8031
Spokane, WA 99203
Educational Assistance
Extending Our Hand to New Families
Family Event at Bumpers
Spokane Parent Group
Available Services
In Loving Memory
Seven Percent Chance by Faith Van Belle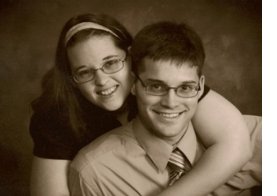 Our beautiful daughter, Charlene, was only 15 months old when she began having seizures. She was diagnosed with having epilepsy. When she was three years old, we had her yearly MRI and then we met with a neurologist. We were surprised to find that he had surgery scheduled for 1 week from that day. Our lives were turned upside down. Charlene had a brain tumor. We asked many questions but one answer that stuck out in our minds was that they gave her seven percent chance to live beyond puberty.
Well, 3 brain surgeries, a onetime treatment of radiation, and 14 months of chemotherapy in high school, graduating from high school in 2005 and she still is not finished. She wanted to go off to college like her sisters did. My question was how can she do this successfully? So we went to Seattle for another brain surgery, this time, they placed a grid on the left frontal lobe of her brain for a week. She was tethered to about 10 feet of wires. They mapped out her brain. Then a week later went back in, removed the grid and removed about the size of a computer mouse with no deficit to her. The seizures seemed to be more controlled, so her next step was college.
Off she went to Central Washington University in Ellensburg. Well, fast forward five years and here we are. She has completed her college education with a 3.018 GPA and will be walking this June to accept her diploma with a degree in Information Technology Administrative Management. On her 21st birthday she got her driver's license, which was her gift to herself. Another side note, she is getting married on May 7th, 2011 and then moving to Jacksonville, Florida with her new husband who is in the Navy.
So when you hear the odds of seven percent chance, that means there is still a chance. She has gone far beyond what some doctors thought she would ever do but if you ask her, of course she would go to college, of course she would get her driver's license, and of course she will get married! Congratulations Charlene! We are so proud of you and all of your accomplishments!!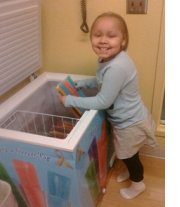 Thanks Jel-Sert for donating a freezer to Sacred Heart Children's Hospital with unlimited supply of Fre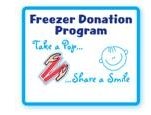 ezer Pops!
Tylynn is loving it!
2011 Washington State Karate Championships is Next Week!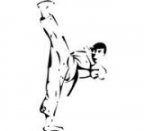 Join us on April 30 for the 2011 Washington State Karate Championships. Warhorse Martial Arts has raised over $36,000.00 for kids with cancer in the Inland Northwest since beginning the tournament in 2007. This year's goal is to break $40,000.00 with 50% of the proceeds benefitting ACCOIN and 50% benefitting Warhorse Charitable Foundation that provides financial assistance to foster children in the Warhorse karate program. Come out and see a great match, and support kids in our community .
We are a community based organization and we want to thank our community for the amazing support for kids with cancer in the Inland Northwest. We represent families who struggle with some incredibly challenging and sometimes crushing circumstances. Your care and concern make all the difference!
EMPTY BOWLS did not stay empty long!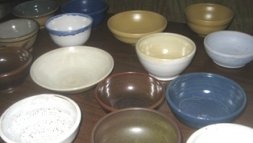 Thanks everyone who contributed to a successful fundraiser at Jenny's Cafe in the Spokane Valley
We raised $3382.00! Click here for pictures
Lighing the way with Thanks!
Our 7th annual "Light the Way" dinner/auction raised $35,000.00 this year! It was a great event and a fun night. Unfortunately we chose the beginning of spring break weekend for our event so our attendance was down a bit. If you were out of town and would like to donate towards the event, you can do so on-line here - in the comments section add "Light the Way."
A special thank you to Pounder's Jewelry for donating an exquisite custom necklace, our event chairs, Faith Van Belle and Angela Welsh, and all the volunteers who helped make this night a success.
Thanks to our sponsors:
Sterling Savings Bank, Kalispel Tribe and Northern Quest Resort & Casino, Sir Speedy, Foresters, and EyeCandy Design.
Thanks also to everyone who donated auction items and attended ...because kids can't fight cancer alone!


Never too Young to Give Back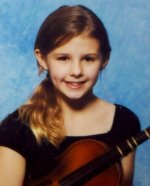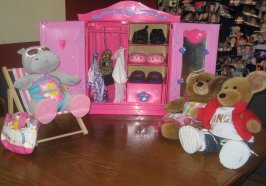 Eleven-year-old Danielle Guarisco decided it was time for her extensive Build-A-Bear bears, clothes, and accessories collection to find a new home. Thanks for thinking of kids with cancer to share with!
Just goes to show, you really are never too young to give back.