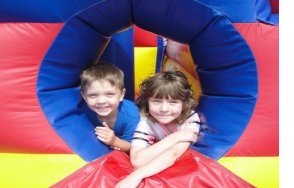 Benjamin and Elaina at 2010 Summer Party
The Nixon's were visiting family in the Spokane area for Thanksgiving in 2008. Little did they know they would end up here for another 6 weeks after their then six-year-old Elaina was diagnosed with Wilms Tumor.
When Elaina was diagnosed at Sacred Heart Children's Hospital, her family decided to remain in Spokane for her first phase of treatment since this is where they had family support.
After going home, Elaina had surgery to remove the tumor and her kidney at Mary Bridge Children's Hospital in Tacoma and continued her scheduled chemo and treatment over there – for the most part. On a weekend trip to Spokane to attend the Great Strides CF Walk, (Elaina also has Cystic Fibrosis.), she ended up back at Sacred Heart and was admitted for a week. Everyone joked that if she missed all the nurses and doctors that much (and they really ARE that lovable), she could've just visited instead of getting admitted to the hospital.
Elaina finished treatment in the summer of 2009 and had her central line removed that September just in time for her Make-A-Wish trip to Florida to swim with the dolphins. Everything continues to check out clear with all her CT scans. Since she also had radiation to her abdomen and lungs, she continues to be monitored to see how the treatment will have affected her respiratory function and her Cystic Fibrosis.
We recently heard from Elaina's mom, Samantha: "I wanted to send a quick note to say that we have enjoyed being able to attend a few ACCOIN events since we moved back to Spokane in the summer. Both Elaina and her brother had a blast at the Summer Family Picnic and the Bumpers Family Night. [Our next Bumpers Family Night is May 22.] I wanted to share with you a picture of them that we took at last year's summer picnic. …[It] really captured the joy that was evident in both of them that day. Also, we really appreciate you sending a card for the siblings' birthdays with the Happy Meal card. It means so much to my son and he is ecstatic to make a special trip to McDonalds. Thanks for all you do!"
Our family events are a place to relieve stress, have much needed fun, and for families to connect with other families in a relaxed setting.
Our 2011 Summer Party is scheduled for July 23rd. If you would like to be involved in creating these smiles through sponsorship or volunteering, please contact our Summer Party chairperson, Elaine Williams at ewilliams@accoinlandnw.org. or call the office at 509-443-4162.
Our plan this year is to create a carnival. Check our website for updates as plans come together.