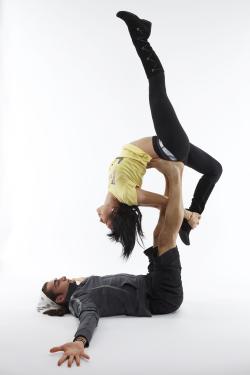 PERCEIVE & LIVE YOUR DHARMA
I recently took part in a 3-hour telephone workshop, "Taking The Seat of the Leader" with gifted teacher and coach Paula Tursi. Paula's meditations and explorations lead us back to our true nature, our gift, the sharing of which is crucial to our joy and our flow in the world.

Most of us rediscovered gifts we knew, had perhaps forgotten. Some, including me, glimpsed revelatory insights through Paula's keen lens.

This is valuable Ajna work - the work of our perceiving third eye, our 6th Chakra. But to translate it into the world - to make a path, or "dharma" with it, requires distillation.

It requires that we embrace the gift of who we are. This is the work of the heart, 4th Chakra, Anahata.

Then it requires the powerful fire in our belly, Manipura, 3rd Chakra, to fuel our actions. Teaching to that fiery "Jewel in the City" last week, Heather Lilleston points out "We have to live our dharma, because if we don't, we get depressed."

I smile every Monday when I take Heather's class right after mine and the themes resonate without effort. My focus that day was the expressive 5th or Throat Chakra: "Speak your truth, because when you muffle your voice, you can no longer sing, breathe, or swallow."

So, see your Gift, first. Then, accept it. Then shine it. Then, we can go about seeking to best express it.

Paula's next teleseminar "Taking the Seat of Purpose," is June 12th. Link below.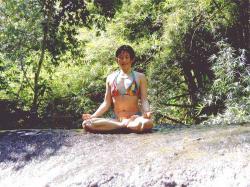 KEEP YOUR COOL WITH PRANAYAMA
Does Yoga have an answer for everything? Well: yes. A tool or several tools, anyway, for every situation. In the heat of summer, use Sitali or Sitkari breath ("sit" means cool) to lower your core temperature. Of the many descriptions and instructions readily available, I love Linda Sparrowe's for its title alone.

"Breath of Forgiveness:
If you feel angry, hurt, resentful, or any other heated emotion, try several rounds of sitali or sitkari pranayama...."

Yogis use Sitali and Sitkari to cool the liver, lower blood pressure, calm migraines, alleviate thirst and hunger pangs, and calm inflammation in body, soul & mind. Yoginis use it to control hot flashes. I link one article here, and 2 more at Links at bottom right.

Can pranayama lower your electric bill? Try it and share your findings.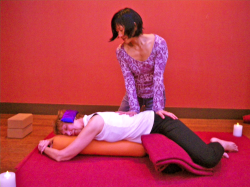 MOTHER MARY'S RESTORATIVE TRAINING, PURE YOGA
Sharing restorative yoga has been as much pleasure for me in my teaching life as mothering my son has been in my personal life. Teacher training with YogaFit® has been a pure delight as well, and continues to be so, with its wonderful community of trainers and teachers.

This summer, July 22-24, I am thrilled to present a weekend Restorative teacher training at Pure Yoga, my home studio in New York.

For teachers and teachers-to-be, this training provides 20 hours of Yoga Alliance CEU (Continuing Education Units), and shares everything I have learned, from the practical to the profound, in 9 years of teaching Restorative to clients, classes, workshops and retreats.

The link below has a brief description. For full description, click on the "click to register" link. Online registration is NOT available. You can register by contacting the studio at the information given.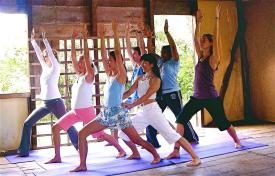 NEXT UP: NIDRA CD, RAINDROP THERAPY, RETREAT
STAY TUNED FOR UPDATES:

* Requests from students for class CDs and DVDs have met with resistance from me for years, as I prefer live transmission and interaction. Yoga Nidra guided meditations are an area where I feel recordings are appropriate, however. Watch upcoming issues for updates on Fall or Winter release of Yoga Nidra CD recordings from me.

* Students & clients enjoy my use of Young Living Essential oils for various thematic cycles in class; I will be offering Raindrop Therapy treatments this fall or winter.

* Weekend Winter Retreats: How about a Spa Yoga retreat? First up in planning stages, "Flow & Restore" a 4-Day tropical retreat, early January. Future weekend options include Vinyasa and Acro; but Spa first, Spa first!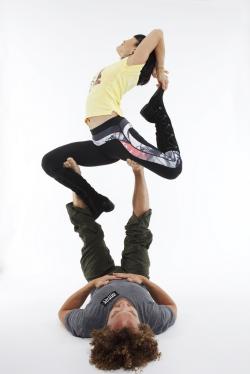 PHOTO THANKS
Special thanks this issue to Andrew Dolgin, Lululemon's photographer at the NYC Yoga Journal Conference, and to Kristin Kachmarski of Lulu East 66th for organizing the free photo shoots! It was truly a community builder. The link for the YJ Conference photo gallery is below.

Additional thanks to photographers: Michael St. Cole, Kristina Cubrilo, Greg Franklin, Hiroki Tada, Raul Aranas. Appearing in photos: Justin Caruso, Matt Giordano, Chris Loebsack, Marion-Krista, Samuel Prestidge II, Trish Perkins & pals.

Om Shanti Om!
Peace, coolness, until next issue -
Namaste, Mary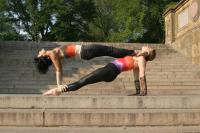 BREAKIN' HIGH! ACROYOGA® PLAYSHOP ~
Breakflowin' with Ari Kassman and BuddhaXtreme was the most fun fusion Yoga I tried in April, and I've dipped into a few awesome fusions lately!

The b-boys and b-girls loved seeing my demonstrations of AcroYoga®, so the idea was hatched!

Sunday June 26, from 11am-2pm ~ I'm giving an AcroYoga® Fundamentals workshop that will have specially invited BuddhaX members amongst the students. Although the playshop is inspired in order to invite them, however, it is open to any and all, and no partner or experience is required. Any prior physical or athletic background, yoga included, is simply a bonus and extra pleasure for you.

If you are an AcroYogi in your first 6 months of practice and have not yet done a Foundations workshop this is the fun one to hit! Joining me in co-teacher and pal Chris Loebsack, and we will have stalwart assistants as well.

Hope to see you, whether newer, or brand new to AcroYoga®, or renewing the basics, whichever it may be!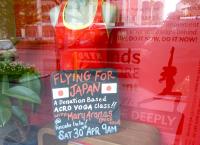 DONATION REPORT: FLYING FOR JAPAN
On April 30th a small but bright-eyed group of new AcroYogis flew with me and friends at Lululemon's Lincoln Square store, from 9-10AM before the store opened, to raise the vibes of love and community, both here, and for the stricken communities in Japan in the wake of the earthquake and tsunami.

Peacewinds Japan is the local NGO that we donated all of our proceeds to. Thanks Lululemon!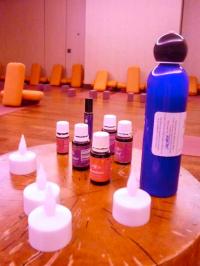 DONATION REPORT: MOTHER'S DAY RESTORATIVE
On May 8th, a full house of 31 women and 2 men joined me at Pure East's Restorative Mother's Day retreat to celebrate the mothers in our lives, those we are mothers to, and the nurturing of the inner child in ourselves.

What can I say? I waft out on a cloud just as restored as my "babies" when I enjoy sharing these Spa Yoga retreats. In honor of my mom, and many others, 10% of the proceeds have been donated to Susan G. Komen for the Cure.

A special "you're awesome" shout-out to stellar assistants Hiroki and Yvette from Mama Mary!


WANDERLUST: YOGA IN THE CITY
There are Wanderlust Festivals aplenty; there is even one right smack dab in the middle of New York City!

Wanderlust Yoga in the City – June 7th at Pier 63, as part of a seven city national tour celebrating the modern day culture of yoga. Pre-registration free but required.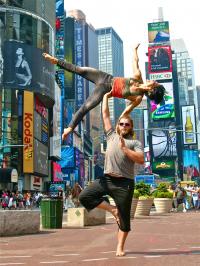 SOLSTICE IN TIME SQUARE
Then on June 21, join my friends Douglass Stewart and Nicole Nichols in the annual "Mind Over Madness" solstice yoga classes mid-city, mid-traffic, in Time Square! Free but you must register for the class you are taking.

WHAT: A yoga event celebrating sun, summer and creativity
WHEN: June 21, 2011
WHERE: Broadway Plazas between 45th and 47th Streets. Check in is at Broadway and 48th Street.
ADMISSION: FREE

Celebrate Yoga! Celebrate our city!