WE JUKE UP IN HERE DVD/CD PRE-ORDERS START ON NEW WEB SITE... VIEW NEW VIDEO TRAILER... ATTEND FILMING...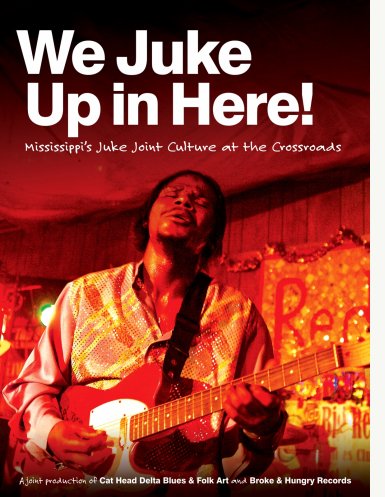 PRE-ORDER DVD/CD TODAY: Go to our brand-new web site www.wejukeupinhere.com to view the NEW VIDEO TRAILER, read about the project and PRE-ORDER NOW for this April 2012 DVD/CD release. Pre-orders will ship first with retail store distribution coming later. Be the first to get WE JUKE UP IN HERE. Pre-order today, and feel good about it... since your pre-order will help us finish the film.
ATTEND THE NEXT FILMING: This FRIDAY, AUG. 12 @ RED'S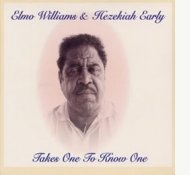 LOUNGE, CLARKSDALE, MS... 7pm-10pm. Filming of We Juke Up In Here continues with an early evening of hardcore juke joint blues from ELMO WILLIAMS & HEZEKIAH EARLY of Natchez. Two old men, a set of drums, a distorted guitar and a harmonica that's duct taped to a mic stand. Damn, that HAS to be good! Oh yeah, as if that's not enough, blues guitarist/singer LIL POOCHIE will also be roadtripping up from Natchez for filming as a bonus. (Shown: E&H CD on Fat Possum)
ABOUT THE MOVIE: We Juke Up In Here is a new film and music project from the makers of the award-winning blues movie M for Mississippi. We Juke Up In Here follows producers Jeff Konkel and Roger Stolle as they explore what remains of Mississippi's once-thriving juke joint culture. The film is told largely from the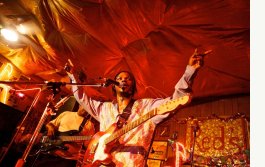 vantage point of Red Paden, proprietor of the legendary Red's Lounge in historic Clarksdale, Mississippi. Paden, a true Delta character and jack-of-all-trades, has been running his blues and beer joint for more than 30 years – providing one of the region's most reliable live blues venues and an authentic stage for a cavalcade of veteran blues performers, both legendary and obscure. Told through live music performances, character-driven interviews and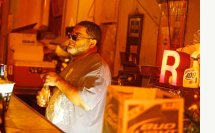 rare on-camera blues experiences, viewers are taken below the surface of the quasi-legal world of real Delta jukes – while it's still living and breathing. Mississippi's juke joint culture may be at a crossroads, but as Red likes to say, "The Game's for life . . . and that's for damn sure!" We Juke Up In Here is a joint production of Broke & Hungry Records and Cat Head Delta Blues & Folk Art.
PRODUCTION TEAM: Talented M for Mississippi alumni Damien Blaylock and Bill Abel also return for the new film (as director of videography and chief recording engineer, respectively); also on board this time around is photo-videographer Lou Bopp (his photos are featured above and in the book, Hidden History of Mississippi Blues).
MARKETING SPONSORS AND PARTNERS:
Current marketing sponsors include...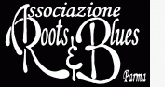 Our chief partner, principal sponsor and European distribution partner is the Rootsway Roots & Blues Association (www.rootsandblues.org), a nonprofit organization from Parma, Italy. Founded in 2004, the group is dedicated to promoting rural and indigenous American and African-American musical art forms throughout northern Italy. The Roots & Blues Association has brought several Mississippi blues performers to Italy in recent years and was a partner on M for Mississippi.

Other sponsors include Nayati Dreams (www.nayatidreams.fr), Cathead Vodka (www.catheadvodka.com),

Lemuria Books (www.lemuriabooks.com) and Jerry & Marge Konkel.
SPONSORSHIP OPPORTUNITIES STILL AVAILABLE: For marketing sponsorship information, please contact either Roger Stolle (roger@cathead.biz) or Jeff Konkel (jeff@brokeandhungryrecords.com) for basic sponsorship options or to discuss a special sponsor package that addresses your unique promotional needs.
http://www.wejukeupinhere.com • http://www.mformississippi.com

UPDATES ON HIDDEN HISTORY OF MISSISSIPPI BLUES BOOK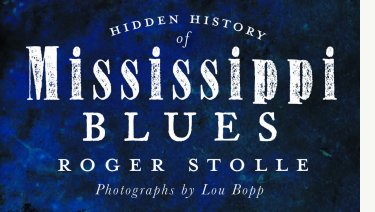 (CAT HEAD NOTE: Pardon my shameless, ongoing self-promotion of the book. Hey... somebody's gotta do it! -- Roger)
ITALIAN REVIEW BY 'BLUES BORDERS' AUTHOR FABRIZIO POGGI IN 'FOLK BULLETIN MAGAZINE': If y'all read Italian, then check it out at http://folkbulletin.folkest.com/alle-radici-della-musica-afroamericana-9-nuova-serie-a-cura-di-fabrizio-poggi/. (Our best wishes for a speedy recovery go out to the reviewer, Fabrizio, who was recently in a bad car accident. He's expected to make a full recovery.)
SPEAKING OF ITALIAN... Stay tuned for an Italian language translation of the book in spring 2012. Thanks to the Roots & Blues Association and The History Press for working on that.
BOOK SIGNINGS -- RECENT AND UPCOMING: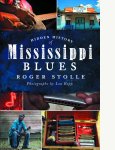 - Last Friday @ Turnrow Books in Greenwood, MS - Very cool indie book store inhistoric downtown. Super nice owners, too. Terry "Harmonica" Bean performed, courtesy of Turnrow and The History Press. Fun "talk" in front of audience, but I especially enjoyed the one-on-one conversations beforehand.
- Last Saturday @ Booksellers at Laurelwood in Memphis, TN - Huge (literally) indie book store. Very nice with a terrific staff. Instead of just presenting a "talk," we all sat down and just talked about the state of the blues... and... Clarksdale. Two of the ladies who attended has just spent a weekend in Clarksdale at Red's, GZBC, etc., and just couldn't say enough! Fun afternoon.
- This Saturday, 8/13 @ Cat Head in Clarksdale, MS - As part of the "Day of Book Signings" we're doing at Cat Head, we'll (Lou Bopp, Jeff Konkel and yours truly) be on hand to sign and discuss book at 3pm.

OR... IF YOU CAN'T MAKE IT 'HERE' FOR A SIGNING... Please

just call me at my Cat Head blues store during regular biz hours (662-624-5992), and order the book ($19.99 plus $5 s/h). I'll be happy to deface it with a personalized signature! I've stocked up on super-special signing ink. Thanks, Roger

VISIT THE WORLD-FAMOUS 'DELTA BLUES MUSEUM' IN CLARKSDALE, MISSISSIPPI...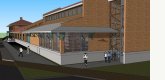 THE DELTA BLUES MUSEUM EXPANSION IS UNDERWAY! But the museum is still open, so come check out both the permanent and temporary exhibits... while you also check out the expansion progress. Here's an excerpt from an older press release that describes the "Muddy Waters Addition" to the museum. Also, shown is an artist's rendering (courtesy of www.highway61radio.com).

DELTA BLUES MUSEUM TO HOST BOOK SIGNINGS FOR CHARLES FARLEY, AUTHOR OF SOUL OF THE MAN: BOBBY "BLUE" BLAND, NEW BIOGRAPHY ... Friday, August 12 @ 2 pm and Saturday, August 13 @ 11am. Free, open to the public.
JOIN E-LIST DELTA BLUES MUSEUM: Go to http://visitor.r20.constantcontact.com/manage/optin/ea?v=001_vy7Mr9Zh8zqQsm3pti35A%3D%3D
CLICK HERE for Delta Blues Museum web site
Delta Blues Museum
1 Blues Alley, Clarksdale, MS
662-627-6820
DELTA BOHEMIAN.COM COVERS CLARSKDALE SCENE & MORE (subscribe today for all their updates, blogs, etc.)...

MEET THE DELTA BOHEMIANS: Billy and Madge of DeltaBohemian.com provide multimedia coverage of all things Delta and most things bohemian. Check out their web site full of blogs, photos, info and more. You can subscribe to their email list for free.
DELTA BOHEMIANS REVIEW AND TALK ABOUT "HIDDEN HISTORY OF MISSISSIPPI BLUES" BOOK (thanks y'all!): "The following video interview was conducted in one of the elegant rooms in the Clark House Residential Inn in downtown Clarksdale, Mississippi—heart of the Mississippi Delta. The focus of this interview is Roger Stolle's recently released book, Hidden History of Mississippi Blues. The interview is 27 minutes long broken into two parts..." Read written review and view video interview at http://www.deltabohemian.com/listen-unconventional-book-review-video-interviewhidden-history-mississippi-blues/
UPCOMING DELTA EVENTS AND PHOTOS FROM PAST HAPPENINGS: Check out what's going and been going on in Clarksdale and the Delta by clicking on http://www.deltabohemian.com/clarksdale-posted-81011/

STAY AT THE CLARK HOUSE RESIDENTIAL INN IN HISTORIC CLARKSDALE, MISSISSIPPI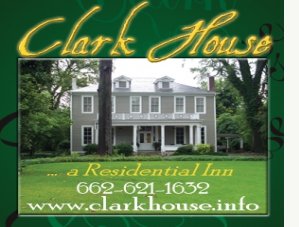 THE CLARK HOUSE RESIDENTIAL INN -- AFFORDABLE COMFORT AND CONVENIENCE IN CLARKSDALE, MISS.
The Clark House is your comfortable alternative to motels. Located in the beautiful residential section of the Clarksdale Historic District -- just three blocks from the center of downtown's government, business and entertainment center. Rooms from $75, each with private bath, desk and sitting area, including internet access and continental breakfast.
Originally constructed in 1859 by Clarksdale founder John Clark. It was the first home built in Clarksdale, and is listed on the National Register of Historic Places. The Clark House has just been extensively refurbished and beautifully redecorated as a residential inn.
Reservations can be made online at http://www.clarkhouse.info or by calling the Innkeeper at 662-621-1632.
'ROCK & BLUES MUSEUM' -- AN ESSENTIAL TOURIST STOP IN CLARKSDALE, MISSISSIPPI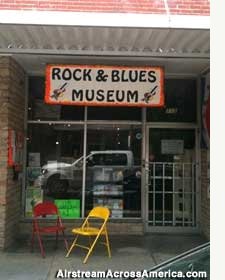 THEO AND CINDY'S JAM-PACKED 'ROCK & BLUES MUSEUM' in Clarksdale, Mississippi, at 113 E. 2nd Street, is full of great music memorabilia from the 1920's through the 1970's. Follow the evolution of America's music from blues, R&B, and rockabilly to rock 'n roll and soul and see how it influenced people all over the globe. Don't miss it...
TOUR AND BUS GROUPS WELCOME (CALL FIRST): Contact Theo Dasbach at 901-605-8662 for reservations.
ALSO, THEO AND CINDY'S NEWLY RENOVATED "THE DEN" VENUE ON YAZOO... Is available for special events.

ROCK & BLUES MUSEUM
113 East 2nd Steet, Clarksdale, Mississippi 38614. Go to blues2rock.com for hours & more.
JUST CAN'T WAIT FOR 'CAT HEAD UPDATE'? JOIN US ON FACEBOOK FOR MORE UP-TO-DATE UPDATES...

SOCIAL NETWORKING WITH CAT HEAD ON THE WORLD WIDE WEB
Through the magic of lasers and extension cords, you can join Cat Head (o.k... it's actually under the name of owner "Roger Stolle" if you're searching for it) on that big 'n fancy Facebook thingie. The Stolle/Cat Head Facebook page provides photos, blogs, press releases, event info, etc. in a much more regular way than the sporadic (if hopefully quite in-depth) Cat Head Update e-newsletter. "Friend" us and see watcha think. Thanks so much. Also, feel free to share your own blues or Mississippi news via Facebook. Hope to see y'all floating out in cyberspace!
HERE'S A LINK TO MY FACEBOOK PAGE:http://www.facebook.com/profile.php?id=668255573
'THE LOFTS AT THE FIVE & DIME' LUXURY CONDOS IN CLARKSDALE, MISSISSIPPI
THE LOFTS AT THE FIVE & DIME ARE OPEN FOR BUSINESS
The newest place to stay in downtown Clarksdale, Mississippi, is also one of the most luxurious and updated -- with master suites, full kitchens, wi-fi, flat screen TVs (w/cable and DVD player) and much more. Check out the room photos at www.fiveanddimelofts.com. Then, plan to make the most of your next Delta visit.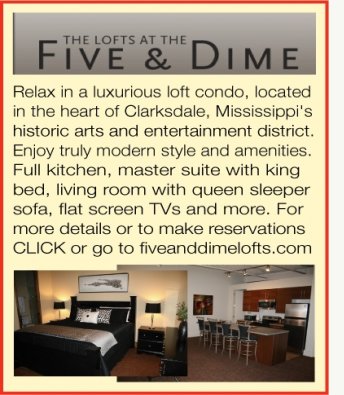 CLARKSDALE 'PRESS REGISTER' NEWS -- BLUES AND MORE
SUBSCRIBE AT PRESSREGISTER.COM...
Subscribe to Clarksdale, Mississippi's hometown newspaper and supporting their efforts to tell the world about our vibrant Clarksdale community.
PLAN NOW FOR THE 2012 'CLARKSDALE FILM FESTIVAL' AND 'JUKE JOINT FESTIVAL'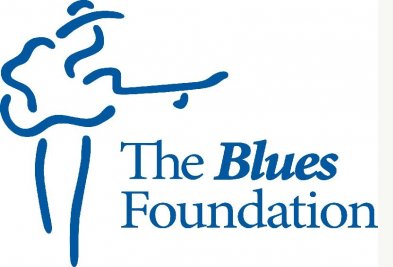 2012 BLUES MUSIC AWARDS (BMAs)... The date of the 33rd Blues Music Awards will be Thursday May 10, 2012. The submission process is open for musicians and record labels. If you are a record label or blues musician who has released or plans to release a CD or DVD during the period November 1, 2010 to October 31, 2011, this is for you. Details can always be found at http://www.blues.org/bluesmusicawards/balloting.php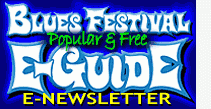 CHECK OUT BLUES FESTIVAL GUIDE ON-LINE AT bluesfestivalguide.com
Where you can find fests, read articles, list your fest (for FREE) or buy an ad!
NEW "PEYTON ON PATTON" CD AND LP NOW AVAILABLE...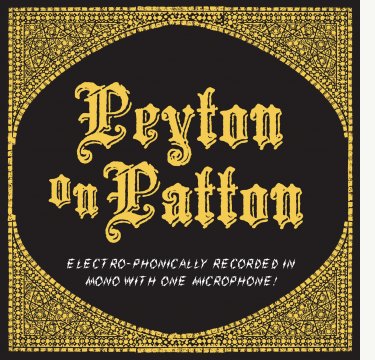 NEW ALBUM RELEASED ON JULY 19TH...
"Charley Patton's been my hero since I was a kid, and I want our fans to be as excited about his music as I am," Rev. Peyton says. "A lot of fans who come to our shows think that country blues is boring and that the only people who ever played it were old men sitting on their porches. But in his day, Charley Patton was every bit as wild on stage as we are. Hopefully this record will turn people on to just how awesome Charley was."
Peyton On Patton was recorded earlier this year in much the same way that Patton recorded. The entire CD was cut in a one day using a single microphone. And like Patton's first session, the tribute CD was recorded in Indiana.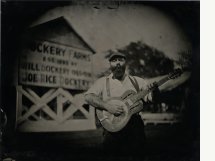 (Photo of Peyton by Bill Steber)
EXCERPTS FROM GREAT NEW 'BLUES BYTES' REVIEW OF PEYTON ALBUM: "...I can't recommend Peyton on Patton highly enough. It's a wonderful tribute to an acknowledged master. What lifts this tribute above the regular tribute albums to blues legends that come out regularly is the astonishing passion that Reverend Peyton has for his subject. It's almost like he's channeling the spirit of Charley Patton on these recordings. Fortunately, we get the opportunity to listen to the fruit of his labors." -- Graham Clarke, BLUES BYTES. (Full review at: http://www.bluenight.com/BluesBytes/su0811.html)
READ INTERVIEW WITH THE REV RE: PATTON ALBUM:
The Rev's interview with American Blues Scene:
http://www.americanbluesscene.com/
Peyton on Patton is available now at www.store.sideonedummy.com and at fine record stores everywhere.
Peyton on Patton is the sixth release from The Reverend Peyton's Big Damn Band and their third for SideOneDummy Records.

XM / SIRIUS RADIO LISTENERS... "CATCH WEEKLY DELTA BLUES REPORT!"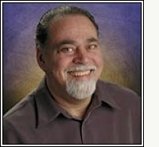 BILL WAX OF BB KING'S BLUESVILLE ON XM/SIRIUS RADIO CALLS CAT HEAD ON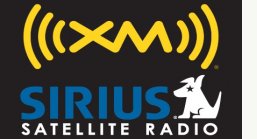 THURSDAYS TO TALK BLUES
Have XM or Sirius Radio (or know a friend with it)? Then, please tune in most Thursday afternoons (4pm Central/5pm Eastern) for the Cat Head Delta Blues report with Roger Stolle and Bill Wax. Bill basically calls me at Cat Head most Thursdays, and we chat about blues shows, characters and related activities coming up... down in the Delta. Mississippi blues news you can use! Keep up to date on your favorite Mississippi blues players, juke joints, music festivals and so much more. Don't have satellite radio yet? Check it out at the link below:
SUPPORT 'MUSIC MAKER RELIEF FOUNDATION'... AND THE BLUES

"As always, your donation to Music Maker's Annual Fund will support forgotten musicians while strengthening our culture. You can enrich thousands by giving voice to one musician through Music Maker! " -- Tim Duffy.
Read MMRF's fall newsletter and donate today at:
ALSO NOTE: Cat Head carries many of Music Maker's wonderful CDs -- old, new, men, women. All good stuff! Stop by and see.
HERE ARE SOME UPCOMING SHOWS (MOSTLY OUT EAST) FEATURING MMRF ARTISTS:
Wednesdays- The Jim Chris Trio (featuring Bubba "Nose" Norwood)- The Franklin Hotel, Chapel Hill, NC 7:30pm
7/22 - John Dee Holeman and Pat "Mother Blues" Cohen- Warehouse Blues Series, Durham, NC
7/23 - Ironing Board Sam, Big Ron Hunter- Hiawatha Traditional Music Festival, Marquette, MI
7/29 - Captain Luke, Big Ron Hunter, Whistlin Britches and Ironing Board Sam- Warehouse Blues Series, Durham, NC
7/31 - 8/7- Pura Fé - Port Townsend Acoustic Blues Festival, Port Townsend, WA
8/5 - Alabama Slim/Boo Hanks- Warehouse Blues Series, Durham, NC
8/12 - Cool John Ferguson- Warehouse Blues Series, Durham, NC

AMEX'S "DEPARTURES" MAG COVERS THE MISSISSIPPI DELTA'S BLUES HERITAGE...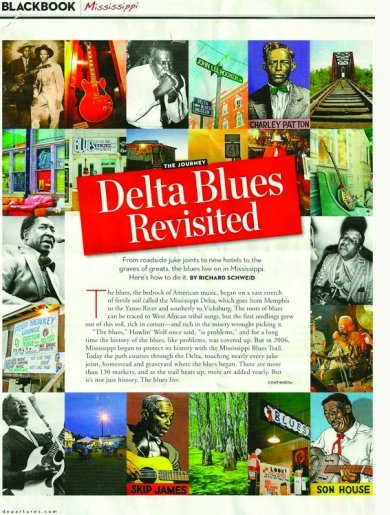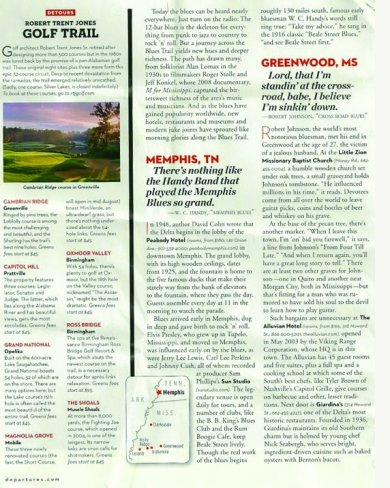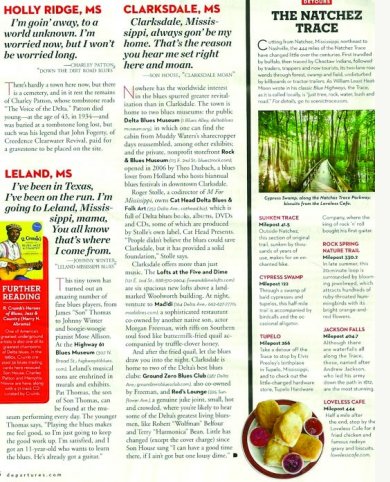 WELCOME TO "SUNFLOWER BLUES FEST WEEK EDITION" OF CAT HEAD UPDATE FROM CLARKSDALE, MISSISSIPPI...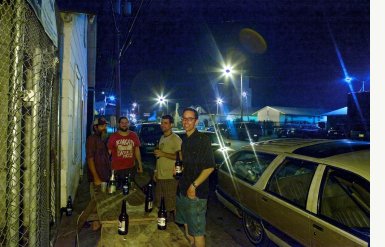 (PHOTO BY LOU BOPP: Recording engineer Bill Abel, cameraman Damien Blaylock, Broke & Hungry Records' Jeff Konkel and yours truly after a night of filming "We Juke Up In Here" at Red's Lounge.)
Welcome to another sporadic edition of the CAT HEAD UPDATE: The Mississippi Blues Newsletter -- "all the blues that's fit to print."
IT'S SUNFLOWER RIVER BLUES FEST WEEK IN CLARKSDALE... AND THERE ARE STILL HOTEL ROOMS AVAILABLE: Well, ok. A better way to put it is that some accommodations have opened up,

largely due to cancellations or new rental availabilities. For a complete listing of Clarksdale & vicinity accommodations, please go to http://www.cathead.biz/guide.html and scroll down. As of the past couple days, here are the rooms I am or was aware of: Clark House (www.clarkhouse.info; 662-621-1632; host@clarkhouse.info), Middleton Guest House (sleeps 1 or 2 people; $100/night, 3-night min), Jack Bobo Guest House (2 bed/1 bath; full bed and 2 twins; $175/night, 2-night min.; 601-927-0522 or 901-338-5402), Rental House on Sunflower River (3 bed/3.5 bath w/deck; sleeps 8; $350/night), OR Uptown Inn (not sure rates; pretty basic but near fest; 662-627-3251). ALSO, remember that folks do cancel during fest week, so it's worth calling around. You could also camp; contact either Chamber/Tourism at 662-627-7337 or John Ruskey at john@island63.com.
CAT HEAD VISITS SUNSHINE SONNY PAYNE ON 'KING BISCUIT TIME' RADIO SHOW: I took a couple hours recently to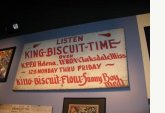 go visit friend and legend Mr. Sonny Payne (now 85 years young!) in nearby Helena, Arkansas. Wonderful man. Truly. We chatted on air about all things blues. (Visti Mr. Sunshine some Tues-Fri at 12:15pm... and you too can pollute the air with your very own voice.) Hear our conversation as well as some music by going to the on-line archived radio show at http://kffa.dataride-previews.com/radioaudio/kffa/kbt070511.mp3
CAT HEAD ADDS NARRATION TO AMBASSADOR OF ETHIOPIA'S DELTA BLUES/CIVIL RIGHTS TOUR: Thanks to

Cleveland, Mississippi's Scott Coopwood (Delta Magazine, Delta Business Journal, etc.) for the invitation to join Ambassador Girma Birru from the Federal Democratic Republic of Ethiopia on a guided tour of area Civil Rights and Delta blues sites. We visited Money, Greenwood, Indianola and Clarksdale -- finishing up with a fine meal at Madidi Restaurant just down the street from Cat Head. In addition to the ambassador's entourage, some fine folks from the University of Mississippi took part in the tour. (Birru spoke there, I believe.)

CAT HEAD CELEBRATES 9TH ANNIVERSARY OF FIRST CD SALE: On July 20th, we celebrated the 9th anniversary of Cat Head's first retail sale. Thanks to everyone past and present who has made Cat Head what it is today (whatever that is). What a long strange trip it's been so far. Watch for a 10th Anniversary blowout in 2012.
Thanks and best regards y'all,
ROGER STOLLE
(and my faithful blues pug, Sadie)

Cat Head Delta Blues & Folk Art
252 Delta Avenue, Clarksdale, MS 38614
662-624-5992 - roger@cathead.biz
PS - PICK UP THE NEW ISSUE OF BLUES REVUE MAGAZINE

Catch my regular "Down in the Delta" column in Blues Revue mag. The next issue features an interview with Rev Peyton of Rev Peyton's Big Damn Band (w/a cool Bill Steber photo). The Rev's got a new Charley Patton tribute album coming out soon -- Peyton on Patton -- so it seemed like a good time to sit down with the Rev and talk about his love of Mississippi and obsession with Mr. Patton. Pick it up at Cat Head or click to subscribe... THANKS! (By the way, the NEXT issue's column will feature Delta drum legend Frank Vick, so be on the lookout for it as well...)

SUNFLOWER RIVER BLUES & GOSPEL FESTIVAL LINE-UP -- FRI-SUN, AUGUST 12-14, 2011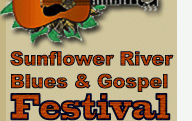 24TH ANNUAL, FREE
SUNFLOWER RIVER BLUES & GOSPEL FESTIVAL
(Lineups are subject to change - visit website: http://www.sunflowerfest.org for updates)
The 2011 Festival celebrates the lives of musicians/artists/key contributors in Sunflower history for more than two decades until their recent deaths. James Alford, Michael James, Wesley Jefferson, Big Jack Johnson, Sarah Moore, and Foster "Tater" Wiley.
FRIDAY, AUGUST 12, 2011 - Main Stage
4:15pm - 4:45pm The Delta Blues Museum Band
5:00pm - 5:45pm Richard 'Daddy Rich' Crisman
6:00pm - 6:45pm Deuce & Quarter Band
7:00pm - 7:45pm Joshua 'Razor Blade' Stewart
8:00pm - 8:45pm David Brinston
9:00pm - 10:00pm Nathaniel Kimble
SATURDAY, AUGUST 13, 2011 - Main Stage
1:30pm - 2:00pm Neicy Keyinessa
2:15pm - 2:45pm Terry 'Harmonica' Bean
3:00pm - 3:45pm All Night Long Band
4:00pm - 4:45pm Dr. Feelgood Potts

5:00pm - 5:45pm Terry 'Big T' Williams & The Family Band
6:00pm - 6:30pm Tribute to Blues Legends
6:45pm - 7:30pm Bill 'Howl-N-Madd' Perry
7:45pm - 8:30pm Earnest 'Guitar' Roy
8:30pm - 8:45pm Presentation of Early Wright Blues Heritage Award and Julius Guy Heritage Awards
8:45 pm - 9:45pm Johnny Rawls
10:00pm - 11:00pm Dorothy Moore
Acoustic Stage #1 - on Main Stage this year

9:00am Arthneice 'Gas Man' Jones
9:35am Robert Belfour
10:10am Eddie Cusic
10:40am Pat Thomas
11:15am T-Model Ford
11:50am Johnny Billington and the Midnighters
12:20pm Sharde Turner & The Rising Star Fife and Drum Band
Acoustic Stage #2 - Sunflower Ave., near Quapaw Canoe Co.
1:00pm Mellow Blues Duo
1:35pm Charles Fowler

2:10pm Anthony 'Big A' Sherrod
2:45pm Lucious Spiller
3:15pm Bill Abel & Cadillac John
3:50pm Jimmy "Duck" Holmes
4:30pm Kenny Brown
5:05pm Terry 'Harmonica' Bean
5:45pm Johnny Lowe Bow
Sunday, August 14, 2011 - Gospel Festival - Clarksdale Civic Auditorium
4:00 - 4:30 pm Chris Coleman
4:45 - 5:15 pm Edna Nichole Luckett
5:30 - 6:00 pm Chapel Hill Men's Chorus
6:15 - 6:45 pm The Myles Family
7:00 - 8:00 pm Jamar Esaw Triad & Christ
8:15 - 9:15 pm Evelyn Turrentine-Agee
Special Free Blues Events Open to the Pubic
At 2 p.m. Friday, August 12, A Walk of Fame Bronze Plaque honoring the late Big Jack Johnson will be unveiled on the sidewalk outside Red's Blues Club on Sunflower Ave. The event is sponsored by the Coahoma County Board of Supervisors.
At 3 p.m. Friday, August 12, a memorial program paying tribute

to six key Sunflower Festival figures: James Alford, Michael James, Wesley Jefferson, Big Jack Johnson, Sarah Moore, and Foster 'Tater' Wiley, will be held at Ground Zero Blues Club sponsored by the Rock River Foundation: Morgan Freeman and Bill Luckett.
(Time/location of the panel is subject to change)
The Sunflower River Blues and Gospel Festival is produced by the Sunflower River Blues Association - a 501 c 3 non-profit organization - composed of bi-racial volunteers - 50 percent African-American - 50 percent Caucasian - who donate their time and services all year to showcase the unique cultural heritage of Mississippi Delta blues and gospel music. New members are welcome to join and attend meetings at the Delta Blues Museum. Membership dues are $15 per year. Tax-exempt donations are welcome, needed, and may be mailed to the Sunflower River Blues Association, Box 1562, Clarksdale, Miss. 38614. Many thanks. For additional information, view www.sunflowerfest.org.

CLARKSDALE MUSIC EVENTS DURING SUNFLOWER RIVER BLUES FESTIVAL WEEK:
BLUES CLUB, JUKE JOINT & OTHER MUSIC-RELATED HAPPENINGS IN CLARKSDALE, MISSISSIPPI:

SUNFLOWER RIVER BLUES FESTIVAL
Fri.-Sun., 8/12-14 - Downtown Clarksdale, www.sunflowerfest.org. Blues Fri/Sat and Gospel Sunday. Schedule is listed directly above and at the official festival web site. Be sure to also check out listings below...
RED'S LOUNGE
Wed., 8/10 - All Night Long Blues Band w/RL Boyce, Mary Ann "Action" Jackson, Willie "Rip" Butler & Miss Gladys, 8pm
Thurs., 8/11 - Cadillac John Nolden with The Cornlickers, 8pm

Fri., 8/12 - We Juke Up In Here filming w/Elmo Williams, Hezekiah Early & Lil Poochie, 7pm; Terry "Harmonica" Bean & The Cornlickers, 10:30pm
Sat., 8/13 - Tullie Brae & The Medicine Men, 7pm; Terry "Harmonica" Bean & The Cornlickers, 9pm
Sun., 8/14 - Blues Jam with The Cornlickers, 8pm
Mon., 8/15 - Chill Down Party with The Cornlickers, 8pm
CAT HEAD DELTA BLUES & FOLK ART, www.cathead.biz

(special hours till 6pm Friday;9am-6pm Saturday and 9am till Sunday)
Sat., 8/13:

10am - Piano Red performs
12 noon - Black Mountain Moan performs
1pm - Mississippi John Hurt book signing
2pm - Bobby 'Blue' Bland book signing
3pm - Hidden History of Mississippi Blues signing
4pm - I'm Feeling the Blues About Now signing
Sun., 8/14 from 10am till... CAT HEAD MINI BLUES FEST with Sean "Bad" Apple, Robert "Wolfman" Belfour, Big George Brock & New Houserockers w/Clarine Wagner, Robert "Bilbo" Walker & more! FREE fest under tents on Delta Ave. BBQ also available from Big Red Paden. "Tip the band!"
GROUND ZERO BLUES CLUB

Wed., 8/10 - Tim Woods Blues Band, 8pm
Thurs., 8/11 -Blues Jam w/Phillip Carter, 8pm
Fri., 8/12 - Stacy Mitchhart Blues Band, 9pm
Sat., 8/13 - Super Chikan & The Fighting Cocks, 9pm
Sun., 8/14 - Blues Brunch with Heavy Suga, noon
Wed., 8/17 - Bill "Howl-N-Madd" Perry, 8pm
Thurs., 8/18 - Blues Jam with La La, 8pm
DELTA BLUES MUSEUM
Fri. & Sat. - Bobby 'Blue' Bland book signings, 2pm (8/12) & 11am (8/13)
BLUESBERRY CAFE
Fri., 8/12 - Open Jam, 2pm; Watermelon Slim Art Show, 3pm; Brandon Santini Trio, 7pm
Sat., 8/13 - Open Jam, 2pm; Watermelon Slim Art Show, 3pm; Watermelon Slim, 7pm
Mondays - Sean "Bad" Apple, 7pm
HOPSON COMMISSARY

Fri., 8/12 - Jimbo Mathus, 10pm
Sat., 8/13 - Big George Brock & The New Houserockers w/Clarine Wagner, 10pm
Mondays - Ronnie Drew, 6pm
JUKE JOINT CHAPEL @ SHACKUP
Thurs., 8/11 - Anthony "Big A" Sherrod, 8pm
Fri., 8/12 - Kenny Brown, 10pm
Sat., 8/13 - Lightnin' Malcolm & Cameron Kimbrough, 10pm
Sun., 8/14 - Lightnin' Malcolm & Cameron Kimbrough, 3pm
CLUB 2000
Fri. & Sat., 8/12-13 - Big A & All Stars with Space Cowboy, 8pm
CHANNEL ZILTCH
Sat., 8/13 - Bill Abel Blues Band, 7pm & 10pm
DELTA BLUES ROOM
Sun., 8/14 - Sunday Evening Brunch w/Luther Lackey, 6:30pm
HAMBONE GALLERY
Fri., 8/12 - Stan Street, Rev. Robert & Ray Cashman, 7pm
Sat.-Sun., 8/13-14 - tba
Tues., 8/16 - Jeff Norwood, 8pm.
MADIDI
Wednesdays - Alphonso Sanders, 7pm
RUST RESTAURANT
Thurs., 8/11 - Bill Abel, 7pm
Sat., 8/13, Brunch with Kenny Brown, 11am
Thurs., 8/18 - Justin Zamm, 7pm
THE DEN
Thurs., 8/11 - Pre-Fest Blues Jam w/multiple acts, 7pm
Fri., 8/12 - Mellow Blues Duo, 8pm
Sat., 8/13 - Jam with Daddy Rich & Theo D "The Boogieman", 7pm
STONE PONY
Thurs., 8/11 - Cole Parker, 7pm
Thurs., 8/18 - Marshall Drew, 7pm
HISTORIC MARKER DEDICATIONS

Fri., 8/12 - "New World District" Blues Trail Marker Ceremony, 133 MLK Dr., 10am
Fri., 8/12 - "Big Jack Johnson" Walk of Fame Marker Ceremony, Red's Lounge, 2pm
YOCONA INTERNATIONAL FOLK FESTIVAL
Thurs., 8/11 - Coahoma County EXPO Center, 6:30pm
FOR MORE LIVE MUSIC EVENTS, ALSO GO TO:
http://www.cathead.biz/livemusic.html
http://www.msbluestrail.org
http://www.highway61radio.com
http://www.groundzerobluesclub.com
CLICK FOR LIVE BLUES UPDATES on the Cat Head music calendar at http://www.cathead.biz/livemusic.html

GENERAL BLUES & RELATED NEWS AND INFORMATION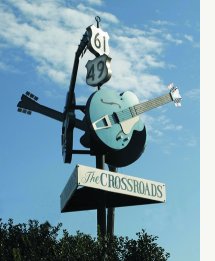 (PHOTO of Clarksdale 'Crossroads' by Chuck Lamb; available as a post card at Cat Head store.)

KING BISCUIT BLUES FESTIVAL WILL INCLUDE SPECIAL BLUES SYMPOSIUM THIS OCTOBER... Don Wilcock and yours truly (Roger Stolle) will moderate an all-star blues symposium on Saturday, October 8, 2011 in Helena, Arkansas. Two themes: "Milestones of the Blues" and "The State of the Blues in the Delta." Look elsewhere in this newsletter for more information. More about the festival at www.kingbiscuitbluesfestival.com.
TUTWILER, MISSISSIPPI'S CRISTEN BARNARD PAINTS NOTODDEN, NORWAY BLUES FESTIVAL MURAL...

INDEPENDENT FILM CHANNEL (IFC) AIRS T-MODEL FORD

AT RED'S FOR NEW "YOUNG, BROKE & BEAUTIFUL" TV SHOW... POSTS MY DELETED "CAT HEAD" SEGMENT... The series debuted on June 24th. The T-Model/Red's sequence aired during the 'Memphis' episode (pretty cool... but doesn't seem to be viewable on-linne). The Cat Head sequence was (probably appropriately!) cut from TV (apparently too heavy for regular broadcasting?) but can be viewed on-line at http://www.ifc.com/videos/young-broke-beautiful-cat-head-deleted-scene.php#.TkGiyeQl5t4.facebook
OXBOW RESTAURANT CONTINUES LUNCHTIME SUCCESS IN DOWNTOWN CLARKSDALE: "An Oxbow is known as U-shaped bend
in the river, where a river breaks from its path of origin, then returns to it. Well that's just what owners Chef Hayden and Erica Eason Hall have done. They broke path to absorb food and culture from other places like stints in DC and NOLA, only to come back to downtown Clarksdale and introduce a menu of local, fresh, and clean eats. Also specializing in creative daily specials with vegetarian options available upon request." For now... Oxbow is open for lunch Monday-Friday 11AM-2PM and for special event Saturdays. 115 Third Street, downtown Clarksdale, 662-627-6781. (PHOTO courtesy of Blues Hound Flat.) ((CAT HEAD NOTE: I can't recommend this place enough. It is a seriously welcome edition to the Cdale lunch scene.))
NEW BLUES TRAIL MARKER FOR MAGIC SLIM: The State of

Mississippi has erected a Blues Trail Marker in the town of Grenada in honor of guitarist Magic Slim. Born Morris Holt in Torrance, Mississippi in 1937, he and his family moved to Grenada when he was eleven. The 73 year old blues icon attended the unveiling ceremony at 818 Union Street, in front of a building where Holt's mother, Pinky Holt Taylor, operated a restaurant called Queen's Eat Shop. (Info via Blind Pig Records.)
6TH ANNUAL TOMMY JOHNSON BLUES FESTIVAL and 3rd Annual Harness Race presented by THE TOMMY JOHNSON BLUES

FOUNDATION -- September 2nd & 3rd, 2011 @ Cooper's Down, 5166 Terry Gatesville Rd., Terry, MS. The gates will open at 10:00AM on both days. Schedule:
- Friday Sept. 2nd - MEET & GREET @ Cooper's Down
- Saturday Sept. 18th - Music Festival and Races @ Cooper's Down, 11:00AM - The Mount Mariah Choir, Adrena, Ben Payton, Sweet Angel, Howard Jones Jazz, Virgil and the Juvenators... and more. Hosting hotel is Jackson Hampton Inn & Suites, 320 Greymont, 601-352-1700. For more info, contact the Tommy Johnson Blues Foundation at Vera3332@netscape.net
BLUES TOUR ARTICLE IN LAUREL, MS' PAPER: Billy Hutchinson from UK sent me this. Nice article except that the Delta Blues Museum's location in the piece is from over a decade ago! Read at
http://leadercall.com/local/x850293603/Take-the-Blues-Tour

CLARKSDALE BLUES CLUB OWNER CONTINUES BID FOR MISSISSIPPI GOVERNORSHIP: Ground Zero Blues Club and Madidi co-owner Bill Luckett is a busy man lately -- canvassing the region as he runs for governor. Keep up with him at http://www.luckettforgovernor.com
CLARKSDALE'S RUST RESTAURANT OFFERS SRB FEST BRUNCH ON SAT: "To celebrate this week's Sunflower River Blues & Gospel Festival, in addition to having live music Thursday and Saturday nights, we are serving Saturday brunch, 11 a.m.-2 p.m., featuring an acoustic set from Kenny Brown. Everything on brunch menu is just $10..." RUST Restaurant, 218 Delta Ave., 662.624.4784.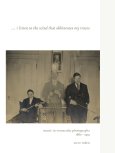 NEW ROOTS RELEASE FROM OUR FRIENDS AT "DUST TO DIGITAL": I Listen to the Wind That Obliterates My Traces ... a hardcover book with two CDs that brings together a collection of early photographs related to music, a group of 78rpm recordings, and short excerpts from various literary sources that are contemporary with the sound and images. The set was compiled by acclaimed sound and visual artist Steve Roden. $40 at http://www.dust-digital.com
OTHER BLUES/TOURISM WEB SITES TO CHECK OUT:
www.bluesfestivalguide.com
www.highway61radio.com
www.msbluestrail.org
www.visitclarksdale.com
www.clarksdalenow.org
www.clarksdaleinfo.com
www.clarksdale.com
www.cathead.biz
www.bluessource.com
www.indianolablues.org
www.highway61blues.com
www.jukejointfestival.com
www.mformississippi.com
www.sunflowerfest.org
www.groundzerobluesclub.com

MS DELTA BLUES & HERITAGE FESTIVAL IN GREENVILLE, MS, SEPTEMBER 17, 2011...
HELENA, ARKANSAS' KING BISCUIT BLUES FESTIVAL ADDS STELLAR NEW EVENT
KING BISCUIT BLUES FESTIVAL UNVEILS STAR-STUDDED BLUES LINE-UP FOR "CALL AND RESPONSE: THE KING BISCUIT BLUES FORUM"
August 10, 2011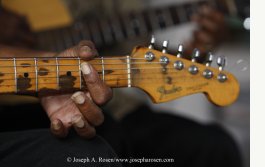 (Helena, Arkansas) -- The world-famous King Biscuit Blues Festival celebrates its 26th year with the addition of an epic new event on Saturday, October 8, 2011, at the historic Malco Theater in Helena, Arkansas.
According to award-winning blues journalist and BluesWax editor in chief Don Wilcock, "Call and Response: The King Biscuit Blues Forum promises to build on the near mythic reputation of this fabled blues festival with an entourage of performers, journalists and presenters from across the blues spectrum in conversation between themselves and with their audience.
"We're not putting on a blues symposium of experts interviewing experts, explained Wilcock, also an event organizer and moderator. "We're putting on a conversational blues festival, really, where legendary blues performers do most of the talking."
The line-up is a who's who of past, present and future blues stars -- ranging in age from 18 to 91 years old. Artists scheduled to participate include today's leading practitioners of the storied Delta blues tradition Cedric Burnside, James "T-Model" Ford, Lonnie Shields, and "Blind Mississippi" Morris. Joining them will be several of today's leading festival headliners Tommy Castro, Moreland & Arbuckle, Billy Branch and Ryan Perry of Homemade Jamz. Representing two of the leading magazines reporting on blues will be Marc Smirnoff, managing editor of The Oxford American, and Art Tipaldi, editor in chief of Blues Revue
magazine. Blues Music Award and Living Blues Award winner Jeff Konkel of Broke & Hungry Records will also take part.
Keeping the Blues Alive winners and moderators Wilcock and Roger Stolle of Cat Head Delta Blues & Folk Art in Clarksdale will keep the festivities rolling.
"We have two symposium discussions scheduled for Saturday, October 8th," said Stolle, co-organizer of the event. "Don Wilcock will moderate 'Milestones in the Blues' while I present the 'State of Blues in the Delta' segment."
The first session at 12:30 p.m. that day will center on this year's important blues milestones -- including Robert Johnson's 100th birthday, Living Blues' 40th anniversary, Blues Revue's 25th anniversary and several others.
The second session at 1:30 p.m. will cover the current state and imminent future of the Mississippi and Arkansas Delta's rich blues heritage -- from the surviving juke joint culture to the evolution of the region's blues styles. Both sessions are free, but seating is limited to a first come basis.
Call and Response: The King Biscuit Blues Forum is made possible by Oxford American Magazine and Roller-Citizens Funeral Home.
According to King Biscuit Blues Festival Executive Director Munnie Jordan, the new symposium promises an unprecedented look at the history and personalities behind the blues.
"We don't do something at King Biscuit unless it's going to be well done," stressed Jordan. "This event is every bit as fascinating and essential as our nightly headliners. Blues fans owe it to themselves to check this out. The truth is: If blues could talk, it would sound a lot like this."
"For more than a quarter century, The King Biscuit Blues Festival has chronicled the rich tapestry of Delta blues," says Heidi Knochenhauer, the festival's liaison for community affairs and special events. "Call and Response: The King Biscuit Blues Forum adds a new dimension to that legacy with historical context."
The King Biscuit Blues Festival takes place October 6th through 8th in historic Helena, Arkansas. Call and Response: The King Biscuit Blues Forum at 12:30 p.m. on Saturday will follow a related event earlier in the day at Helena's Delta Cultural Center entitled "100 Years of Blues" (10:30 a.m. to 12 noon at the Miller Hotel -- www.deltaculturalcenter.com).
For more information on Call and Response: The King Biscuit Blues Forum, contact Don Wilcock at donwilcock@msn.com or Roger Stolle at roger@cathead.biz. For more information on the festival, please go to www.kingbiscuitfestival.com.
(PHOTO by Joseph A. Rosen, www.josepharosen.com)

BAREFOOT WORKSHOPS RETURNS TO THE MISSISSIPPI DELTA FOR NEW WORKSHOPS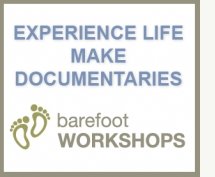 BAREFOOT WORKSHOPS TO RETURN TO CLARKSALE... In the past 8 years, Barefoot has brought 100 filmmakers and photographers from 18 countries to Clarksdale, Mississippi to produce 40 documentaries. Students have interviewed 130 people and filmed over 500 hours of footage throughout the Delta. Barefoot and its alumni are helping archive and tell the story of The Mississippi Delta.
UPCOMING BAREFOOT WORKSHOPS:
One-Week PHOTO DOCUMENTARY - The Mississippi Delta
August 28th - September 4th, 2011
Two-Week FILM DOCUMENTARY - The Mississippi Delta (only 3 spots left)
September 4th - 18th, 2011
One-Week EDITING THE DOCUMENTARY FILM - The Mississippi Delta
September 18th - 24th, 2011
If interested in joining a workshop or more information, please contact Chandler Griffin at chandler@barefootworkshops.org.

CAT HEAD STORE CELEBRATES 9TH ANNIVERSARY DURING SUNFLOWER BLUES FESTIVAL WEEKEND IN CLARKSDALE!
A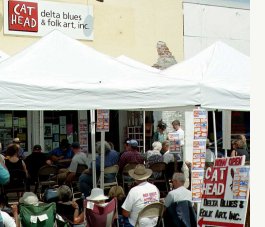 s Cat Head celebrates its 9th Anniversary, we're proud to bring y'all some great live music, blues book signings and more during the 24th annual Sunflower River Blues & Gospel Festival weekend in historic Clarksdale, Mississippi. Drop by and see us!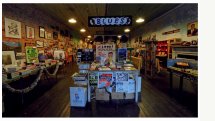 Cat Head Delta Blues & Folk Art, 252 Delta Ave., Clarksdale, MS
662-624-5992
"Your Delta blues headquarters for CDs, DVDs, T-shirts, books, art and more!"
(PHOTOS: Top is old Mini Fest. Bottom is a store photo by Ken Murphy, included in Mississippi: State of Blues.)
SEE CLARKSDALE MUSIC LISTINGS ABOVE FOR CAT HEAD'S WEEKEND EVENT LINE-UP...
"JUS' BLUES MUSIC AWARDS" WINNERS ANNOUNCED...

2011 JUS' BLUES MUSIC AWARDS WINNERS
Contemporary/Traditional Blues Artist
Zac Harmon
Contemporary/Traditional Blues Artist Female
Lola
Contemporary/Traditional Blues Song Of The Year
Kenny Neal
Best Blues & Soul Song Of The Year Male
Latimore - Mr. Right Now
Best Blues & Soul Song Of The Year Female
Denise LaSalle - Cheat Receipt
Best Blues & Soul Juke Joint Award
CC's Blues Club - Memphis, TN
Best Blues & Soul Record Label
BnJ Records
Best Blues & Soul Radio Station
WMPR - Jackson, MS - Charles Evers
Best Blues & Soul Radio Show
Tyrone Da' Don Davis - American Blues Network
New Southern Soul Artist Of The Year - Female
Stephanie Pickett
New Southern Soul Artist Of The Year - Male
Lamorris Williams
Best Southern Soul Artist Of The Year - Artist Performance - Female
Ms. Jody - The Bop
Best Southern Soul Artist Of The Year - Aritist Perforance - Male
Kenne Wayne - Ride It Like A Cowboy
Southern Soul Woman Of The Year - Female
Karen Wolfe
Southern Soul Man Of The Year - Male
Wilson Meadows
Entertainer Of The Year - Female
Ms. Jody
Entertainer Of The Year - Male
Bobby Rush
Visit the Jus' Blues Music Foundation's Website at: http://www.jusbluesmusicfoundation.org/

MESSAGE FROM JOHN RUSKEY OF CLARKSDALE'S QUAPAW CANOE COMANY (edited for space)
SUNFLOWER BLUES FEST WEEKEND: Friday, Saturday and

Sunday August 12-14th. See [above elsewhere for full schedule]. Unless its raining or unbearably sizzling hot, we'll be hosting the afternoon acoustic stage next to Quapaw Canoe Company in the shade of the trees at 3rd & Sunflower. (Rain Date: Clarksdale Civic Auditorium). Calling all river citizens: we need several volunteers during festival. Contact John Ruskey john@island63.com or call 662-902-7841.
QUAPAW HOURS DURING FESTIVAL:
Thursday Aug 11: 9am - 5pm
Friday Aug 12: 9am - 5pm
Saturday Aug 13: 9am - 5pm
SPECIAL FILM SCREENING:
Quapaw Canoe Company will be showing the recent documentary film Troubled Waters: A Mississippi River Story which traces the development of America's bountiful heartland and its effect on the legendary river. Through beautiful photography and inspiring narrative, the film offers solutions to the river's troubles through fresh ideas and concrete solutions. (USA, 2010, 57 min.) Directed by Larkin McPhee. Q&A and discussion Following. FREE! Made Possible by the 1Mississippi Lower Mississippi River Campaign.
Troubled Waters Showings:
Thursday: Movie 2pm Discussion 3pm
Friday: Movie 10am Discussion 11am; Movie 1pm Discussion 2pm
Saturday: Movie 10am Discussion 11am; Movie 1pm Discussion 2pm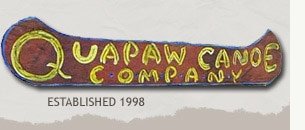 CLEAN UP THE SUNFLOWER:
Sunflower River Cleanup: you can help the Mighty Quapaws with a cleanup of the Sunflower River Thursday 4-6pm or Saturday 9am-12noon. This is a small part of the 2011/2012 Mighty Quapaw Cleanup Project of the Lower Mississippi River following the Great Flood of 2011.
GO PADDLING DOWNTOWN!!:
We will also be providing Canoe & Kayak Rentals for exploring the Sunflower River in downtown Clarksdale, and Stand Up Paddleboards also! 20% off for Friends of the Sunflower River in good standing. Many options for the creative paddler.