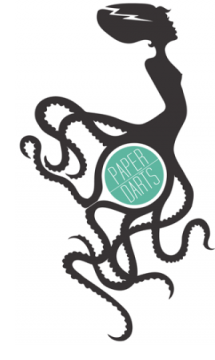 For this week's feature article, we interviewed Jamie Millard, Regan Smith, and Meghan Murphy Suszynski, Co-Founders of Paper Darts.
Sapling: Paper Darts is a relatively new magazine; you started up in 2009 and have three issues out to date. First of all, congrats on getting off the ground and putting together three truly stunning issues. Since you're still fairly new on the scene, what would you like people to
know about Paper Darts?
Jamie Millard, Regan Smith, and Meghan Murphy Suszynski: Thanks, Sapling! Man, that's a tough question. Probably the most essential things to know about Paper Darts are as follows:
1) We like wine.
2) We also like beer, quesadillas, and coke (not the soda kind—we're tuff).
3) All the profits from Paper Darts go directly back into production and operation costs. We do this voluntarily on top of our day jobs (so insert a giant FREE in #1 and #2).
4) We think color is bomb, graphics are ill, and humor is dope.
5) We use dated words like "bomb," "ill," and "dope."
S: Your website describes Paper Darts as "primarily a magazine, but…also a publishing
press, a creative agency, a community, and an idea." That's a lot! Can you tell us a little more about the several arms of the Paper Darts operation?
JM, RS, & MMS: The additional arms of Paper Darts came about fairly recently, so we're still in the process of fully defining them, but we've always felt that PD is a lot more than just a bi-annual lit mag and website. We try to bring our overall vision for engaging design, illustration, and smart humor into everything we do, including book publishing, building websites, writing copy for other projects, and throwing rad parties. At the very core of the Paper Darts mentality we are creators. No matter what the medium, and through whichever arm (or tentacle) of the organization, ultimately we just enjoy creating b
eautiful and engaging products and sharing those products with as many different communities as possible.
S: What can you tell us about your editorial process? That is, how does the Paper Darts staff go about selecting content for the magazine?
JM, RS, & MMS: Our editorial process is pretty similar to most other magazines, with a basic Yes, No, Maybe, voting system, though it has evolved a lot technically through the years. (We upgraded to an online submission manager, Submittable, last year and it changed our lives.) It's taken a while, but we've definitely developed a clear idea of what we're looking for in a submission, whether it's writing, art, music, or any one of our other genres. It's something that came about slowly and organically between the three of us, so it's fairly difficult to describe in words without sounding kinda lame. ("Cutting Edge!" "Out-of-the-Box!")
At this point the majority of work published in our print issues is curated. We make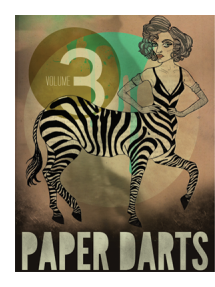 constant mental notes about artists or writers we encounter that we'd like to see in one of our magazines, then contact them about it later. About 60% of the online content is through open submissions.
S: You're based in Minneapolis and your third issue prominently features Minneapolis writers and artists. How has your homebase / community been important to the development of the magazine?
JM, RS, & MMS: Talking about how awesome it is to live in Minneapolis was recently voted the Number One Favorite Thing to Talk About by the Council of People Who Live in Minneapolis. And for good reason—living here, as an artist, writer, musician, or creative of any type, is really effing awesome. The literary community is tight-knit and extremely active, without being stodgy, exclusive, or incestuous. It would have been beyond difficult to get where we are now if we had started this venture in one of the more "culturally affluent" cities like San Francisco, New York, or even Chicago. Aside from the general support Minneapolis provides organizations like ours, it also has a LOT of really talented writers, but isn't oversaturated with publishing houses, so a decent amount of those writers are more than willing to publish their work with a smaller press/magazine like ours. We give them the opportunity do something unique with their work and market it in a more direct way throughout the community.
S: In what ways would you say that Paper Darts distinguishes itself from other literary
magazines? This could be in terms of content, style, aesthetics, management, and/or any
other features that come to mind.
JM, RS, & MMS: We're very much against the idea of "writers reading writers" in lit mags, and what we choose to publish tends to reflect that. We don't take ourselves all that seriously, so we have a hard time with writers that do. A piece can be poignant without being painful, and a little dose of smart humor can only help otherwise "serious" writing.
There are also very few, if any, publications other than Paper Darts that unabashedly combine illustration with words in the way that we do. Certainly there are a decent number of lit mags out there that are well designed (though we wish there were more!), but there's this archaic, unspoken law within the literary community at large that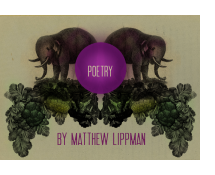 illustration detracts from writing, and words need to have room to stand on their own. Many lit mags are so petrified by the possibility that a piece of art might inform the prose it's sitting next to that they don't stop to think how informing and imprinting might actually be a good thing, both for the individual artist and writer and for the publication as a whole. By putting an artful, intelligently rendered illustration in the same spread as a short story, we are prompting a conversation between the reader, illustrator, and writer. The choices made behind the writing and the illustration become magnified in fascinating ways. If an illustrator, and then ultimately a reader, chooses to look closely, this powerful ART + LIT combo creates a mini interpretive dance of both the writer's and the artist's process and intention. But that is a pretty ridiculous version of the real answer, which is this: we work really, really hard to make Paper Darts real, real pretty.
S: In addition to the standard wisdom of reading a back issue and following the
submission guidelines on the website, what advice would you give to writers who are
interested in submitting to Paper Darts?
JM, RS, & MMS: Send us wine, beer, quesadillas, and coke? We don't want to be one of those lit mags that complains about how people never follow submission guidelines because that's just so 2010/forever, so we absolutely WILL NOT tell people again TO PLEASE FOLLOW THE SUBMISSION GUIDELINES, because that would be way rude if we did that, right? Man, so rude.
Anyway, taking into consideration where your piece will be published (online vs. print) is pretty important. People have short attention spans, and reading a ten page story on the internet, no matter how awesome it is, probably isn't going to happen.
S: What other literary journals or small presses are you particularly excited about right
now?
JM, RS, & MMS: Lowbrow Press out of Minnesota is really awesome. We're not major poetry buffs, but the poets they publish embrace humor in a way you don't see that often, and they put out a whopping four books a year, which is a ton for a tiny, independent press. Other than that, we're pretty into the regular group of heavy-hitters: McSweeney's, Zoetrope, One Story, etc.
S: Any favorite books you've read so far in 2011? What's on your shelf that you're
excited to read next?
JM, RS, & MMS: When it comes to the writing we publish in Paper Darts, we're generally on the same page. Outside of that, our personal tastes don't differ wildly, but we definitely vary to some degree. Jury's still out on Miranda July (we won't tell you who's for and who's against).
Right now, Meghan's excited about Fantastic Women: 18 Tales of the Surreal and the Sublime from Tin House, Jamie's in the middle of Read This or You're Dead to Me by Matt Ryan, and Regan's on a multiple month non-fiction kick, mostly revolving around every old Atlantic and BOMB Magazine she can get her hands on.
-----
To learn more about Paper Darts, visit: http://www.paperdarts.org/.
-----
Jamie Millard mostly tells people were to sit. Then tweets about it. She is the Co-Founder and Managing Director of Paper Darts and brings to the octopus her delight for big picture, strategic planning, and results-oriented action plans—ultimately working to strengthen and build capacity for the arts sector.
Regan Smith writes stuff. Primarily about Cheetos. Also, Alf. She is the Co-Founder and Editorial Director of Paper Darts and is responsible for shaping the voice of both the magazine and the organization as a whole through her own writing and through curating others' work. She also plans a mean launch party.
Meghan Murphy Suszynski makes pretty things and has long hair. Hearts cats. She is the Co-Founder and Creative Director for Paper Darts. Her duties include curating art from emerging artists and creating design and hand drawn illustrations showcasing Paper Darts' literature.