Help Us Hit 2,000 LIKES on Facebook...
Red Brick's Holiday Old Stock Ale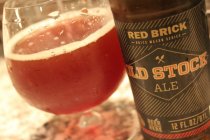 Old Stock Ale: Red Brick's current seasonal comes in as a blended batch of three strong, copper-colored ales. The first beer was 8.9% ABV and aged in reconditioned oak barrels. Second ale was brewed with an emphasis on malt-induced flavors of raisins and dried fruit. The third batch mirrored the second with an addition of star anise and sweet and bitter orange peel. All threads were fermented separately, then blended at packaging. Overall ABV registers at 7.9% - quite a pleasing winter warmer!
What's On at 5 Seasons Prado this Season?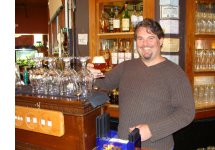 Kevin McNerney, brewer for 5 Seasons in Sandy Springs, announces two flavorful seasonals for the chilly winter months. Redneck Reindeer 8% ABV Scotch ale offers malty, toffee-like flavors, medium body and a bit of heat from the alcohol. "This beauty gets hotter after aging four months in a 14-year-old Elysia Craig Heaven Hill bourbon barrel," noted McNerney. "The result is pleasant bourbon notes and subtle character. Also hitting the taps is our 7.5% ABV Cartoon Brune - an abbey-style brown ale that's walnut in color with the famous Belgian fruity, estery nose and rich sweetness backed with notes of roasted grain and banana. We brew this with seven different German and Belgian malts and a hint of grains of paradise - an exotic spice once favored by monks and mystic healers."
Give Classic City Brew Fest Tickets this Season!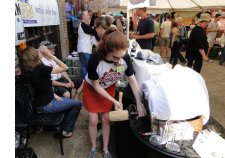 Give the beer lover in your life tickets to one of the Southeast's longest-running and most popular craft beer events. Our 17th annual Classic City Brew Fest on Sunday, April 15, 2012 in Athens, GA will feature almost 250 of the greatest craft ales and lagers from around the world, live music from Steel String Session, and an exciting new cask ale pavilion with close to 15 one-off firkins. Taste beers at the Classic City Brew Fest in several enjoyable venues without crowded lines.
Tickets are only $39.99 each! For tickets and complete details, visit www.brewfest.net. Xorbia tickets can be printed out and given as holiday gifts. Tickets are very limited, and will not last long! Deeply discounted hotel rooms at the Foundry Park Inn are also available for the night at www.brewfest.net.
Sponsors: Athens Area Humane Society, Terrapin Beer Company, Five Points Bottle Shop, Redhook, Trappeze Pub, Chops & Hops, Brewtopia LLC and Foundry Park Inn & Spa.

Asheville's Beery Downtown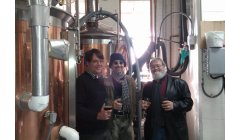 Pictured L-R are George Sitler (founder of the Bramwell WV Oktoberfest), Carl Melissas (brewer at Asheville's Wedge Brewery), and Larry Johnson (styles columnist for Southern Brew News) in the Wedge brewhouse. Last week, Owen led the guys on an epic Asheville pub crawl featuring...
Wedge Brewing - Talk about an amazing range of tasty ales and lagers! Brewer Carl Melissas continues to crank out flavorful and stylistically accurate examples such as his Bohemian Pilsner, Payne's Pale Ale, Golem Belgian-style strong ale, Community Porter with carob and maple, Iron Rail IPA, and 9.3% ABV Russian Imperial Stout. When in town, stop into the tasting room for some roasted peanuts and a beer sampler.
Green Man Brewing - Pop in for a cask ale, house beer sampler and a game of darts at this delightful microbrewery. Sip the Pale Ale, IPA, ESB and Porter in the brewery tasting room. Green Man's brews are also served just up the hill at the Jack of the Wood pub.
Craggie Brewing - This small craft brewing operation has really branched out with their brands of late. Be sure to take the short brewery tour and try the Burning Barrel Bourbon Chipotle Porter; Dubbelicious Belgian-Style "double" ale; Antebellum Ale using only water, yeast, molasses, ginger and spruce tips; ToubabBrewe Zwickel beer, Yo LA Mango IPA; and Choconut Winter Brown.
Asheville Brewing Company - The original brewpub/movie theater is situated just a couple of miles from downtown, but these guys do have a downtown location close to Craggie and Green Man that offers their full range of excellent beers alongside some of the best pizza in town.
Oysterhouse Brewing - Located inside the Lobster Trap restaurant, Oysterhouse Brewing Company is a nano-brewery devoted to producing high quality, unique ales for beer and seafood lovers. The brewhouse is a half barrel Brew Magic System by Sabco, producing 5-6 batches per week of very clean, flavorful beer that goes extremely well with seafood.
Lexington Avenue Brewery - This modern, upscale brewpub serves up scrumptious food items and house brews. Choose from an interesting lineup of unfiltered, naturally carbonated, additive free house beers.
Barley's Taproom and Pizzeria - The pioneering craft beer locale in downtown Asheville, Barley's still offers an impressive range of regional ales, a mouth-watering array of house pizzas and calzones, and an inviting upstairs pool hall.
Brusin' Ales proved to everyone that a store selling craft beer exclusively could thrive in the Southeast. Most customers credit Bruisin' Ales success to its extensive selection, personal service, beer education, fun tasting counter and inviting atmosphere of this favorite craft beer retail outlet.
The Thirsty Monk - While the upstairs is more of a craft beer themed bar, the downstairs of this Asheville craft beer stronghold resembles an old-world Belgian beer hall. Their second pub, located just outside of downtown, brews their own beer!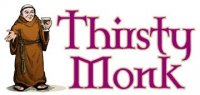 Ogletree Visits Ebenezer's Pub in Maine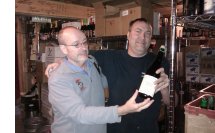 Pictured are Owen Ogletree and Chris Lively in the beer cellar of the famed Ebenezer's Pub located near the tiny town of Lovell, Maine. Chris and his wife Jen have built a monument to craft beer, Belgian ales and beer-centered cuisine in their welcoming pub that's been ranked as the number one beer bar in America and the world for the last five years by Beer Advocate. The honor is well-earned - Chris actually has Belgian lambics in his cellar dating back to the 1970s!
Chris notes, "We started small with five beer taps and an old bar that we inherited. Today we have over 35 beers on tap - mostly Belgian - and a beautiful hand-crafted bar designed and build by a local artisan. Behind the bar we have a custom glass beer cooler with hundreds of the world's best beers ready for your enjoyment. We also have an extensive beer cellar with what is one of the most unique collections in the world—over 1000 bottled beers of many different vintages, many of which can be found nowhere else."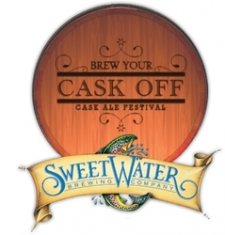 Once again, Atlanta's SweetWater Brewing has invited 80 special guests to roll up their sleeves, channel their inner brewer, and create a one of a kind cask! Attendees at the March 10 public event can enjoy a plethora of real ale created by SweetWater's retailers, a few celebrities, some media folks, hombrewers and favorite charities. Owen Ogletree will be constructing and casking up a very sessionable, English-style mild ale!
Pre-sale tickets are $35 online or $40 day-of for unlimited cask samples from 6-10 PM. Of course, SweetWater's award winning lineup will also be flowing, and the brewery (now under major expansion) will be open for tours throughout the event.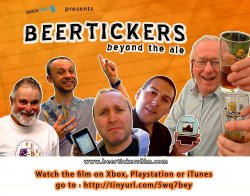 From the website...
Over the last three decades, Brian Moore has searched out, drank and recorded over 38,000 different cask ales in the UK, and he ranks as the undisputed Champion "Beerticker" of Britain... and probably the world! A film about obsession, identity, curiosity and tradition, Beertickers is a documentary exploring the psyche of real ale enthusiasts in the great British drinking culture - not to mention a severe test of one filmmaker's affection for and dedication to beer. The entertaining video is now available for download on Hulu and iTunes, and can be previewed on YouTube.
Congrats to Moon River's John Pinkerton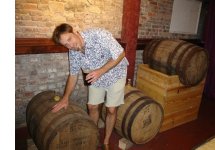 Congratulations to Moon River brewmaster John Pinkerton for being elected to the Brewers Association's Board of Directors. Moon River Brewing sits on historic Bay Street in the heart of downtown Savannah Georgia, and the beloved brewpub is the brainchild of Pinkerton.
Pinkerton has established a career characterized by leadership and service to the craft-brewing industry. A longtime member of the Brewers Association, he has served on the BA's Technical Committee was appointed as the Chair of the Brewpub Committee.
Redhook Winterhook
Winterhook is a great way to chase off the winter chill. This year marks the 27th consecutive release of Winterhook, and the recipe changes slightly every winter because nobody likes getting the exact same holiday present year after year. This year's batch offers roasted chocolate notes that smooth out the quick, spicy hop finish. The medium body and nutty, malty backbone make this winter ale slighty naughty and very nice.
ABV: 6%
IBUs: 42
Original Gravity: 15 degrees plato
Featured Beery Links & Events

03/10/2012 - BREW YOUR CASK OFF at SweetWater Brewing in Atlanta. Click here for tickets and the whole scoop.

09/14-22/2012 - Owen Ogletree is hopping on board to host the 14th annual Magic Happens Beer Cruise sailing from Vancouver BC south to Victoria, San Francisco, Monterey and San Diego. Owen will run onboard talks, tastings and beer bingo, and our port excursions will include some delicious brewpub and craft brewery visits. What a fantastic, beery holiday gift this cruise would make! To book, contact Michael or Marcie at 800-824-4968 / travel@magichappens.com.

BREWTOPIA EVENTS' FULL INTERACTIVE BEER CALENDAR is always just a click away - featuring the best beer happenings around the Southeast and beyond.
Follow Brewtopia Events on Facebook!

CLICK HERE to "like" Brewtopia Events on Facebook and see photos and posts from Owen Ogletree and The Beer Wench as they sip, quaff and sniff craft beer around the world. Also join in our lively craft beer discussions, posts and updates on exciting beer happenings!
COMING UP...
We'll post from the best cask ale breweries in Wales, UK.
Hear from us on Facebook on New Year's Eve with our friends at the award-winning Cock Hotel Pub in Telford, England.
Owen will send out photos and blasts from the best craft beer spots in New Orleans.