3/10-3/11, 2012
Lisl... Burlington, CT
860-673-6863
3/16-3/18, 2012
Ami... Hopkinton, NH
603-573-5950
3/17-3/18, 2012
Audre... Santa Fe, NM
928-300-5090
3/23-3/25, 2012
Holly... La Grange, IL
708-352-8481
3/23-3/25, 2012
Dana & Sam.. Cornville, AZ
928-634-5285
4/20-4/22, 2012
John... Bristol, CT
860-922-6846
5/04-5/06, 2012
Siddiqa... Los Angeles, CA
484-452-5574
5/18-5/20, 2012
Holly... La Grange, IL
708-352-8481
There are a few spots left for our Level II Sacred Medicinal Aromatherapy Retreat that is being held April 18-22, 2012. Early bird discount ends May 18, so if you are interested, let us know ASAP. This is an experince unlike any other. If the Earth is calling you home, then this is the retreat for you.
We have two more weekends scheduled for this year. You don't need to have taken a WOTE course to qualify for this training. Just an open heart and a willingness to go beyond your beliefs.
June 16-17, 2012
Nov 3-4, 2012
Cost $333
Call 928-649-9968 for info.
I am including some links of the things that we have been watching here at WOTE and think is important for our community to know. I have sent some out as e-mails and posted some on my facebook, but if you didn't see them, I am re-posting for your viewing.
The Road to our Evolution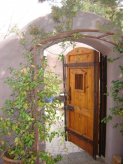 Barry and I attended an advanced Ambassador Training with Dr. Steven Greer of the Disclosure project last week. This work primarily deals with getting into different states of consciousness: Samadhi, Unity, Cosmic and Brahman Consciousness so that we can connect from that place of pure heart to all E.T. life forms everywhere, in peace, harmony and love. Having experienced such an enlightened state of being, upon my re-entry, my relationship to all I knew was disorientated. Being so far out in the cosmos with the purity of the "Great Being" was an expansive and delicious experience. No fear, no hate, no war, only pure love and eternal consciousness. From this place of the eternal, all things are seen and known. This is the gateway, the road to our evolution as a species.
Prior to leaving for this training, I had been working with my clients on looking at their beliefs, in order to come to truth about their perceptions. The beliefs about everything in their lives--what their parents told them, what religion speaks, what the new age community says etc., to discover what is really true for each person. What we found upon deep reflection was that most of our thoughts are limiting and what has been given as truth was not actually truth at all. This re-examination is so important now with all our deep issues rising and all of our memories surfacing in the dream-time. What is really true? Are we not part of All that is? Are we left here to suffer? Are we controlled or do we give our power away? There is no separation between light and dark. We have both within us and facing the truth of our Oneness with All is a giant leap forward. What we believe creates our judgments, our joys and our sorrows and pain. Having been in the state of Samadhi on and off for six days, several times a day, really helped solidify my understanding of this.
Delving deeply within is the only answer. Everything lies within us. Facing our beliefs, our fears, our duality, and our relationship with the truth about ourselves is how we can come to the heart of love. No more shame or blame. We are all connected like the ocean with the waves or, as Don Alejandro the Mayan Elder says, "We are one like the fingers on our hand." We never lose our individuality, even though we are part of the whole.
I invite everyone to seek that state of balance and peace within where all knowledge lives. You will never seek another guru for you will know that the universe and your answers lie within. All you have to do is take time to practice. That is the key. Give yourself permission to have a relationship with the "Great Being" within and all will be revealed to you. When you enter this state of consciousness, you then ask for what it is that you want revealed and it is shown.
Certainly staying out late at night, sky watching, meditating and communing with our star ancestors is a wide opening experience. Makes you wonder if we made contact? Oh yeah...
In gratitude and humility.
Cynthia and the WOTE Folk

We wanted share some of the comments from our Wisdom of the Heart training in January. This workshop allowed us to go deeper inside our hearts to find our alignment with our Ascension process and our heart knowing. We vectored at night and made some contact with higher beings. There are two more trainings planned for this year. Perhaps you'll join us for one of them.
"For me - WOTH was powerful, but in a very subtle way. Those two days helped me to further hone and clarify a couple of key directions and beliefs in my life that I had already chosen, however, it showed me that those choices/beliefs were indeed decisions made from not only my heart's desire, but also with a view toward even greater personal and spiritual growth. I walked away with a deep sense of peace, which has stayed with me and allowed me to make continued empowered choices in those decisions." SS
"I was honored to be able to attend such a powerful and profound workshop. The way you presented the material with the combination of oils truly touched my heart and opened me to receive the great wisdom being offered. The vectoring experience reinforced the deep feeling of peace and love that abounds for us all if we will only trust and surrender to it! Your workshop has truly changed the way I look at the universe and welcome the opportunity to share again - A MUST for all open hearted travelers along life's path - now what about a "Wisdom of the Heart II" - sign me up! JW
Wisdom of the Earth Website
Once again we have added something new to our website. We have changed the color of our pages. We were looking for a warm, friendly feeling to the page. Let us know how you like it.
We also wanted to remind you that we have hours of teachings from our BlogTalk Radio Show that you can access for free. The talks cover a variety of topics and recently we have had conversations about Ascension, The Heart and Essences that can help you with these transitions. Under "Recordings", there are hours of teaching from our shows on the World Puja Network, that Barry, Audre and I recorded in 2010. We hope that you will find all of these teachings helpful.