Come to March 29 Rivers Coalition Meeting!
You'll hear all the latest about our continuing water controversies in a personal appearance March 29 by a leading figure at the heart of legal attempts to stop the polluting degradations of our waterways.
He is the outspoken and highly regarded David Guest, director of the Florida Earthjustice non-profit law firm based in Tallahassee.
You will have an opportunity to question Guest about where we stand as he sorts through the often confusing plethora of legal developments and government claims.
In the meantime, visit the Floridawatercoalition.org to see Earthjustice's advocacy work which includes this billboard seen around the state.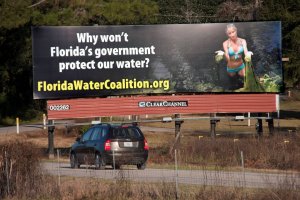 The Rivers Coalition meeting will be at 11 a.m. Thursday, March 29 at Stuart City Hall.
Free parking, no admission. We'll keep the light on for you, and even coffee and donuts.
Upcoming Meetings
Thursday March 29 11:00 am - 12:30 pm
Wednesday April 25 6:00 pm - 7:30 pm - Night Meeting
Thursday May 31 11:00 am - 12:30 pm
Thursday June 28 11:00 am - 12:30 pm
Wednesday July 25 6:00 pm - 7:30 pm - Night Meeting
Thursday August 30 11:00 am - 12:30 pm
Thursday Sept 27 11:00 am - 12:30 pm
Wednesday October 24 6:00 pm - 7:30 pm - Night Meeting