Earn a free plant for every one of your referrals who purchase a plant from M R Gardens. Just tell your friend to let Megan know they heard about M R Gardens from you!
Farming background of Megan Riley of
M R Gardens
While Megan's extended family are farmers, her inherited love of gardening and fascination with soil didn't emerge until graduate school. She designed her curriculum for her M.S. in Environmental Education from Lesley University to focus on sustainable agriculture. From 2001 to 2003, she visited many organic farms and volunteered at several permaculture farms across the nation. She also learned from growers trained in the Biointensive farming method, and put theory into practice at a 7-month apprenticeship at a Community Supported Agriculture in Pennsylvania.
Seedling sales Saturdays in April, early May
Hours: 10 a.m. - 2 p.m.
Location: on the outskirts of Oakley, on Onteora Blvd. near the corner of Floyd
Spring crops include broccoli, cauliflower, kale, lettuce and spinach. Summer crops include chard, tomatoes, sweet and hot peppers, eggplant, summer and winter squash, and watermelon. Culinary and medicinal herbs are also available—five types of basil, catmint, chamomile, dill, fennel, and parsley—as well as beneficial flowers such as calendula and sunflowers. Request a full plant list by emailing me (Megan) at gardens@wncmretc.com
M R Gardens sells on a sliding scale so that all people in the community can enjoy healthily grown plants. Read more about M R Gardens seedling sales.
Email or call 828.333.4151 to request exact directions. In the case of inclement weather, please check the M R Gardens Facebook page to make sure the plant stand is open. Please note the wagon will not be open May 12.

I look forward to seeing you there!
You just need a tad bit of basil for a recipe. You pay $5 for a few sprigs in a wasteful plastic container at the store, and promise yourself you'll use the rest of the herb before it goes bad. Two days later you look in the refrigerator and find wilted, black basil. Meanwhile, you realized the recipe also called for a pinch of parsley, which you forgot to pick up.
Is this scenario familiar to you?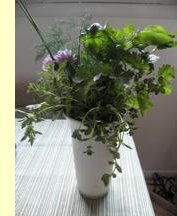 This common dilemma inspired me to start selling fresh herb bouquets to customers upon request. Pick the kinds of culinary herbs you need in whatever amounts you want. The following are currently available: thyme, oregano, rosemary, flat leaf Italian parsley, chives, and catmint.
Pick up a bouquet at the M R Gardens Plant Wagon on Saturdays or order one by contacting me at 828.333.4151 gardens@wncmretc.com
By Megan Riley
Throughout my life, the therapeutic benefits of gardening has improved my quality of life tremendously—especially in this era of transition, change and movement. The fresh air, feel of the soil and sight of the seedlings emerging into the world are all incredibly calming to me. Nights of deep, uninterrupted sleep—thanks to the physical labor needed to maintain a spring garden—remind me of another reason of why I farm.
Perhaps the reason why I appreciate gardening the most is that it has taught me patience, which corresponds to many other areas of my life, including my business and relationships. Waiting for seeds to emerge, tomatoes to ripen, and asparagus to be harvested (that takes three years of patience!) has opened my eyes to the slower pace of natural life.
Over a recent potluck dinner, I discussed with friends my appreciation for how long it takes for visions to be realized. They too are small business owners and independent contractors and know well the frustration of wanting to move quickly through their goals, although the realistic pace is much slower than they expected. Often in the first year of business, owners spend just as much time shutting doors as they do opening windows.
Working in the garden—when there's often only a month timespan to get it right until next year—helps me realize how good ideas take time to become reality. If we have patience, the long-awaited rewards are appreciated even more so than if they had manifested immediately.
This spring, I learned yet more lessons from the garden—flexibility, efficiency and speed when the time is right. I had to move at the pace of a tornado this spring as the May-like weather in March had me weeding and mulching in areas that I usually don't touch until late April. I had to rearrange my garden plan, so that the heat-sensitive crops would claim the part-shade area that I usually reserve for summer greens. As business owners, we must be prepared to run when the situation demands. Since we've spent all that time patiently waiting, that movement should not be too much of a burden.
Sometimes there's an ecological need for violent storms. But for the most part, I equate health with ease, calm, predictability and a sustainable pace. If we're operating any other way—that usually means something is out of balance. Read the rest of the article.
Tell me your reasons for gardening and your lessons learned in the garden on the M R Gardens Facebook page.
The best gardening resources are often your neighbors. I'm thrilled my neighbor Essie recently started the Blue Ridge Garden Forum on Facebook so that area gardeners can better communicate. In this hilly, twisting, winding region of ours, there's so many different microclimates that the right move in one neighborhood may be entirely different in the next. The more we share our experiences, the better gardeners we can become. I hope you join!