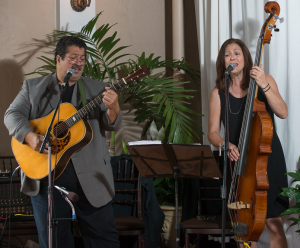 Famous for their tight harmony singing and a song selection that takes you back to a time that makes you smile, this national touring ensemble of veteran performers deliver. Enjoy renditions of yesterdays favorite mixed with todays popular tunes by a Duo that can entertain any audience.
_____________________________________
Members
Ernie Evans - Vocalist Guitar, Mandolin, Banjo
Debi Evans - Vocalist, Bass
Ernie Evans is a third-generation musician with the rare ability to play multiple instruments, sing lead and sing both low and high harmonies. Ernie toured recently as a member of Grammy Nominee Valerie Smith & Liberty Pike, 5-Time Grammy Award Winner Vassar Clements, and Motown legends "The Platters". His music has taken him all over the world throughout his career. When he is not on stage he can be found broadcasting in St. Augustine, FL at WFCF 88.5FM, as well as on World Wide Bluegrass with his co-host, wife, and band mate, Debi Evans. As a Bassist and vocalist she adds family-style harmony vocals to the stage and is an accomplished musician in her own right. Melting harmonies together and singing lead, her sweet voice captures the attention from anyone within hearing distance.