Join us for our grand opening of our new office location. February 21 from 4 - 7 PM
More information coming soon.
We are very excited to have a new office located at 3021 S Regal St Suite 104 in the Wells Fargo Bank building.
Thank

you Wells Fargo for this incredible partnership and for supporting kids with cancer in the Inland Northwest. Together we make a difference.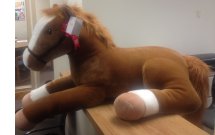 We even have a new office mascot - Mack - A legendary Wells Fargo pony!
Formerly, we were located in the Spokane Valley and had the support of Mary Mary Marketing. Thanks Mary for being a terrific roommate - your support was invaluable.
Our office at Sacred Heart Children's Hospital is a place for families to visit and receive one-to-one service and support. Thanks to Providence Sacred Heart for your commitment to Family Centered Care.
We also would like to give a shout-out to Action Moving

for their incredible support and professionalism. You made moving day smooth and painless!