ADD THIS TO YOUR 2013 ADVERTISING BUDGET FOR RESULTS!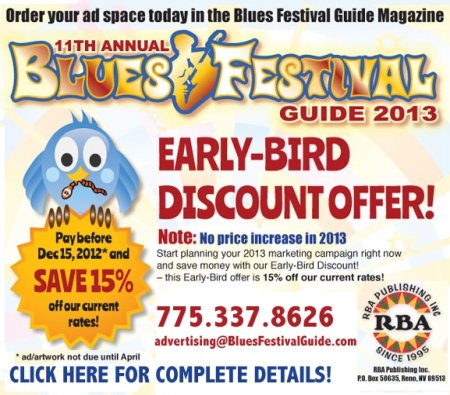 __________________________________________
BRING IT ON!... Send us your cool photos that display the Blues festival Guide magazine! We're so proud to be able to share the annual magazine with you for 10 years now! We'd love to see and share you enjoying it and helping spread the good word! Send your BFG shots with subject, location, date and photo credit to editor@bluesfestivalguide.com
__________________________________________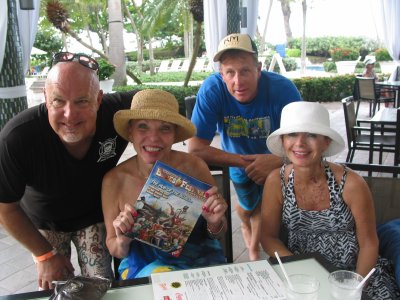 Tom Stewart (drummer and Jam-a-rama Host from San Diego, CA), Jonnye Weber (president of the Blues Society of Western Pennsylvania), David Keegan (of Virgina Beach) and Pamela Paulhamus show off their 2012 BFG while relaxing on a patio in Puerto Rico the day before boarding the Legendary Rhythm & Blues Cruise, Oct 26, 2012
Photo by Michele Lundeen
___________________________________
Shaun Murphy : ASK FOR THE MOON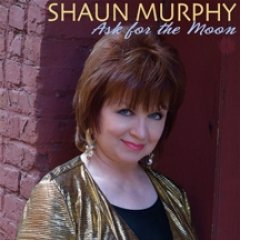 Shaun Murphy's style ranges from hard driving, gut-bucket blues to almost a whisper. A feat not accomplished by many. Coming from a mid-Western upbringing, she started singing at the age of 8 and hasn't stopped since. Her passionate search to find her niche has lead her to some of her greatest influences, Koko Taylor, Etta James and Big Maybelle.
While performing at the first Ann Arbor Blues Festival in 1969, she was stung by the Blues, sharing the stage with Blues legends, B.B. King, Muddy Waters, Freddie King and Big Mama Thornton. Working with some of the greatest in today's music, Eric Clapton and Bob Seger for many years, and as the former first lady of Little Feat for 15 years.
On Ask For The Moon, her latest CD set for release Dec 3, Shaun is proud to bring together some acclaimed musical talents to this recording including Jim Horn (George Harrison, Joe Cocker-Mad Dogs & Englishmen), Bekka Bramlett (Shane Dwight, Fleetwood Mac and Jonny Lang), Johnny Neel (Allman Brothers), and Shawn Starski (Otis Taylor and Jason Ricci).
Ask For The Moon was co-written with Jim 'Moose' Brown ("It's Five O'Clock Somewhere") and Laura Creamer, bandmates with Seger, whom she still tours with to this day. Performing duets with Shaun are Marcy Levy (Leon Russell, Eric Clapton) who contributed two songs, Bekka Bramlett (who wrote five of the songs) and Burton Gaar Jr.
___________________________________
DVD Release: THE RANDY OXFORD BAND LIVE AT THE NORTH ATLANTIC BLUES FESTIVAL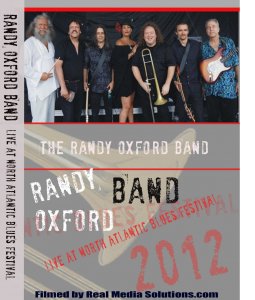 It was 4:30 am when The Randy Oxford Band rolled into Rockland, Maine, for the North Atlantic Blues Festival, after playing the night before. The Randy Oxford Band is scheduled to open the North Atlantic Blues Festival at noon - It's now 10:00 am. The audience has set up their chairs the day before, picking their spots to hear some of the biggest national touring acts in the world.
At 11:30 am, sound check is done. The rhythm section Richard Sobal on drums, LA Smith on percussion and bassist Farko Dosumov go over the set list one last time. Paul Benjamin introduces the band and greets the audience. The Randy Oxford Band is ready.
Their first song, "After You Have Gone," by guitarist Manual Morais, kicks off their energized set followed by "Full Moon Rising," by guitarist Randy Norris, who heads out into the audience with his guitar. By now the chairs are all full and its standing room only. Vocalist Jada Amy then takes the stage with her original songs and captivating vocals. Randy Oxford's award winning trombone brings all the songs to a new level, and The Randy Oxford Band sets the audience on fire.
With four different cameras rolling and three different sound recordings being done at the same time, "The Randy Oxford Band Live at the North Atlantic Blues Festival," turns out to be a one of a kind DVD. With the rhythm section, Randy's killer trombone, multiple vocalists and two hot guitarists, this band have given their audiences something special to hear as well as watch over and over again.
___________________________________
LAWRENCE LEBO... DON'T CALL HER BASHFUL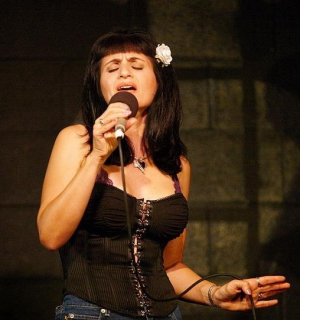 "There are a lot of fine blues divas belting it out today, but there's no one quite like Lawrence Lebo."
- LA Weekly
When Lawrence Lebo opens her mouth to sing the blues, a world of passion and hurt comes barreling out and hits you. Lawrence knows firsthand what it's like to struggle. It's this personal experience that informs her guttural growls, her plaintiff moans, and it is why listening to her perform the can leave one shaken and moved to the very depth of their core. It is also why Blues radio stations around the world feature her music, including the prestigious Weekend edition Show on National Public Radio.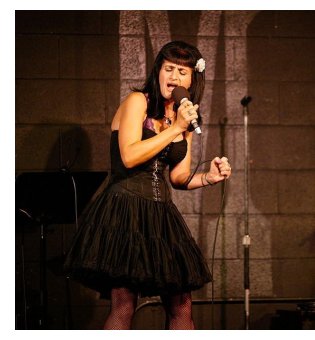 By special request and hand-picked for blues lovers, singer, songwriter, educator Lawrence Lebo brings you her fifth CD release titled, The Best of Don't Call Her Larry: Blues Mix featuring the sizzling, sexed-up holiday romp, "(I'm Your) Christmas Present, Baby!"
Lawrence Lebo can be found performing and teaching the blues at clubs, concert halls and festivals. She's listed as a Blues educator with the Blues Foundation.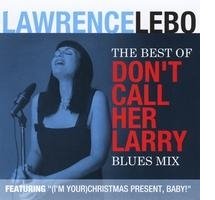 "I'd never call her Larry, but I will call her an instant classic." - Cashbox Magazine
Now booking for 2013
Contact: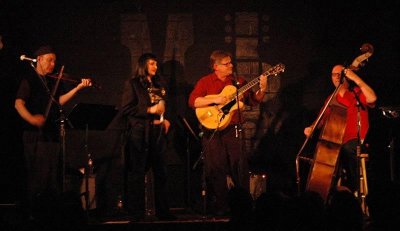 ________________________________________
BLUES ARTISTS SON HOUSE, BIG MAMA THORTON,
MEMPHIS JUG BAND AMONG GRAMMY HALL OF FAME INDUCTEES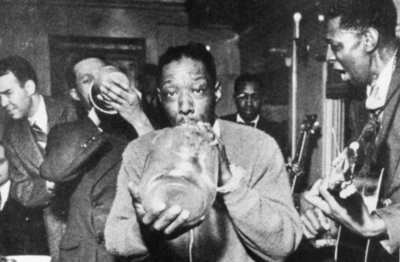 Continuing the tradition of preserving and celebrating great recordings, The Recording Academy® announced the newest additions to its legendary GRAMMY Hall Of Fame® collection. This latest round of inducted recordings helps celebrate 40 years of highlighting diversity and recording excellence, and acknowledges both singles and album recordings of all genres at least 25 years old that exhibit qualitative or historical significance. Recordings are reviewed annually by a special member committee comprised of eminent and knowledgeable professionals from all branches of the recording arts, with final approval by The Recording Academy's National Board of Trustees. With 27 new titles, the list currently totals 933 and is on display at the GRAMMY Museum® at L.A. LIVE.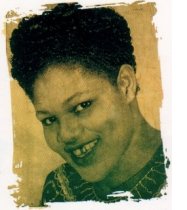 Blues artists Son House (pictured bottom right), Big Mama Thorton (pictured at left) and the Memphis Jug Band (pictured top) and R&B/R&R artists Ray Charles, Louis Jordan, James Brown and Little Richard are among the Inductees for:
"My Black Mama" [Parts 1 & 2]" Son House (Son House) Paramount (1930) Blues (Single)
"Hound Dog" Willie Mae "Big Mama" Thornton (Jerry Leiber & Mike Stoller) Peacock (1953) Blues (Single)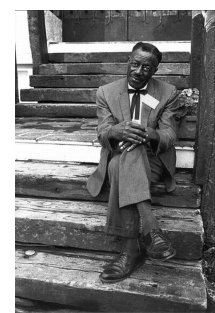 "Stealin' Stealin'" Memphis Jug B and (Will Shade) Victor (1928) Blues (Single)
"Ain't Nobody Here But Us Chickens" Louis Jordan And His Tympany Five (Joan Whitney, Alex Kramer) Decca (1946) R&B (Single)
"Hit The Road Jack" Ray Charles (Percy Mayfield)"I Got You (I Feel Good)" James Brown (James Brown) King (1965) R&B (Single)
ABC-Paramount (1961) R&B (Single)
Here's Little Richard Little Richard Specialty (1957) Rock (Album)
_______________________________________
TURNING UP THE VOLUME ON THE ELECTRIC BLUES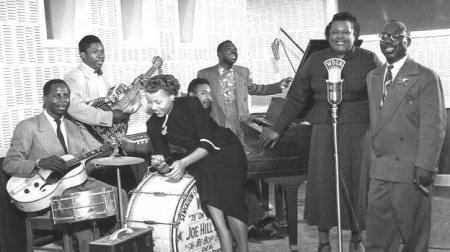 Joe Hill Louis, B.B. King and Rufus Thomas appear on a new
multi-disc compilation of electric blues, Plug It In! Turn It Up!
NPR - Blues is so much a part of the fabric of American music and American culture — not only as a defined musical form, but also as a springboard for all kinds of creativity — that it seems crazy to try to encapsulate it in any way. Bear Family Records, though, has just released a 12-disc survey of electric blues called Plug It In! Turn It Up! that does a great job of illuminating one particular aspect of the blues.
That said, if you want to hear the first blues solo recorded on an electric guitar — "Floyd's Guitar Blues," the first track on the first disc — it's not very good. Floyd Smith was a member of the Kansas City band Andy Kirk and His Twelve Clouds of Joy, and cut "Floyd's Guitar Blues" on March 16, 1939, using techniques that Hawaiian guitarists had made famous, although he seems to be playing a standard guitar. The record was a sensation, and many years later, Chuck Berry cut a version of it called "Blues for Hawaiians."
But the first electric-blues guitar star was, no question, T-Bone Walker. Aaron Thibeaux Walker was from Dallas, and by 1950, when he made "Strollin' With Bones," he'd been a star for eight years. He'd influenced just about any young kid who could afford an amplifier and wanted to go out on the theater circuit, fronting a band with horns. But that wasn't the only place the electric guitar was showing up.
________________________________________
BLUES FESTIVAL GUIDE WEBSITE NOW OFFERS GIG/CONCERT LISTINGS IN ADDITION TO BLUES FESTIVAL LISTINGS

The top-ranking blues website, www.BluesFestivalGuide.com, well-known for its comprehensive list of blues festivals throughout the world, has a new feature: Gig/Concert listings which will benefit fans, bands, and venues.
It is easy to use and completely free! To post your event, simply go to www.BluesFestivalGuide.com, click on SUBMIT GIG/CONCERT and fill in the blanks. It will appear in our Gig/Concert calendar within 24 hours so fans can search by date, band, venue, city, state and country.
Our site, www.BluesFestivalGuide also offers a Blues Link Directory for everything blues: bands, labels, venues, etc., and of course, dozens of festivals. Visit our site today, and while you are there, be sure to sign up for our free weekly electronic newsletter called the Blues Festival e-Guide.
Our website, e-newsletter and print magazine are all published by RBA Publishing Inc, 775-337-8626, info@BluesFestivalGuide.com
________________________________________
2013 INTERNATIONAL BLUES CHALLENGE TICKETS ON SALE!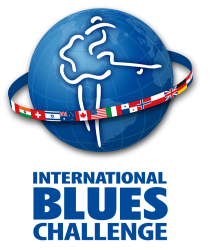 The 29th International Blues Challenge is set to begin Tuesday, January 29, 2013 and conclude on Saturday February 2, 2013. The competition will be held in Memphis, TN in the Beale Street entertainment district. Tickets are available online now.
The Blues Foundation has special prices and direct lines and links to a number of Downtown Memphis hotels for the 2013 International Blues Challenge. Reserve your room early to get what you want--best price, closest to Beale, most luxury--whatever you want. Click here.

The Keeping The Blues Alive Awards luncheon will also be held February 1, 2013, at the Doubletree Hotel in downtown Memphis, Tennesse e. The KBA ceremony will be part of the International Blues Challenge (IBC) weekend of events.
For complete information about the 2013 International Blues Challenge weekend click here.
__________________________________
FIND YOUR GROOVE ON THE LEGENDARY RHYTHM & BLUES CRUISE!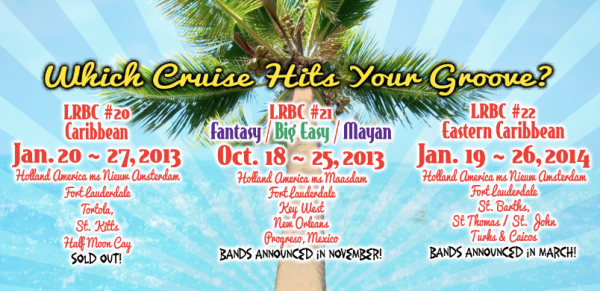 Legendary Rhythm & Blues Cruise #20 Jan. 20 ~ 27, 2013 Caribbean
Ft. Lauderdale, FL to Tortola, St. Kitts & Half Moon Cay.
Sold out - join waitlist!
#21 Oct. 18 ~ 25, 2013 Fantasy/Big Easy/Mayan
Ft. Lauderdale, FL to Key West, New Orleans & Progreso, Mexico
Now Pre-Booking w/ $250 per person full refundable deposit.
Bands announced in November.
#22 Jan. 19 ~ 26, 2014 Eastern Caribbean
Ft. Lauderdale, FL to St. Barths, St. Thomas / St. John & Turks and Caicos
Now Pre-Booking w/ $250 per person full refundable deposit.
Bands announced in March.
www.BluesCruise.com or (816) 753-7979 reservations & info.
You HAVE to experience this at least once in your lifetime!
__________________________________

Please join the Minnesota Blues Society, Sunday, December 2, 1:30 pm at Minnesota Music Café for the MnBS Holiday Party and Annual Meeting (and food drive). Donations are requested to help get the boys to Memphis and for the Merrick Community Food Shelf.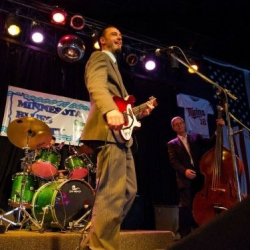 Music will be provided by their 2013 International Blues Challenge acts, Crankshaft & the Gear Grinders (pictured at left) and Kildahl & Vonderharr.
__________________________________________

The Santa Barbara Blues Society (SBBS) presents a Fundraiser for the Alastair Greene Band, winners of the recent SBBS' International Blues Challenge, on Sunday, December 2 at SOhO Music Club (1221 State St.), 12 noon-4 p.m. Admission is $5 or $3 for Blues Society members. All ages welcomed. A silent auction includes concert tickets. autographed music memorbilia, music gear, fine wine and more. Proceeds help Greene and his band get to Memphis.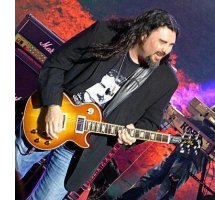 Guitarist, singer, and songwriter Alastair Greene has been a mainstay of the Southern California music scene for over two decades. Currently the lead guitarist for the Alan Parsons Live Project, Alastair is best known for his blues-based, soulful, and melodic guitar playing as well as one of a rare breed to play slide guitar. Alastair can be heard on CDs by Alan Parsons; Aynsley Dunbar, Glen Phillips (Toad the West Sprocket), and contemporary blues artists Mitch Kashmar, Franck Golwasser, and many others.
Additional event information here...
__________________________________________
Blues Society and Hi Hat
Entertainment present the
Annual Toy Drive for Casa Pacifica, Sunday December 16 from 1-5 pm at Yolies Fresh Mexican Grill (138 W. Main Street, Ventura, CA).
Performing are Michael John & The Bottom Line, Pete Anderson (pictured at right) and a special guest appearance by Mickey Jones along with some very special guests. $12 cover or an unwrapped toy of equal value or both. All donations welcomed. Together you can make a holiday difference for these children. If you're unable to attend cash donations will also be accepted on the bottom of the VCBS home page. All donations made up to the 16th of December will be donated to Casa Pacifica. To learn more about Casa Pacifica click here.
__________________________________________
If you represent a Blues Society and/or have a very special announcement for a not-for-profit event coming up, send your brief news or Press Release (300 words or less) with "Blues Society News" in the subject line to: editor@bluesfestivalguide.com.
___________________________________________
BLING PIG SIGNS JIMMY VIVINO & THE BLACK ITALIANS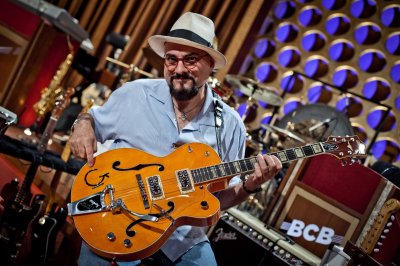 Blind Pig Records has announced the signing of Jimmy Vivino and the Black Italians. For the recording sessions Vivino will reunite his R&B influenced band The Black Italians for two shows in front of live audiences at Levon Helms Studios in Woodstock, New York. The shows will take place on Friday, November 30 and Saturday, December 1. In addition to Vivino on guitar the band features Mike Merritt (bass), James Wormworth (drums), Felix Cabrera (harp/vocals), Gov't Mule's Danny Louis (keys), Catherine Russell (vocals), Fred Walcott (percussion) and Mike Jacobson (percussion).
For the past two years guitarist, singer, songwriter and bandleader Vivino has been the musical director for Jimmy Vivino and The Basic Cable Band, the house band for the TBS late night program "Conan."
The Black Italians were originally formed twenty years ago around a residency at the legendary Downtime Music Bar on W. 30th Street in New York City. Vivino, Merritt and Wormworth, who had been serving as the band for the legendary pianist Johnnie Johnson, started attracting local and national touring musicians to their shows eager to participate in impromptu jams of what Vivino describes as "Third World blues with New Orleans swagger."
___________________________________________
JANIVA MAGNESS & BIG BILL BROONZY
Janiva Magness has come a long way from her wild teen years. Orphaned at sixteen, she snuck her way into a Minneapolis nightclub to see blues legend, Otis Rush. And thus she found her calling: the blues. The title of her latest CD says it all: STRONGER FOR IT.
Then, in the second hour of the program… Big Bill Broonzy was a major figure in the history of the blues. A central player in the Chicago blues scene of the thirties and forties, he gave Muddy Waters a leg up when he first rolled into town. Broonzy also helped start the folk revival of the fifties, and was a huge influence on the young players who shaped the British Invasion in the sixties.
The magnificent Janiva Magness PLUS Big Bill Broonzy. Next time, in the BluesMobile.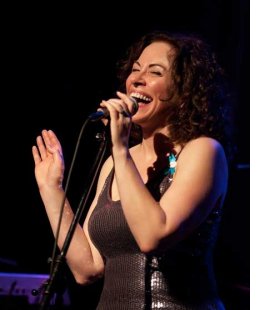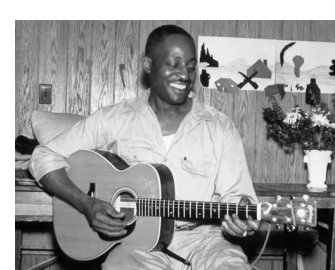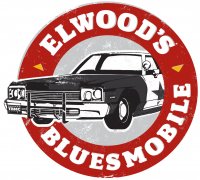 For a list of stations where you can find BluesMobile Radio
___________________________________________
Terrance Simien "Dance Everyday"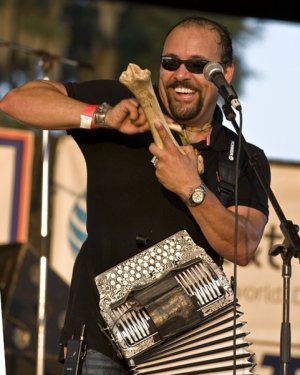 ___________________________________________
Raise The Roof: Campaign for the Blues Hall of Fame
YOU can make the Blues Hall of Fame a reality. Your support matters!

The Hall of Fame pays tribute to the greatest of the genre and educates new people about the genre. The Blues Foundation has been inducting into the Blues Hall of Fame for years; it was just a simple evening with web presence. Now we need physical presence, and with your help, we are going to get The Blues Hall of Fame building built in Memphis, TN!
Here is a link with more details about the BHF campaign:
Doesn't this project sound important and exciting?
Our goal is to raise awareness and funds to reach the goal of 3.5 million.
How to donate: 1. Make a multi-year pledge online or print out and sign form and mail to: The Blues Foundation, 421 South Main, Memphis, TN 38104-4464;
OR fax to 901.529.4030; OR e-mail it to jay@blues.org.
2. Make a one-time donation by calling with a credit card or mailing a check or find online.
3. Text the word " blues" to 80077 to donate $10. When you receive a message to confirm, answer with "YES."

No effort is too small or unappreciated!
If not us, who? If not now, when?
Note: Thanks to Tall City Blues Festival, Music Matters Entertainment, A Music Company Inc., and Garvin Gate Blues Festival for helping to raise awareness about the Blues Hall of Fame.
You too can get involved. Email us: Info@BluesFestivalGuide.com to get logos and links for your website or Facebook.
_________________________________________
Did you know that I do Custom Comic Strips and Comic Pages as gifts?
____________________________________________
Roots Blues Airplay Charts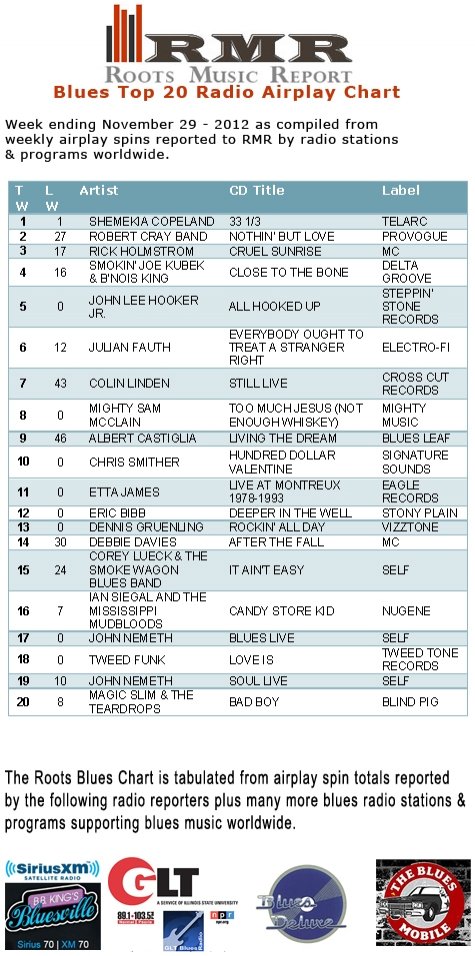 To view our entire calendar of more than 500 festivals click here!
ATTENTION:

FESTIVAL

PROMOTERS

LIST YOUR FESTIVAL

WITH US

FREE!

Website

E-Guide

Magazine
If you know of a Blues Festival you don't see here or in our online listings...

Please get us the info or post!

Saturday

December 1st 2012

Bradenton, Florida USA
Friday-Saturday

December 7th-8th 2012

Perry, Florida, USA

Thursday-Sunday

January 17th-20th 2013

Ft. Lauderdale, Florida USA
Saturday- Saturday

January 20th - January 27th 2013

Fort Lauderdale, Florida USA

Thursday-Sunday

January 24th -January 27th, 2013

Clarksdale, Mississippi USA
Tuesday-Saturday

January 29th - February 2nd 2013

Memphis, Tennessee USA

Friday-Sunday

February 8th-17th 2013

Charleston, South Carolina USA
Thursday-Sunday

February 28th - March 3rd 2013

Boquete, Chiriquo Panama

Saturday

March 2, 2013

Greenwood, Mississippi USA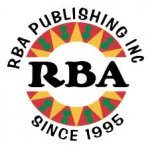 RBA Publishing Inc is based in Reno, Nevada USA. We are woman owned and operated.
We produce the annual Blues Festival Guide magazine (publishing our 10th annual in 2012), affiliated with the top-ranking website:
www.BluesFestivalGuide.com, and this weekly blues newsletter: The Blues Festival E-Guide with approximately 28,500 weekly subscribers.
We look forward to your suggestions, critiques and questions!
You can reach the E-Guide editor, Michele Lundeen at editor@bluesfestivaleguide.com or michele@bluesfestivalguide.com
Contact our home office to find out how to advertise in this e-weekly newsletter 775-337-8626.
Information, both editorial and advertising, in the Blues Festival E-Guide, is believed to be correct but not guaranteed. Double check info carefully before you attend any event or send money for anything. We do not write the news... we just report it!