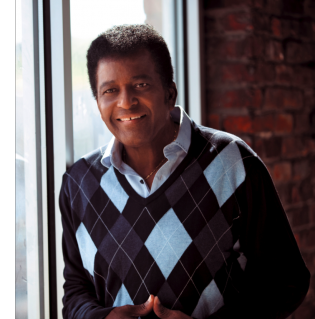 Nashville, Tenn. (January 16, 2013) - As the new year gets underway, Country Music Hall of Famer Charley Pride is off to an exciting start with a scheduled performance at the 2013 Black Tie & Boots Inaugural Ball, taking place later this week. Held at the Gaylord National Resort in the nation's capital, and sponsored by the Texas State Society of Washington, D.C., the Black Tie & Boots Inaugural Ball will be held this Saturday, January 19, and is one of the largest events scheduled to take place during the upcoming Inaugural festivities. The event is expected to draw more than 15,000 guests and will also feature a number of other performers including Radney Foster and Asleep At The Wheel.
"I am pleased and honored to be a part of this event that celebrates President Obama and the start of his second term in office—it's truly wonderful to be asked to perform," says Pride. "The Texas State Society knows how to throw a great party, so I'm looking forward to a very memorable evening."
This marks Pride's second time performing in Washington D.C. during an Inauguration-related event. Pride performed during a Capital Centre gala celebrating President Ronald Reagan's Inauguration on January 20, 1981.
Pride wrapped up 2012 with a number of recognitions and achievements. In addition to his tours of Ireland and the United Kingdom, he was inducted into the IEBA (International Entertainment Buyers Association) Hall of Fame.
And in October 2012, the Smithsonian's National Museum of African American History & Culture honored Pride during an event in Dallas, TX. Pride has donated many items to the museum's collection of historical artifacts including his 1971 CMA Award for "Country Male Vocalist of the Year"; his 1972 "Best Sacred Performance" Grammy Award (for his recently reissued Did You Think To Pray album); a Fender guitar and case from his early years as a professional performer; a bat and glove from his baseball career; letters from Lyndon B. Johnson and Richard Nixon; and a collection of vintage clothing that includes tour outfits, suits, sweaters, USO jackets and a Texas Rangers uniform. Many of these relics are expected to be included as part of the National Museum of African American History & Culture's permanent collection when it opens in 2015 on the National Mall in Washington D.C.
With shows already performed in Grant, Oklahoma, and Lincoln City, Oregon, Pride began 2013 with a bang and plans to keep the tour trail hot with a May 2013 swing through Canada. Shortly after the Inaugural Ball, Pride will be heading to Arizona to continue his annual tradition of working out with the Texas Rangers during spring training.
Upcoming Tour Dates
2/09/2013 Effingham, IL (Effingham Performance Center)
3/15/2013 Harris, MI (Island Resort & Casino)
3/16/2013 Harris, MI (Island Resort & Casino)
4/06/2013 Manistee, MI (Little River Casino & Resort)
4/27/2013 Indio, CA (Stagecoach Festival)
5/01/2013 Regina, SK, Canada (Sid Buckwold Theatre, TCU Place)
5/04/2013 Winnipeg, Canada (Centennial Concert Hall)
5/06/2013 Edmonton, AB, Canada (Northern Alberta Jubilee Auditorium)
5/08/2013 Saint John, NB, Canada (Harbour Station)
5/09/2013 Moncton, NB, Canada (The Centre-Casino New Brunswick)
5/11/2013 St. John's, NL, Canada (Mile One Centre)
5/12/2013 Halifax, NS, Canada (Rebecca Cohn Auditorium Dalhousie Arts Center)
5/15/2013 Kitchener, ON, Canada (Centre in the Square)
5/18/2013 Peterborough, ON, Canada (Peterborough Memorial Centre)
6/06/2013 Nashville, TN (Grand Ole Opry)
6/07/2013 Nashville, TN (Grand Ole Opry)
9/14/2013 Wisconsin Dells, WI (Crystal Grand Music Theatre)
9/21/2013 Wendover, UT (Peppermill Casino)
10/12/2013 Myrtle Beach, SC (Alabama Theater)
10/25/2013 Branson, MO (RFD-TV Theatre)
About Charley Pride
Charley Pride has garnered countless awards and recognitions over five decades for being a Country Music legend who has transcended race and spanned the generations. As a Country Music Hall of Famer and member of the Grand Ole Opry, Pride's legacy includes more than 35 #1 hit singles, over 70 million albums sold, & 31 gold and 4 platinum albums including one quadruple platinum. Many of his hits are now modern classics, including "Kiss An Angel Good Morning," which was a million-selling crossover single and helped Pride earn the CMA Award as Entertainer of the Year in 1971 and Top Male Vocalist in 1971 and 1972. Pride was honored for outstanding African-American Achievement with a Trumpet Award by Turner Broadcasting in 1996, and he received his very own star on the Hollywood Walk of Fame in 1999. Pride's legacy continues as he has remained one of the Top 20 best-selling country artists of all-time.
For more information about Charley Pride, visit his website and Facebook page:
# # #
Charley Pride Media Contact:
Absolute Publicity, Inc.
Don Murry Grubbs / 615-275-8380