Farruquito, Jerez Festival 2013. Photo by Ana Palma courtesy of DeFlamenco.com
Entrevistas, fotos y mucho más AQUI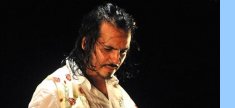 We hope you enjoy our new format for the Vida Flamenca Newsletter. As you will see, North American events are featured on the right, and international events on the left side bar. Your feedback is important to making this the best source of Flamenco information.
Please contact us with comments & suggestions at: beth.vidaflamenca@gmail.com
Continue to Stay Connected!
Tomatito, Arcángel, Eva Yerbabuena, y Paco Peña serán los protagonistas de la programación flamenca del 33 Festival de la Guitarra de Córdoba, del 1 al 13 de julio.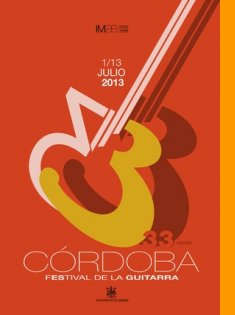 Además, el festival contará con el concierto en Córdoba de Alejandro Sanz presentando La Música No Se Toca, el viernes 5 de julio, y las actuaciones de artistas como Michael Schenkel, de Scorpions, el bluesman Robert Clay, un tributo de Al di Meola a The Beatles, el blues de Joe Luis Walker, Brecker Brothers con la trompeta de Randy después de la desaparición de su hermano Michael, y la orquesta de guitarras eléctricas Sinfonicity. El festival se abrirá el 1 de julio con el espectáculo Senda Sur, en el que Javier Riba y la Orquesta de Córdoba interpretarán partituras de David del Puerto, y se clausurará con el concierto de Fito y Los Fitipaldis el 13 de julio.
A Documentary by
The legendary flamenco singer and guitarist Manuel Molina of Lole y Manuel. Un Documento sobre Manuel Molina de Lole y Manuel.
MANUEL MOLINA is one of the most respected and well known flamenco artists in Spain. He is a poet, a singer and a master guitarist.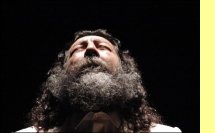 Sevilla Congress & Convention Bureau!

El Sevilla Congress and Convention Bureau, SCCB, le da su más cordial bienvenida.
Las instituciones y empresas que formamos parte del SCCB queremos agradecer su interés en Sevilla y su provincia, poniéndonos a su entera disposición para cualquier información, petición de asesoramiento o presupuestos que necesite para la celebración profesional de su evento. ... SEVILLA!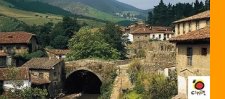 Cantabria, to make the most of spring
Make a note: nature, great food and a unique cultural heritage. The Altamira prehistoric caves, such monuments as Gaudí's Capricho and a coastline of extraordinary beauty all await you. MORE HERE!
In our continued efforts to support Flamenco programming, festivals & shows throughout the U.S. and Canada, Vida Flamenca is committed to documenting our expanding flamenco scene with a continuing series by photographer James T. Miller. Email Jim directly for pre-orders of his forthcoming book on Spain.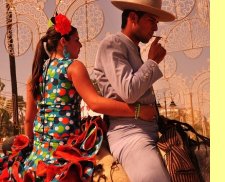 This week we have images from the Toronto Flamenco Fesival Saturday, March 30, 2013, María Pagés show "Autorretrato" at the Sony Centre for the Performing Arts.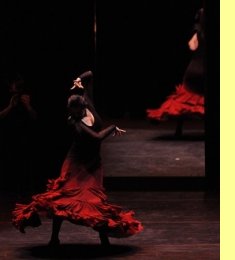 Upcoming Toronto Flamenco Fesival continues October 13-19.
Flamenco Puro 11-14 de April ~ Turin, Italy
3rd INTERNATIONAL COMPETITION OF BAILE FLAMENCO & SHOWS
"CIUDAD DE TURIN"
Turin, 11th/14th April 2013
Art Direction: Manuel Betanzos & Monica Morra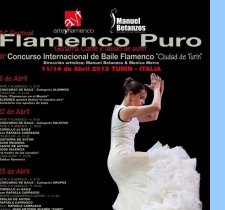 CONCORSO DI BAILE 2013
TERMINE ULTIMO PER LE ISCRIZIONI:
15 MARZO 2013
CONFERMA UFFICIALE DI REALIZZAZIONE DELL'EVENTO:
18 MARZO 2013
Vídeo realizado por Miguel Rey, dedicado a todas nuestras alumnas,alumnos, maestros, colaboradores y amigos de IFI Jerez International Flamenco Institute Jerez. Muchas gracias por los buenos momentos que hemos pasado juntos en Jerez durante el Festival 2013. Ahora a vivirlos muchas veces más.. comienzan los de verano! www.ifijerez.com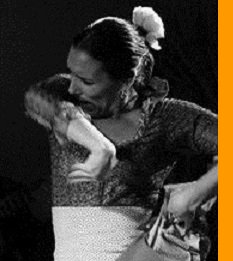 Visit the ifijerez Youtube Channel!
XV Festival Flamenco
Tío Luís, El de la Juliana
Colegio Mayor Universitario
Isabel de España
Madrid
Días 23, 24 y 25 de abril 2013 a las 20:00h
Colabora: Asoc. Cultural Flamenca Jondo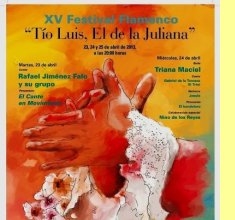 Taller Flamenco is a learning centre for Flamenco and Spanish Language that was founded in Seville in 1994. The growing interest that already existed in flamenco all over the world, as a true cultural manifestation, as well as the attraction this art form, held for the non-Spanish public at large, led a group of young university students to set up a Taller Culturalwhich would, at the same time, be a flamenco school and place of encounter for these hundreds of young people who were beginning to love flamenco and the city of Seville as one of the epicentres of flamenco art.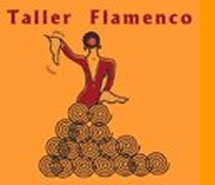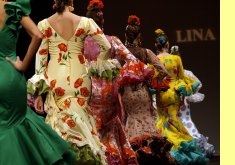 Lina, como firma, comenzó en
un pequeño taller familiar en 1960. Desde sus orígenes, la elab
oración artesanal de sus diseñ
os ha sido seña de identidad para esta casa sevillana. Su evolución desde entonces ha estado muy marcada po
r la estrecha relación con el mundo artístico: Las creaciones realizadas para espectáculos flamencos, el mundo del cine, el teatro o la canción, nos han permitido trasladar a nuestros trajes de noche, trajes de flamencas o vestidos de novia los conocimientos adquiridos al trabajar con artistas.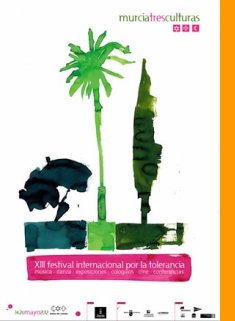 Durante el mes de mayo tiene lugar en Murcia un amplio programa de conciertos, teatro, cine, exposiciones, conferencias, espectáculos y manifestaciones artísticas íntimamente enraizadas en las culturas islámica, judía y cristiana; culturas que conviven en torno al Mediterráneo y que, históricamente, han configurado la fisonomía de la ciudad y el carácter solidario y acogedor de los murcianos.
June 21 - July 12, 2013

En 2013 presentamos con satisfacción, y no sin cierto orgullo, esta nueva edición del Festival Internacional de Música y Danza de Granada, de los Cursos Internacionales Manuel de Falla y del Fex.
We were faced with a fascinating artistic challenge: to establish a musical project with artistic excellence as its basic premise and with the search for a suitable repertoire to ensure the loyalty of new audiences as a priority.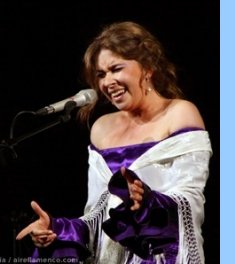 El flamenco de Gema Caballero y Rocío Márquez (foto) cerrará la decimonovena edición del ciclo Cantando a la Luz de la Luna, el viernes 26 de abril a partir de las nueve de la noche en el Auditorio Marcelino Camacho de Madrid.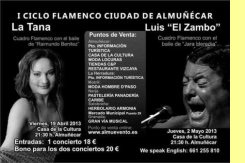 19 avril
La Tana y Luis El Zambo!!!
Ciclo Flamenco Ciudad de Almuñecar
Casa de la Cultura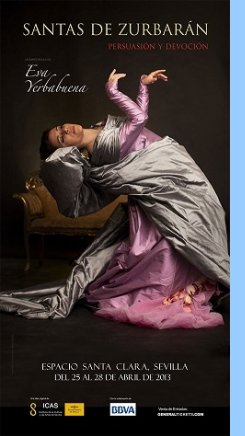 Eva Yerbabuena's show for Zurbarán's saints - From April 25th to 28th, the Espacio Santa Clara, historical residence of the Clarisa Sisters, is the venue for the show "Persuación y Devoción" which, conceived and choreographed by Eva Yerbabuena, is a prelude to the important exposition called "Santas de Zurbarán: Devoción y Persuasión".
Did somebody Say Flamenco?
Ha dicho alguien flamenco?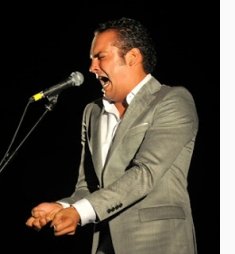 Preview "Goede zang doet pijn" Flamenco Jerez de la Frontera
"When my family heard me sing, my father tore his shirt open" -- Jesús Méndez
The Spanish town of Jerez de la Frontera is one of the main breeding grounds of flamenco. Cameraman and director Martijn Beenen and Ernestina of Noort, director of the Flamenco Biennial, went towards it, looking for the roots of this special, Spanish folk.
They meet three generations of guitarists - Manuel Morao, Moraíto Chico and Diego del Morao - that the filmmakers already initiated into the secret of playing the flamenco tradition and buleria, the specific style of Jerez.
En L.A.: Romeria Del Rocio 2013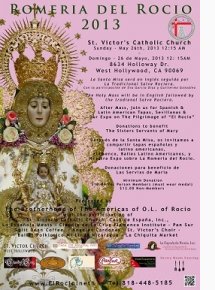 Celebration of Our Lady of Rocio 2013 - May 26th at 12:15pm at St. Victor's Catholic Church 8634 Holloway Drive, West Hollywood, CA 90069 - Please call 818-448-5185 for additional information.
Our celebration is a fund raiser for our dear friends the Sisters Servants of Mary, Ministry to the sick. All funds collected will be donated to the Servants of Mary. We are asking for a $12.00 donation for non-members and $10.00 for members of the Hermandad.
Nuestra Celebración Rociera será el 26 de mayo en Iglesia de San Víctor, West Hollywood, CA para más información llamar al 818-448-5185
L.A.: Fiesta of the Spanish Horse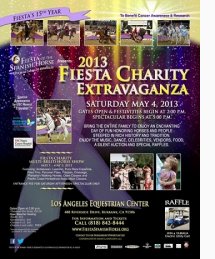 Charity Horse Show will be held May 1 - May 5
Charity Spectacular Saturday May 4, 2013
Gates Open and Festivities begins at 2:00 p.m.
Spectacular begins at 5:00 p.m.
The "SPECTACULAR" show -the main event, is an evening that features an entertaining and educational multi-cultural spectacular experience - celebrating the heritage and historical impact of the Spanish Horse on the Americas. The evening performance also features a "Parade of Cancer Heroes," which is the heart of the "Fiesta Charity Spectacular." Fiesta of The Spanish Horse is a charitable enterprise committed to raise funds for Cancer Research. The main beneficiaries this year are USC Norris Comprehensive Cancer Center and Children's Hospital Los Angeles, but include other Cancer Organizations.
May 1 - May 5- Horse Show
Dressage Show - Wednesday
Andalusian, Lusitano, Friesian, Paso Fino, Peruvian Paso, Plantation Walking Horses, PCHA and
P.R.E. Classes begin on Wednesday
480 Riverside Drive
Burbank, CA. 91506

DE SEVILLA A JEREZ comes to Berkeley & Santa Cruz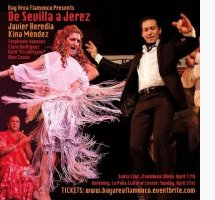 Javier Heredia from Sevilla and Kina Mendez from Jerez
JAVIER HEREDIA: Visiting guest artist. A festero in the tradition of Miguel Funi, Anzonini and Paco Valdepeñas. Part dancer, part singer, part storyteller - all artist, integrated and inseparable - Javier performs with spontaneity and charisma, communicating with his art wherever he finds himself. He has appeared several times in Seville's prestigious Flamenco Biennial in support of artist such as Jose Merce, Arcángel, Manuel Molina, Juana la del Pipa among others. He has toured all over Europe with the legendary dancer Manuela Carrasco and has appeared as a soloist in important flamenco events internationally such as the Mont de Marsan Flamenco Festival in the south of France. This will be Javier's 4th time in the Bay Area. He will be teaching a 3-day workshop Soquel at Flamenco Romantico Studios April 19-21: workshop info
Santa Cruz: Weds. April 17
Tickets - http://bayareaflamenco.eventbrite.com/
Berkeley: Sunday, April 21

FERIA, ¡Sevilla en San Pedro!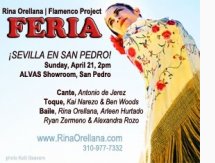 Rina Orellana | Flamenco Project presents
FERIA, ¡Sevilla en San Pedro!
Sunday, April 21, 2pm
Alvas Showroom, San Pedro, CA
$25 adults / $10 children
The high energy will be palpable in this session of the Flamenco Project with special guests Antonio de Jerez (singer), Kai Narezo and Ben Woods (guitar). Dancers include artistic director Rina Orellana, the fiery Arleen Hurtado and introducing the new dynamic duo Ryan Zermeno and Alexandra Rozo.
The audience will feel like they are in a caseta at the Feria of Sevilla with Sevillanas dancing for all, prize for best feria outfit (so be sure to wear one!), an introduction by Las Flamenquitas and more surprises!
Esmeralda Enrique Spanish Dance Company presents PORTALES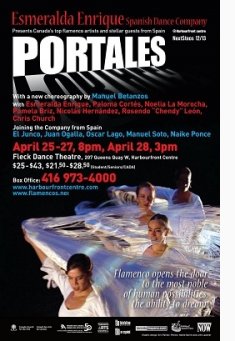 APRIL 25-28, 2013
Harbourfront Centre
Fleck Dance Theatre
207 Queens Quay West
Toronto, Canada M5J 2G8
There will be a post-show Q & A on April 26, 2013.
For performance info Click Here
The award-winning Esmeralda Enrique Spanish Dance Company never fails to mesmerize while delivering the contagious excitement and full breadth of feelings that flamenco expresses through dance, music and song.
See Canada's top flamenco artists and stellar guests from Spain in the world premiere of Portales, choreography by Esmeralda Enrique, El Junco, Juan Ogalla and a new commission from Manuel Betanzos.
Flamenco opens the door to the most noble of human possibilities: the ability to dream.
NYC: The Fabulous Sabicas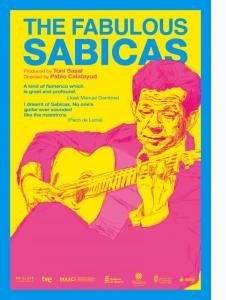 Thursday, June 6, 2013, 6 p.m.
New York Public Library for the Performing Arts, Dorothy and Lewis B. Cullman Center, Bruno Walter Auditorium, NYC
A screening of the documentary The Fabulous Sabicas (2012).
Directed by Pablo Calatayud. 82 minutes. In Spanish with English subtitles.
The Fabulous Sabicas documents the vital professional development of the guitarist Agustín Castellón, Sabicas. Sabicas symbolizes the figure of the flamenco concert guitarist. He came to represent an era, performing and renovating the music to which he dedicated his life. This film brings together the testimony of important flamenco artists and scholars, friends and his children, along with a selection of performances by the maestro.
In addition to Paco de Lucia and Tomatito, the documentary includes Gerardo Núñez, Enrique Morente, Serranito, Pepe Habichuela, Antonio Carrión, Estrella Morente, Domingo Alvarado, Juan de la Mata, and many others...
Estela Zatania who translated the English subtitles for the film will be present to discuss the work.
This program is presented in conjunction with the exhibition, 100 Years of Flamenco in NYC. More info here.

Van Nuys: The return of Roberto Amaral's Saturday Bulerías workshops!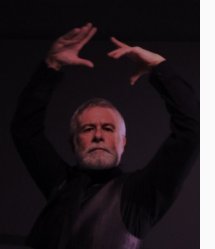 BULERÍAS WORKSHOPS
Date: Saturday, May 11
Time: 4 p.m. – 5:30 p.m.
ROBERTO AMARAL STUDIO
14643 Hamlin St., Van Nuys, Ca. 91411
We know many of you have been anxiously awaiting the return of Roberto Amaral's Saturday BULERÍAS workshops. Well, for 2 special sessions this Spring, Roberto will be offering workshops where he will teach an entire BULERÍAS routine consisting of a salida, letra, desplante and ida. Those of you who have taken one of Roberto's BULERÍAS workshops before know how exciting, high energy and fun they are. You will learn how to properly construct a dance segment of a Fin de Fiesta BULERÍAS.
These workshops will be for both intermediate and advanced students and will be accompanied by guitarist, Antonio Triana.
Fee: $25
R.S.V.P.: anamariasuarez@sbcglobal.net, 805.813.7212
or email here
Arte y Pureza Flamenco Company in Los Angeles!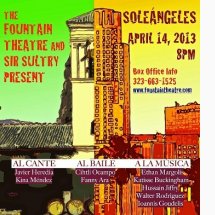 "Soleangeles"
Music by Ethan Margolis
Monday, April 15, 8pm
The Fountain Theatre
Sunday Show - SOLD OUT!
Artist Lineup:
Ethan Margolis - Artistic Director/Guitar, Kina Mendez - cante, Javier Heredia - cante y baile, Cihtli Ocampo - baile, Fanny Ara - baile, Katisse Buckingham - flute, Hussain Jiffry - bass, Walter Rodriguez - percussion, Ioannis Goudelis - keyboards
Tickets: (323) 663-1525.
L.A.: ZAMBRA FLAMENCO GROUP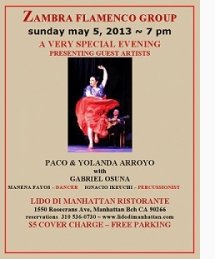 Sunday May 5, 2013 ~ 7 pm
A VERY SPECIAL EVENING
PRESENTING GUEST ARTISTS
PACO & YOLANDA ARROYO
with
MANENA FAYOS – DANCER
GABRIEL OSUNA
IGNACIO IKEUCHI – PERCUSSIONIST
LIDO DI MANHATTAN RISTORANTE
1550 Rosecrans Ave, Manhattan Bch CA 90266
reservations 310 536-0730 ~ www.lidodimanhattan.com
$5 COVER CHARGE – FREE PARKING
San Diego: Fanny Ara & DanzArts presents Juncal Street!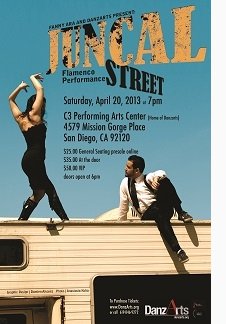 SATURDAY, APRIL 20 - 7PM
SAN DIEGO, CA
A presentation of six INCREDIBLE and internationally renowned performers, prodigies in the expression of their art. They are a multi-cultural medley of young North American, French, Spanish and Gypsy performers who FEARLESSLY disregard borders to create a DAZZLING, URBAN FUSION of who they are and what unites them: their dedication to the craft. The INTENSE and impassioned way in which they FEEL and perform communicates the essence that this art deserves.
Fanny Ara: Artistic Director/Choreographer
Manuel Gutierrez: Dancer/Choreographer
Jason McGuire: Musical Director/Guitar
Joey Heredia: Drums
Tim Lefebvre: Bass Player
La Crescenta: Compas & Cante Classes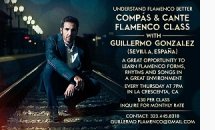 Con Guillermo Gonzalez desde Sevilla
Clases participativas y dinámicas donde podrás aprender sobre historia, cante y compas flamenco a traves de la mirada de un sevillano. Trae tus ganas de pasar un buen rato flamenco.
Every Thursday @ 7pm
Contact Guillermo @ 323.445.8318
Trip to Jerez de la Frontera ~ May 2013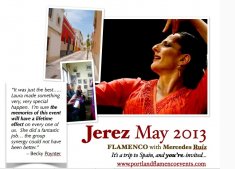 This is a flamenco trip to Jerez de la Frontera, Spain with Mercedes Ruíz.
Dance. Do palmas. Hear flamenco all around you. Eat tapas. Drink sherry. Relax at the Arabic baths. Learn from Mercedes Ruíz in small classes catered especially to you. Enjoy an intimate performance hosted by Mercedes herself. And do it all with me, Laura Onizuka, someone who's been there many times, who speaks the language, and who believes in having a great time.
When: May 15 – May 27, 2013
"It was just the best….. Laura made something very, very special happen….I'm sure the memories of this event will have a lifetime effect on every one of us. She did a fantastic job herding the 'exotic pets'… the group synergy could not have been better." - Becky Poynter, Spain Tour 2012
Casa Córdoba Café in Montrose
Escape to Spain in Montrose, CA!
"A Spanish Gem in our own backyard" - VFNewsletter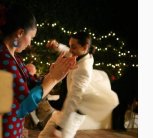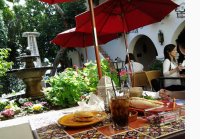 Authentic Spanish café featuring Spanish dishes and tapas. They are open for breakfast and lunch. Dinner service to follow. Hand painted ceramics, kitchenware, olive oils, paella pans, spices and gourmet food products imported from Spain. Located in Historic Zwick Plaza in Montrose, California. Casa Córdoba provides a tranquil courtyard setting for casual dining. Internet access available for our customers.
And, if that weren't enough…our very own Ryan Zermeño, Alexandra Roza and "Juramento Flamenco" perform there regularly. Hola Montrose!!!
2331 Honolulu Ave. Suite#C
Montrose, CA 91020
(818) 937-4445
San Diego: Angelita at Costa Brava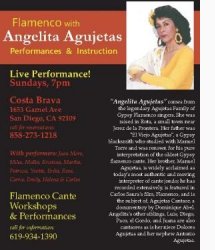 Sundays 7pm
"Angelita Agujetas" comes from the legendary Agujetas Family of Gypsy Flamenco singers. She was raised in Rota, a small town near Jerez de la Frontera. Her father was "El Viejo Agujetas", a Gypsy blacksmith who studied with Manuel Torre and was renown for his pure interpretation of the oldest Gypsy flamenco cante. Her brother, Manuel Agujetas, is widely acclaimed as today's most authentic and moving interpreter of cante jondo; he has recorded extensively, is featured in Carlos Saura's film, "Flamenco," and is the subject of, "Agujetas Cantaor" a documentary by Dominique Abel. Angelita's other siblings, Luis, Diego, Paco, el Gordo, and Juana are also cantaores as is her niece Dolores Agujetas and her nephew Antonio Agujetas. Flamenco Instruction with Ms. Agujetas: alkalk@cox.net
Costa Brava Restaurant
Telephone: 858-273-1218
1653 Garnet Ave, San Diego, CA 92109
Hours Open: 11:00 AM to Midnight, Daily
NoHo: Flamenco Classes with Mari Sandoval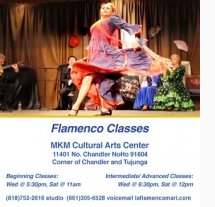 Flamenco Classes with Mari Sandoval
MKM Cultural Arts Center
11401 No. Chandler NoHo 91604 (Corner of Chandler and Tujunga)
Beginning Classes:
Wed @ 5:30pm, Sat @ 11am
Intermediate/ Advanced Classes:
Wed @ 6:30pm, Sat @ 12pm
(818)752-2616 studio (661)305-6528
voicemail laflamencamari.com
Ciudades: Northwest Flamenco Tour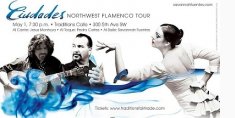 Olympia, WA
Wednesday, May 1
7:30 PM
Traditions Cafe in Olympia. Reservations: (360) 705-2819
Featuring: Pedro Cortes, guitar; Jesus Montoya, Cante; and Savannah Fuentes, dancer
20+ venues in Idaho, Washington & Oregon in April & May:
Grisha Goryachev Live In Pasadena!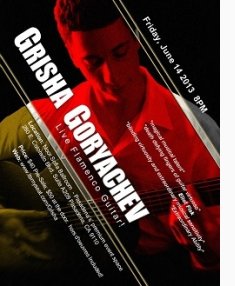 Friday, June 14, 2013 8PM
Dear Fans and Supporters of Grisha and flamenco guitar - we are excited to announce that Grisha will be coming to the Los Angeles area for an evening of guitar music. This time, it will be at Pasadena's premium event space - Noor Banquet Hall, Sofia Ballroom.
Grisha will be performing all the favorites and some new works as well. Pre-sale tickets are now available, and they include hors d'oeuvres!
For complete information, visit www.laconcertgroup.com
We hope to see you on June 14th! Please share this event with interested friends and other music enthusiasts!