Nathan A. Blues
Now Available on iTunes and CD Baby!
He's fresh! He's unique! He's Nathan A!
Often compared to a young Jonny Lang, 17 year old Nathan Aronowitz is a polished showman and energetic performer. On 'Set Me Free', a group of Northwest Arkansas' finest bluesmen lay down the Rhythm, and Nathan A. delivers the Blues!
If you were at Nathan's College Send-Off Party a couple of weeks ago, you heard a set of music from this fine release.
Click on CD art to preview and/or purchase.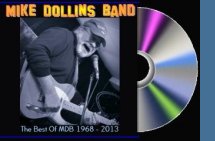 'The Best of the Mike Dollins Band'
1968 - 2013
Mike picked the guitar up at 13, in 1958 at the height of R&B music on radio. He formed his first band then, and has kept an active band going every since. The list of artists, musicians and talent that orbited into Mike's music sphere are way too vast to list on this CD cover. Visit Mike's main web site www.mikedollins.biz for a complete history, & CD details.
This CD represents decades of the Mike Dollins Band from California to the Arkansas Delta. This endeavor is merely a snap shot of the Mike Dollins Band that has performed in clubs, stage, radio and television
during the years.
CD Cover Photo by Sher Speer