Paddlefest was a success! Thank you to Herolaunch (Mike Flaugh and Cam Collins) partnering with Coastal Paddleboard (Dan and Rochelle Neumann). Thank you to the committee members: Nancy Collins, Misty Ayedolotte, Kelly Beard, Nicole Mader, Marty Baum, Dan and Rochelle Neumann,
Joe McKinley and all of the volonteers!
Paddlefest was successful in raising awareness for our polluted waterways.
A very special thank you to Justin Riney with Expedition Florida 500 for showing support for Our Estuary!
Paddlefest raised a total of $3,000 for organizations that are helping Save Our River. $500 went towards the River Kidz mission to to speak out,
get involved, and raise awareness because we believe
kids should have a voice in the future of our rivers.
Video from Paddlefest!
Click here to view the YouTube video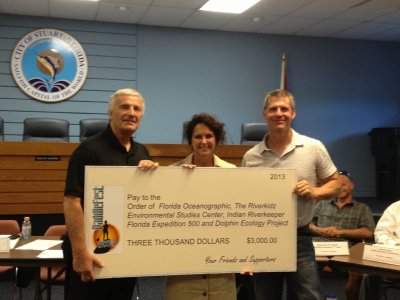 10 Things Every River Kid Should Know!
Click here to view/download the PDF
How to Become a RiverKidz Member!
Click here to become a member.
Follow RiverKidz on Facebook!
Check out what we are up to!