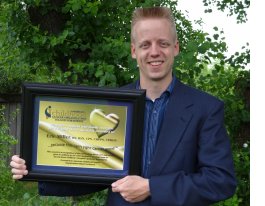 Saturday, June 1, 2013, Eric Miller, RN, BSN, CPN, CHPPN, CPHON was honored with the American Childhood Cancer Organization Inland Northwest's (ACCOIN) first annual Golden Heart Award. The Golden Heart Award, sponsored by the Kalispel Tribe and Northern Quest Resort and Casino, is voted on by ACCOIN children and their families and honors individuals who provide front line care and service for local children affected by cancer. Miller received the award at our annual Light the Way dinner auction held at the Spokane Convention Center. The auction is a fund raising event for ACCOIN programs and services that directly support children with cancer and their families in the Inland Northwest.
"Eric was always so quiet and respectful when he came into the room in the middle of the night. We appreciated him so much," said one parent who nominated Eric for the award. "He really made a hard time more bearable."
Originally from the Seattle area, Eric attended Spokane Community college where he graduated in 2006 with an ADN. Upon graduation, he was hired by Sacred Heart Children's Hospital to work within the pediatric hematology and oncology unit, his first choice of area practice.
"I never intended to be a hospital nurse - the thought terrified me. I preferred to work in some outpatient capacity, but always knew I wanted to work with kids," said Miller who has now worked in the same position since being hired.
Miller completed his BSN in 2011 and has completed his second and third certifications. His future plans are to become a nurse educator in the collegiate setting to continue to share his love of learning.
The Golden Heart Award is our way, as an organization started by parents of children with cancer, to acknowledge the extraordinary impact of the many professionals who provide life-saving care above and beyond any job description. We honor not only Eric Miller, but all of the pediatric oncology staff at Providence Sacred Heart Children's Hospital who help countless families through extremely difficult times.