"The best and most beautiful things in the world cannot be seen or even touched- they must be felt with the heart." Helen Keller

We are very excited to be part of the first-ever Big Heart Dance on Valentine's Day. Our work is all about heart and by celebrating Valentine's Day with us, the love shared has far-reaching ripples. Thank you to Mark Peterson of KXLY, Jennifer Evans of
Encore Presentations
, and
Red Lion Templin's Hotel on the River.
With Sammy Eubanks entertaining and proceeds benefitting American Childhood Cancer Org Inland Northwest and the
Emmett Paul Snyders Foundation
, it is sure to be an evening of Big Heart. See more information is in this newsletter. We hope you can join us.
We are busy planning our new day camp (don't miss
Be a Dancer to Beat Cancer
that will be raising funds for this new family event), our summer party, and many events to get involved in to ensure that kids don't fight cancer alone.
Be sure to Save the Date for our annual Light the Way Dinner and Auction. We have been working very hard to make our 10th year the best yet!

Thank you for being a part of a community that cares.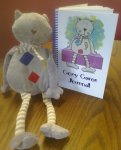 Meet our Families

Mail: American Childhood Cancer Org Inland NW
Thank you to our 10th Annual Light the Way Sponsors

Title Sponsor


Gold Ribbon Sponsor
Childhood cancer challenges remain in spite of progress


Although progress has been made in treating childhood cancer, there is much work to be done.
"A new report from the American Cancer Society (ACS) outlines progress made and –more importantly—challenges that remain in fighting childhood cancer."
Read Press Release Here.
The commentary, "Because statistics don't tell the whole story: A call for comprehensive care for children with cancer," was written by ACCO's national board director, Dr. Jennifer Cullen PhD, MPH. Read commentary here.
This comprehensive commentary articulately expresses the childhood cancer journey from a parent's perspective through the lens of a cancer researcher.
The American Childhood Cancer Organization Inland Northwest continues to support each child and family while advocating for continued progress in research and comprehensive care. The testimonial below that was received on our facebook page underscores the need for us to be ready to support families when they hear the words, "your child has cancer."
"I am absolutely blown away by ...[ACCOIN]. My daughter Gracie was diagnosed with retinoblastoma, and had her eye removed due to the advancement of the tumor. After so long of feeling like I was getting nowhere in figuring things out. I was directed to you... I can't express my appreciation enough, with how much we have already been helped in so many ways. The new member's bag you guys give is really a beautiful thing! You have helped take so much weight off of my family's shoulders already, and again we can't thank you enough. Accoin is an amazing organization and I'm so happy families like us have a supportive place to turn in times like these. Such a wonderful place."

Thank you for your support in helping families like Gracie's


Have a Special Valentine's Day with a Big Heart Dinner and Dance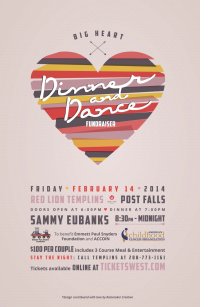 Enjoy an exciting Valentine's Day celebration that includes a 3 course meal by Templins' culinary staff and dancing the night away with live entertainment by the one and only Sammy Eubanks.
Doors open at 6pm and dinner will be served at 7:00. You'll have a chance to purchase raffle tickets for incredible prize packages and will have access to signature Valentine drinks at the no host bar.

Red Lion Templin's Hotel on the River Post Falls/Coeur d'Alene, Mark Peterson Kxly, Emmett Paul Snyders Foundation, American Childhood Cancer Organization Inland Northwest and Encore Events & Presentations have joined forces to create a Valentine's Day celebration that unites guests as one "Big Heart".

Although there will be no program at the event, all proceeds will benefit the Emmet Paul Snyders Foundation and American Childhood Cancer Organization Inland Northwest.

Want to make it an overnight getaway? Templins has special room rates of just $75. Call 208-773-1611 to book your stay.

Fred Meyer Reward card benefits ACCOIN


S
upport ACCOIN with your Fred Meyer rewards card.
Sign up for the Community Rewards program by linking your Fred Meyer Rewards Card to American Childhood Cancer Organization Inland Northwest at www.fredmeyer.com/communityrewards.
You can search for us by our name or by our non-profit number 93515
RACE 2 PLACE Registration Open


April 24, 2014
From the Race 2 Place Website:
"Race-2-Place is a fun and scenic 5k/10k run along the shores of the Spokane River, on the Centennial Trail in the Spokane Valley. All proceeds from Race-2-Place go to benefit families in crisis through Parker's Place - a camp for families who have lost a child to terminal illness, and the American Childhood Cancer Organization of the Inland Northwest - whose mission is to help families cope with life during childhood cancer treatments and rebuild their lives after cancer."
SAVE THE DATE 10th Annual Light the Way Dinner and Auction