Semana Santa (Holy Week):
Domingo de la Resurrección
April 20, 2014. is the same day as the English Easter Sunday. The most important day in Semana Santa. -- Two weeks after Semana Santa comes the Feria de Abril in Seville. Check the exact
Feria de Abril 2014 dates
.
~~~

Stay Connected!

Sevilla Congress & Convention Bureau!

Easter Holy Week (Semana Santa) is the most important festivity celebrated in Seville. Although its origins date back to the Middle Ages, its greatest artistic expression came in (
continued
)
Flamenco de orilla a orilla


Se convoca el décimo "Taller de capacitación profesional en la gestión cultural del flamenco", que se celebrará del 5 de mayo al 6 de junio en Cádiz. Para cualquier duda o aclaración pueden ponerse en contacto con el Instituto Andaluz del Flamenco, de la Consejería de Educación, Cultura y Deporte de la Junta de Andalucía, en el teléfono 955 542023.
Para más información.
XVII Concurso de Cante Flamenco


The
cool city on the Rhine
is home to the steamy annual Flamenco Festival, the largest festival of its kind outside of Spain. This year's Flamenco Festival (April 11-21, 2014) is a highlight for Flamenco lovers, 2,000 of whom will come to Düsseldorf from all over the world.
Makarines en la sala Chlöee (Madrid)


Aqui os dejo información de nuestro próximo cursillo de verano en Miraflores 2014
. ~ 4-9 y 11-16 de Agosto, 2014
The festival will be held from September 12th to October 5th, 2014. "Fuente y caudal"
Jose Antonio Rodriguez-San Diego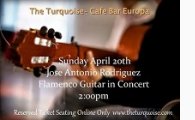 Sunday, April 20th, 2014 @ 2pm
The Turquoise Cafe Bar Europa, 873 Turquoise St. North Pacific Beach San Diego, California 92109 -- 858.488.4200 --
Reserve Ticket Seating Online Only at
www.theturquoise.com
15th Annual Havana Film Festival Sobre Las Olas (On the Waves)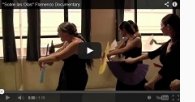 For over a hundred years, the art of flamenco has been crossing the ocean into distant places. Many have fallen in love with the deep song, the cry, the rhythm. This documentary brings us into the heart of flamenco in the U.S. and the artists who keep it alive.
Paco de Lucia Postage Stamp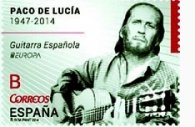 The postage stamp for Paco de Lucia is due to be released in Spain next week on April 23rd.
And!

Success Story: The Surprising Saga of Richard Black "Quijote"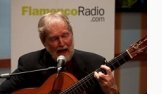 Success Story: The Surprising Saga of Richard Black "Quijote", Californian Flamenco Singer and Guitarist – Comments and Translation by
Brook Zern
"Yesterday in the Peña Flamenca de Juan Villar, I again had the tremendous honor of experiencing the song of Antonio Puerto, accompanied on this occasion by a fabulous Californian guitarist

'Herencia Flamenca' in Glendale

Saturday, May 31, at 7:30pm Sunday, June 1, at 2:30pm

Paco Arroyo, Guitarist & Musical Director; Yolanda Arroyo, Dancer & Artistic Director; Dolores Giménez, Dancer; Fernando Mejías, Guitarist; Vicente Gelo, Singer; Sonia Berbel, Singer; Gema Cumplido, Fiestero; Carlos Merino, Cajon and Francisco "Yiyi" Orozco Percussionist

Alex Theatre
216 North Brand Boulevard, Glendale, California
(818) 243-ALEX (2539)

Photo: Sari Makki Photography

A Student Flamenco Fiesta!

El Cid Flamenco Dinner Theater 4212 Sunset Blvd. Los Angeles, Ca. 6:00-7:00 PM. Doors Open: 4:30 PM

Tickets: $20.00 per person. Delicious Food and Bar Service additional. Only 70 seats, tickets are going fast! Don't be left out! Let your Flamenco Gypsy out!

Senovilla available in US!


Flamenco West is the exclusive US distributor of professional Senovilla flamenco dance shoes. Over 500 pairs in stock! Providing castanettes by Filigrana and Del Sur, we offer a fine selection of skirts, dresses, mantones, fans and high-end accessories for professionals and students alike.
(310) 305-7661

It's a flamenco trip in Jerez de la Frontera, Spain with Mercedes Ruíz
Dance. Do palmas. Hear flamenco all around you. Eat tapas. Drink sherry. Relax at the Arabic baths. Enjoy a private workshop with Mercedes Ruíz, bulerías classes with Ana María López and palmas with Perico. Watch an intimate performance hosted by Mercedes herself. And do it all in a small supportive group with a bilingual guide at your side throughout.

When: May 19 - June 2, 2014

Flamenco Show in San Diego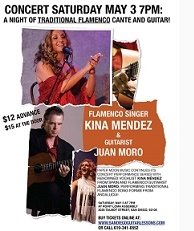 Paper Moon Music presents renowned flamenco singer Kina Méndez, accompanied by guitarist Juan Moro, for an evening of cante flamenco. From Jerez de la Frontera, Kina (
Workshop Info
) is a member of the flamenco dynasty that includes La Paquera de Jerez.
Tickets - $12 in advance, $15 at the door – are available at
Tickets Here
or 619 341-0552
Manuel Gutierrez in Oakland

Rina Orellana's Flamenco Classes
7-8p – int/adv SOLEA

8-9p – adv beg/int ALEGRIAS

Thursdays

7-8p – int/adv BULERIAS & CUADRO SKILLS

8-9p – adv GUAJIRA with fan

Saturdays

10-11a – flamenco for KIDS

11-12p – adv beg/int FANDANGOS DE HUELVA

12-1p – int SEVILLANAS with BATA DE COLA

Classes at Boogiezone Utopia in Torrance.

For complete schedule and more information, please
visit
Flamenco Retreat at Kaatsbaan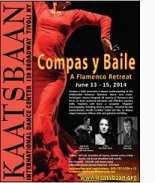 "Compas y Baile", A Flamenco Retreat Weekend - June 13-15, 2014
Tivoli, New York

Flamenco Retreat at Kaatsbaan International Dance Center promotes a deeper understanding of the relationship between flamenco dance and music. Directed by Kati Garcia-Renart, faculty includes Isabel del Dia, La Meira, Alfonso Cid, and Jed Miley.

Summer Flamenco Classes for Youth at Esencia Flamenca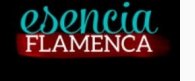 Ages 3-5 and 6-12
Fans, Castanets, Ruffles, and

Polka Dots

! Come learn Flamenco dance, basic Spanish, history of Spain, learn about Spanish artists, and Dance. Recital at the end of summer. Taught by Sarah Parra, Flamenco teacher for over 25 yrs. Classes for children.

Two sessions
ages 3-5 Mondays and Weds: 10:30 to 11:15am, 12 classes $130
ages 6-12 Tues and

Thursday: 3 - 4pm

, 12 classes $175
Rocio Ponce Flamenco Class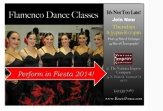 New flamenco dance class for teens and adults taught by Rocio Ponce at The Ventura Improv Company (34 N. Palm St. Ventura CA 93001), Thursdays 6:30-8pm. Intermediate level; however, beginners are welcome. Join now to perform in Old Spanish Days Fiesta in Santa Barbara this summer! Drop-ins welcome. For more info visit:
www.RocioPonce.com
Angelita Agujetas @ Costa Brava

Sundays 7pm
1653 Garnet Ave, San Diego, CA 92109
Hours: 11:00 AM to Midnight, Daily