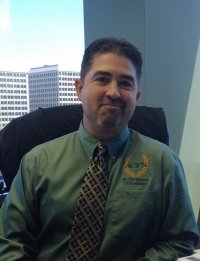 It is truly wonderful to see the growth we've had to date in 2014. We are poised to break previous records set for installations as well as new contracts received. We are on the verge of closing some very large national deals as well as looking to install 50 ATMs this month alone as a result of drops that you have made and the dedication of our Market Research and Marketing Departments.
Our business model is your weapon; wield it proudly because through every type of economy we have the competitive advantage and will remain the best choice among full service ATM providers. Embrace the fact and adopt the mindset that ACFN is the only national ATM Company that does not outsource any phase of our business to 3rd party providers. We are the only ones that have the flexibility and agility of a local company with the reputation, resources, and strength of a large, national firm. Bottom line is that with ACFN their ATM will be up and running more often which will result in more transactions, increased guest service, and ultimately higher profits! This is your competitive advantage!
It is a very exciting time here at ACFN. After learning that another one of our competitors was shut down and now ceases to exist (details below) this is just another shining example of how ACFN's business model is unsurpassed in the ATM world.
The below is an email that went out to many of you and considering the importance of it I've included it here.
We have a huge opportunity to take advantage of an unfortunate situation and we need your help.
A company called T.B.T.I was recently shut down by the SEC for committing fraud and violating securities laws. This is relevant to us because T.B.T.I was the Exclusive Endorsed ATM provider for all Starwood owned and managed hotels for many years. T.B.T.I. also services many Starwood branded hotels that are franchised so we should visit all Starwood branded properties.
The Starwood brands include Westin, W Hotels, Sheraton, Four Points by Sheraton, aloft, Le Meridian, The Luxury Collection, Element, and St. Regis. Our understanding is that although the ATMs are still operating all payments to locations stopped in January and we confirmed that TBTI was shut down by the SEC and charges were filed on 4/7/14 so they are definitely out of business.
This is a huge opportunity for us to take over services at any and all locations previously services by TBTI and we estimate that there are hundreds. To benefit we need your help to identify locations serviced by T.B.T.I so we can work together to replace them.
A list of Starwood Hotels that are in your area is attached. We need you to go to each of these locations and help us get the essential information we need to not only identify TBTI locations but also to be able to effectively communicate with the hotel to secure a placement for your ATM. If you are unable to do this or not interested please let us know ASAP – we definitely want to move faster than our competitors!
Assuming you are able and interested here is what we need:
Identify the ATM provider – specifically we are looking to see if the ATM provider is TBTI. This can be done by sliding your card and going through the transaction process until you get to the screen where it notifies you what company will be assessing the surcharge and what the surcharge is. At that point decline the fee and write down the information.
What is the Surcharge?
Is the ATM ADA compliant?
ATM type – model, condition, cleanliness or lack thereof, is there a cabinet or not.
Ask the front desk if they've experienced any service issues with the ATM.
Print the attached form and take it with you when you visit the locations. The form will organize the information and make it easy to report back to us quickly.
Let's make this a priority and benefit$
Some of you have already jumped on this and sent back valuable information and as a result we are in the final stages of closing a deal on a 1200+ room property that will yield huge dividends. Surprisingly though many of you have not responded so please jump on this opportunity ASAP. Also keep in mind that TBTI provided service to other locations besides Starwood branded hotels so when viewing competitor machines be sure to point out any that are listed as TBTI and for that matter please communicate with us to provide the name of any ATM company you discover on a competitor machine.
What you can you do to help yourself out?
Be directly involved. The detailed 5 step process outlined earlier should be performed while making a drop at every location that has an ATM. Make sure to write this information down and include it in your notes on the drop. The majority of you are not doing this and your/our closing ratio is not where it could be because of it. If the location does not have an ATM I encourage you to ask the person who you are leaving the packet with if they have ever had to send someone outside of their business to use an ATM.
You will be pleasantly surprised to see how much information most people will share with you when asked this question.
In closing I'd like to announce that two new members have joined our Marketing team. You may have heard from them already and if not you will shortly. Their names are Eric Harris and Jason Atkinson. Both bring solid backgrounds of relevant sales experience in tough, competitive markets. They have great attitudes and the necessary hunger to achieve fantastic results. I'll leave you with the following quote which should be remembered and acted upon often.
"For every disciplined action there are multiple rewards."
Jim Diltz

VP of Marketing