Hypericum Saves Your Skin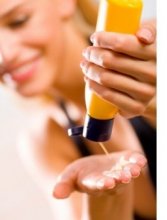 St. John's wort (Hypericum perforatum) tincture is well known as a remedy for depression. The oil, though less well known, is one of the best medicines for regaining and maintaining healthy skin.
Hypericum oil is made by infusing the fresh yellow flowers of St. John's/Joan's wort in oil until it turns red. It is not an essential oil. If you live where hypericum grows, you can easily make it. If not, you can buy it at any store that sells herbs.
Because hypericum oil heals burns, I honor it with the name St. Joan's wort. It is the only one-hundred-percent chemical-free sunscreen I know of. I apply a generous amount to all exposed skin every few hours to prevent sunburn and skin cancer.
Over the last fifty years, the rate of skin cancer in the USA has risen as fast as the usage of sunscreen. Commercial sunscreens encourage us to stay in the sun too long. St. Joan's wort oil allows a slight reddening of the skin, so we are alerted to the need to get out of the sun, and it protects the lower levels of the skin from mutations that lead to cancer.
Hypericum oil carries its anti-viral activities deep into the nerve endings. Applied at the first sign of an outbreak, it prevents eruption of herpes and cold sores. It eliminates shingles, and eases the pain of chicken pox. Repeated use kills the herpes simplex virus and prevents further eruptions.
St. Joan's wort oil also helps those with scaly skin conditions ranging from dry eczema to psoriasis. As an added benefit, hypericum oil eases muscle aches.
Hypericum is a short-lived perennial that loves the sun in the summer and the cold wind in the winter. It is herbaceous, having neither persistent branches nor a woody trunk. I look for the bright yellow clusters of St. Joan's wort flowers in fields that horses graze, since they rarely eat it. It loves roadsides, meadows, and hayfields that haven't been mowed in a year or two, but I have seen it growing from a tiny crack in a rocky cliff. Hypericum isn't fussy about soil so long as it can get the sun it craves.
St. J's is all about sun. It gathers the healing warmth of the sun into itself and releases it to us when we use it to soothe sore muscles. Its ability to survive, and even thrive, in fierce direct sun gives us the same protection when we rub it on as a sunscreen. And its anti-viral properties are like a blast of solar radiation that kills herpes and human papilloma virus (HPV) when the oil is used externally, and colds, the flu, even HIV (the virus that causes AIDS) when large doses of the tincture are taken internally.
In over-grazed pastures, shorn sheep that eat hypericum succumb to sunburn. Many herbals mention sun-sensitivity as a possible side-effect of internal use of St. Joan's wort. It was certainly true of those who took purified alkaloids from hypericum in drug trials; and it is true of those who take the dried herb in capsules and those who drink strong teas made from the dried plant. For safety sake, I use tincture made from fresh flowers internally and infused oil of the fresh flowers externally.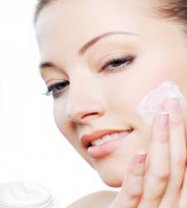 The olive oil that hypericum flowers are usually extracted into is active, potent nourishment for the skin. No other oil is as beneficial to skin health, although the devotees of sesame and almond oil would argue with me. Olive oil clears redness and eliminates inflammation; it reduces sensitivity and restores good skin tone; and it's high vitamin E content heals wounds, tears, and breaks in the skin.
Thickened with beeswax, hypericum oil makes a fantastic, healing lip balm which prevents burned lips when skiing, counters cold sores, and leaves lips plumper and more kissable.
Many people are shocked to learn that there is no government agency that oversees the safety of products sold for use on the skin. Unfortunately, many common substances in skin care products are actually harmful to our skin and our health. Not just chemicals; essential oils irritate the skin, too.
Used as a night cream, St. John's wort oil eliminates fine wrinkles and evens out skin tone. As a day cream, hypericum protects the skin against the ravages of the sun and imparts a healthy glow to lips and cheeks. With so many great uses, it's no wonder that I don't leave home with it.

Susun Weed is recognized as a grandmother of the herbal renaissance in America. Her books – the Wise Woman Herbal Series – including Wise Woman Herbal for the Childbearing Year, Healing Wise, New Menopausal Years the Wise Woman Way, Breast Cancer? Breast Health! The Wise Woman Way, and the forthcoming Down There! The Wise Woman Way have sold millions of copies and are used all over the world. She believes herbal medicine is people's medicine.
Karen Wright Henderson, MS, MPH
The Wright Touch, LLC

804-448-9955

wrighttouch@holisticwellnessva.com

Hypericum grows in gardens from Alaska to New Zealand. It is such a common wildflower, however, that only those who live in desert and southern climes grow it. Although St. J's prefers full sun, rather poor soil, and drier rather than wetter situations – all abundant in deserts – it requires long, cold winters, too. So the further south one goes, the less hypericum one finds.
High, cold, well-drained slopes are perfect sites for cultivating hypericum. The seeds are tiny and need to be frozen and thawed several times before being planted. Young hypericum plants respond to attention; the older ones take care of themselves in the garden unless overshadowed by tall weeds like mullein, which likes the same sort of edgy places that St. Joan's wort favors.
Gather flowers, flower buds, or flowering tops at midday, when the sun is at its strongest, and infuse in olive oil or 100 proof vodka for six weeks.
Here's how Gretchen Gould of Amazing Grease makes the world's best hypericum oil.
First, spend time relating to the fairies of your herb hill; go there in all weathers and radiate gratitude. Then, on a hot, sunny day in June or July, gather the buds and freshly-opened flowers of St. Joan's wort into a covered basket. Work quickly so the flowers don't wilt.
Fill a very clean, very dry jar very full of your just-picked flowers; no, dried hypericum just won't do. Pour olive oil over them – using a chopstick or wooden spoon to release air bubbles – until the jar is full to the top. Cover tightly and allow to infuse in a cool place for 6-8 weeks. Strain the deep red oil out of the flowers. It will keep for up to four years if protected from light and heat.
To make hypericum tincture, use one-hundred proof vodka instead of oil. The tincture will turn red immediately but still needs to sit for six weeks before use. The dose is a dropperful as needed.


About
The Wright Touch, LLC
Karen Henderson is the Owner and Operator of The Wright Touch, LLC Holistic Wellness Practice and Herb Farm in Caroline County, Virginia. She received her training in Herbal Medicine from Maryland University of Integrated Health (MUIH), Laurel, Maryland and also studied at Sacred Plant Traditions, Charlottesville, Virginia. Karen is also a Licensed Massage Therapist, Certified Health Coach, and Certified NES Practitioner. Herbal consultations are available by appointment.




For more information, or to schedule a consultation, please visit http://www.holisticwellnessva.com, or contact Karen at wrighttouch@holisticwellnessva.com.



.

Thank you Susun Weed for sharing your wisdom and providing informative articles to this newsletter!