Radio personalities and national touring & recording artists,

Ernie & Debi Evans

welcome you to review their
EPK (Electronic Press Kit)
___________________________________
Allow this Florida based duo to entertain your audience and you'll have a new favorite.



Famous for their tight harmony, male & female lead vocals and gifted instrumentals, the Evans' are a highly sought after act. Their unique sound favors the era of music dominated by guitar legend, D'jango Reinhart.




The combination of acoustic jazz and outstanding vocals offers your audience a family friendly stage show second to none.



Their standard show has them performing unique renditions of music from the 30's & 40's to today most popular jazz.
Performances can also be hired as a Trio or Quartet
Call them today and experience
"The Hot Klub Katz"

for yourself!


(Our price may vary but we make an effort to fit every budget)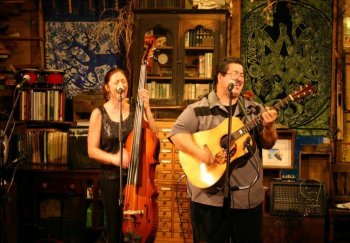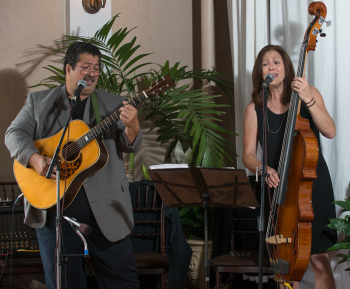 ___________________________________


Ernie Evans
is a third-generation musician with the rare ability to play multiple instruments, sing lead and sing both low and high harmonies. Ernie toured recently as a member of Grammy Nominee Valerie Smith & Liberty Pike, 5-Time Grammy Award Winner Vassar Clements, and Motown legends "The Platters". His music has taken him all over the world throughout his career. When he is not on stage he can be found broadcasting in St. Augustine, FL at WFCF 88.5FM or doing session work for artist all over the country.

Debi Evans,

on their own shows, airing weekly. Bassist and vocalist Debi Evans adds family-style harmony vocals to the stage and is an accomplished musician in her own right. Melting harmonies together and singing lead, her sweet voice captures the attention from anyone within hearing distance.
_______________________________
Ernie & Debi Evans represent what talent buyers expect from entertainers today.
Ernie Evans - Vocalist Guitar


Debi Evans - Vocalist, Upright Bass