Not only were we raising awareness in the community, we also added additional events at the hospital for the kids and families during our "Paint the Town Gold" campaign.

We want to thank EVERYONE who participated this year. We are already looking to 2015 - Please let us know if you would like to be involved. View our
2014 CCAM materials
for ideas on how to participate next year - or suggest a new idea!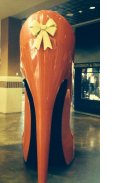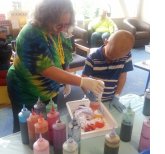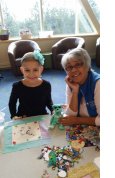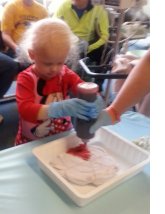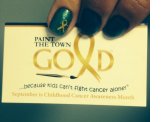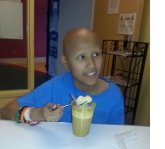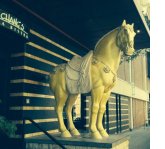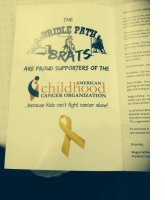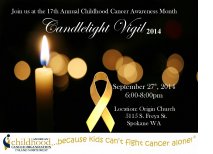 Thank you to our brave Candle Light Vigil parent speakers, Amanda Hadlock and Sarah Brown and our chairpersons: Tina Swanneck and Rebecca Lidenberg. Also, thank you to our host, Origin Church and pastor Redhawk Rice-Sauer.

Shout-out to Tammy Brickner for chairing CCAM 2014 again. We look forward to "Painting the Town Gold" in 2015. Please contact us at office@accoinlandnw.org to get involved.

Thank you for Painting the Town Gold!

Brickhouse Massage and Coffee Bar

Bridle Path Brats

Downtown Spokane Partnership

Emmett Snyders Foundation

Julie Moss

KidSmile Dental

Lucky's Irish Pub

Merete Movement Carnival

Mirabeau Park Hotel

Mojo Lab

Numerica Credit Union

PF Changs

River Park Square

Spokane Firefighters

Tie-Dye Ladies

Wake-Up Call