Hybrid twins: one human, one horse. A man pregnant with a kangaroo, a woman raising a baby dragon. A twenty-first century Virgin Mary reimagined as a queer single mother giving birth in a petting zoo. In this collaborative short story collection, Carol Guess and Kelly Magee magically and playfully subvert assumptions about gender, sexuality, parenting, and family. These lyrical fictions bare teeth and spare no claw. They'll leave you questioning the lines between human and animal, parent and child, love and dominion.
Advance Praise

Enter into the unexpected—human progeny not as Homo sapiens but as a dragon, a school of fish, a foal, a clutch of rattlesnakes, a spider. The mothers wrestle with the surprise births of furred, finned and winged offspring, and then worry: how will my baby fit in at school? what happens when she literally leaves the nest? Part parenting manual, part cautionary tale, Guess and Magee provide a smorgasbord of genetic tales and travails. Each piece takes you into startling worlds of brilliant imaginations set loose.

—Sara Greenslit, DVM, author of As If a Bird Flew By Me

Wondrous and wonderful; a virtual feast of imagination, humor, and heart. The rare example of a short story collection that grows and builds upon itself til it becomes a ladder to something somewhere else.
—Ben Loory, author of Stories for Nighttime and Some for the Day

In allusive and poetic prose, Carol Guess and Kelly Magee take their readers into a world where human parents give birth to animal babies. Yet the underlying concern of With Animal is wholly human: how do we come to love, and how do we know when to hold on to it or let it go? These crystalline narratives explore ideas of instinct, caregiving, desire, and need, boldly facing the darkest secrets of parenthood as well as the greatest joys—and unearthing the complex moment when the two meet.

—Kristiana Kahakauwila, author of This is Paradise

Carol Guess is the author of fourteen books of poetry and prose, including Switch, Tinderbox Lawn, and Doll Studies: Forensics. She is Professor of English at Western Washington University, where she teaches Creative Writing and Queer Studies.

Kelly Magee is the author of Body Language, winner of the Katherine Anne Porter Prize, and The Reckless Remainder. She teaches in the undergraduate and MFA programs at Western Washington University.

When she learned that the baby was human, she felt disappointed. It rattled inside her, fearless and furless, alphabet of bones and thumbs.
An animal pregnancy was all soft tongues, lapping; pink silk and decoration. Multiples, so they took care of themselves. They nested inside each other, fully formed at birth.
It wasn't her fault, her husband reminded her. His DNA decided things. He was the carrier; he was the mail. Still, she talked to the baby animals. Named them as if she might keep them.
Of course mothers could only keep human infants. Baby animals were whisked away. Her first three pregnancies were bundled in yellow blankets and disappeared down the hall with the nurse. Of course they reassured her that her kittens, puppies, and pandas were loved; cuddled and coddled. Of course she didn't look at the smoke that flew over the hospital, crooked gray birds.
This time it was human, so she could keep it. Her husband would name it, reward her with gifts. She would be given a pink or blue blanket, press a heart to her chest, nurse a face when it cried.
Where were her animals? Where had they gone?
The little human baby snowballed inside her, colder and harder, collecting sharp stones.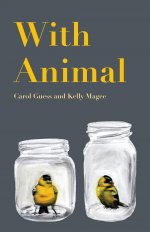 ISBN: 978-1-62557-930-0

FORTHCOMING in

May 2015

Price: $15.95