Inquire Within or "Why Meditate?"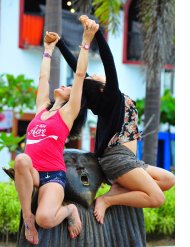 Paramahansa Yogananda taught that "Prepare ye the way of the LORD" holds a deeper meaning for yogis: opening our energetic gates and pathways so we can prepare to receive divine Consciousness in meditation.

Some Reasons to Meditate:
1) 20 min = 5 hrs sleep;
2) Peaceful community;
3) Brain cells renew;
4) Cortisol lowers = inflammation lowers; belly fat lowers;
5) Timelessness = Spiritual Reunions; Agelessness;
6) Quietness, Fearlessness = Peace may grace us.

If any of those favorite reasons I meditate appeals to you, sure, go ahead and research them; or better yet, maybe just sit down and do it.

In my February ENews I recommended Thich Nhat Hanh's little booklet "Making Space" and I will again, just because it's little, so you're more likely to do it, & not just read it.

Basic RX: 2x daily to begin the day, & the eve (or night). Then, wherever and whenever you most need it or as you find windows in your day. A bumpy flight or boat ride, snorkeling or practicing asana, rush hour crushes, challenging confrontations! And, feel the nectar of the eternal Spring that buds within and begins to be with you when you need, as you need. Happy Spring!

Playful Connections: April 11th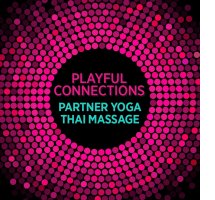 I am super delighted and excited to partner with The Dancing Path on a Saturday evening, April 11th, to offer juicy sweet partner yoga, Thai, and healing touch! No flying! All levels! No partner needed. Early Bird by April 4th is only $30! At Yoga Vida's beautiful NoHo studio on Broadway between Bond & Bleecker. Click here

AcroYoga Yoga Vida: April 19th

My second, Yoga Vida's fourth, AcroYoga workshop partnership! Their first two were with Matt G, and the community here is growing! Assisted by Siewli Stark and Pashupa Goodwin, we warm up in circle,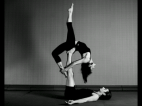 prep with drills that prepare us for flying, basing and spotting, then build our 3-D Yoga together with flying flows that will empower us, and surprise us with our capacity for trust, strength, and sheer joyfulness! The more the merrier; all levels will receive encouragement, challenge, and loving support! No experience or partner needed: Partners R Us! Details and registration here

Mother's Day Restorative: May 9

Not only for mothers: come, anyone needing to dip in and discover their inner self-nurturing. Rejuvenate the spirit and the body with fully supported Yoga poses.
Aromatherapy, mantra, loving touch, and my guided Chakra meditations

take you to a healing trance state wherein you may find deep nurturance. Each guest will receive a delicious Wild Orange essential oil gift to bring home. At Pure Yoga Eastside 2-4PM Saturday, May 9th. All are welcome! Friends, register two together for a discount! Pre-registration strongly urged as these Restorative events typically sell out.

Woman Tribe Retreat: June 5-7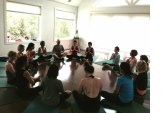 I am delighted to announce registration for "Woman Tribe: A Spring Goddess Retreat" for the weekend of June 5-7 at Wagging Tail Yoga Studios on Wagging Tail Farm in Bethel, NY.

Weekend escape from the city? Check. Yoga and more yoga, laughter and fine catered healthy dining? Check.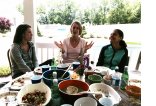 Sweet nature all around, amazing Yoga studio space? Check. Wonderful camaraderie of genuine women guided through inner and outer exploration, and
sharing their own love and wisdom? CHECK. Flow Yoga, Restorative Yoga, and AcroYoga. Massage options by LMT can be arranged upon request.
This is the fourth year of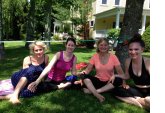 retreat collaboration for me and Ora Ramat, owner of Wagging Tail Yoga, teacher and most loving open hostess goddess non-pareil! My AcroYoga ninja sister Lesley Kennedy will assist, and that means deepest tissue massage options if you book with her!
Retreat details and registration here...

This September 26-30, 2015 in New York City, I co-teach the 5-day NYC Elemental Immersion with Katie Capano from Philadelphia, assisted by an awesome crew of certified AcroYoga teachers!!!!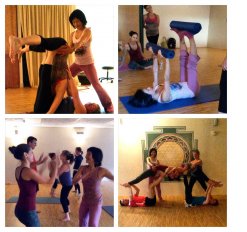 Click here...
An AcroYoga Elemental Immersion is a luxurious delving into both of the branches of AcroYoga practice, the Healing Arts (Lunar) and the Acrobatic (Solar) side.

In the summer, I will assist the NYC Lunar Immersion (5 days of Therapeutic flying and Thai massage, yum!) June 27-July 1st. There will be a discount for anyone registering for both.
September Immersion Pre-Registration: here

My Schedule: MaryAranas.com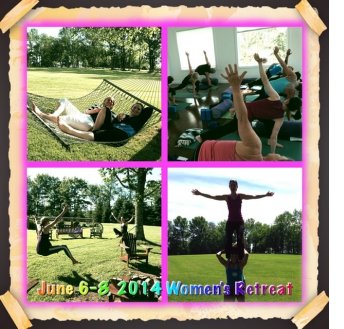 See my Website's home page any time for my Events as well as regularly scheduled classes in NYC. Constantly updated as new links and listings arise!

See you in class, on retreat, at a festival or immersion, or at a workshop soon!

Happy Spring! Happy Spring!
OmmmmmMary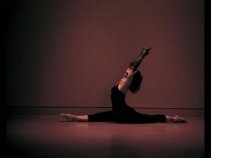 Congrats to Pure Yoga and Om Factory, both honored among the "Top 10 Yoga Studios in New York City"!!!!

Considering how many hundreds of yoga studios are in the Big Apple, this is

delightful praise and recognition, indeed!

See this article and FYI see my upside-down back in the Om Factory aerial yoga photo! Article link here.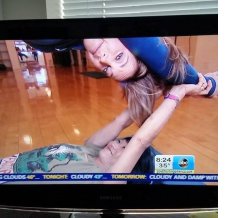 From a few quick texts Tuesday between multiple classes, I pop in to Om Factory and base GMA correspondent Ginger as she interviews me for Wednesday 3/25's Good Morning America segment on AcroYoga and its power to strengthen communication and relationships! See the TV news clip here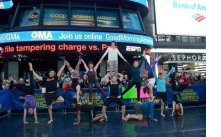 This was beautifully proven by our local AcroYoga community, that came strongly together within a few hours' notice to film a class, a jam, and demos on set in studio and on the pre-dawn streets outside the NYC studio! See here

Free Lulu Class: April 19th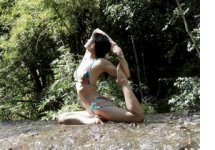 Pure East is their Studio of the month, so there will be Pure teachers every Sunday morning in April offering a free flow class! Join me at Lululemon's 66th Street and 3rd Avenue store on Sunday morning April 19th, for a community vinyasa flow class from 9:30-10:30.

Om Factory Flight School is now featuring a different Thursday evening 7:15-8:45 AcroYoga series every month!

March opened with PLAY, CREATE, PERFORM with Ryan Stepka and myself.

April 9-30 is SPRING AHEAD! ~ A 4-week progressive series with Linda Mittel.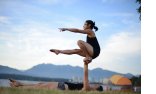 May 7-28, I join with Eleanor Bramwell, petite power lady base
from B.C., Canada, for OmTown Girls, a 4-week series for intermediate same-size work, both acrobatic and therapeutic!

Come with 6-12 months experience basing or flying. If in any doubt, the April SPRING AHEAD! series is a great preparation for OmTown Girls!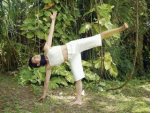 I honor your email privacy and never share lists. If you desire, please do Forward an issue to a friend and if you received a Forward, please Subscribe directly to my monthly ENews that are my cyber-connection to my wider yoga community and family. You are always welcome to Reply, or to Unsubscribe.