Summertime, and the livin' is easy! So go the lyrics to the song of one of the greatest American operas, written by one of America's greatest composers, George Gershwin. That opera is
Porgy & Bess.
Well, it may be easy living for some of us but not for all. This is why we must try to maintain an attitude of gratitude as we engage each day of our lives. It's so easy to get caught up in the moment and to forget just how good life is for many of us. We all have our gifts and we really can't give our gifts if we are preoccupied with how other people are going to receive them.
Sunday, 12 July 2015, 11 am

Rev. Michael Carter
"Fundamentalism and Doubt"
Writer Ann Lamont states that doubts are the ants in the pants of faith. We as UUs are encouraged to cherish our doubts. With that said, the challenge is co-existing with others who not only believe themselves to be more theologically certain than we are about the nature of the universe, but are not too shy about forcing those beliefs on others, in sometimes violent ways. Perhaps attempting to understand the fear that the fundamentalist has and how he or she has come about those fears will enable us to move from our own fears about them, to a place of not simply mere tolerance, but acceptance. After all is said and done, we do not have to think alike to love alike. See you at church!
Sunday, 19 July 2015, 11 am
Rev. Dianna Ritola
"Some
Things

are Broken, but I'm OK"

There are so many voices both outside of us and from within that tell us that the world is broken, that WE are broken. This topic addresses this pervasive negativity with the understanding that we are in a time of change, and that in the messy middle of it all, we can be OK.

Rev. DiAnna Ritola received her ordination as an Interfaith Minister from The New Seminary for Interfaith Studies. Her ministry centers on spiritual counseling for sexuality and intimate relationships. She is a professional speaker on the integration of spirituality and sexuality. She has lived in cities large and small, explored her inner Earth Mother in rural Vermont where her two children were born, and moved to Asheville, NC in 2001. DiAnna is also on the clergy team with The Mother Grove Goddess Temple in Asheville. DiAnna is available for counseling sessions in person, or via phone or Skype, as well as weddings, commitment ceremonies and other rites of passage. Her website is www.DiAnnaRitola.com.
Sunday, 26 July 2015, 11 am
Brad Rachman

UUCSV Choir
We welcome back Black Mountain's own Brad Rachman for another service that is sure to touch your highest and deepest self. The Choir will also perform.
Dr. Brad Rachman has been practicing yoga, meditation and mindfulness for over 35 years. He and his wife Martia founded Black Mountain Yoga- a local epi-center for yoga practices and conscious living. He is also the clinical director for the Rachman Clinic, a local, multi-disciplinary center proving personalized medicine through advanced diagnostics and non-toxic treatments. He is a father of 4 daughters and enjoys all things that are alive and filled with spirit.
Sunday, 2 August 2015, 11 am
Linda Metzner
The Divine Feminine
Our own Linda Metzner will be our guest speaker, presenting a service focused on the Divine Feminine featuring her own poetry and musical compositions. The divine soprano Kim Hughes will be a special musical guest!
Sunday, 9 August 2015, 11 am

Rev. Michael Carter
Don't Be Afraid Of The Dark
American Culture is afraid of the dark. The darkness of people of color, and the darkness and shadow side of our own personal and collective lives. We have become so "Enlightened" because of our love of the rational and because of our love affair with technology, that we have lost the meaning of what it means just to be and to let the darkness envelop us from time to time. Yet, in many ways this is beginning to change as we evolve personally and collectively into becoming more human. Join us as we explore how to embrace our shadow, our own darkness within and without, as we become more happier, more loving, and more creative human beings. See you there!.
Greetings from the UUSCV new Director of Lifetime Religious Education (DLRE)! I am excited to work with so many of you in this capacity. Who am I you may ask? Let me share…

I hail from Burnsville, NC in Yancey County. I moved to Black Mountain when I met and married my husband who is a Black Mountain native. I've been happily married for 20 years & have three children, well only 1 is still a teenager.

I have had the privilege of working with Cub Scouts for 5 years, Girl Scouts for 9 years (this year begins my 10th) as well as the RE department here at UUCSV since 2007. I love working with kids and watching them come into their own as they discover their values and beliefs and how they go from doing what "parent" tells them to deciding on their own that situations do or don't jive with them. I also love learning from the kids who have a wonderful ability to cut through to the heart of things.

Enough about me and on to RE!! Our Summer Sundays program continues. We are still welcoming offers to share a talent or skill that you have in the months of July and August. There is so much talent and wisdom in our congregation! The kids deserve to learn from you. If you prefer the younger kids, preschool also has availability through July and August. There is a sign-up sheet in the foyer. Let me know how you would like to participate!

Don't forget that August 8th is our annual UUCSV trip to the Asheville Tourists! It's a great time and we hope that we will again have enough people to get our name in lights at the game :)

Please don't hesitate to contact me if you have time to share with RE or if you have any questions or concerns.

--Beata Ball, Director of Lifetime Religious Education
(hereitsmine@gmail.com)

UUCSV members and friends, Our Social Action Committee (SAC)
is looking for someone to establish and maintain connection with this coalition. We are wondering if someone was moved by our recent speakers Rev. Scott Harden-Nieri (Climate Change: Crisis and Hope) and David LaMotte (World Changing 101) to take some action. Details follow"

Commit2Respond is a coalition of Unitarian Universalists and other people of faith and conscience working for climate justice.
Unitarian Universalists and other people of faith and conscience have been on the frontlines of environmental justice for decades. United in collective action, connected through partnership, we will change the world. We are diverse in spiritual belief, yet united in faith that a better world is possible and that our collective power
can create change. We are facing a climate crisis. Climate change is already causing suffering for peoples around the world every
day. Recognizing the interdependence of all life, we are called as people of faith and conscience to heal and sustain the planet we call home. Check out the follow link for more information.
http://www.commit2respond.org/about Please contact Geoffrey Stone (gfstone@bellsouth.net) if you are called to take this on.

We welcome two special new members this month - each of them has already found a way to assist with congregational activities! The editor apologizes for the lack of photos. Membership sent them, but technical difficulties occurred - we will include the photos next month!

Jackie Matlock

Jackie comes to Black Mountain by way of Hyattsville, MD where she grew-up and Marlboro, NY where she spent summers on her grandparent's farm. She received her education from Academy of Notre Dame, Washington D.C. and Accounting and Business Management from St Petersburg Community College. Jackie has worked as an Administrative Assistant Marketing Support for Kaiser Foundation Health Plan of NC, Administrative Assistant to general contractors at two condominium developments in St Petersburg, and North Miami Beach, FL, and a secretary and service advisor for a Volkswagen Dealership. She has two adult children.

Jackie moved to the Bat Cave area with her husband David (Dave) in January 2015. They moved from Baden Wurttemberg, Germany. She is enjoying a more relaxed life in WNC now that Dave has retired. She is enjoying getting to know the area and making new friends and acquaintances. She also enjoys reading, keeping up with current events and taking long walks with Casey their 4 year old Australian Shepherd.

This is the first Unitarian Universalist church Jackie has joined. Raised a Catholic, Jackie left the church as an adult and has "generally experienced open thinking after that. I guess I have been a UU for the majority of my life but without affiliation until now"

John Schaff

John grew-up in Elmira, NY, a river town best remembered by him as the burial place of Mark Twain. He lived and worked in New Jersey, practicing law primarily in Flemington. He was also a board member of a residential youth facility. Most recently he lived in Saranac Lake, NY, which is in the Adirondack Park near the Canadian border. While living there he participated in a variety of programs in the state prison facility and was on the planning board of the local township.

John has two adult children. He has a Labradoodle named Huck who he is as adventurous as his name sake. John moved to Black Mountain in the autumn of 2014. He first attended a UUcongregation in Saranac Lake. He would be interested in being part of a group of UUCSVs which read and discuss books having some significance to our understanding of what it means to be human in our time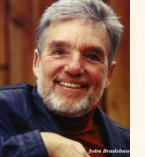 Rev. Carter facilitates this film series which meets Tuesday evenings at UUCSV, from 6:00 pm to 7:30 pm. At each session we view and discuss one episode of John Bradshaw's ten part series, "Homecoming: Reclaiming and Championing Your Inner Child." Mr.

Bradshaw

's work examines the human growth potential lying dormant within each and everyone of us, and explores why we fail to tap into this unlimited potential. He uses several therapeutic techniques and modalities, focusing on Family Systems Theory and the wounded inner child. The series began on May 19th and continues on Tuesday evenings through July 21st. After a break, it will resume on August 11th.

An update from Teresa: Thank you for the books! Due to popular demand, book donations are on hold at Books for Good. But keep donations coming! I'll get them there as soon as they have room for more. What is needed now is shoppers! Tell your book lover friends about this great place. I know it is a bit of a drive for most of us but I go at least every other Monday and would be more than happy to take others. If you are interested in riding along or just want more information please call me at 275-8453. Thanks again, Teresa Ballinger.
Books for good does not accept Reader's Digest Condensed Books, magazines, VHS tapes, encyclopedias and some outdated materials.
The Annual Congregational Meeting was held on June 7th, with 45 members in attendance. Both the proposed budget and the addition to the by-laws was approved. The slate of new Board members (Sarah Kirkpatrick, Tina Rosato, Carol Sheeler, David Wells) was approved unanimously. Members rotating off the Board of Trustees were thanked for their service: Chuck Shimer, Mary Soyenova, Sue E. Miller and Rebecca Williams. Chuch Shimer will continue to serve as the point person on the portico enclosure project.
.
Board Meetings are held the third Monday of the month at 6:00 pm and congregation members and sustaining friends are always welcome to attend. At the June meeting, the building rental policy was discussed along with lot drainage and trash issues. Enclosing the portico was discussed at length and it was agreed that Chuck would present two bids to the BOT at the July meeting and a contractor selected at that time. The portico project will then be presented to the congregation with the aim of obtaining congregational support and starting a capital campaign. Utility and printing costs were discussed with some cost cutting solutions proposed and those are being investigated. It was confirmed that Rev. Michael Carter signed a two year contract, and Beata Ball a one year contract.

The full minutes of each Board Meeting are posted on the main Bulletin Board outside of the office each month. This monthly feature provides just the highlights of current activity.

From the Minister (continued)

The only prisons in the world are the ones of our own making, and for every prison we make, there is a key to unlock the door. We are not victims in or of this world, but we are the ones we have been waiting for. This is how we create the work of art that is our life.


July is here. A month of laziness it seems to me. Everything appears to slow down for me, especially in July. It's hot so what's the rush, my body seems to say. As I have gotten older I have learned to listen, at least most of the time. Yes, there are the complaints about the heat but I am always vigilant about not complaining too much as autumn is right around the corner. I learn to let life come to me in the month of July. Picnics, barbeques, Fourth of July Celebrations, weddings, hiking, short trips, summer romances, ah what a month July can be!

Take each day as it comes and enjoy being lazy if that's what you feel. There is more to life than making it speed up. Enjoy and Blessed Be.

The Succession of The Four Sweet Months

First April, she with mellow showers

Opens the way for early flowers;

Then after her comes smiling May,

In a more rich sweet array.

Next enters June, and brings us more

Gems than those two that went before.

Then lastly, July comes, and she

more wealth brings in than all those three.

By Robert Herrick
If you or anyone you know needs Congregational Care for support please contact Ann Sillman at 828-335-1588 (cell) or crugerhansen@gmail.com. (Updates on members' illnesses or other needs will appear in the Current, as such information is time-sensitive and rapidly becomes outdated.)

This month's Friday Fling will be at our regular time; the third

Friday, July 17th at 6:30

. Meet at church, bring a dish to share. Potluck is at

6:30

and movie starts at

7:00

. This month we'll be viewing CHOCOLAT, starring Juliette Binoche, Judi Dench, Alfred Molina, Lena Olin, and Johnny Depp. Nominated for five Academy Awards this is a beautiful and captivating comedy from the acclaimed director of The Cider House Rules. Everyone welcome. We'll be thinking of our leader Norm and sending him good thoughts and positive vibes while he is with his brother.

In June, the UUCSV choir beautifully sang one of our director's compositions, "Come Breathe With Us, Gaia." Also, thanks to Ginny for organizing the concert by Jim Scott. In July, we will perform on the 26th, the fourth Sunday as usual. We will meet to rehearse on Sunday the 19th at

12:15

after the service, again on Wednesday the 22nd at

7 PM

, and then on the day of performance,

July 26th

, meeting to rehearse at

10 AM

. Come sing with us, we're a very friendly bunch!
Linda Metzner,
choir director

This is a proposal for the formation of a group at UUSV with the purpose of reading and discussing books having significant literary, social and/or ethical qualities. Initially I suggest reading a recent book written by Atul Gawande, a physician, entitled "Being Mortal". Some may have seen the Frontline program in which the author is featured.

Another area which I believe merits reading and discussion is the increasing income inequality both in this country and in other developed countries. There are, I believe, accessible books on the subject worth exploring. I am, of course, interested in ideas others may have and hopefully as time goes on the group will develop additional ideas.

If there is interest I suggest we meet to discuss a schedule which works with most people. A monthly meeting lasting no more than 2 hours should suffice. I suggest we not commence until October after the summer holiday season. Please send responses or questions to me, John Schaff, at johnaschaff@gmail.com.

Using the office printer to print out copies? Our printing costs have increased considerably beyond what was budgeted and anything you can do to help reduce our printing will be appreciated. Whenever you use the printer, be sure to note it on the Copier, Scanner, Printer LOG OF USE form located by the printer. That will help us budget more accurately for our printing costs.

Sign-up has begun!
Our next Room in the Inn event will be on

Friday, August 21st

at the Black Mountain Presbyterian Church Fellowship Hall. This program provides homeless women in Buncombe County with temporary housing, meals, and transportation. Anyone wishing to volunteer can add his/her name to the sign-up sheet in the foyer or contact Connie Krochmal (828-686-3112, or cacti730@gmail.com
). We still need back up van drivers for the evening and morning shifts, back up overnight volunteers, and food for all three meals. Thanks in advance for helping out.
Connie Krochmal, Room in the Inn coordinator, Social Action Committee
The fairly new UUCSV Women's Group meets monthly on 2nd Fridays at 1:00 pm. On July 10th we will convene at the clubhouse of the Lynx Condominiums. The proposed discussion topic is to share a significant or challenging work project or other accomplishment.
Contact Susan Hurley if you need directions. Many thanks to Sue Miller for her work getting this group organized. The July gathering will also discuss ways to fill the gap left by Sue's departure.


Just a reminder - if you know a member of the deaf community who is interested in UUCSV, let them know that American Sign Language interpretation is available for Sunday Services. The request for this service needs to go to asl@uusv.org no later than 48 hours before the Sunday program. Thanks to Erin Spainhour!

Since your editor will be traveling, there are two deadlines for August. Please submit anything you can by July 17th for early preparation. Final deadline is August 2nd. The publication date will be on or about August 5th. Text in the body of an email is the easiest format for me to use. Send items to newsletter.uucsv@
gmail.com. Ginny M.

Board of Trustees:
Jim Carillon
Diane Graham, President
David Groce, Vice-Pres.
Sarah Kirkpatrick
David Reid
Tina Rosato
Carol Sheeler
Dave Wells

Minister, ex-officio, non-voting Board Member:
Rev. Michael Carter,

Treasurer:
Lee Reading


On my recent trip to California I attended a service at the historic (1850) First Unitarian Universalist Society of San Francisco. The influential Unitarian Thomas Starr King ministered there for four years before his death in 1864. I also learned that Starr King was deeply devoted to wilderness and its preservation, and that a mountain in Yosemite Valley was named for him.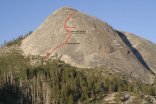 Three days later I saw it in person. Serendipity at its finest.


Ginny Moreland