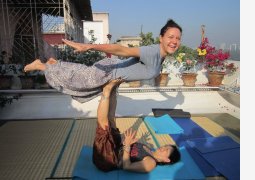 A question I ask myself, and students: "What does self-nurture look like, to you?"

Not a frivolous inquiry, taken at a soul level, this is an inquiry into our core needs and essential values. Your friends' answers will have some similarities to yours, and also some differences. The more deeply satisfying answers you find for yourself, the more able you will be to fulfill yourself and support others.

What are your and core needs and essential values? For me, touch, movement, and physicality are essential. Connection is essential. But so too is solitude. So too is silence.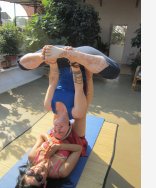 My student Ava, an author and writing professor, attended a writers' workshop where participants were invited to explore their values and goals, and weigh where those matched, or differed.

Their discovery: when goals and values were aligned, there was focus, and power. And peace. Where they were misaligned ~ well, imagine performing an asana sequence with your neck, shoulders, and knees all out of alignment. You can push through it, but with huge effort, struggle, strain, and fatigue.

Meditation and inquiry are spring cleaning for the soul. They bring fresh feng shui into your body temple, a cleaner, clearer space.



While I was in India on a yoga retreat, my wonderful hubby repainted our home! So I came back to a blessedly fresh living space both internally and externally. And I shall make sure to continually refresh both, because I like living in more freshness. The clarity of "letting go" closet clutter in the mind, echoes that of the house.

The more daily our mindfulness practice, our daily "temple care," the more peace in our inner abode. And this reflects outward into more power in our outer abode. So, an enjoyable but deep inquiry: What does self-nurture look like, for you?

Join my 4th year with co-teacher Ora Ramat and our 7th weekend retreat at her glorious Wagging Tail Yoga Studio in Bethel, New York, Catskills.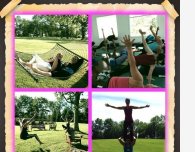 From Friday evening to Sunday afternoon, escape the city and its stresses with a congenial circle of spirited yogis, all levels, all ages, all wonderfully and magically drawn together each retreat, to share a soul refreshing, life transforming weekend. The focus for this Spring retreat is Inner Nature and the joy of being fully present. We use Yoga, nature, community, and meditation to restore ourselves this weekend.

We are housed in the historic, beautifully renovated family farmhouse on Ora's 100-acre estate. Practice in the custom-built yoga studio bathed in light from the vaulted sky lights and windows that open to views of green. Enjoy healthy, delicious meals and a yoga classes that include Restorative, Vinyasa, AcroYoga, Thai Yoga, and Meditation; non are required, all are optional, and appropriate for all levels.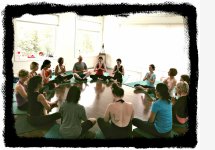 Between classes you may: book a massage, take a walk, or stretch in the hammock. Your free time might include ping pong, tennis, slackline, swimming, napping or reading. Visit the Woodstock exhibit at the Bethel Woods Center for the Arts on Friday afternoon before the retreat start ~ it's well worth a couple hours.

Space is limited, so reserve early! Click for details and to take advantage of Early Bird and Friends discounts! See you for fun in the sun in June!

Join me weekly in classes! Pure is a membership studio, so email me for a class guest pass. Om Factory has great Intro Week and Month passes! Both have a stunning array of styles, and superb teachers! Beyond weekly classes, join me for retreats, workshops, immersions, teacher trainings, and festivals, as will appear here monthly and as always updated on my website.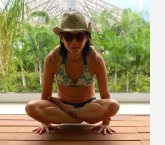 Pure Yoga New York Weekly Yoga:


Pure Yoga Eastside - 203 E.86th St.


Mon:10:30-12:00 Slow Flow Meditation




Tues: 12:30-1:30 Restorative




Thur: 12:30-1:30 Restorative




Thur: 5:30-6:30 Vinyasa 1/2



Pure Yoga Westside - 204 W.77th St.



Fri: 11:30-12:30 Restorative



Om Factory Weekly AcroYoga:
Fri: 7:30-9:15PM AcroYoga Flows
1st Fri/Month 9:30PM JAM
Both at Fashion District + 4 other AcroYoga classes + teachers a week


Spring Weekend Retreat 2016:
June 3-5 ~ Wagging Tail Yoga Studio, Bethel, NY

5th Annual NY AcroFest 2016:
August 12-14 ~ Venue TBA; keep posted!

Private Sessions by Appointment:
Thai Yoga * Restorative * Meditation * AcroYoga * ISHTA


Please Confirm Subscription


Please help me update my subscription list by clicking here to confirm your email address and your interest to keep on receiving monthly ENews from me.

This helps me to keep my ENews mailing list streamlined to reach only those who wish to keep on receiving it ~ even if it is just to keep in connection, that is fine to stay on!
Thank you!


I respect your email privacy.

For this reason I only Subscribe those who wish to receive my ENews.

Please feel free at any time to Forward, Subscribe, or Unsubscribe, or to Reply directly back to me with any feedback or input!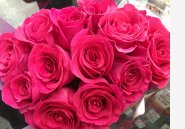 "These are beautiful," I smile at the checkout clerk. "I don't even mind that they're $19.99 for Valentine's when they're usually $12.99."

"They are?" She asks. Her name tag reads Elizabeth. "I wouldn't know. Nobody ever loved me that much."

Ting! My movie mind hears Rick in Casablanca over his drink: "Nobody ever loved me that much." I doubt if Elizabeth has seen the movie though. Her face is innocent of irony. She isn't nursing a story of abandonment, that I can see. She just honestly believes this!

Nobody? Really? For $12.99 on a normal day or $19.99 on Valentine's, she could change her story!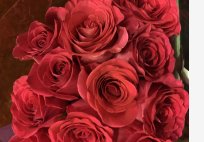 "Ah, but you can, right?" I say. "You can love yourself that much." She smiles, and her whole face changes.

We are talking about a gift of:
beauty, fragrance, nature, pleasure, color, appreciation. All for $19.99, or $12.99. Nothing prevents her from gifting herself with the meeting of these needs. And more.

Ultimately, we are talking about meeting our needs, and releasing our stories about how they cannot be met. What is holding you back?

To Elizabeth, and to flowers abloom, in her life, and ours!


Pop in for some Mindfulness in the City within the historic and landmarked beauty of St. Bartholomew's Church at Park Avenue and 50th Street, which runs a weekly Meditation program, all classes free or by donation. My pal Siewli teaches once a month on the Tuesday evening Yoga program.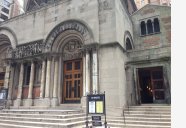 *Yoga Nidra 5:45PM Monday
*Yoga 5:30-7PM Tuesday
*Tai Chi 9-10AM Wednesday
*Centering Prayer (Christian meditation) 10:45 Saturday
*Living Christ Sangha 3PM Sun

Questions? Email David Bryan at St. Bart's Church.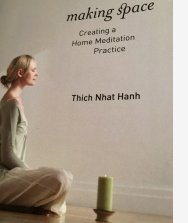 Thanks to Pure Yoga member Florence for recommending this tiny book by Thich Nhat Hanh, Making Space: Creating A Home Meditation Practice. It explains, charmingly, inspirationally, and disarmingly simply, the value of a meditation room or even tiny nook for every household ~ a haven and sanctuary for peace.

A must-have for every yogi's home, and many a non-yogi's home as well, in my opinion! Enjoy!


Some of you know I endured severe, chronic sciatic pain all through 2013, after I had sustained two acrobatic accidents, late in 2012.

The gift from that devastating 2013 year ~ as a medical last resort I saw a medical support hypnotherapist, and tapped into a new depth of mind-body healing that has guided my personal practice and enriched my teaching path ever since.

So, I always, gratefully, give Lisa this recommendation, for all those with any medical conditions, and especially the "hopeless" ones ~ go see Lisa Ludovici. Healing, for her, is a life passion. That is a calling I resonate with, and deeply honor.