Though I will admit I played girls Basketball in 7th and 8th grade, I wasn't really built to be a basketball player and maybe because I stopped playing, I also pretty much stopped watching (I am kind of more of a football fan.) So come the end of March every year I tend to feel disconnected from reality as everyone loads up on March Madness. Thank heavens for the Easter Bunny to distract me this year, lol! Anyway, not as much live music going this week while many of the venues play their roles as sport bars full time. There are several interesting things going on in the area for you non-sport music lovers. Check out the Tulsa Harmonica Summit this weekend....and don't forget to scroll all the way down to the "Mark Your Calendar" section. I made a correction from
last week and added a couple cool upcoming events.
Lastly
, always remember I need artists and readers to help me get linked up to events you have or know about, especially if the events aren't posted to the local calendars. Send any
ideas or comments to me anytime at:
The Tulsa

Harmonica Summit 2016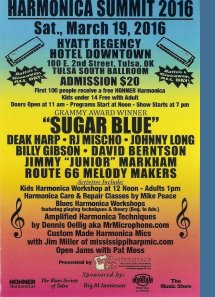 The 2016 Tulsa Harmonica Summit, presented by the
100 E. Second St., Tulsa, OK. This year's event will showcase Grammy award winning harmonica virtuoso Sugar Blue, who has recorded with artists as varied as Roosevelt Sykes and Willie Dixon to the Rolling Stones and Bob Dylan. Other performers at the evening show include international harmonica impresario RJ Mischo, traditional Blues legend John Long, the high energy harmonica of Memphis based Billy Gibson, the Mississippi juke joint magic of Deak Harp, as well as Oklahoma Blues and Jazz Hall of Fame legend Jimmy "Junior" Markham, along with other special guests. This celebration of the harmonica will also include daytime activities and an evening show. Check out the schedule below for all the details! Admission is $20 and kids under 14 are free with an adult.
Harmonica Summit Schedule
11:00 am Doors Open

12:00-12:45 pm

Blues Harmonica Class for Kids

-

David Berntson – Crossroads Learning Experience (Ballroom) – Free harmonicas for the first 50 kids accompanied by adult. (Ballroom)

1:00 pm "Jameteria" opens –

Lobby area with Pat Moss – Open jam sessions for anyone with a desire to play. Guitar accompaniment provided

1:00-1:45 pm Beginning Harmonica Class for Adults –

Route 66 Harmonica Club Melody Makers (Ballroom) - Free harmonicas for the first 50 participants.

2:00-2:45 pm Harmonica Effect Pedals, Custom mics, Vintage Amps, Custom Harmonicas and Harmonica Repair

– Dennis Oellig, Mike Peace, Jim Miller, Ron Hall – Oklahoma Room, main floor. Make sure to check out all of these specialized services for the harmonica player.

3:00-5:00 pm Route 66 Teach-in – John Long, RJ Mischo, Billy Gibson, Deak Harp, Sugar Blue - Ballroom - Educators will be at various locations through the Ballroom for group and individual instruction. Feel free to move from station to station to enjoy the diversity of teaching.
5:00-7:00 pm Break –

Enjoy a meal at the Daily Grill

6:30 pm

Doors Open for evening Harmonica Showcase Event

7:00 pm- midnight

Harmonica Showcase Event- (Ballroom)

7:00-8:00 pm – Tulsa All-Stars with Junior Markham & special guests

8:15-8:45 pm – John Long

8:55-9:25 pm – Deak Harp

9:30-10:00 pm – RJ Mischo

10:05-10:35pm – Billy Gibson

10:40-11:30 pm – Sugar Blue

11:30 – Finale

Food service available throughout the day.

Bar service opens at 2 pm – closing
A Letter From the President

about
Blues In The Natural State
Hello Blues Fans,
Ozark Blues Society has been busy lately! Divas on Fire and Jimmy Wayne Garrett did a fantastic job representing our Society at the International Blues Competition in Memphis. Our Blues in the Schools Program has had several events this year, and we recently had our annual meeting with elections of officers.
We scheduled our Blues in the Natural State Festival last October and discovered that a major blues act,"Keb Mo," is performing in Fayetteville the same night. He puts on a great show and our board determined it was in our best interest to reschedule our festival . After working diligently to find a date that works we have determined to postpone the festival until next year.
Don't worry! We will be working hard to make sure we are supporting blues music in NW Arkansas! The Rick Gibson Band will be at Meteor Guitar Gallery in June, the Hot Dam Blues Festival will be in Bella Vista on the 4th of July and we are working to support additional blues music in our area. We will send more details on these events as we get closer to the actual times of the performances.
Thank you for supporting blues music, blues musicians, and Ozark Blues Society!
Bill Baird
President
Presents

Keb Mo

Tickets are still on sale for this amazing concert. If you have never seen Keb Mo in concert, you should. His heartfelt style of blues will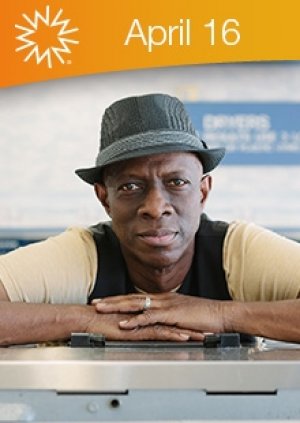 Thank You to our Supporters
Liquor World

You have all read that your support as fans and members of Ozark Blues Society helps keep all our programs up and running, but just a reminder that we also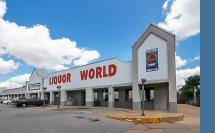 couldn't do it without a wonderful group of local and regional sponsors!
This week's shout out goes to Liquor World of Fayetteville. Read on for all the information about their store or check them out on their website HERE
"Liquor World specializes in Arkansas' largest selection of wines spirits and beers from all over the world. We offer more than 200 beer choices including domestic, craft and import brews, the widest selection in Northwest Arkansas. Customers can browse through an extensive array of single-barrel bourbons, single-malt Scotches, premium tequilas, imported vodkas, liqueurs and other spirits."
"But the real treat is the more than 4,000 square feet of wines, priced from less than $10 to over $100, from wine regions around the world—France, Italy, Argentina, Spain, Portugal, South Africa, Chile, Australia, New Zealand, California, Washington, Oregon, and the list goes on.
Come and browse our 15,000 sq. ft. store, one of the best beer, wine and spirit selections in the state. We pride ourselves in our knowledgeble staff and outstanding service. We are happy to help you find what you are looking for, help you discover new favorites. We'll be glad to help you custom design a case of wine according to your tastes."
"We will be tasting a variety of wines at our in-store tasting bar Thursday - Saturday afternoons, and occassionally beer & spirits. As always, receive 10% off when you purchase a case of wine. It's fine to mix."

The Eureka Springs Blues Weekend, a premier event held each year in Northwest Arkansas, has announced their lineup for 2016 and once again it looks like an amazing list of don't miss blues artists and activities. The ES Blues Weekend is once again partnering with Turpentine Creek Wildlife Refuge so attending this family friendly event is a win-win situation for blues lovers and the big cats alike!
!
Remember, volunteers who put in at least two shifts get great benefits, including entrance to the festival, a festival t-shirt, merchandise discounts and more! Sign up today at EurekaSpringsBlues.com.
Individual day tickets go on sale on April 1."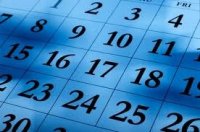 3/18-3/26

03.
18
Big Uns and On The Verge for Happy Hour at Georges Majestic Lounge in Fayetteville
03.19
Earl and Them at Chelsea's in Eureka Springs


Blew Reed and the Flatheads at Rowdy Beaver in Eureka Springs

Chris Thomas King at The Founders Room in Alma
03.22
Jed Clampit at Pesto Cafe in Fayetteville

Keith Nicholson at JJs Grill and Chill in Bella Vista
03.23
Blues Therapy with Brick Fields at Bears Place in Fayetteville

Isayah's Allstars at Mojos Pints and Pies in Fayetteville
03.25
Earl and Them and Bill Dollar and Loose Change for Happy Hour at Georges Majestic Lounge in Fayetteville

DBI (Downtown Bentonville Inc) Sound Bites at The Meteor Guitar Gallery in Bentonville

Jimmy Wayne Garrett and the Liberty Bell Rhythm Band at Rowdy Beaver
03.26
Left of Center at Rowdy Beaver in Eureka Springs
Mark Your Calendar
04.02 Lucious Spiller at The Founders Room in Alma

04.05 JJ Grey and Mofro at George's Majestic Lounge in Fayetteville

04.16 Keb Mo at the Walton Arts Center in Fayetteville

05.04 Doyle Bramhall II at George's Majestic Lounge in Fayetteville

05.14 Chris Cameron Trio at The Founders Room in Alma

06.10 Rick Gibson Band at the Meteor Guitar Gallery in Bentonville

06/16-06/19 Eureka Springs Blues Weekend

07.03 Hot Dam Blues in Bella Vista
March 18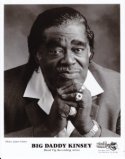 Today's show features music performed by Josh White and Big Daddy Kinsey
Read more at: http://www.brainyquote.com/quotes/quotes/s/sonnyterry211910.html
You have to open your mind. I like the ability to express myself in a deep way. It's the closest music to our humanity - it's like a folk music that rises up out of a culture.
Read more at: http://www.brainyquote.com/quotes/quotes/s/sonnyterry211910.html

"The blues was like that problem child that you may have had in the family. You was a little bit ashamed to let anybody see him, but you loved him. You just didn't know how other people would take it.

"
B. B. King


Check Out these regular local radio programs

"The Generic Blues Show" hosted by Paul Kelso airs every Friday night at 9pm on KUAF 91.3FM
Rockin' Hog Radio presents "Sunday Morning Blues" from 8am to 10am every Sunday
LINK
Get Involved with the Ozark Blues Society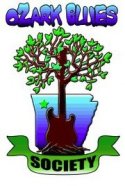 Annual membership levels begin at $15 and give you so much in return, including meeting new friends while enjoying the best blues artists in the area.
By being a member of The Ozark Blues Society of Northwest Arkansas, you are helping to support the Arts and to preserve the Original American Art Form known as The Blues.
Membership Benefits Include:
Weekly E-newsletter
Opportunities to win tickets to events
VIP seating at events (when available)
Discounts on OBS merchandise
Social networking – meeting other people who also love the blues
Opportunities to volunteer on OBS committees and at events
Ability to attend board meetings and vote on upcoming organizational issues and elections
Visit our Website to renew or join! Ozarkbluessociety.org