José Galván - Jueves Flamencos Cajasol
11 de marzo de 2016
Fotos: Remedios Malvarez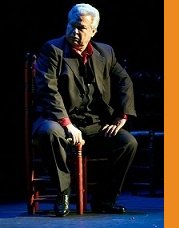 Peña Flamenca Los Cernicalos, C/ Sancho Vizcaino, 25 ~ Info: 640 577 066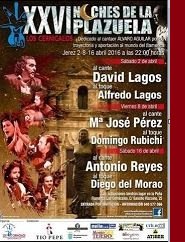 Vacations in Spain! Did someone say Jerez?
Sevilla Congress & Convention Bureau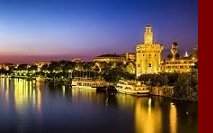 Contact us! Our team will assist you to ensure the success of your event in Seville.

Las saetas de Manuel Agujetas y su hijo Antonio

La noche blanca del Flamenco

(Free All-night Flamenco event)
Cordoba | June 18, 2016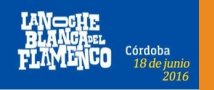 Give a Gift That Gives Back!
Dear Supporter,
We hope you will take the time to consider the important work Vida Flamenca brings to our community.
Your generous gift will help ensure this programming remains part of our service to you in 2016. Please consider making a tax-deductible donation today.

29th Festival Flamenco de Albuquerque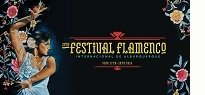 June 11-18, 2016

Festival Flamenco Internacional de Alburquerque brings world-class artists to Albuquerque for a week of performances. ~Ticket Packages are available, 6 shows total. Packages discounted 20%-30% off the total price of tickets at mid-range and high-range prices. Click here for more information. Individual Tickets available soon.

Performances include:
Danzaora y Vinática Rocio Molina y Compañia ~ Del 2mil y pico Pedro Córdoba y Compañía ~ Aviso: Bayles de Jitanos Antonio Molina "El Choro" y Compañía ~ Morón Baila Juana Amaya y Compañía ~ Nómada Manuel Liñán y Compañía

'Forever Flamenco' returns to Santa Monica's Odyssey Theatre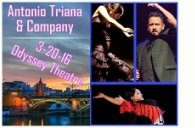 March 20th 8pm
You won't get many opportunities to see these powerhouses assembled all in one place and especially one this intimate. Featuring Fanny Ara, Manuel Gutierrez, Mizuho Sato, Jesus Montoya, and Gabriel Osuna. Directed by Antonio Triana. Buy Now ~ Tickets Here!

BUIKA
Sun., March 20, 7:30 pm Rio Theatre, Santa Cruz

With "a husky roar of a voice that envelops the listener like a great blast of muffling Andalusian heat" (The Telegraph, London), flamenco superstar
Buika
has won over audiences across the globe with her unique musical blend of jazz, flamenco, blues, and soul.
"One of world's "50 Great Voices" – NPR
TICKETS!
Nino de los Reyes This Week!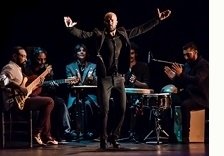 Los Angeles International Flamenco Festival presents

Nino de los Reyes
March 26, 2016, 8pm
El Portal Theater
5269 Lankershim Blvd.
North Hollywood, CA 91601
More Info Here and Tickets!

Flamenco Tour to Jerez |

June 18 - 27, 2016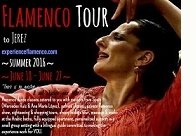 Personalized flamenco vacation in Spain with Mercedes Ruíz and Ana María Lopez: flamenco classes, shows, sightseeing, shopping, sherry tours, massage & spa, fully equipped apartments, practice sessions, info packets, small group supportive setting with a bilingual guide committed to making the experience work for YOU.
www.experienceflamenco.com
Emi Arte Flamenco ~ Santa Fe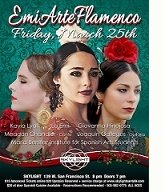 Friday, March 25, 2016
8pm

Featuring: Kayla Lyall, La Emi, Giovanna Hinojosa

Skylight, 139 W. San Francisco Street, Santa Fe, NM
Resevations: 505-982-0775
Visit the Website Here

Flamenco Society San Jose presents 'Flamenco'!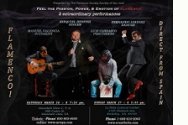 Featuring: Manuel Valencia, guitar; Ezequiel Benitez, singer; Luis Carrasco, percussion; Fernando Jimenez, dancer

Sat., March 26, 7:30pm
Mountain View C. P. A. - 650-903-6000 - www.mvcpa.com

Sun., March 27, 7:30pm
La Pena (Berkeley) - 1-888-810-2063 www.eventbrite.com
For more information call: (510)792-8355

Herencia Flamenca, June 11 & 12 Alex Theatre in Glendale

Cihtli Ocampo Teaching in L.A.!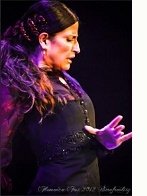 Technique, Choreography and Bata de Cola classes in Santa Monica and North Hollywood
For registration and information contact Cihtli at: cihtliocampo@gmail.com
Mondays 7:30-10:00 Technique & Choreography in Santa Monica
Tuesdays 6:30-9:00 Bata de Cola in N Hollywood
Wednesdays 7:00-9:00 Technique & Choreography in N Hollywood
More Info: www.arteypuerza.com

Angelita Agujetas @ Costa Brava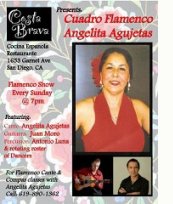 Sundays 7pm
1653 Garnet Ave, San Diego, CA 92109 -- Hours: 11:00 AM to Midnight, Daily