August 12-14: The 5th summer New York
AcroFest
is an exuberant weekend of friendship, fun, frolic, and festivities for all levels from beginner to expert, all lineages and styles of
AcroYoga
, including therapeutics, and featuring local and international teachers.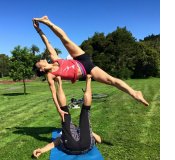 I am teaching "Wash, Spin, Dry," a transitions flow class Saturday morning with
Lex Peters
of Acrobatic Yoga Motion Design, Philadelphia.
MAY 31
is the Early Bird Deadline
for the first round of tickets
at $180/$160 (with/without Acrofest T-shirt), then $220/$200 from June 1st.
Buy
your
AcroFest tickets
online
with code
MARY
and your name and email at checkout for $10 off your ticket price.
Restorative Yoga Teacher Training: 100-Hour Restorative Trance Meditation In 4 Modules
Divine Play AcroYoga Festival

Oct 7-9: 7th Annual
Divine Play AcroYoga Festival
2016
at the Oregon Convention Center, Portland, OR is the largest annual gathering of AcroYogis in the world.

There are 60,000 sq. feet,

a world of teachers, and an amazing assortment of styles and levels of all things Acro. There are 12 classes at a time for all levels and styles; performances, vendors, & bodywork stations! Yours truly will present a workshop appropriately named "Mitey Mamas" with NYC AcroYoga mama

Yael Ben-Reuven

.

First 200 tickets $295; then $350.

June 3-5; Sept 23-25 Retreats
Next weekend, June 3-5, we embark on our #7
Wagging Tail Yoga weekend retreat
at the 100-acre farm and gorgeous yoga studio of my retreat partner Ora Ramat in Bethel, New York, town of the historic 1969 Woodstock Festival.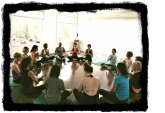 Our spring/summer weekend is full up at the main house, with 2 spaces just opened up at the second house at lakeside.
Email
or Reply if you want to join us last minute! All meals, classes, and pickup from bus are
included
in tuition; email now if you want in.
We have set the dates for our #8 Sept. 23-25 Fall Foliage Retreat!
Email
me to be on the advance alert list for when Registration opens for Fall Foliage Sept. 23-25.
Trainings/Retreats/Festivals/Workshops

Weekend Retreats:
6/3-6/5 Spring Retreat, Wagging Tail Yoga Studio, Bethel, NY
9/23-9/25 Fall Retreat, Wagging Tail Yoga Studio, Bethel NY

AcroYoga Workshop ~ Standup Acrobatics:
8/6 Earth To Sky Summer Flow with Lex Peters at Om Factory

NY AcroFest 2016:
8/12-8/14 ~ Teaching 8/13 "Wash, Spin, & Dry" w/Lex Peters

100-Hour Mother Mary Restorative Yoga Teacher Training
8/26-8/28 Level 1: Restorative Basics, Pure East, NYC
9/9-9/11 Level 2: Restorative Intermediate, Pure East
11/4-11/6 Level 3: Restorative + Thai Touch, Pure West, NYC
11/18-11/20 Level 4: Restorative + Thai + Trance, Pure West

Divine Play AcroYoga Festival 2016, Portland, OR:
10/7-10/9 Divine Play,

"Mitey Mamas" w/Yael Ben-Reuven





Weekly Classes in New York City


Yoga At Pure Yoga NY (Email for a guest pass):
Pure Yoga Eastside - 203 E.86th St. (3rd Ave)


Mon: 10:30-12:00 Slow Flow Meditation


Tues: 12:30-1:30 Restorative


Thur: 12:30-1:30 Restorative


Thur: 5:30-6:30 Vinyasa 1/2
Pure Yoga Westside - 204 W.77th St. (Amsterdam Ave)


Fri: 11:30-12:30 Restorative

AcroYoga At Om Factory NYC:


Fri: 7:30-9:15PM AcroYoga Flow Open Level, Fashion District
*1st Fri./Month 9:30-11:30PM JAM - Fashion District

Private Sessions by Appointment:


Thai Yoga * Restorative * Meditation * AcroYoga * ISHTA


My Updated schedule is always on my website: maryaranas.com

Photo thanks; Privacy; Forward; Reply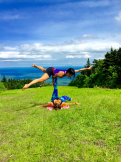 Thanks for photos to: Raul Aranas, Monica Alethea Lee, Lily C. Lee, Tim Laurel, Pure Yoga, Wagging Tail Yoga, Linda Mittel, Justin Bench, Arielle Caruso, Aranka Israni Photography.

I honor your privacy and do not share email lists. Please feel free to: Reply, Forward, Subscribe, or Unsubscribe!

Happy Summer!
In loving peace ~ OMMMMary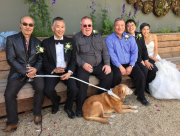 Connection, Freedom, Movement.
My
Non-Violent Communication
svadhyaya
(self-study) teaches me these are three important needs for me.

Thus Yoga, dance, cycling, teaching, travel, are all fulfilling strategies. And so too is Family.

Yes, Family from
NVC's
perspective is a valuable strategy to meet needs like care, belonging, mutuality.
This month it met many more needs, including celebration, joy, growth, participation, purpose.
Find time to meet your needs through your Yoga this summer ~ on and off the mat!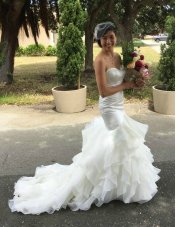 A recent
Kabbalah
reading
my husband shared with me on the power of prayer describes
faster recovery
of
patients for whom it was prayed that God's will be done than those patients whose ailments were specifically prayed for. Both groups healed faster than groups not prayed for.

How encouraging is that, when we do not know how to pray or meditate for a situation?
The 8 limbs of Yoga also teach aparigraha "non-grasping" and isvara pranidana "surrender to God". Dare we to unleash vast power in surrender, in softness? In the courage and mystical trust of "Thy Will Be Done"?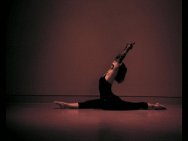 My ISHTA Yoga mentor Rachel Zinman is based in Byron Bay, Australia and leads trainings and retreats worldwide.

Rachel recently published a book called Yoga for Diabetes based on her own experience with diabetes and the way Yoga has been healing for it.

I'm honored to be a supporter of the book and looking forward to my copy!

Check out Rachel's invigorating 4-minute asana flow for Yoga for Diabetes.