Pleasure has a mixed reputation in most spiritual traditions, ranging from harsh ascetic rejection, to the passionately erotic Song of Solomon, to Sufi and Tantric views of Divine Love as ultimate Bliss. While Yoga is not a religion, it is a spiritual science, and Yoga inherits this ambivalence.

The

five

kleshas or "afflictions" that block moksha, freedom, include desire for pleasure (ragas)

and aversion to pain (

dvesha). However, a tantric view of the kleshas clarifies freedom moksha as a distinction between uninspected and enslaving desires, versus clear, free, joyful desires.

Much like: the joyful delighted choice to eat a dessert or the guilty, fearful eating of it. Choose the first. Skip the second: Tantra 101.

Although she is speaking specifically to women, I love the bold claim of author Regena Thomashauer "Mama Gena" on pleasure:

"I learned that the pleasure women are capable of - that energy - is the greatest untapped natural resource on this planet."

I hate wasting untapped natural resources. Don't you?


Mother Mary Restorative Teacher Training

I am excited to approach the first of my four Restorative Teacher Training weekends, Level 1: Basics, Aug. 26-28 at Pure Yoga East. Level 1 prepares the teacher or practitioner with all the essential, foundational Restorative poses that move the spine in each of the direction ranges, including a restful inversion.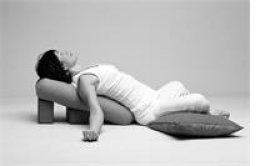 These are all the baseline poses sufficient for a complete Restorative practice. The weekend training is experiential as well as educative; you will be receiving deep relaxation as well as learning to give and support it.

Students as well as teachers are welcome, and wellness providers and trainers will especially find this a most valuable tool for offering flexibility to accommodate your own or your clients' and students' and friends' practices. RYTs receive CEU credits, or with all 4 levels, may receive 100-hour certification to apply for Pure Yoga 300-hour Advanced Teacher Training certification, when applicable.

Click to Register or read detailed Level Descriptions and Prices.

The Dancing Path™
&
Mary Aranas
are excited to present
Facilitated by
Mary Aranas
Saturday, July 23rd,
7:30pm-9:30pm at
NY Live Arts
219 W. 19th Street 3rd Floor
(between 7th & 8th Avenue)
NO EXPERIENCE in Yoga, AcroYoga or Thai Massage is necessary!
AcroYoga combines the practices of Yoga, Acrobatics and Thai massage. The beautiful combination of these unique practices helps to cultivate deeper communication, trust, connection and playfulness.
*Lunar* is the therapeutic branch of AcroYoga. It focuses on the relaxing, nurturing and rejuvenating practices of Thai massage and therapeutic flying. The flyer is passive and receptive to a form of bodywork given by the base.
We end the evening with Thai Massage.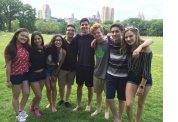 You will experience a blissful opening and elongation of your spine, your muscles, and greater flexibility; all while connecting and having fun!
This is a beginner's playshop. There will be a strong emphasis on safety, connection, play, community and nurturance. It is so much easier to do than it looks.
SINGLES, COUPLES and FRIENDS are ALL WELCOME!
Advance Registration is recommended.
$30. Early Bird (register by Fri. July 15
th
)
$35. Advance (register by Fri. July 22
nd
)
$40. Day of (cash at the door)
View demo videos on our registration page to see what we will learn in the playshop.
In #1 video, I base my teacher friend Maisah, who will assist the flying flow that you will learn to base, fly, and spot.
In #2 video, I base Luke, a very game high school kid I met in the park who had never done or even heard of AcroYoga before. All his friends giggling as they film us ~ are adorable!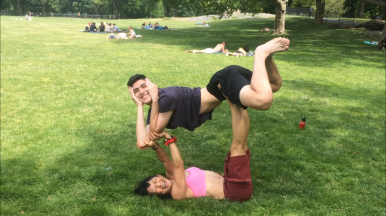 Thanks this issue for photographing, basing, and flying:

Kamilla Vaksman, Sandy Ames, Marisa Noon, Pure Yoga, Yael Ben-Reuven, LaGuardia High School kids, Lex Peters, Luke McCarthy, Chris Martucci, Ora Ramat, Charlotte Noruzi.

Thank you Janel DuRoss for my M logo.

May you find pleasure and bliss within your moksha, freedom!
Om shanti, shanti, shanti ... Peace, peace, dynamic peace ...

OMmmmmary



AcroYoga's softer side, Lunar Thai and Fly, is often overshadowed by the shine of Solar Acrobatic Flying.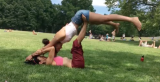 Trinity, founder of The Dancing Path, has a vision of welcoming everyone into the nurturing flotation practice of lunar AcroYoga, known also as therapeutic AcroYoga or Fly and Thai. See article at left!

All levels, abilities, from age 18 to 108, will find empowerment and ease, flight and delight, in our Playshop July 23. Join us!

Signed up yet? New York AcroFest, Aug 12-14 ... All levels, all styles, all weekend! All kindsa awesome teachers! Register online with code MARY for $10 off your ticket!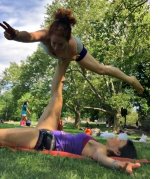 Then... Oct 7-9 ... see you in Portland, OR, for the Divine Play AcroYoga Festival! ... The largest annual gathering of AcroYoga play & pleasure in the world! ... Join us!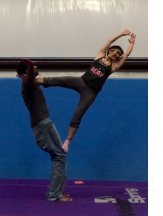 AcroYogis with a beginner - intermediate practice will love this Earth to Sky Flow that introduces far greater ease into entries, exits, and transitions than you have imagined possible with standing AcroYoga. Surprise and delight yourself. This one is all about your beauty, grace, and pleasure.

Come Aug. 6th, 1:45-3:45 to Union Square and learn this summertime sweet flow with me and Lex Peters of Philadelphia's Acrobatic Yoga Motion Design.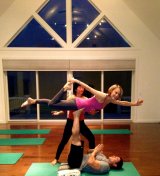 Sept 23-25 ~ All right, it may not be your birthday, tho' even better if it is!

My #8 Wagging Tail Yoga Retreat with Ora Ramat my wonderful co-teacher and our hostess at her 100-acre farm and retreat site, is Sept. 23-25, the Friday I turn 57!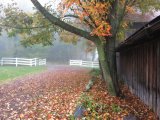 I am celebrating 20 years of being 36, the age I became a Mom and a Yogi, so fun an age I have continued to live it the past two decades!

Who knows what I'll choose for the next 20 years! Come find out with me and our awesome group! ... Sold out at the main house ~ check in about our gorgeous 2nd house options!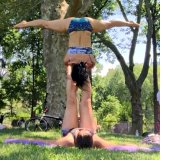 I honor your privacy and never share email lists. Please feel free at any time to Reply, Forward, Unsubscribe, or Subscribe.

My Facebook yoga page is: Mary Aranas Yoga.

Find my updated schedule or contact me any time through my website: maryaranas.com