New York State STAR Exemption for New Home Owners
By: Kelly J. Graves

New York State Department of Taxation and Finance has implemented a new procedure for homeowners to receive the STAR Exemption. If your home was purchased post May 1, 2014 and after the 2015 STAR application deadline, you may need to register to receive the exemption.

Are Annual Exclusion Gifts on Your List?



It's that time of year when we are busy making lists and checking them twice, but don't forget about utilizing your federal annual gift exclusion amount before the final days of 2016 slip away.




To learn more, click here

[Annual Exclusion Gift?]

New York Imposes Estate Taxes on Non-Residents Owning NY Real Property
By: Stewart M. McGough





New York imposes estate taxes on a non-resident who owns New York real property in his or her own name.  In addition, the estate will have to be administered, at least in part, in New York to be able to transfer title to the distributee or legatee under the decedent's will (or, if there is no will, under the applicable intestacy rules).



To learn more, click here [New York Imposes Estate Tax on Non-New York Residents]

BEHIND THE SCENE AT SCOLARO
During the Holiday season we recognize and appreciate our friends and our families both far away and those with whom we share time and memories with during the year. As 2016 comes to a close, we would like to recognize the members of the Scolaro Law Firm family with whom we have had the pleasure of knowing and working with for many years as well as those who are recent arrivals to our family. We are not only proud of every member of our team, but proud that many of us have been together for many years - - we look forward to many more years of being able to work together to better serve our clients.

| | | |
| --- | --- | --- |
| Tom Bezigian, Jr., 6 months | Gina Glover, 2 months | Bill Magnarelli, 37 years |
| Joetta Bibbens, 19 years | Kelly Graves, 2 years | Doug Mahr, 11 years |
| Lea Boatwright, 5 years | Tony Grizanti, 31 years | Shane McCrohan, 11 years |
| Jean Borrow, 26 years | Michael Grizanti, 2 years | Stewart McGough, 37 years |
| Lauri Burnup, 19 years | Becky Hogle, 27 years | Meghan Pompo, 1 year |
| Linda Caley, 26 years | Maria Holt, 9 years | David Minikhiem, 7 years |
| Carol Christiansen, 22 years | Debby Howard, 8 years | Ron Mittleman, 12 years |
| Paula Dodd, 25 years | Chaim Jaffe, 17 years | Becky Nucerino, 9 years |
| Amy Egitton, 15 years | Maria Joyal, 34 years | Carole Salvetti, 27 years |
| Kathy Falanga, 7 years | John King, 10 years | Sharon Shaw, 7 years |
| Dan Fetter, 3 months | Cindy Krause, 3 years | Martha VanDeusen, 11 years |
| Jeff Fetter, 31 years | Charlene Lenz, 19 years | Steve Walker, 10 years |
| Jennifer Gashi, 2 years | Lynn Lynch, 27 years | Kelly Woytowich, 2 months |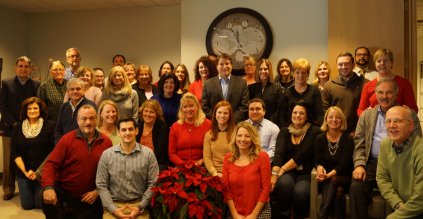 Our Best Wishes for a Happy Holiday Season.
We look forward to working with you

in the New Year!