February 2017
Screening for contaminates in pump bearings found in a pulp & paper mill using FTIR
Centrifugal pumps are ubiquitous throughout industry in many applications ranging from power generation to manufacturing. For these critical components grease analysis can be an effective tool for increasing lifespan and maintaining operability. In this case study we examine a scenario where a routine test slate including FTIR spectroscopy was used to identify contamination in pump bearing samples from a paper production mill.

Our routine grease testing slate includes Grease Thief Extrusion testing (ASTM D7918), elemental spectroscopy in addition to an iron specific test to look for wear, FT-IR to screen for organic contaminates, and water analysis. This selection of tests looks at all aspects of grease health: consistency, wear, oxidation, and contamination. Some of the results from this testing are shown below: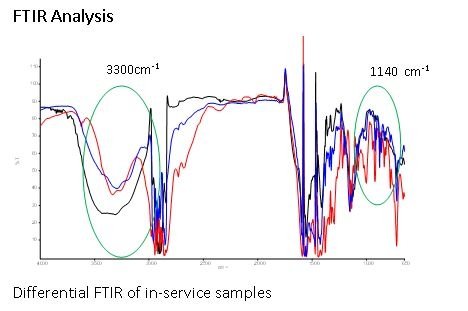 The FTIR analysis shows significant deviations from the baseline in the areas highlighted in the figure and wear levels have surpassed the high alarm limit in sample 1517 and 1519. Both of these abnormal parameters would have been detected using our grease screening test method. The ferrous concentration seen in sample 1518 is considered borderline for a piece of equipment such as this. These results correlate with the extremely high water concentrations and the abnormal die extrusion index values. Based on the known equipment environment and the regions identified in the FTIR differential, we can attribute the high water concentrations and the high Sodium (Na) content to deteriorated seals in this pump allowing contamination from the paper production process to mix with the grease. Some breaching fluid may ultimately be unavoidable, but in this case there is a drastic change in consistency and elevated wear levels seen. This is a sign that the deteriorated condition of the grease is already leading to bearing damage. In this case the equipment operator was able to schedule a bearing and seal replacement to maintain the operability of the pump.

Benefits of Grease Analysis:

Wear Debris Monitoring
Identify Grease Mixing, possible incompatibility and contamination
Determine Optimal Lubrication Frequency
Spring Maintenance is Coming: Integrating Grease Sampling and Analysis Into Wind Turbine Maintenance Programs
MRG Labs' Lisa Williams contributed the cover article for the Jan-Feb Machinery Lubrication-India magazine on wind turbine grease analysis.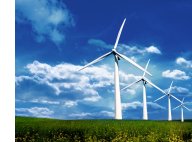 While oil analysis is a well established part of a condition based monitoring program, the inherent difficulties involved with in-service grease sampling and analysis have long prevented the integration of grease analysis into most CBM programs. Due to this oversight, a sizeable percentage of highly critical machines receive no lubricant analysis and are therefore missing significant reliability data. Wind turbines are especially vulnerable to this omission due to the number of highly critical components that are grease lubricated on each turbine.

Grease Thief Navigator: the dashboard that lets you drive the process of grease analysis

MRG Labs recently launched Grease Thief Navigator to monitor in-service grease samples. The sleek web design allows for barcode identification and rapid turnaround time through low-cost analysis methods outline in ASTM D7918. Users can track results as they are moving through the lab and receive notification upon completion.




From Our R&D Department: Moisture in Greases

HOW IT WORKS: MRG Labs is currently working with a relative humidity sensor to detect moisture levels in greases. Using the preparation technique from ASTM D7918, the thin film grease substrate can be used in the relative humidity sensor to detect moisture levels in as little as 2 minutes. The moisture method is currently balloted as a work item at ASTM and will be added as a method for detecting moisture per ASTM D7918.

BENEFITS: This improved methodology for detecting moisture in greases allows the operator to efficiently and reliably perform moisture analysis on grease samples. Other analysis techniques, such as Karl Fischer, can require long preparation steps and inconsistent results. With the relative humidity sensor, the sample is easily prepared using ASTM D7918 and analyzed quickly providing a reliable ppm value.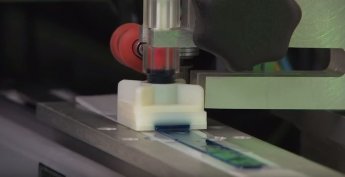 Grease Thief Visits Bavaria, Germany at OilDoc 2017

MRG Labs, along with Perkin Elmer and Dr David Wooton of Wooton consulting partnered together to present research on in-service grease samples using Perkin Elmer's Pearl FTIR. MRG Labs' Vice President Lisa Williams, presented the research with Dr David Wooton at the Oildoc Conference in Rosenheim, Germany January 24 - 25, 2017. The FTIR research looked at greases used in a variety of industries including automotive robotics and pulp and paper. The research was primarily focused on detecting grease degradation mechanisms using FTIR as a reliable screening tool for early detection of degradation.


MRG also presented work on grease particle counting techniques using an optical camera. The camera is mounted inside the Grease Thief Analyzer and is used to count particles as the grease is extruded on the thin film substrate per ASTM D7918. The particles are characterized according to size and shape. Particles down to 10 microns in size can be detected.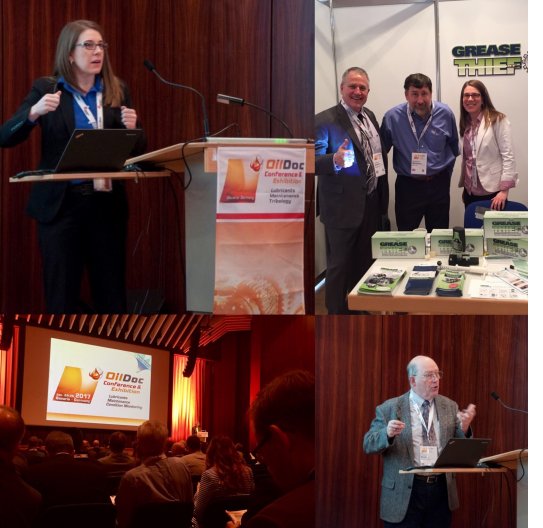 Pulp and paper professionals and technicians will gather for two days to tackle fundamental care and reliability improvement issues through classroom training, hands-on training, and laboratory time.

The goal for this event is to equip maintenance professionals and technicians with greater insight and know-how about precision machinery lubrication its impact on machine reliability.

Learn more
Contact MRG at 717-843-8884

MRG Labs

Educational

Institute

2017

Schedule

ICML MLA I/MLT I
Feb 6 - 10, 2017
Oct 9 -13, 2017
Registration for MLA I
Registration for MLT I

ICML MLT II
Nov 6 - 10, 2017
Registration for MLT II

ICML MLA II
Aug 8 - 10, 2017
Registration for MLA II

IR Level I
May 22 - 25, 2016
Registration for IR I

IR Level II
July 17 - 20, 2017
Registration for IR II

ICML LLA I
Mar 7 - 10, 2017
Aug 15 - 18, 2017
Registration for LLA I

ICML LLA II
May 9 - 12, 2017
Oct 24 - 27, 2017
Registration for LLA II








Meet Our Team

Rich Wurzbach, President of MRG Labs
With more than 25 years of experience in the development of Predictive Maintenance Programs, Mr. Wurzbach is certified by ICML as a Laboratory Lubricant Analyst (LLA-II, Machine Lubricant Analyst (MLA-II), Machinery Lubrication Technician (MLT-II) and STLE as Certified Lubrication Specialist (CLS).

Lisa Williams, Vice-President of MRG Labs
Has been with MRG Labs since 2007, and currently manages business operations. Lisa is certified by STLE as a Certified Lubrication Specialist (CLS) and by ICML as a Laboratory Lubricant Analyst (LLA-II), Machine Lubricant Analyst (MLA-I) and Machinery Lubrication Technician (MLT-I).

MRG Labs
410 Kings Mill Road
York, PA 17401
(717)843-8884
info@mrgcorp.com