Ahhhhhhhh

Roo

Ah

ROOOOOOOOOOOOOOOOOOOOOOOO!!!

The Lunar New Year, the year of the FIRE ROOSTER is upon us (beginning January 28). The Fire Rooster is hot, precise, timely, quick witted and practical. This is not a year for messing around and surprises as our last year of the Monkey. This is a year for precise ACTION and letting your CALL be heard.
Although the rooster is often associated with puffed up boastful pride, the rooster is also aware of and protective of his community. The dawning of this year awakens each of us to listen to our own inner rooster call, keep our eyes on the horizon, participate in what's essential for our beloveds and communities, and take simple precise action.
As February is the first full month of the Fire Rooster, the atmosphere around us is burning with opportunity. Let's harness this energy in simple and clear ways, and precisely tend our fires of transformation, while we hold steadfast to our dreams for a more diverse and loving world ahead.
In February our teachers and practitioners are here to help you tend and harness the fire of your passions and dreams. We hope to be, move, breathe, and heal with you in classes, workshops, or private sessions.

See below for February highlights and check out our website for more transformative opportunities. If you'd like to receive a holiday card and printed schedule send us an email and we'll mail you one!

Crowing in the fires of transformation,
precise wit, and enduring protection,
with HUGE PUFFED-UP CHEST-HEARTED
LOVE,
Mary Abrams &
All at Moving Body Resources
Classes with Mary Abrams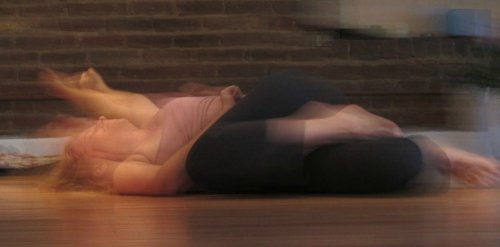 MOVING BODY INNOVATIONS
Taught by Mary Abrams & colleagues
Tuesdays 11 am - 1 pm Ongoing
Thursdays 10 am - 12 pm Ongoing (sub teacher Feb 9)
Fees: $30/single class
$130 / 5 class series
See info below.
MOVING BODY DANCE
Fees: $30/single class
$130 / 5 class series
MOVING BODY HEALING
Feb 28, Mar 28
6 - 8 pm
Fees: $30/single class
$130 / 5 class series
ALL ABOUT ATTENTION
One Friday each month
Feb 10, Mar 10
Taught by Eelka Lampe
Wednesdays 5:30 - 7 pm
646-678-1116
elampe@regis.org
PACHUAN TAI CHI
Taught by Dominique Jenkins
Thursdays 6:30 - 7:30 pm
347-607-2886
drj604@gmail.com
HEART-CENTERED TOUCH FOR MEN
Led by Adam Brown
Thursdays 8 - 10:00 pm
212-366-9025
adam@heartcenteredtouch.com
UPCOMING

WEEKEND EVENTS & WORKSHOPS
AWAKENING WOMB PRESENCE
Taught by Mary Abrams & Maryanne Savino
Sat, Feb 11 12:30-6 pm
See below...
MOVING BODY SALON
Join us for the first ever!
Saturday, February 11th
7 pm
See below...
MOVING, FEELING, & MEANING:
Diving into structure & gravity
Taught by Mary Abrams & Caryn McHose
Fri-Sun, Feb 24-26 12:30-6 pm
See below...
THE HEALER'S PROGRAM
Taught by Tom Monte
Feb 17-19
See below...
Taught by Mary Abrams & Colleagues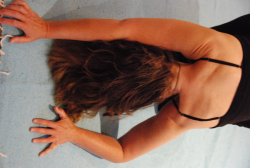 These classes are an amazing opportunity to awaken your senses, experience your body as movement, interrupt your habitual ways of thinking and feeling, and to develop new clarity, awareness, strength, and liveliness in your entire being. We will explore with breath and sound play, sensing, feeling, micro-movement, expressive movement, and deep stillness.
Beginners are welcome anytime.
Every Thursday 10 am-12 pm (sub teacher Feb 9)
Teacher schedule:
Mary Abrams--teaching all Feb except February 9
Drop-ins welcome to ALL classes.
Fees for 2017:
$30/single class
$130/ 5 class series
Pre-registration via email or phone 24 hours in advance is appreciated but not necessary.
TO REGISTER via email or phone contact:
Taught by Mary Abrams
Every living breathing body is a dance of life each moment of existence. Dancing occurs deep within as subtle unseeable movements that awaken through small meaningful gestures that can explode with wild exuberant expression. Dancing takes form in many cultures in service of celebration and sacred ritual. Moving Body Dance classes offer a safe environment to find your uniquely authentic dance from within, and to celebrate your personal sacred ritual in community. Each class will begin with a ½ hour of Continuum practice (breath/sound, fluid movement, sensation awakening) to interrupt daily patterns, to deepen inner awareness, and to provide support for full genuine flow of expression. This segues into an hour of dancing with music, winding down with a ½ hour of breath/sound and inner movement exploration to support integration of all that awakens in your dancing body.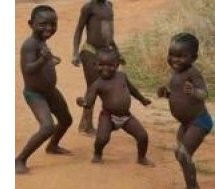 2nd Tuesday of each month
Feb 14, Mar 14
6pm-8pm
Fees for 2017:
$30/single class
$130/ 5 class series
TO REGISTER via email or phone contact: mary@movingbodyresources.com
or 212-206-7542
Taught by Mary Abrams
This monthly class explores the questions, "What is healing? Who is the healer? Who is healing? Can healing occur if nothing needs fixing? Can healing occur if no one has special powers? Or if everyone has special powers?

During these sessions all participants will be invited to explore themselves moving, sounding, breathing, and being in the space as healers, as being healed, and in endless creative roles appearing and disappearing for no rational reason. Participants will be invited to bring their special, sacred, and mundane objects to heal with, along with fabrics, singing bowls, shakers, candles, water, and all other items in our healing space. Together we will feel for all the beautiful gestures we can make, and together we will discover the mysteries of healing.
This class is inspired by Mary's lifelong creative explorations in the mystery of being, ongoing Somatic Movement practice, and Fake Therapy as articulated by Valentina Desideri and experienced at the Body IQ Conference with Peter Pleyer.
4th Tuesday of every month
Feb 28, Mar 28
6pm-8pm
Fees for 2017:
$30/single class
$130/ 5 class series
TO REGISTER via email or phone contact:
mary@movingbodyresources.com or 212-206-7542
Somatic Solstice Mat classes emphasize the subjective experience of embodiment by inquiring into the potential space inside and outside of the body with playful awareness. Through this approach we lean into greater connectivity, fluid resilience and functional integrity. Simple user-friendly exercises elicit healthy movement patterns that stimulate, massage and hydrate the soft tissues and the nervous system. This class cultivates a level of body intelligence and fitness that will continue to support your agility throughout life. Drawn from diverse movement forms including Ballet, Pilates, Yoga, Dance, Laban Movement Analysis, Bartenieff Fundamentals, Sounding, Continuum Movement, and Connective Tissue Therapy, there is balance of specific form-based exercise and non-judgmental free moving improvisational work. IT SHOULD BE FUN and FEEL GOOD!
No prior experience required. This is appropriate for all levels, ages and body types.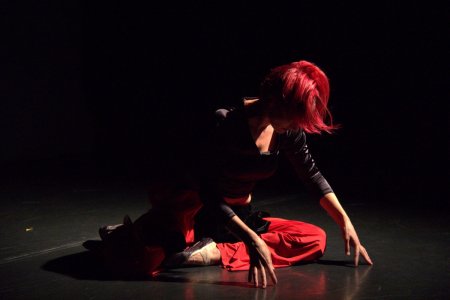 To register, or for more information:
646-241-8254
laura@lauravward.com
AWAKENING OUR WOMB PRESENCE
Taught by Mary Abrams & Maryanne Savino
Sat, Feb 11
12:30-6 pm $125
We welcome you to journey with us into Feminine Dimensions of the Living Womb. The womb is a woman's sacred chalice that holds her power, wisdom, and creativity. When you let go and move deep within your womb, you begin to feel your authentic nature come alive. By making a deeper connection with your inner world, you can tap into your body's divine wisdom and move through life with greater ease and joy.
In this ½ day workshop we will explore subtle movements, breath, sound, touch, and fully expressive movement to contact, connect with, and awaken the unique power of our individual living wombs. As we awaken ourselves in the space of community, we create a larger womb of safe creative healing for each other and our world.
This workshop is for women of all ages. Womb energy, in all stages of a woman's life, is vital life force. A life force energy that can be protected, cultivated, healed, nurtured, and utilized for the benefit of personal and universal vitality.
TO REGISTER via email or phone contact:

mary@movingbodyresources.com or 212-206-7542
Join us for the first ever...
Saturday, February 11th

7 pm

STEP OUT of your familiar weekend rhythm,
STEP IN to live performance, and
Moving Body Salons create a space for artists to share their work live, in real time,
with
real people to create living resources for us all.
Artistic expressions may be raw, fermenting, fully cooked, and more.
Calling all artists of all kinds and all levels.
February 11th will include performances by:
Norman Salant, singer/songwriter
if you want to perform the floor is yours!!!
Mary Abrams--Mixer of Ceremonies
Suggested Donation: $10-$25/person
Bring snacks & a beverage (or more)
Performances, conversation, schmoozing, and who knows what else will MOVE us!
services@movingbodyresources.com
Moving, Feeling, & Meaning:

Diving into structure & gravity

Taught by Caryn McHose & Mary Abrams

February 24-26

Fri-Sun, 12:30-6 pm

$350

Caryn and Mary's teaching offers connections between: knowledge of physical structure, movement capacity, the biology of emotion, and ways humans create meaning through the interplay of our biology, biography, and the Earth's dynamic gravitational field.
This workshop is a chance to disrupt your assumptions about your body and emotions in ways that offer self-discovery and inquiry. "We begin with the perception of establishing self. By self, we mean the present time sensations of our body, not the image of our existence or our story. Finding an established sense of self begins by sensing Earth's gravity field, allowing gravity to find us" (McHose & Frank, How Life Moves, p. 15). Allowing gravity to find us we attend our physical structure through the evolutionary movements of living forms—the cell, vessel, fish, and mammal—to explore both ancient and contemporary knowledge living through us as silent, non-words, movement.
Alive with silent level awareness, we also awaken to the silent level movements of our affective system—the biology of emotion—which "colors and shapes" the structure of our attention.
How we meet with "emotion" is extremely significant, and understanding feeling, as consciousness of affect, plays a crucial role in how we experience our bodies and the movement of life. Becoming conscious of the ways affect moves through our bodies, can increase our capacity to "surf" the seas of how we create meaning, and support the ways we participate with self and others.
Specifics:
The world of structural integration (pioneered by Ida P. Rolf) constitutes normal posture and normal movement in quite specific terms with coordinative goals summarized as: 1. Normal Gait; 2. Extremity (hands and feet) relationship to Axis; 3. Eccentricity (lengthening) under demand; 4. Self care that evokes integration; 5. Orientation with Gravity opens plasticity.
Epistemics (J.S. Bois) & Affect theory (S.S. Tomkins) constitutes a model for understanding the process of how humans create meaning from the silent level experience of their bodies, and the significant role that affect plays in creating human consciousness, supporting optimal well-being, motivation, and the creation of meaning.
Each day will involve individual and group explorations, and a chance to invoke inquiry: What is true in this moment? How does movement offer us wisdom about what we are feeling? What new experiences of structure, movement, and meaning are evolving?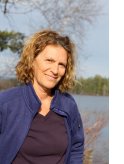 Caryn McHose has been a somatic educator for over 45 years. Her interest in movement began at age five studying dance in a context that valued creativity and relationship to nature. She is a practitioner of the following disciplines: Rolfing® Structural Integration; Rolf Movement® Integration; Somatic Experiencing®; Biodynamic Cranial Sacral Therapy. She has a private practice and teaches workshops for somatic professionals in a variety of contexts. She is the co-author (with Kevin Frank) of How Life Moves, Explorations in Meaning and Body Awareness. She is a collaborator for Bodystories, A Guide to Experiential Anatomy by Andrea Olsen. www.resourcesinmovement.com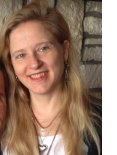 Mary Abrams, MA, RSME, has been teaching dance and somatic movement for over 30 years. Her love for teaching is informed by her MA degree in Consciousness Studies focusing on embodied movement, the biology of emotion (neuroscience), and Epistemics (philosophy); her BA in Dance from St. Olaf College; and over 20 years of exploring and teaching somatic movement practice inspired by Continuum. Owner/director of Moving Body Resources, Mary teaches group and works privately with individuals in NYC and across the USA. Since 2009 she has been leading and teaching the graduate course, Masters in Dance & Somatic Well-being, in the USA from the University of Central Lancashire in England. www.movingbodyresources.com
Living in Alignment with the Source of Love

Taught by Tom Monte

Feb 17-19

What if you discovered that most of your beliefs about yourself are completely wrong and, even worse, self-limiting and often self-destructive? And what if, upon deeper introspection, you came upon Another You, living in an awakened state, in which truths about your unique powers and purpose were waiting to be discovered and utilized? And what if living in alignment with this Other You is the most effective way of experiencing all you hope for — love, joy, healing, success, and fulfillment? Wouldn't the work of aligning with your Deeper Knowing be the single most important thing you could do with your time and energy?

The answer is most certainly yes!
For more information please visit:
If you have any questions please contact Toby Monte at
tobymonte@aol.com
Molly McMillan, OTR/L
Occupational Therapy
Myofascial Release
Soul Retrieval
Craniosacral Therapy
917-439-6548
info@manhattanmfr.com
http://monadnockmyofascialrelease.com/
Elana Behar, LMT
Massage Therapy
646-265-6691
motekica@yahoo.com
MBR has wonderful spaces for teaching
and healing arts of all kinds.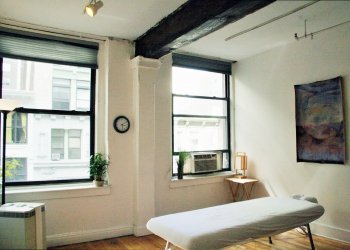 MBR has 3 office spaces and 2 group spaces available by the hour and by the day. Any space can be rented for one time, one hour, a few hours, a full day, an entire weekend, or for ongoing classes.
Our 3 offices are ideal for a variety of private practice sessions. Our 2 group studios -- 400 sq. ft. Small Studio and 1300 sq. ft. Large Studio -- are great for classes, workshops, and other group events.
The more you rent, the better your deal!
Office rates begin at $30/hr for 2017.
Please inquire for daily rental rates for offices.
Movement studio rates range from $47-$130/hr.
Go to our website and click RENTAL INFO &
Email:

services@movingbodyresources.com


or
call Greg at (212) 206-7542 - Mailbox option 2
Please Note: If you contact us after

7 pm

, on weekends, or at short notice please email rather than call.
Photo by Barbara Schaefer
112 West 27th Street. Suite 402.
New York, NY 10001.
(Between 6th and 7th Ave)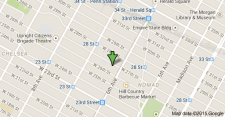 Phone: (212) 206-7542
Email:
services@movingbodyresources.com
CONNECT - LEARN - GROW
---

Body Local is a community of healers, trainers & wellness professionals
who take a holistic, client-centric approach to their work
and want to grow and support each other
by connecting to other practitioners, partners and resources.