Ukulele Tips and Tricks
Ukuleles are back - and they're better than ever! Teaching ukulele can be a ton of fun for you and the students. Why ukulele? (instead of guitar)
* ukes are smaller than guitar, and with only 4 strings, a little easier for a beginner
* it's less expensive to buy a class set of ukes than a class set of guitars (and easier to store)
What size ukuleles should I buy?:

Soprano ukuleles are a little less expensive than concert sized, but concert sized have a nicer sound, and are a little easier to play for Grade 5 students who have big hands. If you are thinking about baritone ukuleles, you may as well go with 3/4 sized guitars. So - my recommendation is to go with Concert Size.

Buy the best quality ukulele that your school budget will allow.

Avoid the small brightly coloured ukuleles.

They will not stay in tune.

Themes sells Vidar and Vidala ukuleles.

These are made of real wood, (not painted plywood) have rosewood necks, and have very good quality machine tuning pegs.

When tuned 3-4 times, these ukuleles will stay in tune for weeks.

They are concert sized ukuleles, and have a great sound.- Listening Fun with Scarves, Ribbons and Tennis Balls
Link to Vidar/Vidala Ukuleles
C Tuning or D Tuning
C tuning is the standard tuning for ukulele.

If you go to a music store and buy a ukulele book, it will be in C tuning.

If you want to play along with a song on YouTube it will be in C tuning.
If you want to perform with recorders or Orff instruments, they all use C tuning.
There is a tradition in Canada, started by Chalmers-Doane that encourages the use of D tuning.
One of the reasons for tuning ukulele in D is that children will sing in a higher pitch when they play the D chord.

This reasoning doesn't make sense.

If you want to change the key of the song, change the chord - not the tuning of the entire instrument.

If you use D tuning, your students won't be able to use any resources outside of your classroom, and it will be much more difficult to teach them to read melodies with a bazzillion sharps than to teach them to read in the key of C.

Some districts mandate D tuning, but if you are given the choice, I strongly recommend using C tuning.
Tune for the Students, or Teach them to Tune?
I found it faster and easier to tune the ukuleles for my students.

I had them line up with instruments in hand, and I would tune each one.

There is a ukulele tuner at

www.musicplayonline.com

.

When you click on a peg, it plays that note until you click the peg again.

The C tuning is G C E A.

I click on the G, tune the G string, then tune all the other strings by ear.

I don't use an electronic tuner, because it's faster to do it by ear.
Quiet Practice:

I do need the students to be silent while I'm tuning.

The first student in line would get the ukulele tuned, and then go to the board to be a "monitor."

He/she would write down the names of any students in the line who were making noise.

Those students would have to come in at recess for "silent practice."

I'd set a timer for 60 seconds, and they had to remain silent for that time.

If they made noise, the timer started again.

Usually one recess of "silent practice" was all that was needed for the students to be respectful of the need for quiet when tuning.
There are clip-on electric tuners available now that would make it possible for students to tune their own instruments.

If you have 30 minute classes, I'd tune the ukes yourself.

If you have 50 minute classes, you have enough time to teach the students how to use the tuners.
Teach Chording, Note Reading or Both?
I suggest that start with teaching chords.

In Easy Ukulele Songs, I have 15 one chord songs.

Studentswill really enjoy playing actual songs, and giving them one chord songs eliminates at the beginning,

one of the big issues that they'll have - changing chords.
EASY UKULELE BOOK/DISKS IS ALSO AVAILABLE IN D!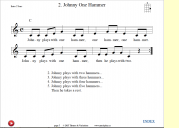 Easy Ukulele Songs
comes with projectable of the songs - both lyrics and notation - with the audio embedded in the PDF.

We have formatted the projectable to fit the screen - the music is big and easy to read.

Few publishers include interactive projectables - it makes your job much, much easier!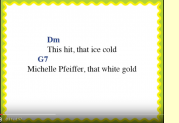 In the
Easy Ukulele Songs
projectable PDF, there are also links (embedded, so you click on the link and go right to the site) to pop songs on YouTube, and the easiest of these uses only one chord.

Teaching some pop songs holds a lot of appeal for fifth and sixth graders.

I really like teaching ukulele (or guitar) at the beginning of the school year.

The kids are much less reticent about singing when they have a ukulele or guitar in their hands, and I've found that the willingness and enjoyment of singing then continues through the rest of the school year.

I had a rule - "No sing - no play" and took away instruments if kids refused to sing.

If you're teaching a combination of folk and pop songs, kids are a lot easier to convince to sing.
Teaching note reading is much, much easier if you're using C tuning.

Themes is

working on a series of lessons to teach note reading using ukuleles, and will be posting these at

www.musicplayonline.com

, and will publish this in 2017 or 2018.

Note reading will only work well if you have a good quality instrument that stays in tune. (I recommend Vidar or Vidala from themes & Variations)

STUDENT BOOKS ARE AVAILABLE FOR EASY UKULELE SONGS! $5-7 FOR STUDENT BOOK/CD - YOUR STUDENTS WILL REALLY BENEFIT FROM HAVING STUDENT BOOKS.
STUDENT BOOKS ARE ALSO AVAILABLE IN D TUNING.
Help!

My students can't change chords!
In Easy Ukulele Songs, the first two chord songs use F and C. (or C7). This is a fairly simple chord change but some students will find it challenging.
Begin working on changing chords by having the students the F chord for 8 beats, pause for 8 beats, and then play the C (or C7) chord for 8 beats.

(The C7 chord is easier). When they can manage this, play each chord for 4 beats and pause for 4 beats.

Eventually, you can eliminate the pause.
Even with lots of practice, there will be some children who can't change the chords.

I divide the class into two groups, and assign one group the C chord and the other group the F chord.

I make up signs that say "F" and "C" and hold up the sign so the group knows when it is supposed to play.

There are usually a few children who are able to change, and I have them sit in the middle and they play both chords.
Differentiating in Ukulele Classes
If you have special needs children in your music classes, consider downloading a Ukulele app, so they can push a button and "strum" along with the students on actual ukes.

Another way to differentiate, is when you're playing songs with a C chord, tune the ukes to G C E G. (instead of G C E A). This is an open tuning C chord.

Put your special needs children in the C chord group and they can play the ukulele without putting any fingers on.
LIKE our Musicplay Page on Facebook - another way to get notices of workshops, and new activities on www.musicplayonline.com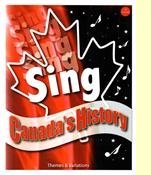 Sing Canada's History - Canada Site
American teachers - if you want to do a multicultural musical about one of your neighbouring countries, this is a great collection to use to learn about the history of Canada. USA SITE
This is a great resource to use in a performance for Canada's 150th birthday!

$10 Recorder Packages, Recorder Kits, Accompaniments & More!
For our Canadian Teachers, we still offer the $10 Recorder Package - a Handel or a Yamaha Recorder, The Recorder Resource Student Book AND CD - order 10+ Packages and we pay the tax and shipping. With the drastic change in the US dollar, we may have to increase prices, but we're hoping to keep the $10 package available as long as possible!
Link to $10 Package - HANDEL GERMAN RECORDER
Link to $10 Package - Yamaha Baroque Recorder
Recorders, Books and other packages are available! Visit www.musicplay.ca and select Recorders.
USA Teachers - Link to West Music Recorder packages
Recorder Resource Kit 1 with PPTS: www.musicplay.ca (Canada)
Recorder Resource Kit 1 with PPTs: www.musicplay.ca (USA)
Recorder 1 Orff & Piano: www.musicplay.ca (Canada)
Recorder 1 Orff & PIano: www.musicplay.ca (USA)

Learn and Play Recorder App has all the songs in the Recorder Resource Kit!
Recorder App ITunes . Recorder App Google
Recorder Fingering Charts: www.musicplay.ca (Canada)
Recorder Fingering Charts: www.musicplay.ca (USA)
Combined Classes?

Do you have combined classes? For teachers with Grade 4/5 combined classes, we've created duet parts for the Recorder Resource 1. The beginners will play the songs as sequenced in the kit, and the second year players can play the duet parts. The duets are now included in the Kit, but if you have an older version of the kit, I'm happy to give you the duet parts. Send a photo of the teacher's guide from the Kit to denise@musicplay.ca to request the free duet parts.
LINK to FREE RESOURCES:
Jan. 25 Free Recorder Resources!
The Recorder materials are also available as part of our online resource: www.musicplayonline.com .
For a limited time, new subscribers will get 3 months free! It's a great time to try out the site!
The Musicplay K-6 Curriculum is sequential, affordable and aligns with state and provincial curriculum from Texas to Ontario! To learn more about this curriculum view our webcast: https://www.youtube.com/watch?v=QqjsGcwAXwM
While Musicplay is affordable, we realize that some schools have no budget at all except what the music teacher can fundraise for! Apply for a grant to assist with the purchase of Musicplay!
http://shop.musicplaytext.ihoststores.com/category.aspx?categoryID=32#grants
Our new online resource: www.musicplayonline.com is an amazing resource and complement to the teacher's guides. Try it free for a month. The recorder materials are available online! If you or your entire school district would like a longer trial period, email denise@musicplay.ca to request a longer trial. If you have zero budget, email to request a discount code to help you subscribe to the site. denise@musicplay.ca

8th Annual Artie and Denise Music Symposium - July 2017, Las Vegas

We're still confirming locations, but hope to have the 8th annual in Vegas, on or around July 25-26th. Details will follow in the Musicplay Newsletter, and the Musicplay Teachers Group on Facebook.

Canadian Office
#2-4664 Riverside Drive
Red Deer, Alberta T4N 6Y5

US Office
PO Box 309
Danville, WA, 99121



Phone/Fax


(real people answer our phones!)



Email: tvinfo@telus.net





Website:


www.musicplay.ca

Denise Gagne does many workshops each year. She's just completed the following sessions at the Missouri MEA:
- Special Ed Students in the Music Class (new session)
- Reading Music is Easy!
- Engaging the Early Learner (new session
At the Ohio MEA she presented these sessions:
- Listening Fun with Scarves, Ribbons and Tennis Balls
- Sensational Singing Games
Upcoming Workshops:
North Central Teachers Convention
- Sensational Singing Games
- Rhythm Instrument Fun
- Listening Fun with Scarves, Ribbons and Tennis Balls
Central Alberta Teachers Convention
- Super Fun Singing games and Activities for K-2
- Super Fun Singing games and Activities for Gr. 3-6 classes
Calgary City Teacher's Convention - Denise will be at St. Mary's High School for a full symposium - 8 fun sessions on Thursday and Friday
Super Fun Lessons for K-2 Music Classes
Super Fun Lessons for Gr. 3-6 Music Classes
Rhythm Instrument and Reading Fun
Ukulele (and Guitar)
Listening Fun with paper plates, parachutes, tennis balls and more!
Music Around the World
Recorder and More
Rounds, Canadian Folk Songs and Choral Music,
GETCA - Greater Edmonton Teachers Convention
Ukulele Fun - with Alan Choromiac
Listening Fun with paper plates, parachutes, tennis balls and more!
- Sensational Singing Games
Mighty Peace Teachers Convention
Denise is presenting 3 sessions, and Christie Noble and Tracy Stener are presenting 3 amazing sessions using the Making Music Fun series.
For Workshops with
Denise Gagne
denise@musicplay.ca
Christie Noble and Tracy Stener -
Dan Fee -
What else is new at Themes?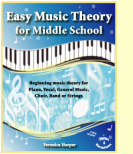 Easy Music Theory

is a music theory book for beginning band, choral, general music classes or for teachers who teach private lessons. A class set of 25 is only $100 - $4 each. You can't photocopy a set of theory worksheets for $4! The teacher's guide includes multiple choice tests that correlate to the sections of the student books - your assessment is done for you!




Easy Guitar Songs - Teacher's Guide and Student Books















The Easy Guitar Teacher's Guide and Student Book
is a great song collection to teach young beginners to sing and strum on the guitar. The teacher's Guide includes introduction to guitar, music, lyrics, chords and chord charts. It includes 25 folk songs with perf/acc CD, Digital Resources. Kids want to play pop songs - so we've included links to 25 very easy pop songs on YouTube that your students can play with. Order a classroom kit for $100 that includes a teacher's guide and 25 student books. The student books/CD are only $5 ~ you couldn't copy the book/CD for that!



Know Your Note Names


Learning the letter names of the notes is a very helpful skill for students who are beginning the recorder.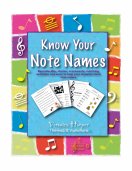 Includes 50 reproducible pages of kid-tested activities to help your students learn their note names in the treble and bass clef. A wide variety of reproducible activities are included: create a word, matching, silly stories, crosswords, games and flashcards.

We've created five great apps for iPad or Google devices. If you have a class set of iPads, volume purchasing is available for these apps.




Vocal Warm-ups for Singers or Choir
This app is based on the warmups book, "Strictly Warmups" by Kerry Heisler. The warm-ups in this collection are organized into five sets. Each set includes a physical warm-up, breath awareness, then five minutes of a variety of mid-range warm-ups.
Vocal Warmups - ITunes

Lea

rn and Play Recorder has everything that you need for your beginning recorder classes.
Recorder App ITunes
Recorder App Google




Rain Rain Story - is a sound story book that uses the Rain Rain Go Away song, and a poem for students to accompany. This app includes ear training activities and instrument exploration. Rain Rain Story app (iTunes) Rain Rain - Google



Note Name Match Game - 10 levels of Memory to match notes with their letter names. Great for recorder students, piano lessons, beginning band.
Note Name Match Game (iTunes) Note Name Memory (Google)



Learn and Play Recorder 2 is now available for iTunes and Android devices!
This app gives your recorder players 24 songs for two part soprano with optional alto. Naming notes is reviewed, now with interactive practice! Counting music is reviewed, with an interactive name the note value activity.
The full score with both regular alto and transposed alto for teachers to project is included.
Learn and Play Recorder 2 App (iTunes) Google Play- Learn Recorder 2




Note Name Smash: Kids love to break things. In this app, choose the notes to practice in treble or bass clef. Every correct answer smashes a hole in the wall!
Only .99 for an engaging way to practice note names on iTune or Google devices.