Click here for the
MNCH Newsletter Archives

Please send interesting articles via email, Facebook or Twitter
Meseret Desta Haileyesus, Editor
Email - Mesi
Twitter - @mesidesta

Welcome to the 40th edition of our mother and child health newsletter

Our regular newsletters are an easy way to keep up-to-date with all new developments and interesting scientific research in the field. We keep you informed of all our upcoming events and activities so you never miss out.
If you have any comments about this or any other issues, please feel free to contact us at
etmnch@ualberta.ca
or to contact our Editor Meseret Desta Haileyesus at
mesidesta@gmail.com.
4th Senior Midwife Tutor Training Program (SMTTP) underway in Addis Ababa

Faculty from Mount Royal University and St Paul's Hospital Millennium Medical College Faculty of Nursing along with faculty and staff from the University of Alberta and Addis offices of the Canada - Ethiopia MNCH Project have gathered together for some pre-course training in Addis this week. They are working on preparations for the SMTTP 2017 including Training the Trainer training for the new Helping Mothers Survive Pre Eclampsia/Eclampsia course HMS PE/E. This will be one of the first times that this course will be offered anywhere in the world.
Next week, 30 midwife tutors from training institutions throughout Ethiopia will arrive in Addis to start the first month of training. The SMTTP course lasts 4 months, with a graduation in May. The focus is on improving teaching and midwifery skills of Midwife tutors throughout the country. For more information on the course click here.
Innovative Maternal Health Interventions reduce Maternal Mortality in Ethiopia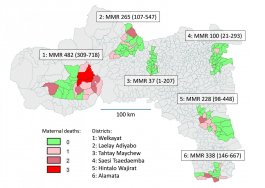 Ethiopian maternal health researcher Hagos Godefay at Umeå University in Sweden has created a locally feasible method to estimate maternal mortality rates with a bottom-up measurement approach. Providing insights into the effectiveness of local interventions to reduce maternal mortality, the approach will be important for health sector planning and decision-making on local-, regional- and state levels.
He set out to quantify overall mortality levels, identify specific causes and evaluate local interventions. By using methods that can also be scaled at national level, Hagos Godefay's results provide a strong empirical basis for decision-making by the Tigray Regional Health Bureau.
"We see encouraging results of improved reproductive health and reduced pregnancy-related deaths in the Tigray region. A key reason for this has been the creation of small local women's groups of volunteers who act as ambassadors for the benefits of utilizing the existing health services," says Hagos Godefay.
In the Tigray region, the government have created the Health Development Army, an initiative that seeks to integrate and strengthen the linkages between the community, politicians and the health sector. The overall goals are improved sustainability of health programs and community empowerment. To achieve these goals, the initiative brings together community action, as represented by Women's Development Groups, and the commitment of the regional political leadership and the health sector itself, represented by the health workforce.
A key aspect of the Health Development Army is the focus on community and social mobilization in Women's Development Groups. The initiative encourages women in neighboring households to volunteer and organize in so called "1-to-5 networks", which then form larger networks of 25-30 members. The groups set out to create demand for and increase utilization of existing maternal health services. This is in part accomplished by tackling behavioral barriers and potentially unhealthy traditional practices through community dialogue. The groups also encourage facility-based delivery by preparing cultural porridges and Ethiopian coffee for postnatal mothers at health facilities.
"The goal is to reinforce positive behaviors and locally initiated good practices by celebrating women's achievements. Creating a conducive environment, where women living in the rural areas can meet and discuss together based on their own agenda, can make a big difference in reducing maternal mortality. This has been one of the more challenging goals, but achieving it demonstrates that women can work together to save the lives of other women," says Hagos Godefay. Read more here.
Pregnancy Complication Tied to Eye Problems Later in Life
High blood pressure complicates almost 10 percent of all pregnancies, and the incidence is higher if the women are nulliparous or carrying multiple fetuses. Pre-eclampsia is a major cause of maternal mortality in developed and developing countries. It is also a major cause of perinatal morbidity and mortality, and it is very strongly associated with fetal growth retardation.

Pre-eclampsia the pregnancy complication characterized by high blood pressure and potential organ damage is linked to eye problems in the mother later in life, new research has found.

Canadian researchers tracked more than a million women who delivered babies in Quebec between 1989 and 2013, of whom 64,350 were given a diagnosis of pre-eclampsia. Then they followed them using hospital discharge data over the years.

Preeclampsia, particularly severe or early-onset preeclampsia, was found to be associated with an increased risk of maternal retinal disease in the decades after pregnancy.

For more information, click
here
.
February 6 Zero Tolerance Day #FGM

Gestational Diabetes: Postpartum Depression Risk

Researchers from the Icahn School of Medicine at Mount Sinai and the Karolinska Institutet have found that gestational diabetes raises the risk of postpartum depression (PPD) in first-time mothers. This is the largest study of its kind to date, including more than 700,000 women. The results were published online in the journal Depression and Anxiety.

The researchers also established that women with a history of depression are more than 20 times more likely to experience PPD than mothers without a previous clinical diagnosis of depression. And while gestational diabetes alone increased risk for PPD, a history of maternal depression in conjunction with gestational diabetes further increased the likelihood of PPD.

"Most practitioners think of these as two isolated and very different conditions, but we now understand gestational diabetes and postpartum depression should be considered together," says Michael E. Silverman, PhD, an Assistant Professor of Psychiatry at the Icahn School of Medicine at Mount Sinai, and lead author of the study. "While having diabetes increases PPD risk for all women, for those women who have had a past depressive episode, having diabetes during pregnancy makes it 70 percent more likely that they will develop PPD."


Read more here

Repeat Cesarian Deliveries less cost-effective

For women with a prior low transverse incision cesarean delivery, the decision to undergo a vaginal delivery or elect to have a repeat cesarean delivery has important clinical and economic ramifications.
A systematic review from the University of Alabama at Birmingham shows that routinely opting for a repeat cesarean delivery over first attempting a vaginal delivery may result in excess morbidity and cost from a population perspective for women with a prior low transverse incision cesarean delivery who are likely to have a successful vaginal delivery. Read more here.
Biomarker in pregnant women linked to depression, low fetal weight

Depression is very common during pregnancy, with as many as one in seven women suffering from the illness and more than a half million women impacted by postpartum depression in the U.S. alone. The disorder not only affects the mother's mood, but has also been linked to influencing the newborn's development, according to recent research. Lower blood levels of a biomarker called brain-derived neurotrophic factor (BDNF) have been associated with depression in multiple studies, mainly in non-pregnant adults. Now, in a study published in the journal Psychoneuroendocrinology, research from The Ohio State University Wexner Medical Center found that BDNF levels change during pregnancy, and can cause depression in the mother and low birth weight in the baby. Read more here.